This post shows 10 ideas for children's room you will want to copy
This post contains affiliate links, which means I'll receive a commission if you purchase through them. You will have no extra cost!
Ideas for Children's Room
The children's room is the favorite place in the home of both children and parents. There is something about it that is different and magical. This is where exploring the world begins for the little ones. Watching them grow and develop more and more as independent people is a delight and pride for any parent.
This living space goes through the most renovations and design changes over the years -from a nursery to a toddler's room and finally to a teenager's room. To furnish it properly each time, we need to see it through the eyes of our child first. There should of course also be plenty of toys to encourage little ones' curiosity and desire to explore their environment.
10 Ideas For Children's Room You Will Want to Copy
Choose an interesting bed design
Choose the right bed for your little one. There are many fascinating bed designs out there, for example in the shape of a car, house, castle, cloud, etc. Nevertheless, the most important part is for it to be comfortable.
The bed needs to be the right size or even a little bigger because small children grow up very quickly and it doesn't make sense to buy a new one every 2-3 years.
All in all, it will be great if the bed is not only practical but also with an interesting design. The more captivating the child's room is, the better for the kid's imagination and curiosity to explore.
Toys to encourage physical activity
It is important to keep an eye on your child's physical activity levels. Put toys in the room that can develop a different part of your kid's body, and at the same time look good and fit the overall decor. Playthings that develop your little one's coordination, dexterity, and strength are key.
You can put climbing walls, exercise mats, balls, and a variety of other equipment in your child's room. But the key thing is to show this type of activity by personal example and playing with the kid.
Inspire your child to move more and thus instill a love of movement and sports in it.
Put different lighting fixtures
Interesting lighting design catches the eyes of both big and small. The nursery must be well-lit so as not to strain your little one's eyesight. Lights also play a big role in keeping children occupied and lulled to sleep.
Therefore, the kid's room should have both bright and dim lighting. Children are fascinated by decorative lights as well and they will certainly appreciate it if you design their room with such.
Make the room nice and tidy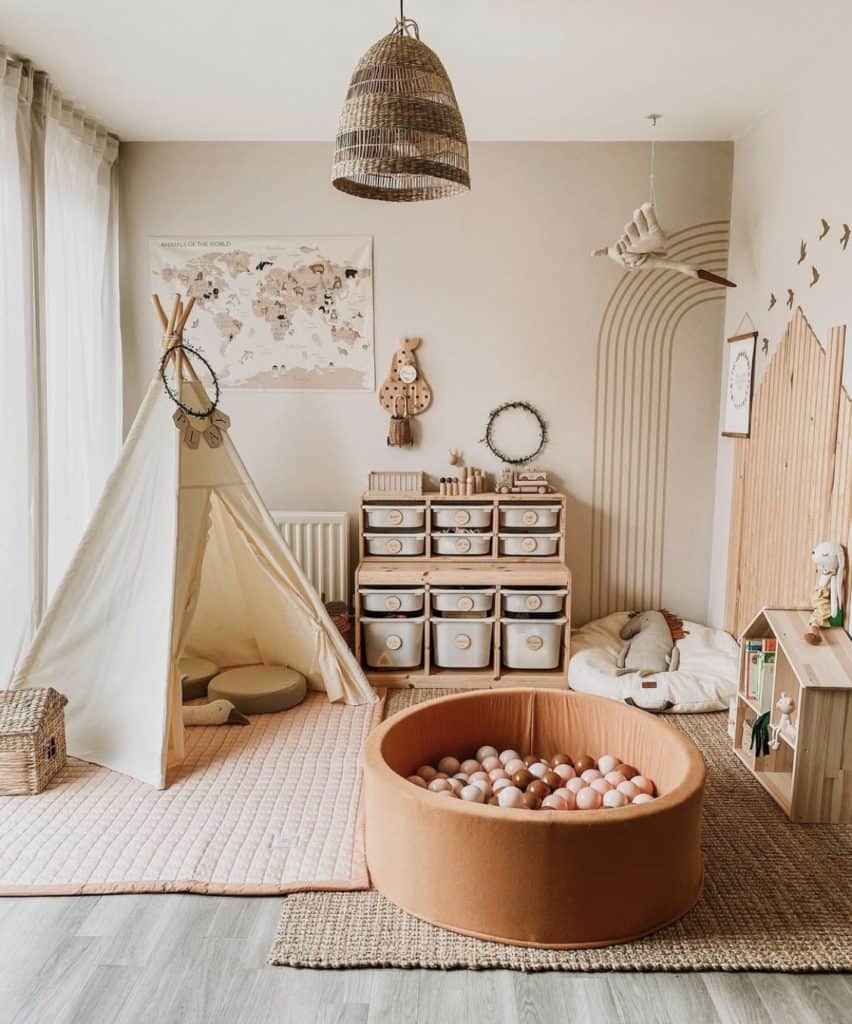 Children often are associated with mess and disorder, it is the parent's job to teach them to bring things in order and tidy their room after playing.
It's a good idea to have multiple cabinets in the playroom so that all the toys could be well organized. There are also many storage containers available in stores with interesting and colorful designs that would fit very well in a child's room.
This is one of the things that will teach your children responsibility and orderliness, which will help them a lot in the future.
Put additional decoration
Even an ordinary bed can become fabulous with properly chosen additional decorations. Therefore, improvise by putting veils, lights, and all sorts of other interesting decor elements. You can create various structures in the shape of a castle, a tree, flowers, and much more to the bed itself giving it that magical feeling.
There are also many 3D cartoon pictures and all sorts of whimsical images that would stand well above the bed and thus turn your child's play area into a wonderful place.
Use colors
The design of a children's room should be colorful, unique, and fun. If your kid is older, you can also ask him what his favorite colors are and what he wants his room to look like.
Let your child help in the painting of the room. That way your little one will feel part of the process and know that he worked hard for his living space. It's good to instill a good work ethic in your children from a young age by having them help you with various chores.
Overall, with children's rooms, it's hard to go overboard with the colors, but still set a theme and stick to it if you want something more stylish.
Select the right furniture
Children's rooms have always been an inspiration for craftsmen to create different and interesting furniture. I often see chairs in non-standard shapes, for example, a balloon, bunny, or others.
You can go for whole-themed furniture sets of cartoon characters or more colorfully clean ones. Here I can also add a variety of table designs that perfectly complement the interior of the children's room.
Carpets are also an amazing touch to the room's decor. I can't get enough of the newer fabrics. I even found out that you can order your unique rug design, which would be awesome, and the fabrics used to make them are unbeatable.
Consider the wardrobe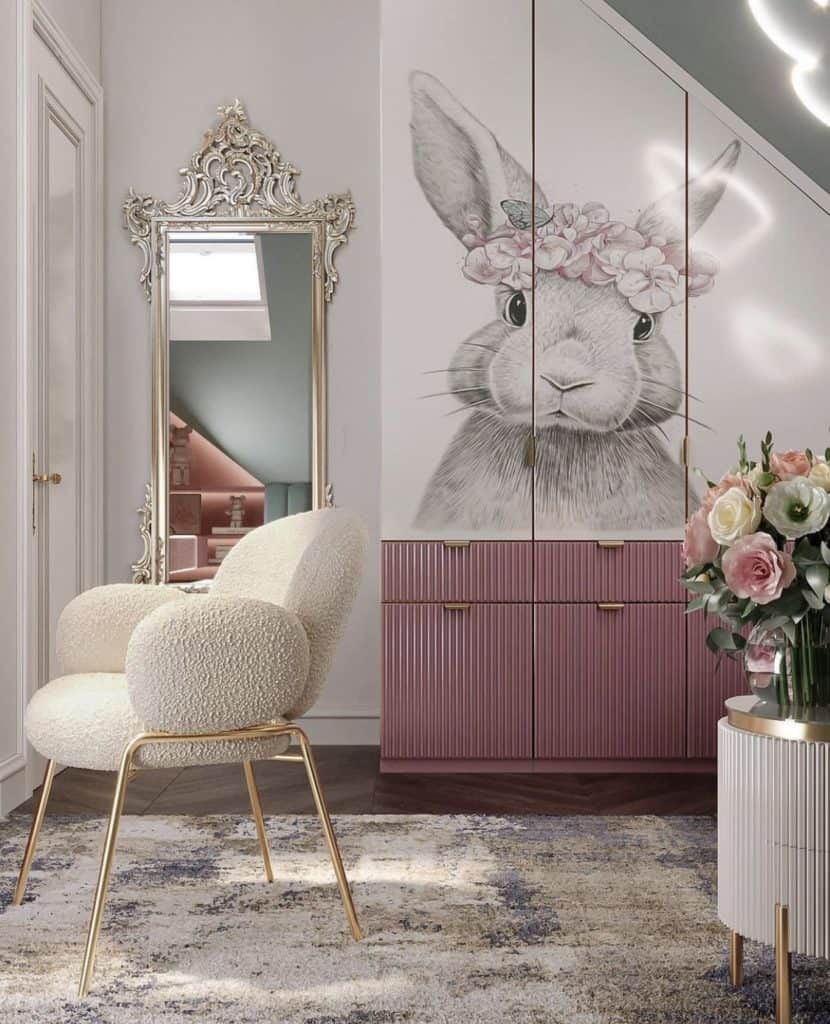 Every nursery needs a big wardrobe. Select one that has some image on it that bring joy to your child. Another way to make this piece of furniture more interesting for your little one is to cover it in stickers of their favorite cartoon characters.
You always need a big wardrobe to store all of your kid's belongings like clothes, toys, and others. Choose a wardrobe that will quickly become the accent of the child's room.
Room for more than one child
One room can make a great nook for two kids you just need to bring in a little more imagination and use the space more optimally.
There are already ideal bunk bed designs that are safe and comfortable. Thanks to them, the children will still have lots of room to play as long as the space is utilized properly.
Decorate some more
My favorite part is right here. Decorating a nursery is done very differently than in other rooms. It should contain a variety of shapes, colors, and fabrics so that the child can explore the world even just from his room.
Different pictures, cushions, tables, boxes and many other things can be used here.
Decorate it with toys, put an interesting main light fixture, put colorful sheets and curtains and let your little one enjoy the design and feel cozy.
Related posts
20 Habits All Happy and Healthy Relationships Have
9 Genius Ways To Organize Your Pantry
This post showed you 10 Ideas For Children's Room You Will Want to Copy