Today we're going to talk about 10 ways to make a boring wall more interesting.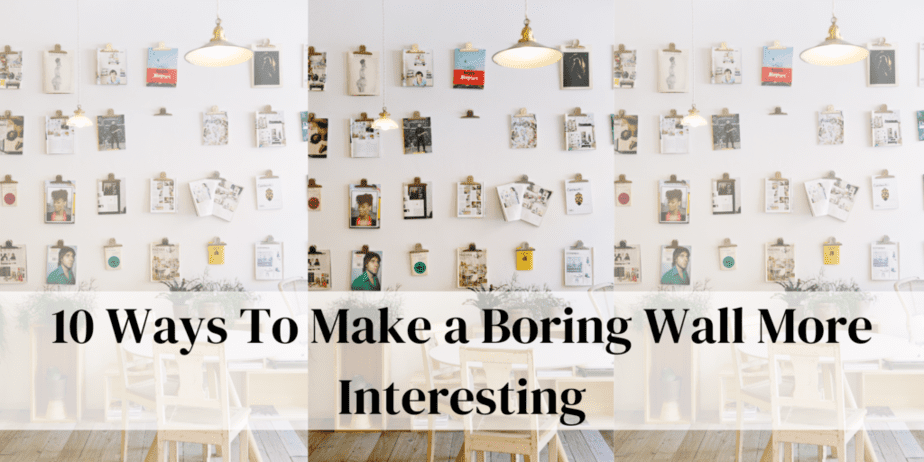 When decorating our homes we often give all of our attention to things like furniture, doors, windows, etc. But what about the walls? They are often left completely blank. This could create a feeling that the room is left unfinished or too empty. This article is about 10 ways to make a boring wall more interesting,

The truth is that when we put even something small on a wall, the whole space changes. This is the power of decoration and why wall decor is important.

10 Ways To Make a Boring Wall More Interesting
Use wallpaper
Luckily, there are plenty of choices when it comes to wallpapers. You can put a design with flowers, landscapes, or something else completely out of the box. Using an interesting wallpaper will take your room design to the next level.
Wall art
Using paintings or some other form of art is a great idea for wall decor. Through such elements, you can very elegantly emphasize the interior style of your home.
Details on the wall
The combination of a variety of elements adds a touch of flair to the wall. You can use cool shelves, mirrors, figures, and whatever else you like. Take this photo as an example, the wall decor turned out great.
Wall drawings
It's a very beautiful way to bring the wall to life. The wall drawings will quickly become the main highlight of the room. You can trust a professional or do it yourself. It depends exactly on what you want and whether you will be satisfied with the result.
Glowing details
Such decor elements will always catch the eye. It's a great way to spruce up your home office or makeup corner. Children's rooms are also ideal for this type of decoration. After all, which kid doesn't like glowing stuff? haha
Experiment with colors
You can do a lot of interesting things just with colors. Use different shades to define different spaces in the room or create geometrical patterns. There are a lot of possibilities, just be creative!
Use 3D panels
There are 3D wall panels that mimic different textures. There are for instance wooden panels or others that are soft and fluffy. This depends on the overall design of your room. But wall panels will certainly make your space look more interesting.
Paintings
A trivial solution, but most of the time quite effective. A painting can turn several colors that don't match into perfect harmony. You decide what will be the accent, modern art, fine art, or something else.
Shelves
Shelves can play an important role because they make room for even more wall decorations. Their form can be round, square, or multi-story. You can put pots of flowers on them or interesting figures. With so many ornaments, is impossible for your wall to be boring.
Bricks or stones
Use one of these building materials to turn an ordinary wall into a total room accent. They are very imposing as wall decor and required nearly no maintenance.
Related posts:
Thank you for reading 10 Ways To Make a Boring Wall More Interesting