While living in a dormitory, organizing your food in a mini fridge could be quite challenging. Hence, read about 10 ways to organize your food in a dorm room mini fridge.
This post contains affiliate links, which means I'll receive a commission if you purchase through them. You will have no extra cost!
Living in a dorm room presents us with many challenges. The biggest of which is to store our food in a small fridge that we have to share with roommates.
Dorm rooms are small and that's why we have to be very precise in how we arrange our things. Of course, every home needs a fridge too, but usually, the space doesn't allow for anything big. However, there are some tricks to using the space of a mini fridge to its full capacity.
In the following lines, I have prepared for you some ideas on how to store your food in a small fridge. These tricks have helped me a lot during my college years. Some of them I discovered later and regret that I did not know about them sooner.
10 Ways to Organize Your Food in a Dorm Room Mini Fridge
1. Over The Fridge Shelves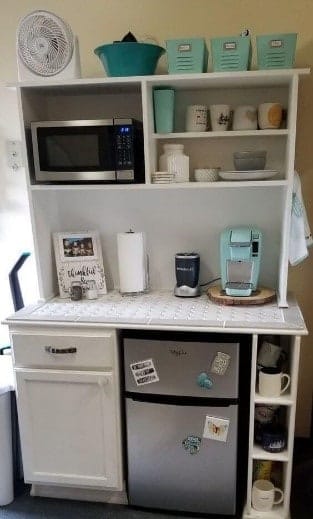 Use the space over the fridge and put some shelves. There you can store food products that don't need a low temperature. Things like pasta, snacks, and even most fruits and vegetables
With a couple of shelves, you could get a functional kitchen inside your dorm room. Moreover, you can put on them also a coffee machine, blender, small oven, etc.
Recreate This Over The Fridge Storage Idea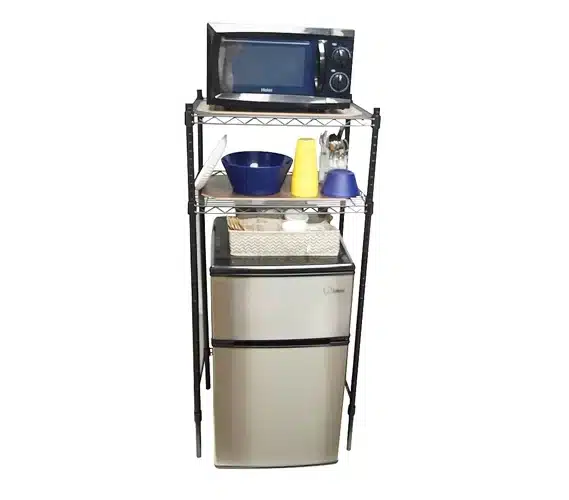 2. Small Portable Mini Fridge Storage Cart
So on top of the fridge, you can put shelves. Under it, you can use this storage cart with wheels. You can store a lot of stuff in the cabinets underneath and make the most of the space under the fridge. It could be useful for keeping things like utensils or more food.
3. Reusable Food Storage Bags
Thanks to these reusable bags, you can store all kinds of edibles such as fruits, vegetables, and even cooked meals.
These envelopes allow you to store and organize your products by knowing exactly which envelope contains what. They could help you sort your food into portions for each day as well. I've used them to store spices, dried fruits, and nuts.
4. Food Storage Containers
Food storage boxes are an amazing solution to your fridge organization's problems. They can be used for meal prep and were extremely helpful when I brought cooked meals from home.
Stack the boxes neatly in your mini fridge and you should be ready to go. I recommend you get a whole set of boxes in different sizes. Even the smallest ones will come in handy, believe me!
5. Storage Organizer Bin
A great organizer for your fridge. They are most often used for storing beverages, but I have also used them for vegetables, sauces, cheeses, etc.
These organizers could also be used for regular cabinets as you can put condiments, utensils, and even small bowls. They have a very convenient shape, so they make your work in the kitchen a lot easier.
6. Slim Rolling Storage Cart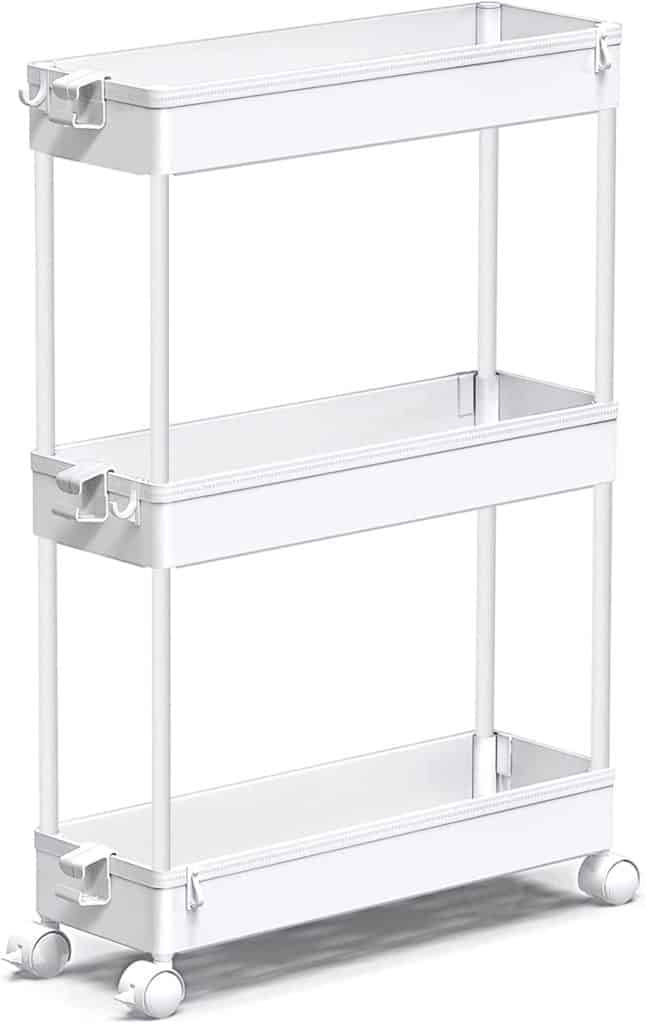 This is a very convenient and practical idea. The counter does not take up much space and is easily portable. Furthermore, it doesn't cost a lot and allows you to put on it food that does not require a refrigerator. Plates, glasses, and cutlery could also be placed on the cart.
I've seen people use such carts for books as well, making a portable bookcase. So yeah, be creative about it and save space in your dorm room!
7. Over The Door Pantry Organizer Rack
This rack is a great choice for any dorm room. It requires very little space and allows you to store many products on it.
Another nice thing about it is that it doesn't need mounting. The rack just gets clipped into the top of a door without leaving any marks afterward. The shelves can be adjusted, giving you the freedom to put bigger things on one shelf and smaller on another.
8. Dorm Room & Mini Fridge Food Organization
Another smart and convenient suggestion for using the space around the fridge. With this organizer, you can store a lot of products that don't require low-temperature storage. Spread things out in the best way so that you have everything you need for the kitchen in one place.
9. Magnetic Spice Rack
The magnetic rack is amazing and can be nicely combined with the cart from number 2. This way it will be more comfortable because the rack will be higher and you will have utilized the space.
What I like about this rack is that it has a special place for kitchen paper which is convenient.
10. Shelves to Organize Your Dorm Room
You can put this rack behind the fridge. It's going to work out well because this kitchen stand is great for holding plates, glasses, and food products. You can even put a coffee machine on it and it will work out perfectly.
Thanks to these products, you can now build a small, budget-friendly kitchenette in your dorm room and make yourself comfortable.
Related posts you may like:
18 Under Bed Storage & Organization Ideas For Your Dorm Room
25 Dorm Room Chairs Without Wheels For College Students
This post showed you 10 ways to organize your food in a dorm room mini fridge