This post contains affiliate links, which means I'll receive a commission if you purchase through them. You will have no extra cost!
Halloween is coming soon and it's about time to decorate our homes. The bathroom often remains neglected and without a suitable decoration. Therefore, here are 14 Shower Curtains For Halloween To Perfectly Match Your Halloween Decor.
We often forget to decorate the bathroom for Halloween. The truth is that there are many interesting ways to turn it into the scariest room of them all. For that reason, this article is all about 14 Shower Curtains For Halloween To Perfectly Match Your Halloween Decor.

You can start the decoration with a themed bathroom curtain. This element is a must because it occupies a significant part of the room and brings a very festive mood on its own.

There are a few points to consider regarding your decoration goals for your bathroom. Should it look scary or cute? Luckily, there are plenty of items for both directions. Let's start transforming your bathroom for Halloween then.
Check out the best shower curtains for Halloween to perfectly match your Halloween decor.
14 Shower Curtains For Halloween To Perfectly Match Your Halloween Decor
1. Witches Shower Curtain
Witches are one of the main symbols of the holiday and find a very wide application as decoration. Many people rely on them to bring a very cool Halloween mood.

Additional ornaments in the bathroom like brooms, pumpkins, witch hats, bats, and others can greatly complement this scary shower curtain.
2. Bats Shower Curtain for Halloween Decor
This shower curtain for Halloween is perfect for people who don't rely on colorful decorations. Black and white with some bats, this curtain presents the holiday in an unpretentious, but effective way.

Use similar items to nicely complement the shower curtain. As an example, you can use bathroom towels that also have bats on them.
3. Pumpkin Halloween Shower Curtain
You will never go wrong with choosing pumpkins as decoration for the holiday. They can be cute or spooky, the choice is entirely yours. You decide what mood you want to create in your bathroom.
4. Spooky Halloween Shower Curtains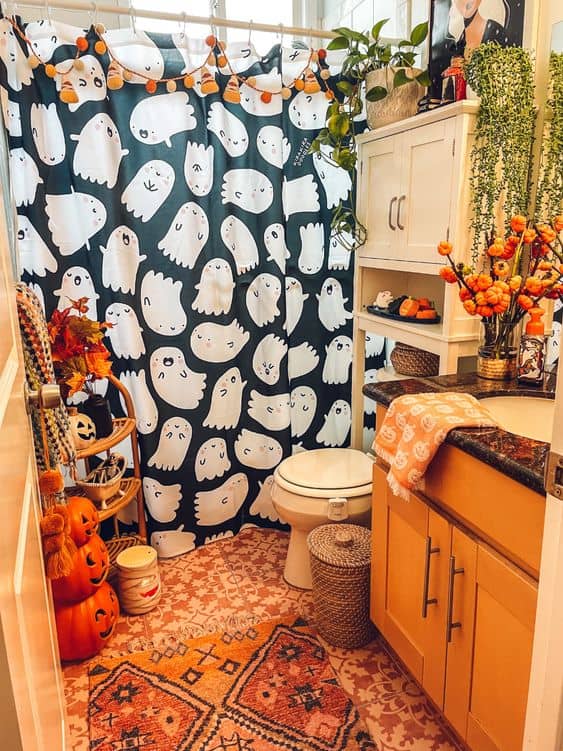 Cute ghosts are great for decorating a home with small children because they aren't so scary. Even if they are not hair-raising, they still create a very festive and thematic atmosphere.

You can find different mats and soap dishes in the same theme. All elements combined will create a magical feeling in your bathroom.
5. Brooms, Cats Hats Halloween Shower Curtain
Black cats, hats, brooms – it's a witch's starter pack. Here again, you can find many decorations with witch motifs. Let your imagination run wild and create the perfect Halloween decor!
6. Halloween Curtains
Shower curtains that look like high-quality wallpapers are a perfect fit for this holiday. When you see it for the first time, it can scare you a lot because of its size and realistic look.

These pictures also allow you to experiment with many different Halloween-themed decorations for the bathroom. However, let the curtain remain the highlight of the decor.
7. Cat & Pumpkin Halloween Shower Curtain
Shower Curtains for Halloween can be cute and very captivating. The combination of black cats and pumpkins is iconic for the holiday and will stand great in your bathroom.
This type of "cute" decoration is better suited for homes with small children. More frightening design elements can shock and hurt the child's mind. So be cautious about this!
8. Happy Halloween Shower Curtain
The main colors of Halloween are orange and black as well as the colors of autumn. You can use this type of bathroom curtain all season long while also elegantly highlighting the holiday.
9. Bathroom Curtains for Fall
This type of curtain is very gentle and pleasing to the eye. Pumpkins are a symbol of autumn. Therefore, you can use this curtain all season long, not only during the holiday. Combine it with orange towels and you will achieve an amazing festive mood.
10. Trick or Treat
The captioned shower curtains for Halloween will look great in any bathroom. Such type of colorful elements brings a lot of joy to the eye.
As an additional decor, you can use ornaments in the form of pumpkins to achieve a very good design.
11. Rock and Roll Skull Skeleton Shower Curtain for Halloween
Another great humorous shower curtain for Halloween. Such curtains fit perfectly with any type of decor because they bring a very pleasant mood.
12. Spooky Halloween Shower Curtain
Such types of shower curtains are suitable for more spine-chilling decor. If you have kids, go for a more cute Halloween theme than this.
13. Creepy Shower Curtain For Halloween
This design is one of my favorites. It's on the borderline between sweet and scary and allows the combination with a variety of other decorations.
14. Shower Curtains for Halloween with Ghosts
Halloween without ghosts is like Christmas without a tree. The ghost shower curtains for Halloween are very gripping and there is a plethora of designs. As an iconic representation of the holiday, ghosts can be used for a variety of bathroom decorations.
Halloween Sets for Bathroom Decor
Apart from individual bathroom curtains, you can also get entire Halloween-themed bathroom sets. Thanks to the sets you will achieve perfect harmony between basic bathroom decorations and the Halloween decor.
1. Bathroom set for Halloween decor
This one has a very nice illustration as it's great for homes with children too. Here again, you can put extra pumpkin lanterns.
2. Ghosts Bathroom Set
This set is great for people who don't want to bring colorful designs into their bathroom. Only with black and white, you can also achieve a great look.
3. Pumpkin Set for Bathroom
The spooky Halloween picture is for homes with very solid decorations. Since the painting has a lot of colors, it's a good idea to keep the other decorations monochromatic.
4. Cute Bathroom set for Halloween
This set is perfect for the fans of purple. The main colors of Halloween are orange and black, but purple is also often used as an accent color.
5. Kitty & Pumpkin Bathroom Set for Halloween
Cute theme, suitable for small children. I think the kids will fall in love with this Halloween decor in your bathroom.
30 Best Friend Halloween Costume Ideas | Bff Halloween Party Outfits
30 Lovely Halloween Costumes Your Dog Must Wear This Year
Best 30+ Halloween Costumes for Girls You Can't Go Wrong With
This post was all about 14 Shower Curtains For Halloween To Perfectly Match Your Halloween Decor