This post shows your 15 fall door mats you'd love to have this year
This post contains affiliate links, which means I'll receive a commission if you purchase through them. You will have no extra cost!
I often wonder if everyone realizes how many benefits there are to doormats. And I'm not even talking about just cleaning your footwear to prevent dirt from getting into your property. Let's start with the fact that doormats prepare your guests right from the start to expect a great decorated home.

The second, and perhaps most valuable to me, is that doormats welcome your return home with a quote. The saying can instantly make you smile and thus enter your home with pure and positive energy.

And the last thing I want to share is that thanks to the mats, many good exterior solutions are created. In this article, I present you 15 fall door mats you'd love to have this year.
My Favorite Fall Door Mats
1 / 2 / 3 / 4 / 5 / 6 / 7 / 8 / 9
15 fall door mats you'd love to have this year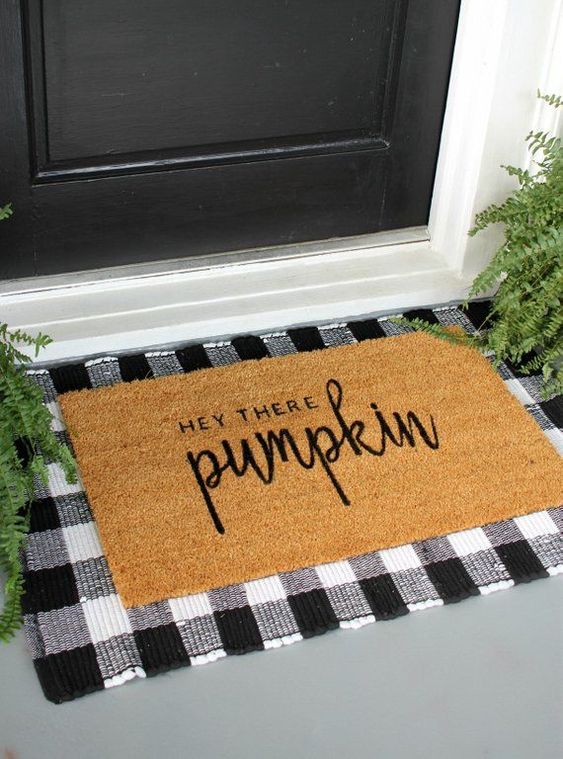 Hey There Pumpkin
If you're a fan of more humorous messages, this is the mat for you. This kind of doormat is a great way to greet your guests with a smile or to give yourself a nice feeling when you get home.
Boo Fall Door Mat
As we know, in autumn one of the most colorful and exciting holidays is celebrated, namely Halloween. For this reason, you can come across symbols of the holiday on many of the fall doormat models offered.
Happy Fall Y'all
Here's another very beautiful doormat design. You can combine the doormat in front of your door with many beautiful decorations on the sides. Thus, turn the space in front of your home into an amazing corner that will welcome you every day back.
Come In & Get Cozy Fall Door Mat
I like the message mats because I think they are very inviting for guests. In this case, we even went for an all-orange mat, which brings a lot of cheer.
Happy Harvest Fall Door Mat
Autumn is the time when the harvest comes in and the hard labor pays back. Messages like this are great for reminding us of the work we put in and the need to appreciate where we are and what we've accomplished so far. Every day is a small victory.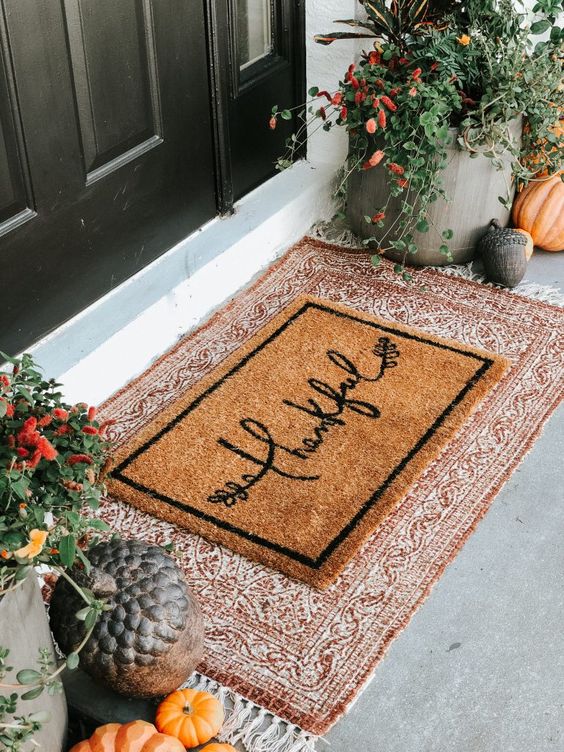 Thankful Fall Door Mat
One of the most meaningful holidays is celebrated in the fall and that is Thanksgiving. By putting a mat with a thankful message, you will remind yourself to be grateful for everything you have. I would love it if we said thanks for all that we have not just on Thanksgiving, but every day.
Autumn Vibes
A very stylish design. I think it's suitable for many different decorations around it. Things that bring autumn vibes to me are the quiet rain, the warm tea, and the smell of roasting pumpkin. The foreshadowing of warm upcoming holidays also brings me a lot of joy.
Fall Door Mats You'd Love to Have This Year
Halloween is an important part of autumn and many people prefer to opt for items closely associated with the holiday. You can find all sorts of doormats with motifs of bats, pumpkin lanterns, jester hats, broomsticks, and much more.
Hello Gorgeous Door Mat
This design highlights the season and gives a very warm welcome to everyone who comes to visit.
We Love Fall Most of All
Another colorful message that expresses the love many of us have for autumn. I like how the little pumpkins are added to make the decor even more impressive. What I would do more is put tall pots of beautiful plants on either side of the door.
Fall Door Mat For This Year
I love the motif of this doormat. It's strange how autumn changes everything and it becomes even more beautiful. I like any season, but fall has a special place in my heart. I always imagine myself with a cup of fragrant tea sitting next to a burning fireplace.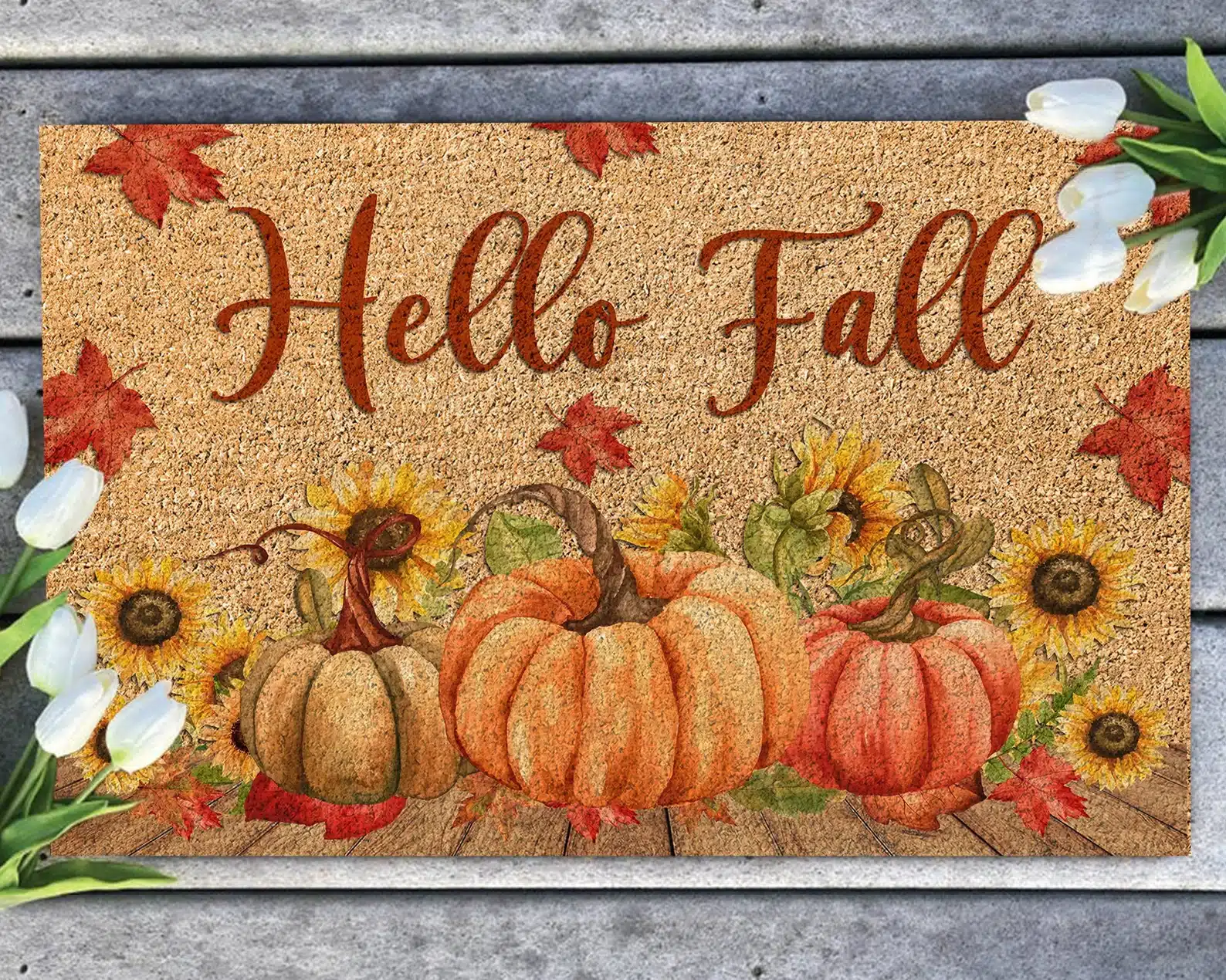 Hello Fall
Here is another very fresh suggestion. The colors of this mat fit perfectly the autumn theme.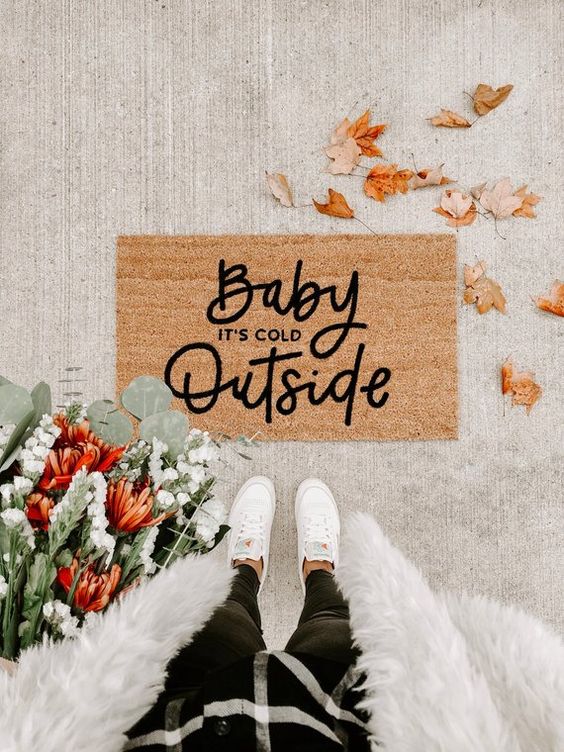 Baby It's Cold Outside
I don't know if there's a sweeter phrase than this and honestly, I would buy this doormat. A very cute and romantic message that invites you to come inside a warm, cozy home. It will go great with additional decoration by the front door.
Welcome Fall Door Mat
The pumpkin is a very used motif for autumn doormats. The orange color is in tune with the season and brings lots of warmth. This design is very pleasing to the eye and I think it will never go unnoticed.
Fall Door Mats For This Year
Super cool design! I would definitely put this in front of my house. The black cat is associated with Halloween and that makes the mat very appropriate for the fall season.
related posts you may like
This post showed you 15 fall door mats you'd love to have this year