This post is all about 18 Trendy Outdoor Decor Ideas You'd be Obsessed With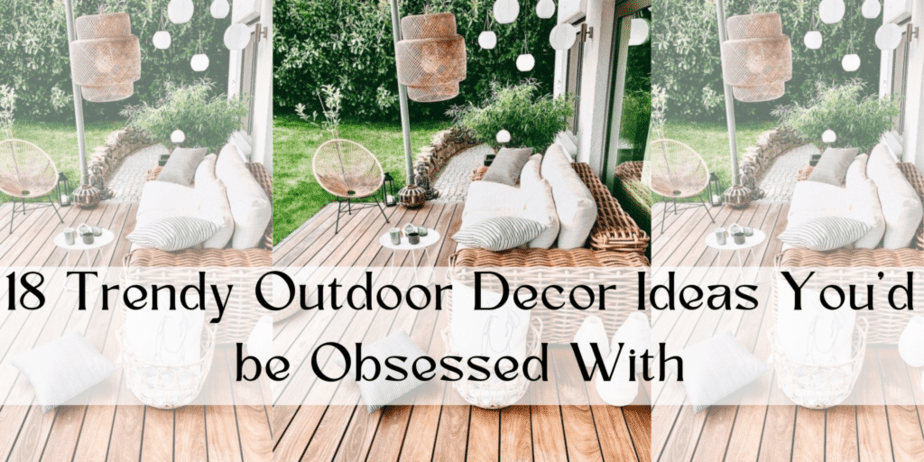 We are all dreaming of our cozy outdoor place where we can relax and hang out with friends. Some of us have terraces and others have gardens. No matter how you look at it, outdoor spaces always play a role in choosing a new home.
Regarding the design of your outdoor nook, different combinations of colors, shapes, and arrangements of furniture can be used. This article is all about 18 trendy outdoor decor ideas you'd be obsessed with.
Here Are The 18 Trendy Outdoor Decor Ideas You'd be Obsessed With
#1
Magic! This to me is a little piece of heaven on earth! Wonderful design, lots of white, plenty of lights, beautiful furniture, and greenery. Moreover, I like how it is elevated above the level of the garden.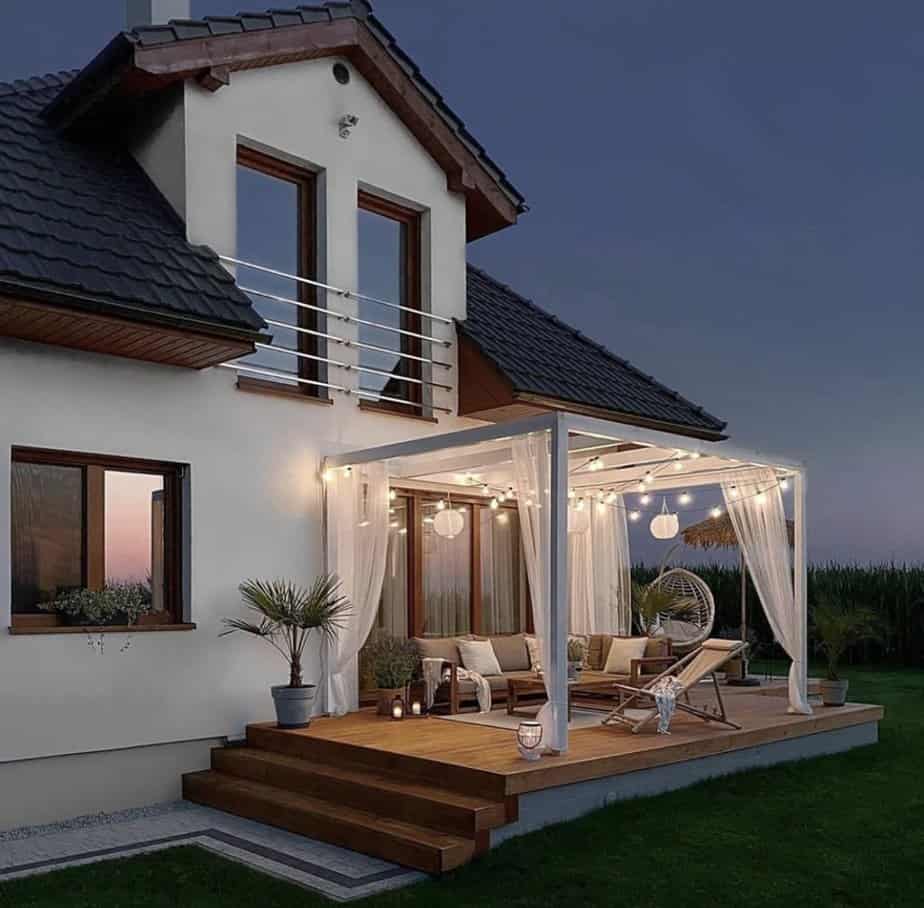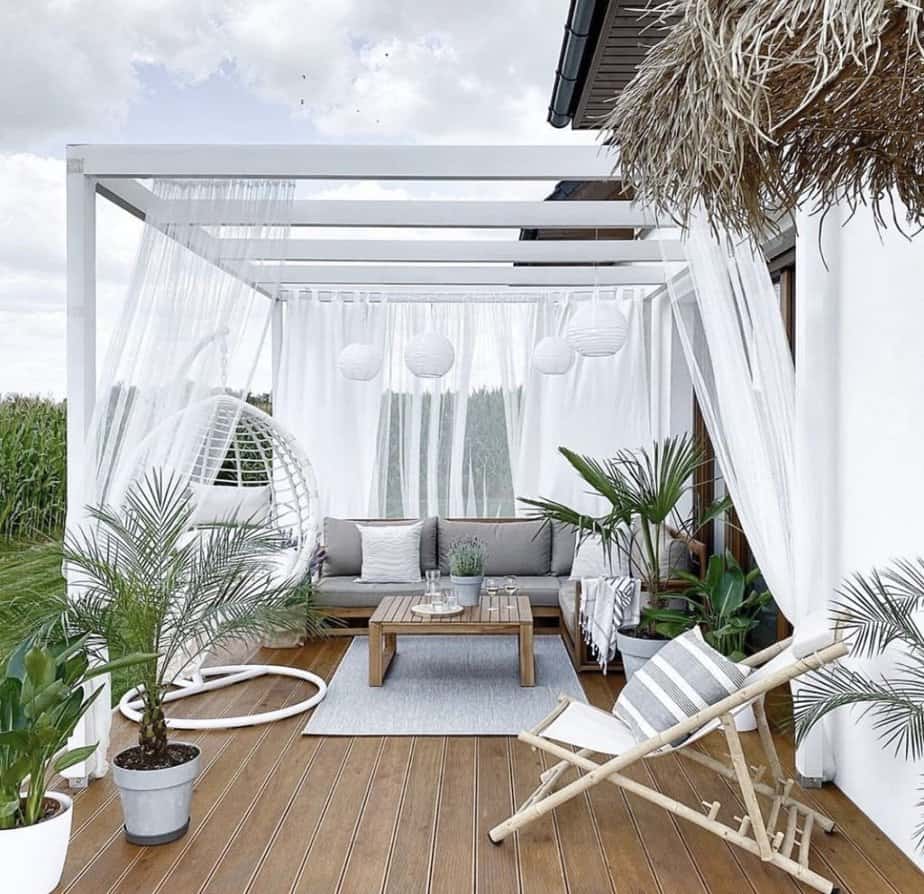 #2
This is a real luxury! Very clean style and you can gather a lot of friends here. Start with the jacuzzi, then grab a bite at the large dining table, and finally move on to the sofas. The primary color of this design is grey supplemented with green from the beautiful plants.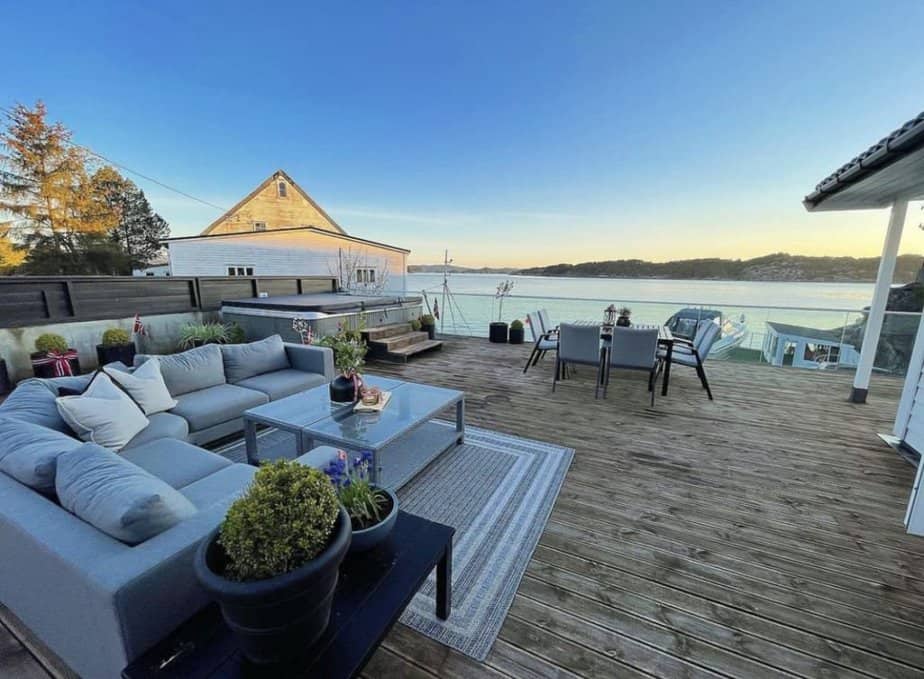 #3
Wow! I'm in love! I see a lot of class in this outside space. The grey, white and wood motifs complement themselves perfectly. I love the idea of this rug which somehow creates an even more cozy feeling.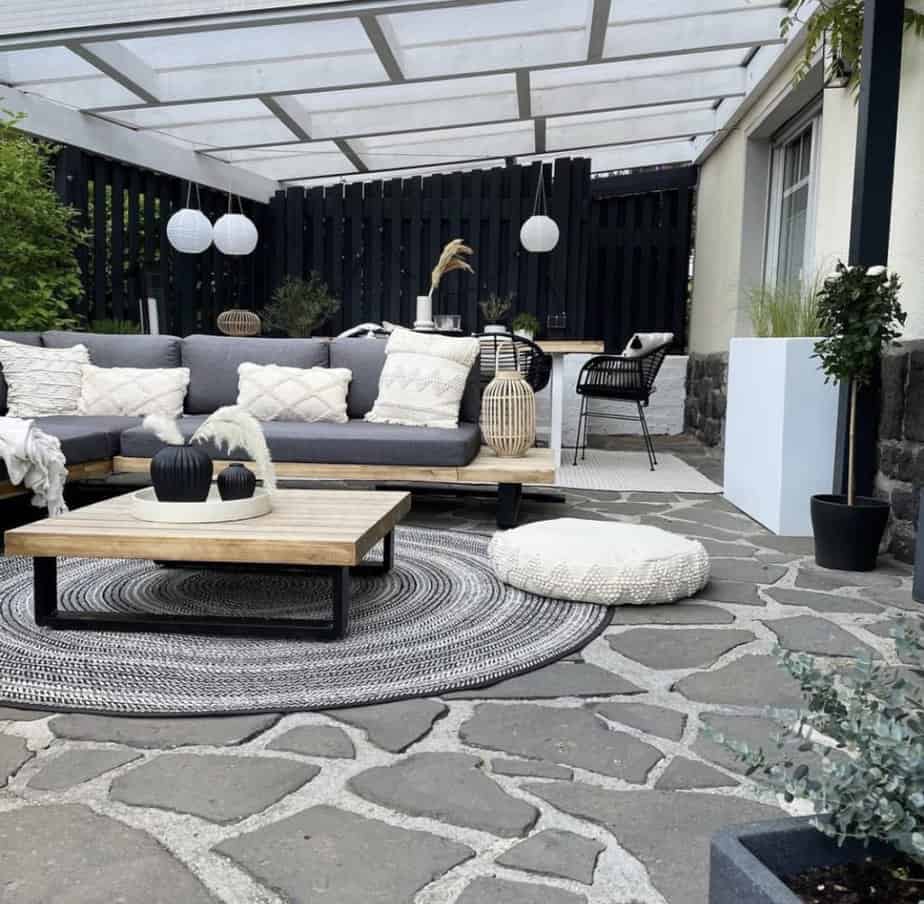 #4
This is the garden of my dreams. Such a beautiful porch. Lots of boho-style elements are used here, and my favorite type of lights. I see a rug used again that goes nicely with the other decor elements. I think this is an amazing spot for lovely summer nights.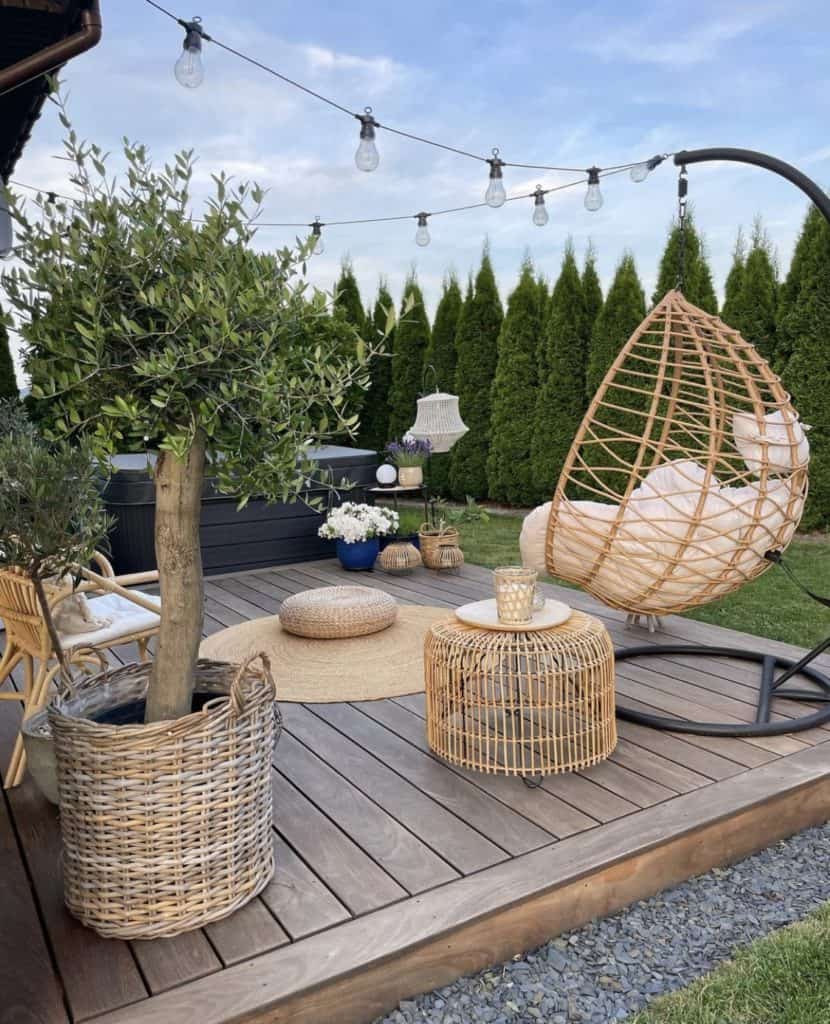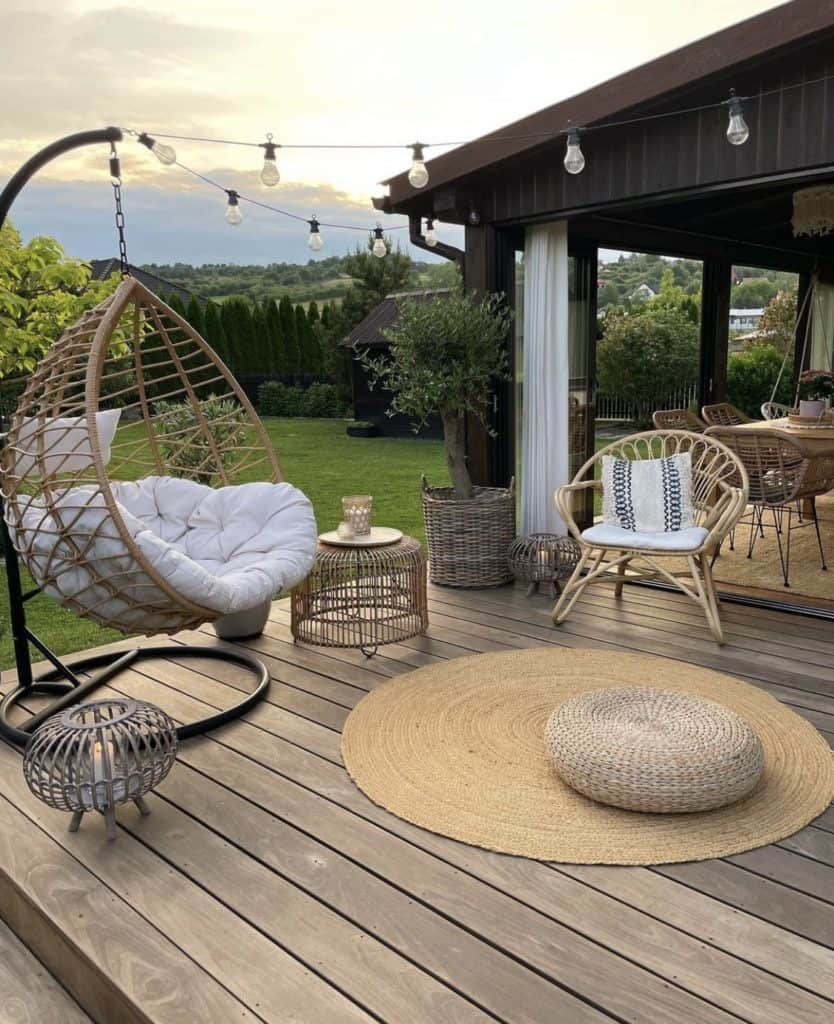 #5
Girls? This is the perfect cozy spot to gather with your friends. Pour some fine wine and gossip all night under the night sky. I see a lot of style in this design as there are lots of flowers, lights, candles, beautiful vases, and lovely cushions. I like the wooden furniture combined with the hanging flowers.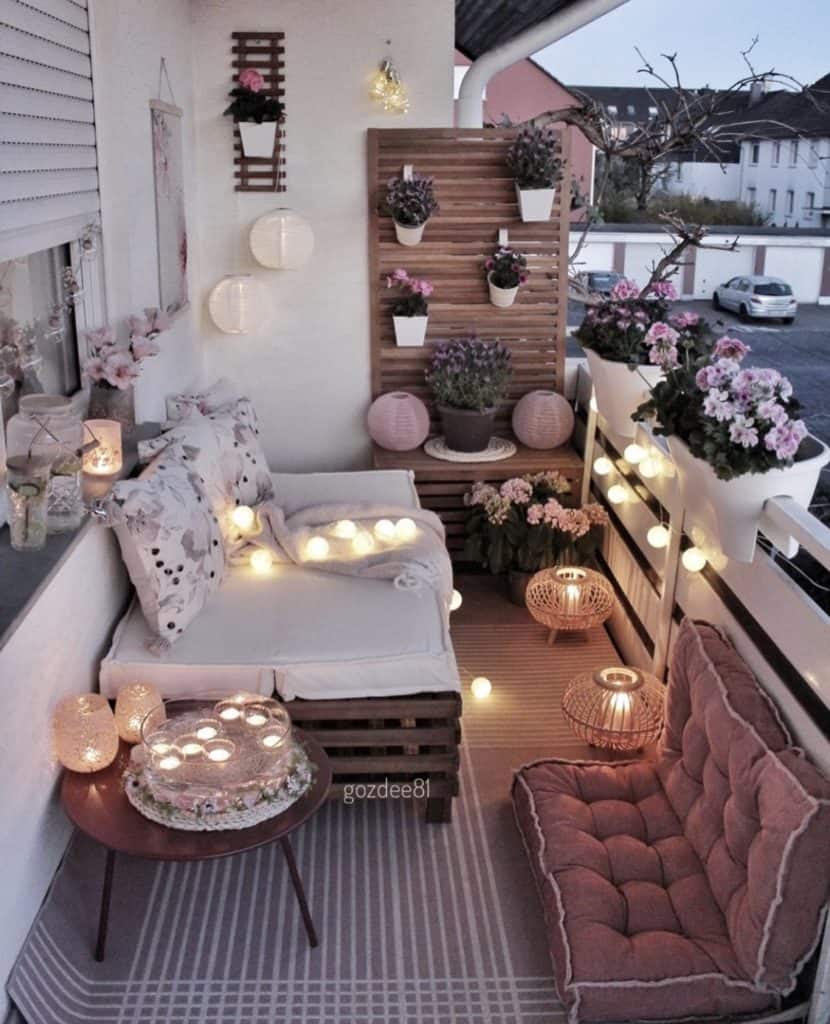 #6
Very welcoming! I've been to a place like this and I want to tell you that this outdoor furniture is super comfortable. Grey, white, pink – marvelously combined, highlighted by the greenery all around.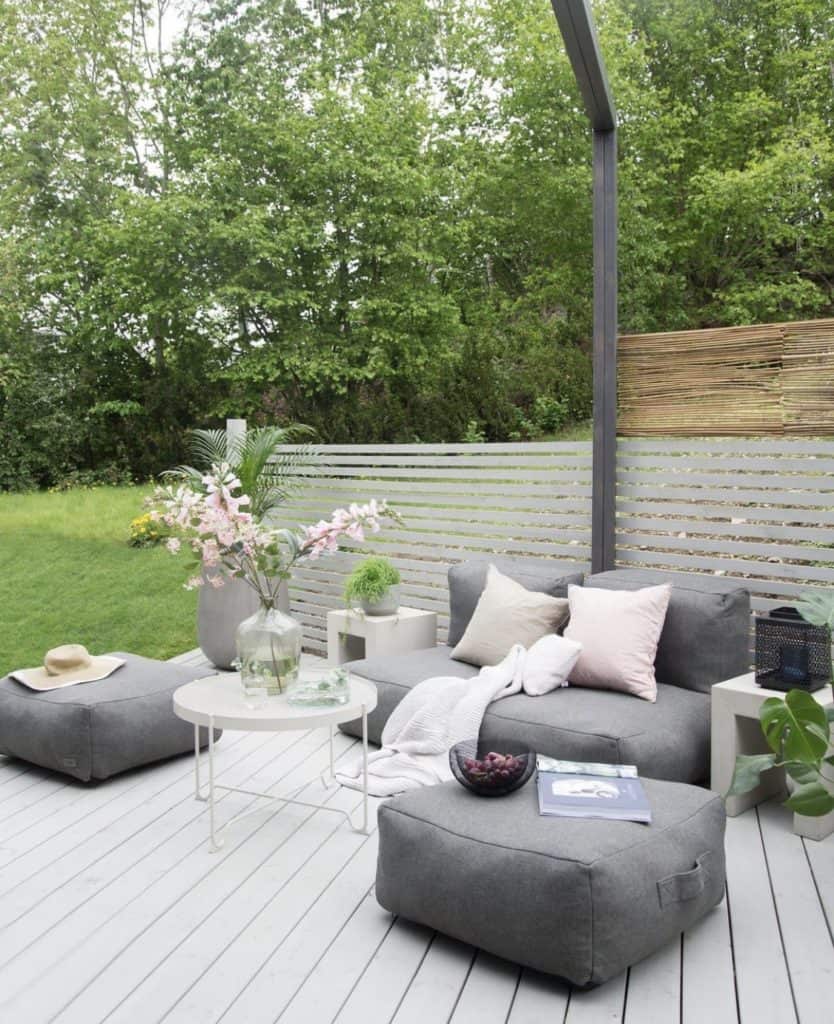 #7
That's what I call a view! The boho-style wicker furniture is accompanied by a beautiful orchid and candles for a romantic atmosphere under the night sky. The fireplace is a very good addition to the whole picture as it is ready to help with chilly evenings. And the pots? They are unique!
#8
Here I can spend the whole evening chatting with friends. The small lamps are the first thing that grabbed my attention. It's very nice when the lights go all around the table. Black, white, and wood – brilliant execution and a very beautiful arrangement.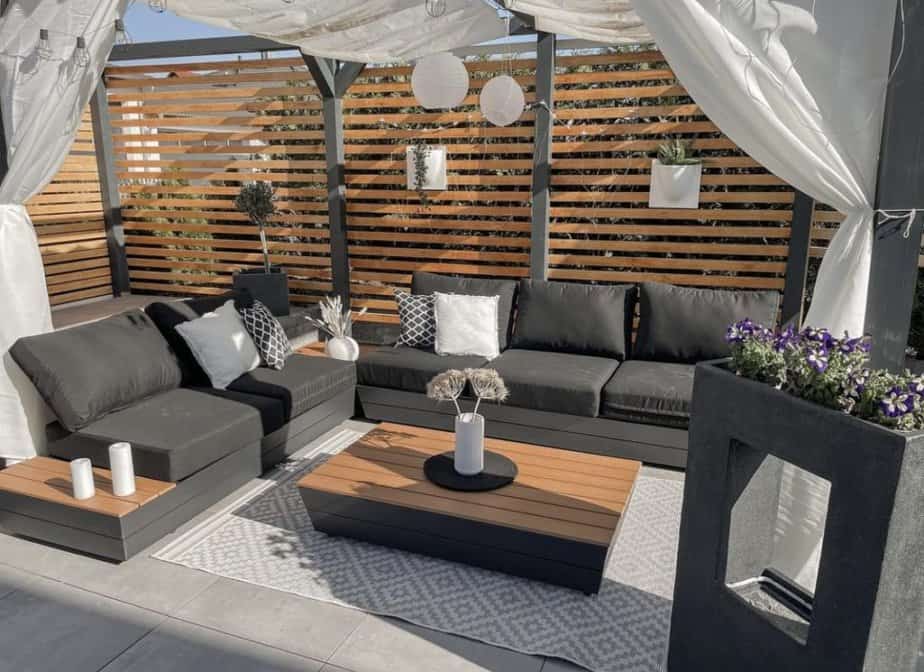 #9
Elegant and clean. Here I imagine myself drinking my morning coffee in the company of a good book. The wicker sofa is gorgeous. The combination of white and light-colored wood will always be successful and this proves it.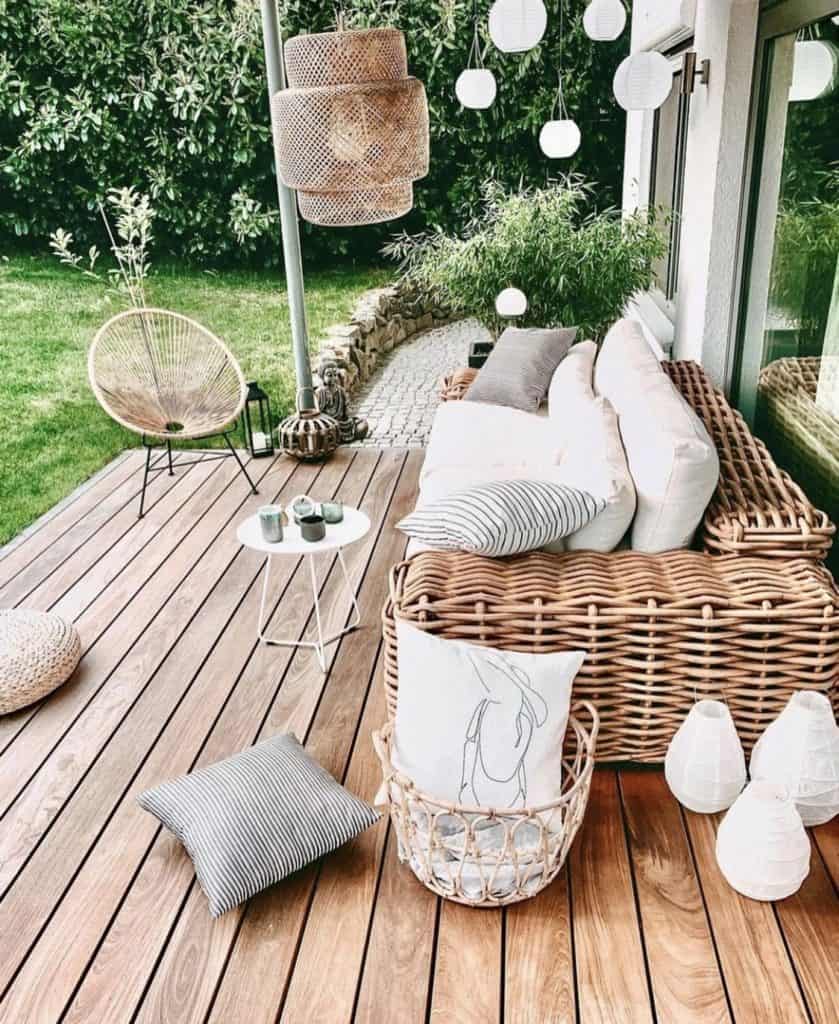 #10
This outdoor decor screams BOHO! Very magical atmosphere created by the countless lights and candles combined with a great view and lots of greenery.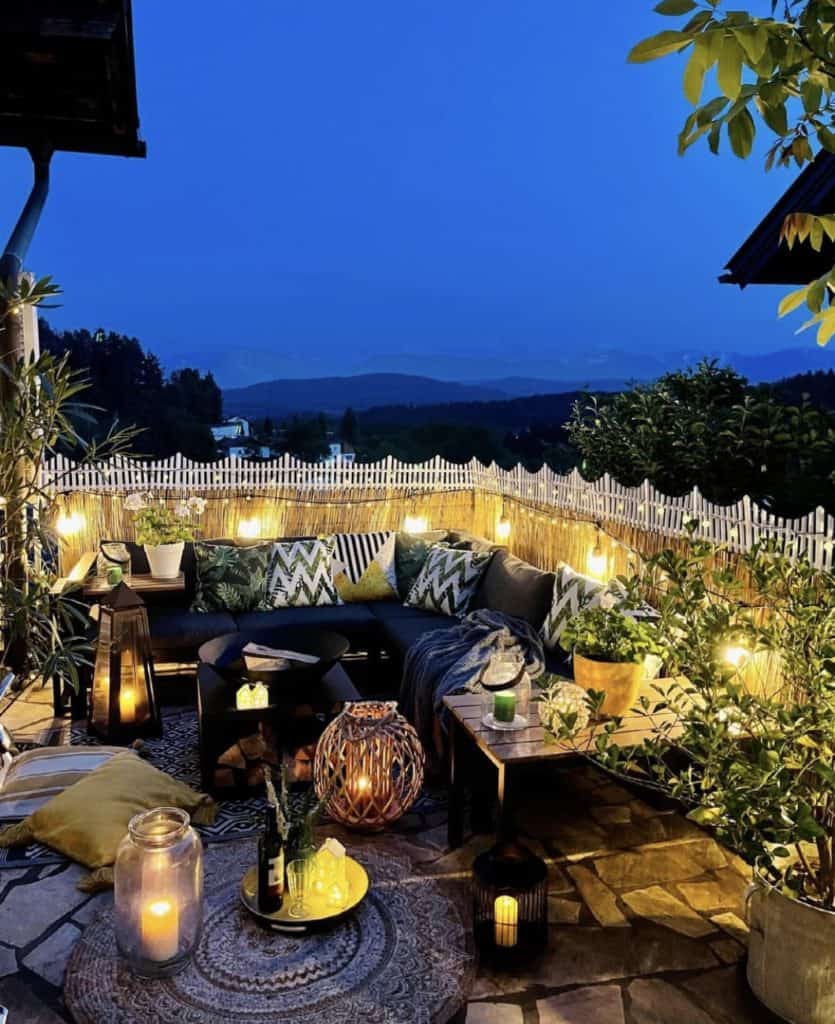 #11
A cozy outdoor nook with lots of cushions and sofa throws. The details are amazing! Look at the candlesticks, the armchair, the bookshelf, and the duvets. There are lots of lights, lots of candles and lots of magic.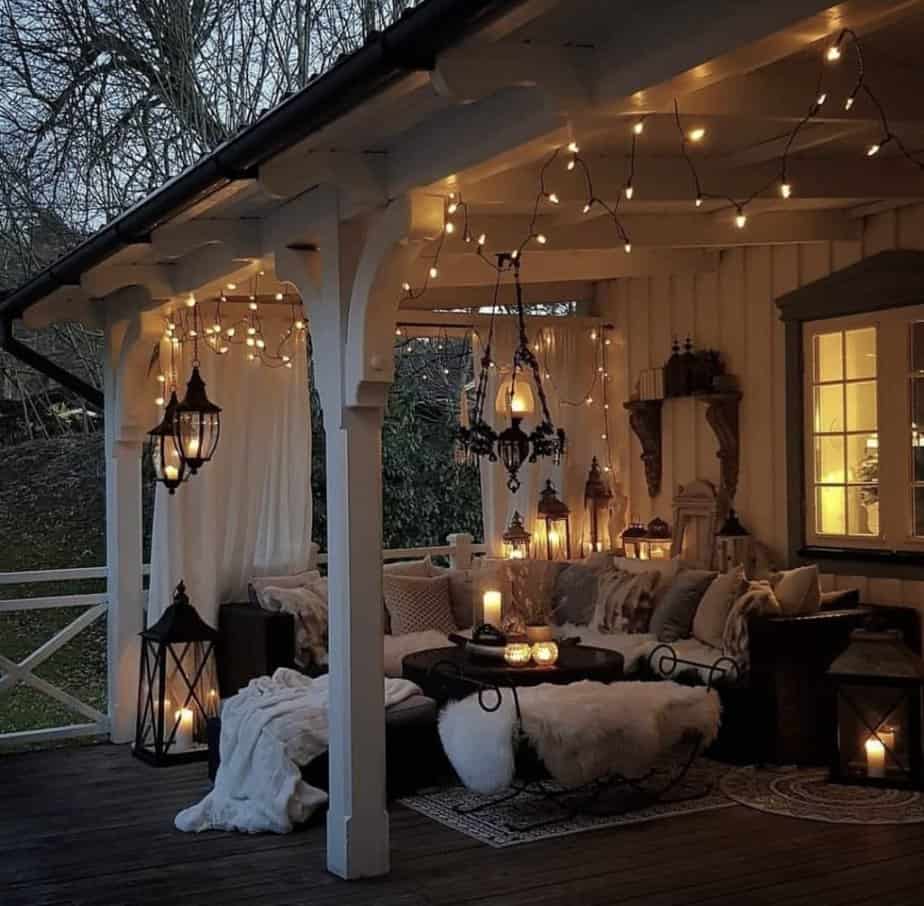 #12
Beauty and class! Black and white accented with greenery. An amazing place that I would want for my home. I'll never get tired or bored spending time there. The Jacuzzi adds to that.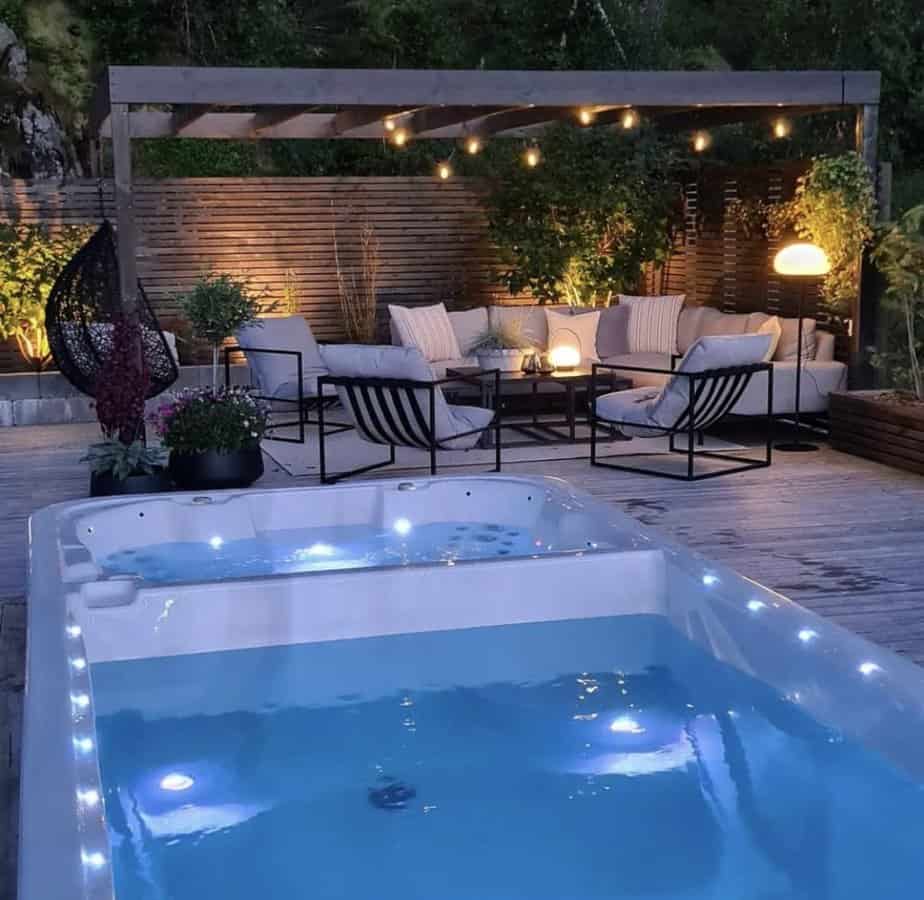 #13
Morning coffee with a pleasant view? This outdoor space will give you just that. Such a beautiful and gentle decor. A great mix of colors, comfortable furniture, and lots of greenery. Wonderful place!
#14
A lovely combination of colors. This lamp is impressive and the highlight of the area. The table also contributes to the overall picture with its design and shape.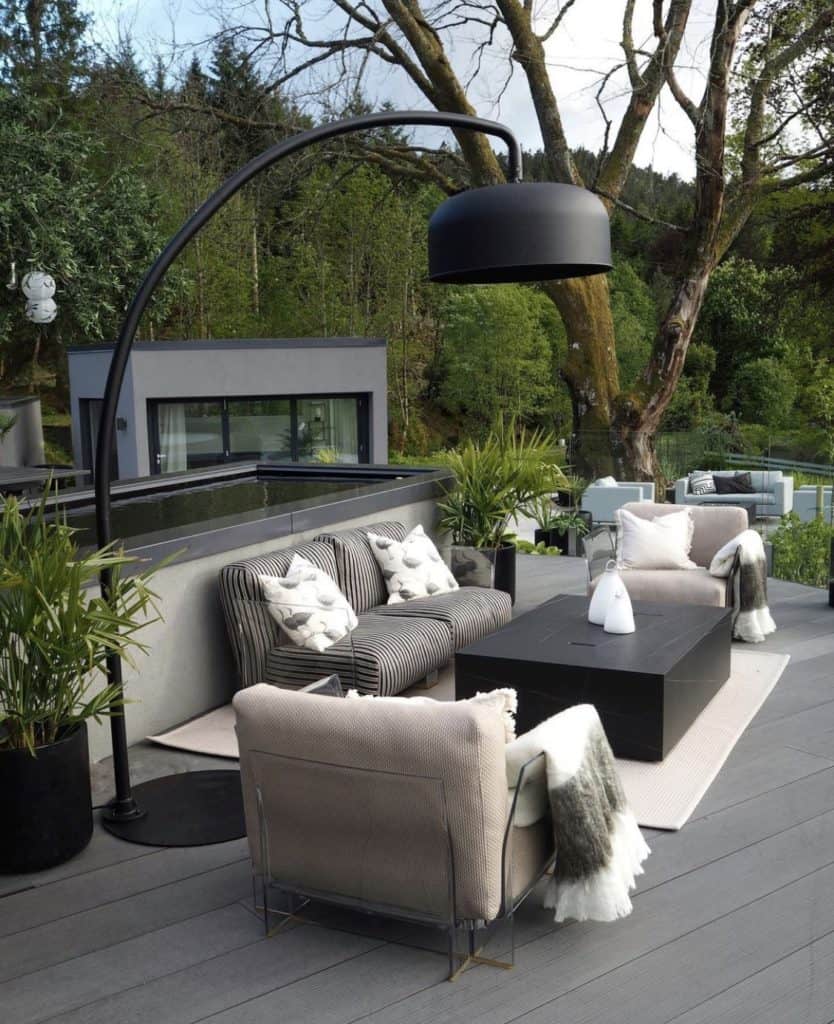 #15
This is fresh! That's the first word that comes to my mind when I see this outside decor. It's like a place out of fairy tales. This rug is so colorful and beautiful. The flower baskets are amazing and go hand in hand with the furniture and scenery.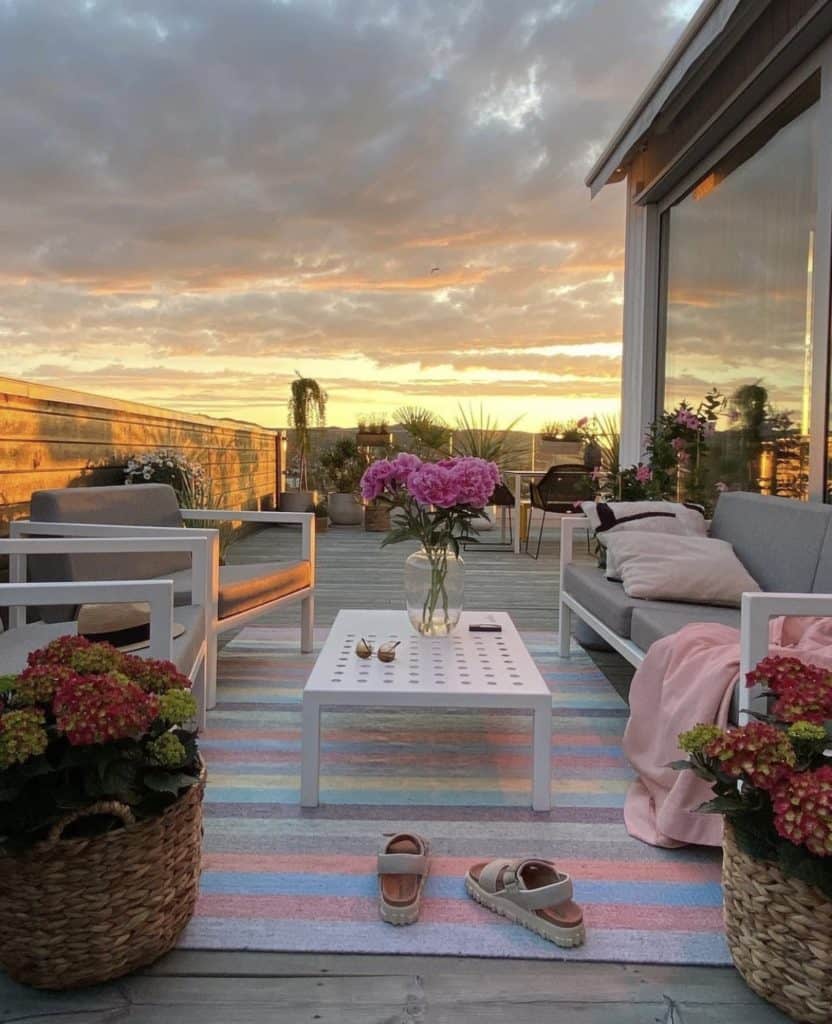 #16
The perfect spot to spend summer nights after a long day at the beach! To be honest, I can even spend the whole day here, no need to go to the beach haha. There are sunbeds and a barbecue combined with a gorgeous panoramic view of the sea. What more do you need?
#17
A great place to escape the hectic everyday life. Comfortable wicker furniture combined with lots of greenery. This place is perfect for a quality holiday.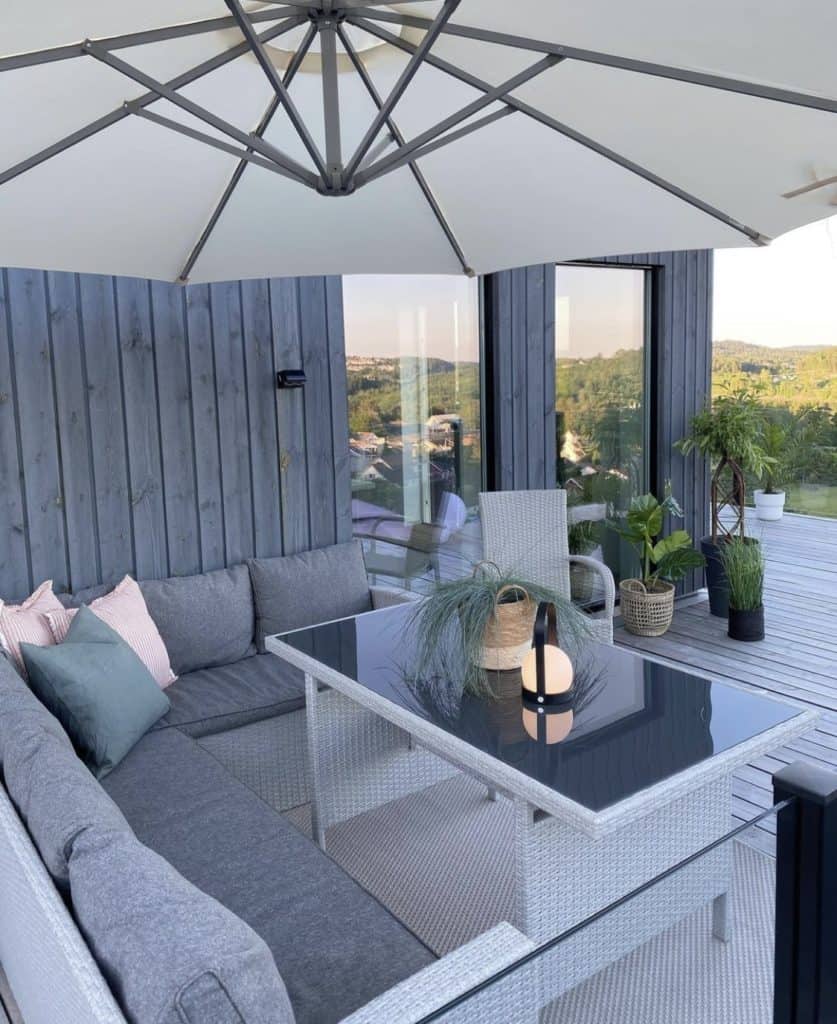 #18
This outdoor nook brings a smile to my face every time I see it. The abundance of purple color combined with the soft sofas, lightning, and small table create a magnificent outdoor space.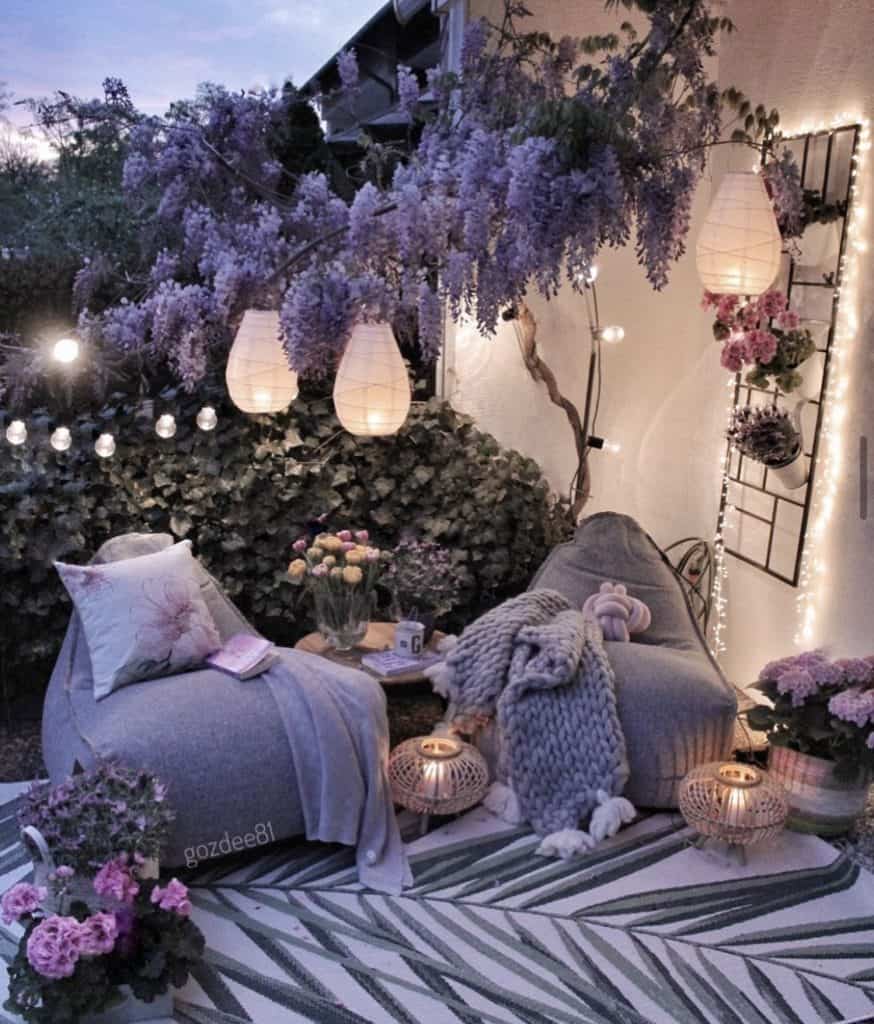 RELATED POSTS:
This post was all about trendy outdoor decor ideas you'd be obsessed with.