Looking for the best dorm room headboards? This post is all about 20 dorm room headboards you will love in 2023
This post contains affiliate links, which means I'll receive a commission if you purchase through them. You will have no extra cost!
Decorating your dorm room requires a lot of elements, one of them being the right headboard. It will protect the wall against abrasion and give a personal touch to your room's overall design. There are many different types and shapes to choose from. The color of the headboard should also be fitting to the other colors.
To achieve the best decor possible, you should tailor each element and apply it just right. The headboard should go perfectly with your bed and acts as an accent. In this article, you will see 20 dorm room headboards you will love in 2023.
20 Dorm Room Headboards You Will Love in 2023
1. Velvet Dorm Room Headboard
This board looks very stylish. Headboards are great because they become a perfect backrest and make your bed even more comfortable. Decorate with cushions for an even more beautiful and finished look.
Recreate this dorm room headboard
2. Fluffy Headboard
This headboard can easily become the highlight of the room. The fluff will give an even greater feeling of coziness and comfort. Again, cushions here are always an option. You can try to find such that match the pattern of the headboard.
3. Clean White Headboard With Eyelets
This type is often preferred by girls. It looks very modish and is suitable for any color decorations. You can complement it with lights and cushions. The eyelets on the other hand are a great accent on the board.
Copy this dorm room headboard idea
4. Shelf as Headboard
College students often need to be innovative to create more space in their small dorm rooms. One way is to put a shelf over the bed. However, you have to be careful not to hit your head in it every morning haha.
Recreate This Dorm Room Idea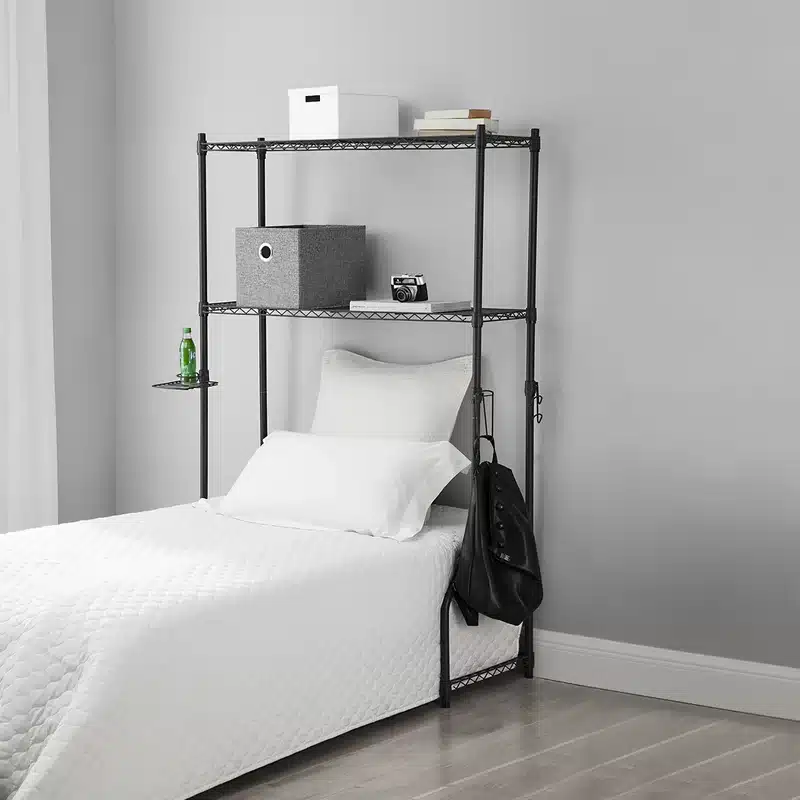 5. Wooden White Headboard
Wooden elements always bring a sense of elegance and sophistication to a room. Therefore, wooden headboards are a great option to make your dorm room more impressive. You can put lights on its corners and your nook will turn into a fairy tale.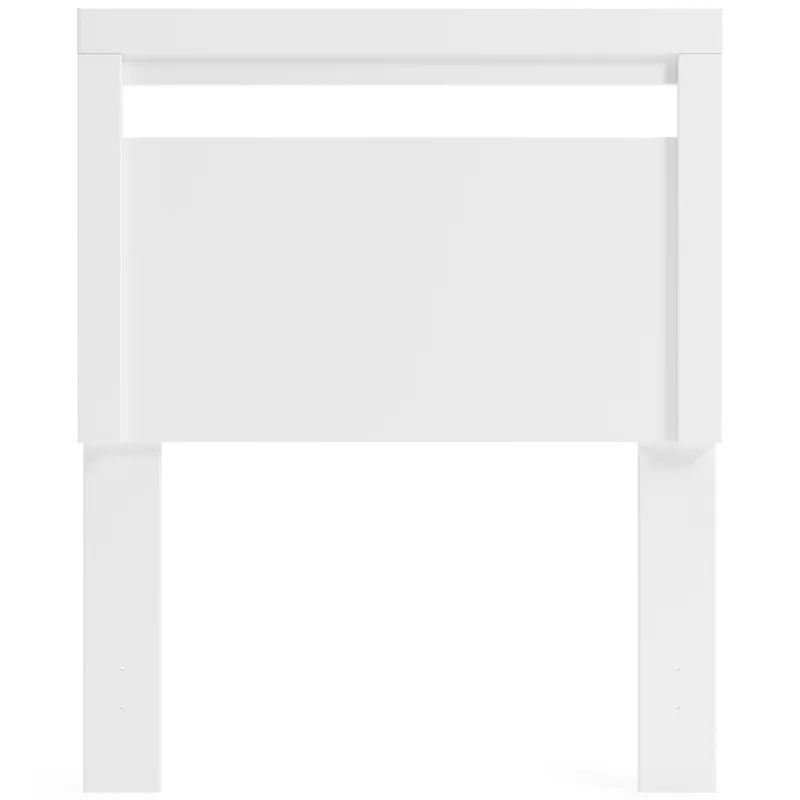 6. Dorm Room Headboard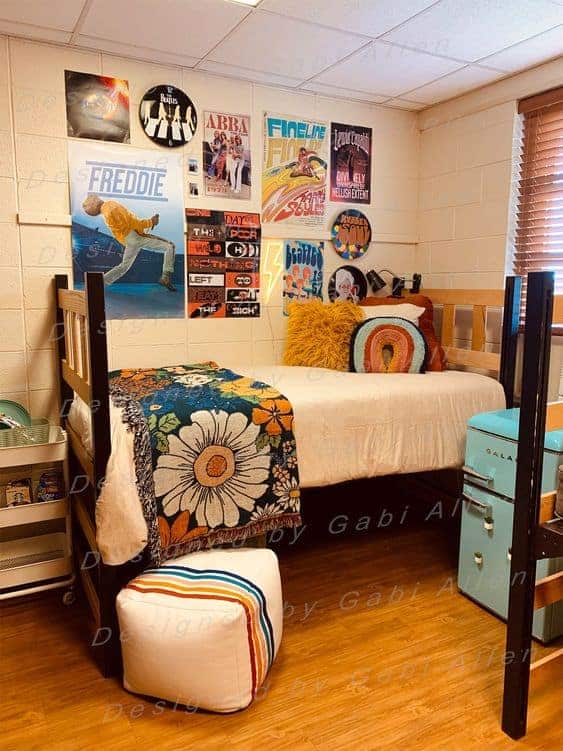 This is one of the classics when it comes to headboards. Most beds in dormitories are equipped with the same model as in the picture. Even if it is not the fanciest looking, it still has its unique charm.
Copy this Dorm Room Headboard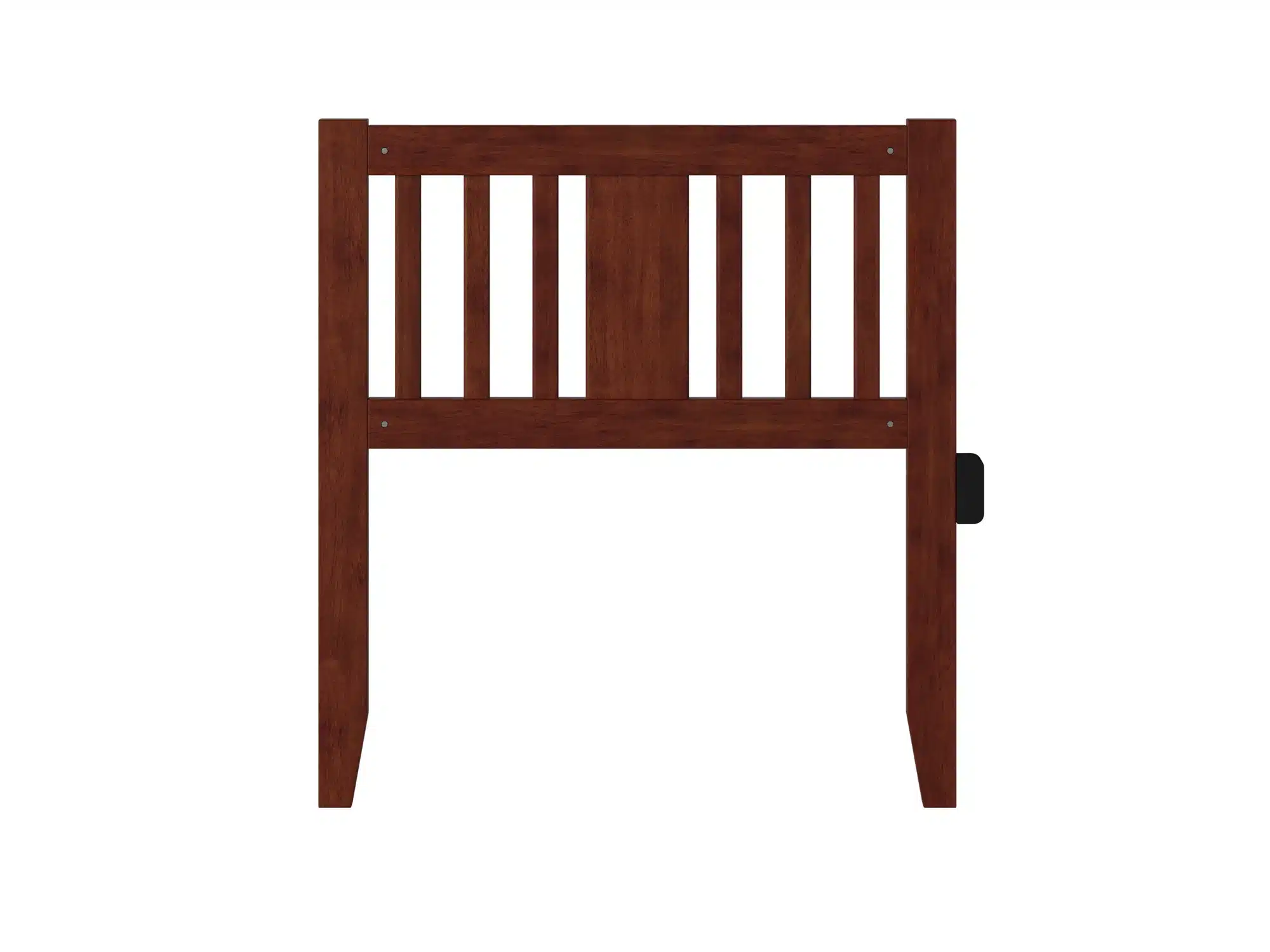 7. Square Headboard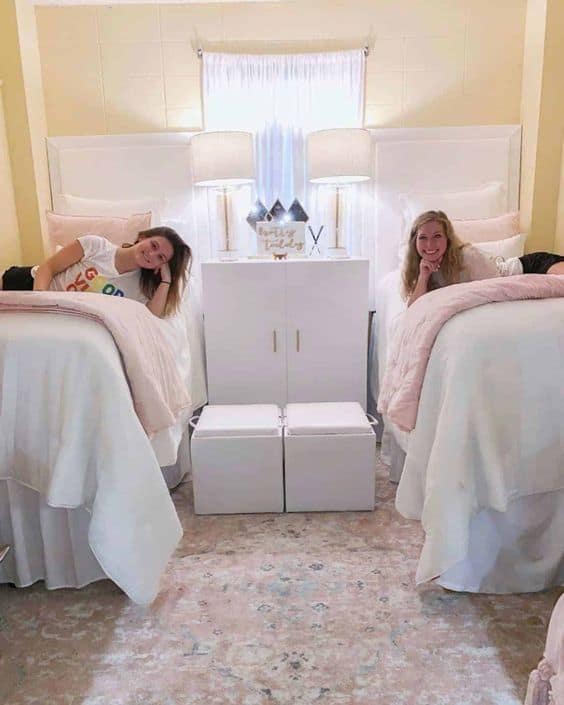 Headboard in a square shape and white color – simple and universal. It could go with all kinds of interior designs and could be easily decorated with other elements. For example, put whatever cushions you decide to highlight it.
Copy This Dorm Room Idea
8. Wooden Headboard Dorm Room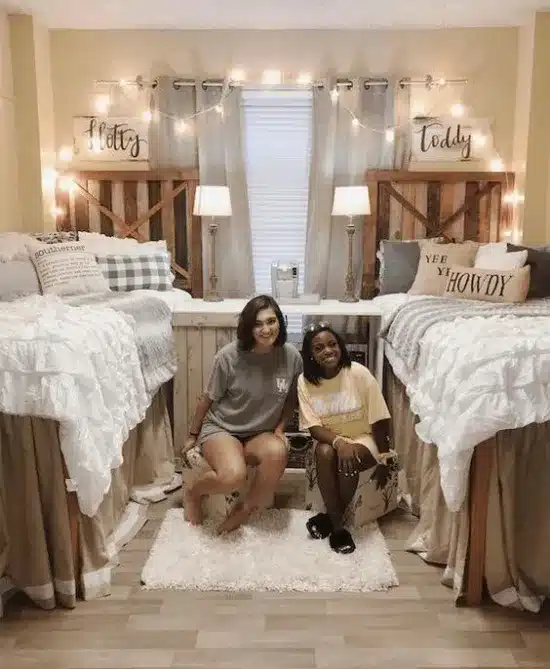 These girls have decorated their room perfectly. The lights and the wooden headboards blend perfectly and create an amazing atmosphere in the dorm room.
Recreate This Headboard In Your Dorm Room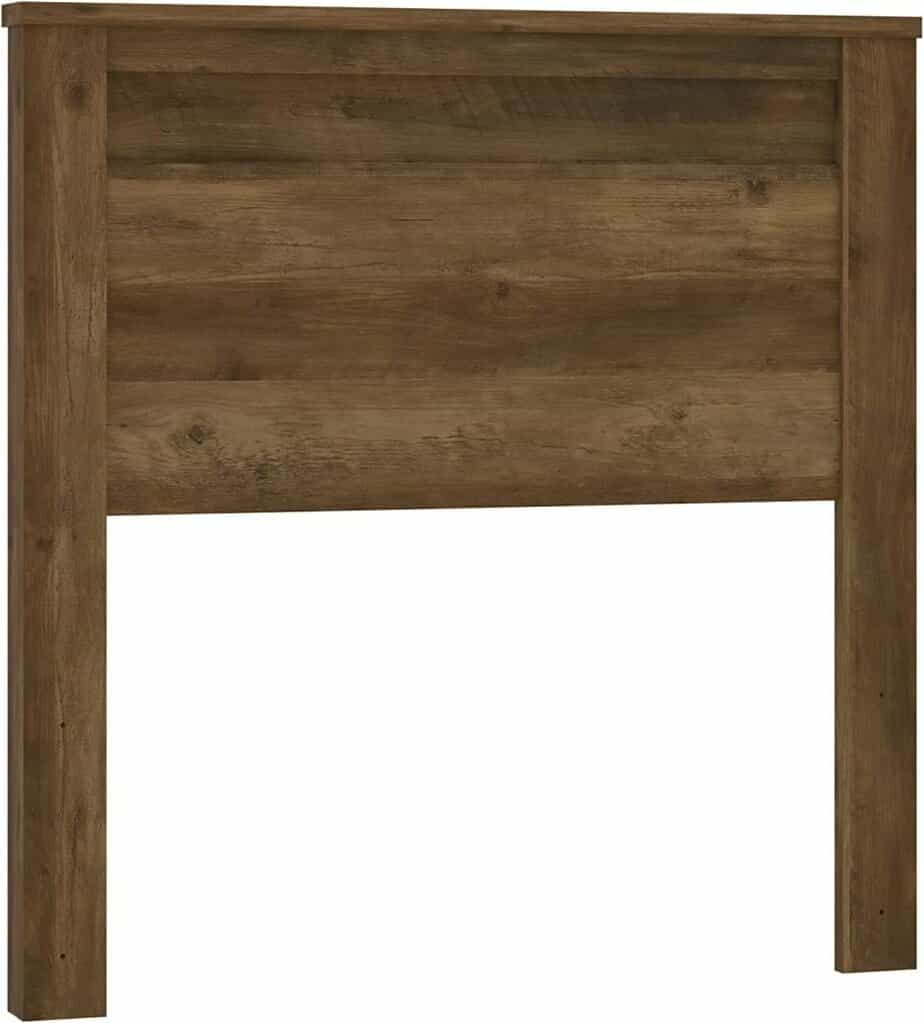 9. Animal Print Headboard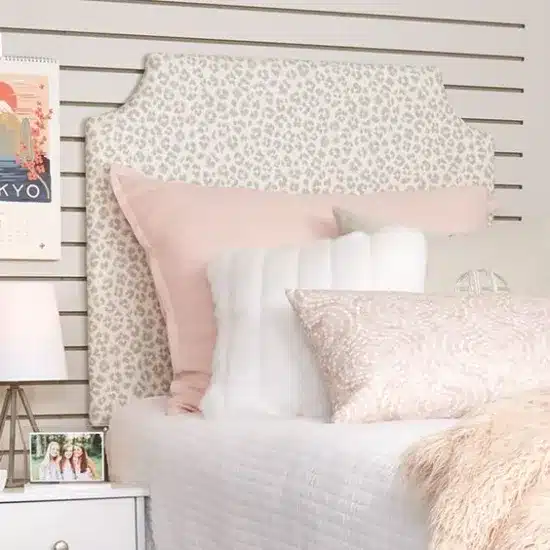 Animal print headboards are a really interesting option for a dorm room. It could be harder to complement them with other decorative elements, but the result in the end will be eye-grabbing.
10. Frame Headboard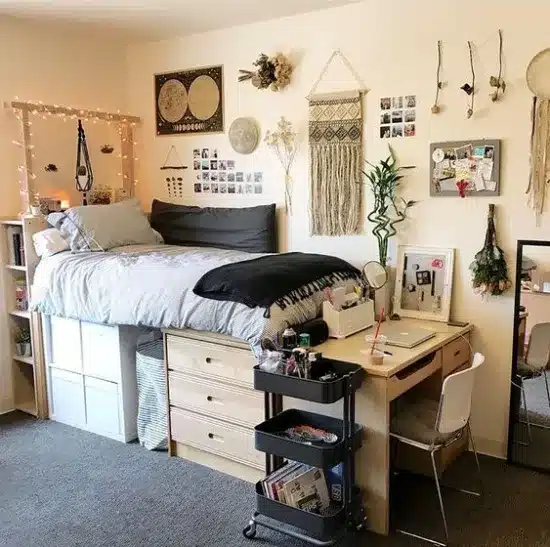 Here's another example of the amazing combination of lights and wood. This board looks very stylish. Inside the frame, you can put a glowing figure, a favorite quote, a charm, or whatever you decide. Decorate the bed with cushions because there is a danger of it looking too empty with this type of headboard.
Recreate This Headboard Idea
11. Grey Shelves Headboard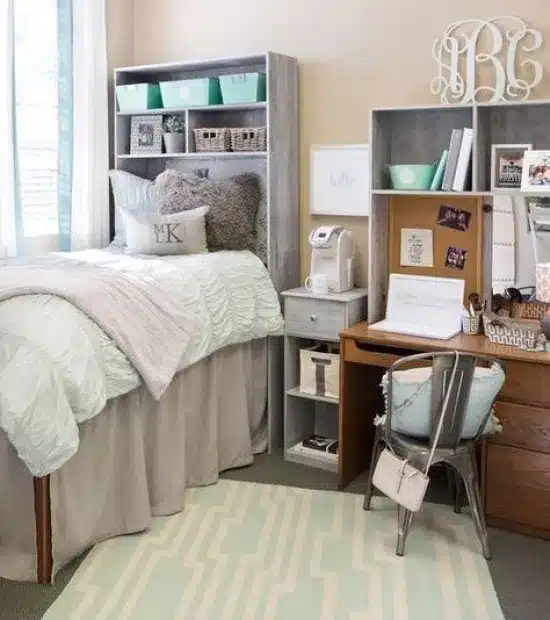 This is another example of a shelf over the bed. Look how the headboard's color is the same as the one on the bedside table and shelf over the desk. This is how you achieve harmony in your dorm room's decor.
12. Pink Headboard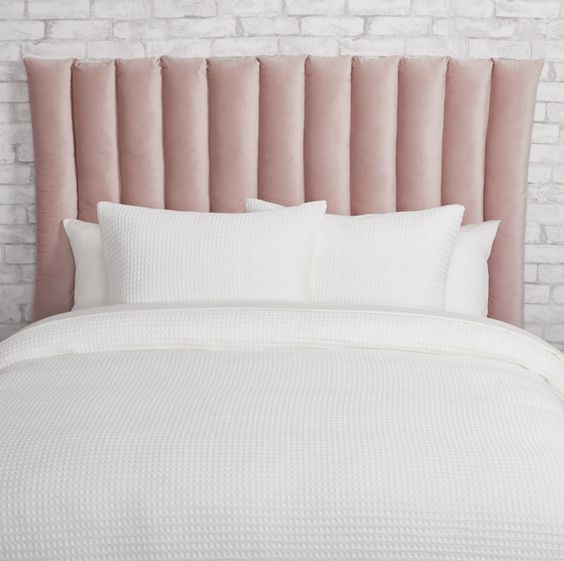 Every college girl needs such a headboard. The pink color will be a great option for a girls' dorm room.
13. White Leather Headboard With Gems
This is one of my favorite headboards because it looks very classy. When paired with pink it creates an amazing princess room.
You can also decorate with lights and cushions. In this case, monochromatic cushions will be a better option.
Copy This Dorm Room Idea
14. Black Headboard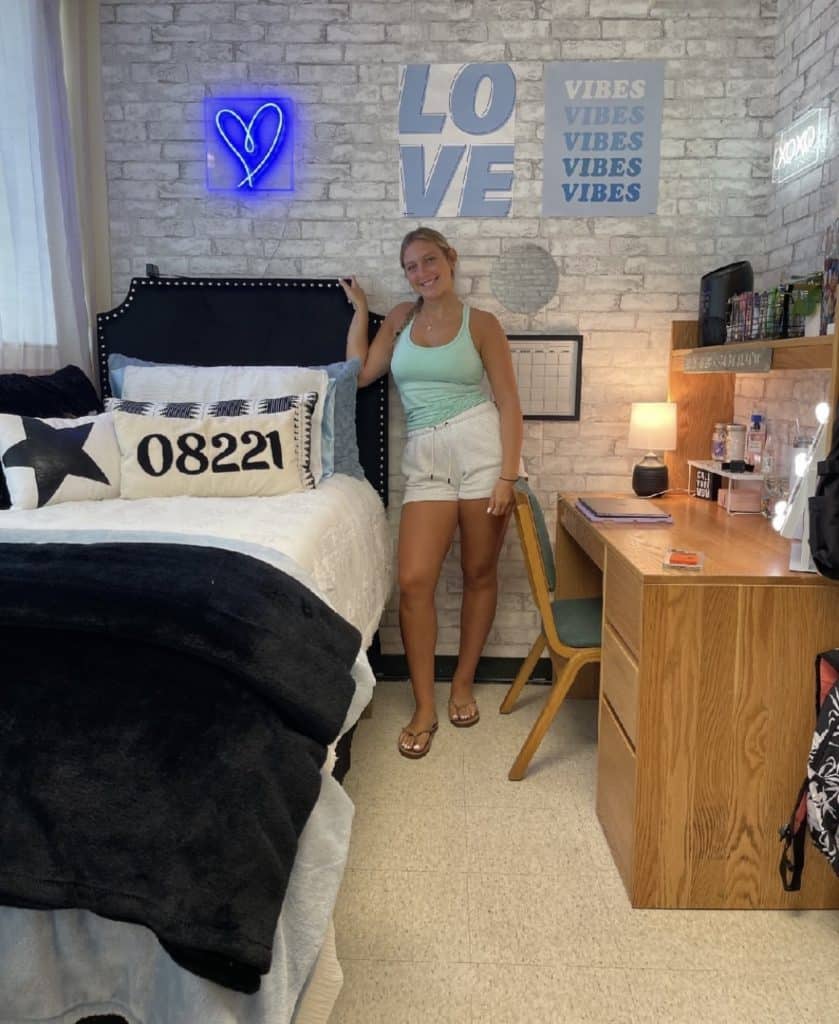 As an avid fan of the black color, I want to say that I like this headboard. While looking at this picture I thought of at least three color combinations that I would have tried out. One of them is black, white and pink. I think it would look amazing.
Copy This Dorm Room Headboard Idea
15. Headboard Cushion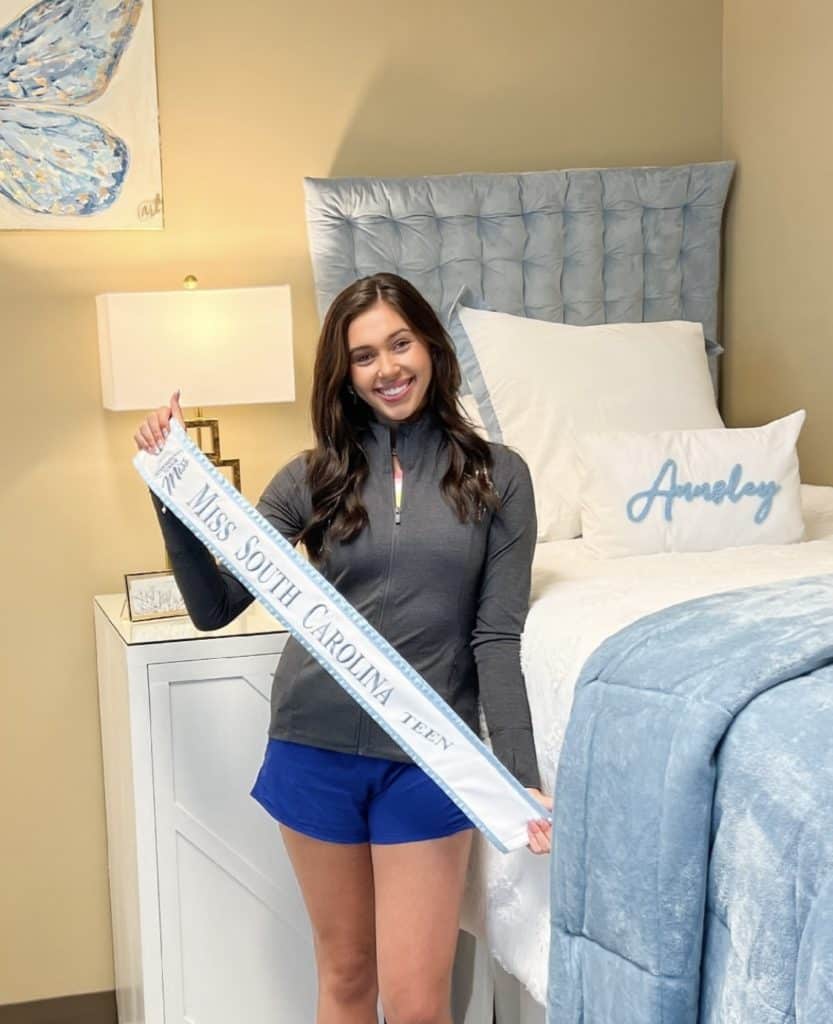 A big cushion can also be used as a headboard. You can even buy a couple in different colors and forms. This will allow you to change the decor of your bed when you get bored with it.
Copy This Headboard Idea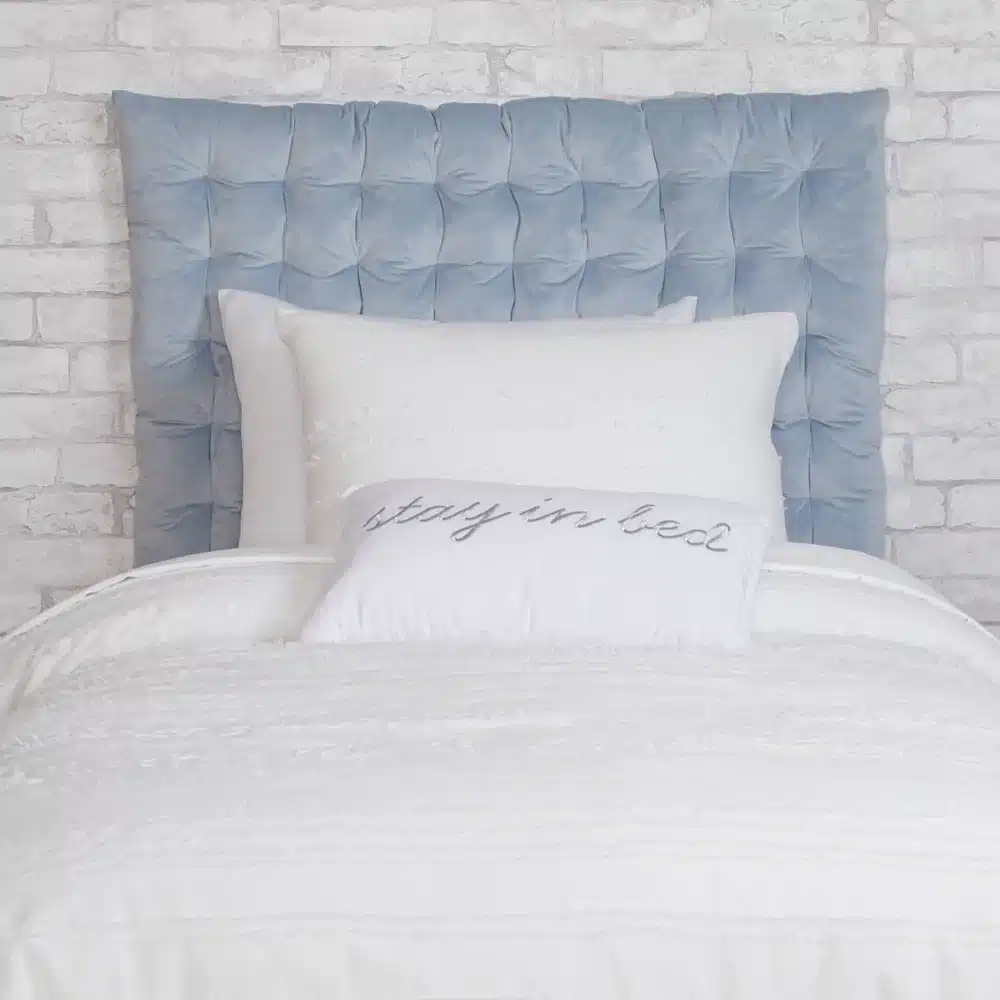 16. White Leather Headboard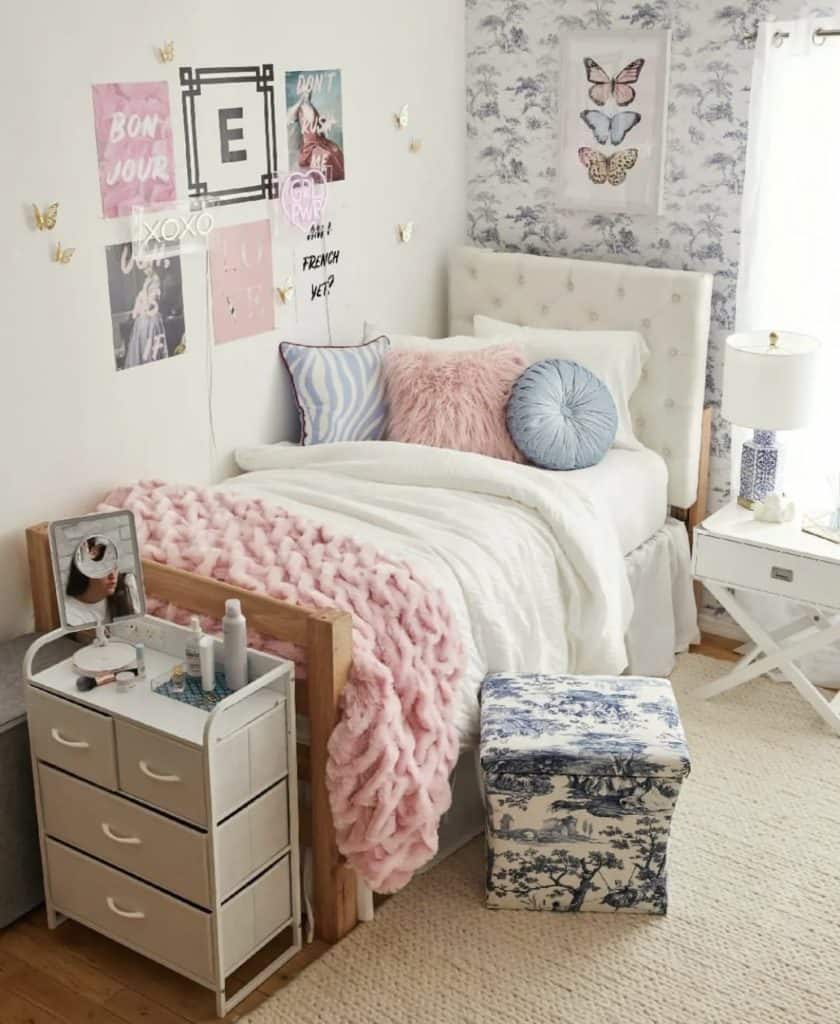 Another leather whiteboard that can make your dorm room look extra chic. Again you can safely bet on cushions and decorative lightning as an addition.
17. Headboard With Prints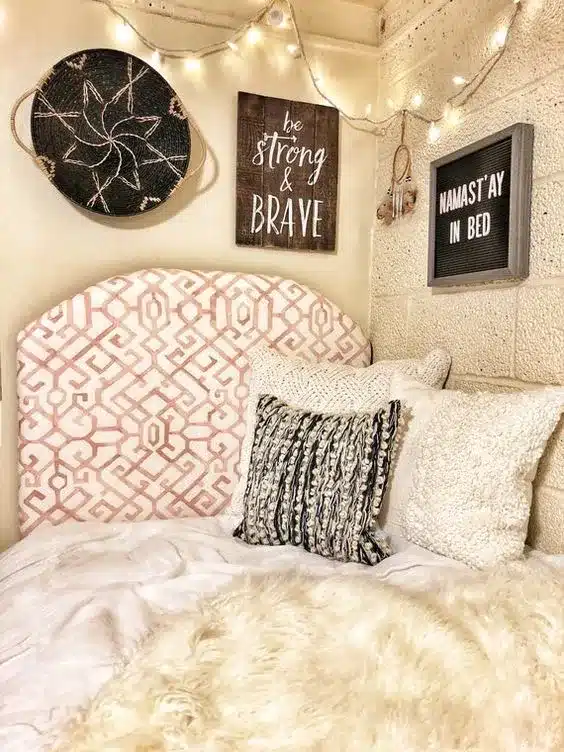 You can find headboards with a variety of prints and thus decorate your dorm room thematically. Choose the right colors and patterns and do the rest of the decoration in the room based on these factors. If the print has a lot of colors I suggest you go for monochromatic pillows.
Recreate This Headboard Idea
18. Boho-style Dorm Bed
You can bet on the boho style and thus fill most of the wall with beautiful decor. You can put a monochromatic blanket as you can decorate it with colorful pillows or the other way around.
Here again, the lights are very suitable for decorating the room. You can hang your favorite images, pictures, or quotes on the wall as a collage.
Recreate This Dorm Room Idea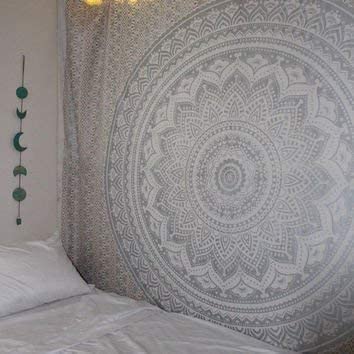 19. Rounded Headboard
I like this headboard and think it would look amazing in any color. The right cushions can make this board look even better and so can the decoration with lights.
Recreate This Headboard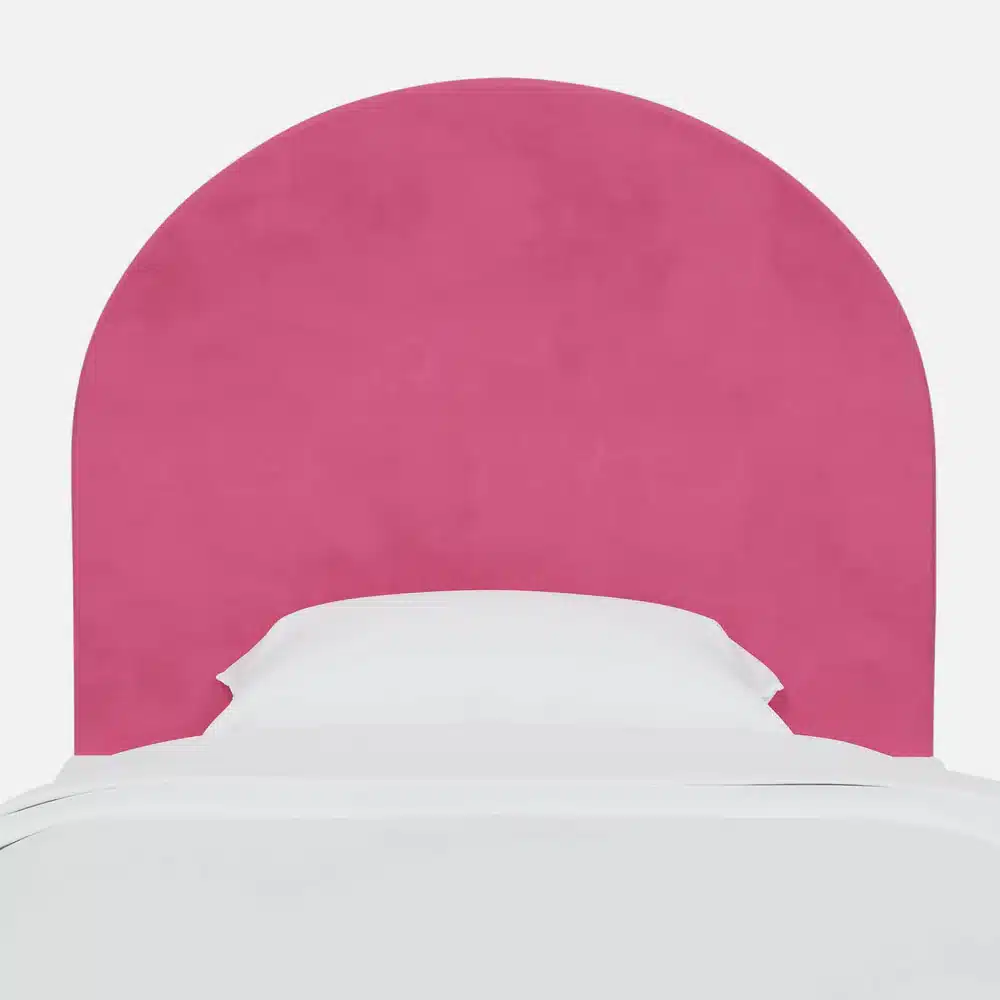 20. Plain White Headboard With Eyelets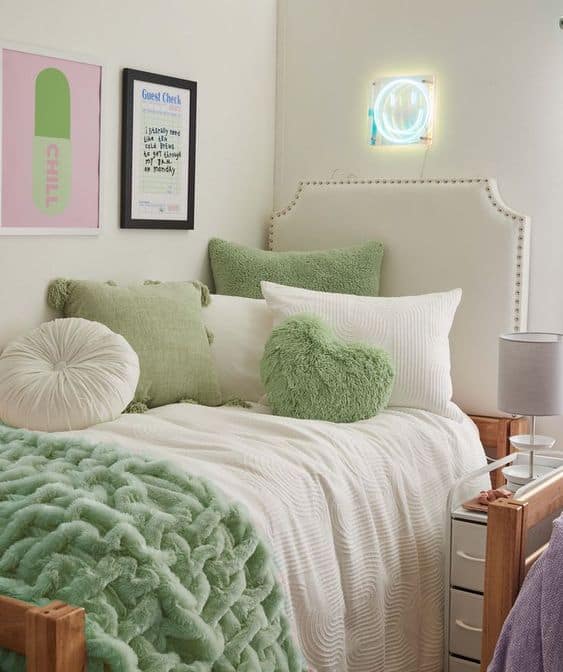 We've already talked about a model like this, but I can't help but mention how amazing it looks. Here again, you can decorate with whatever colors you like and thus create your corner woven from harmony of colors.
Copy This Dorm Room Headboard
related posts you may like:
18 Under Bed Storage & Organization Ideas For Your Dorm Room
25 Dorm Room Chairs Without Wheels For College Students
40 Absolutely Necessary Items Every Bedroom Should Have
This post showed you 20 dorm room headboards you will love in 2023