This post is all about 20 Tips On How To Make Your Home Look Expensive
We all dream of living in an expensive and beautiful home, but not all of us can afford it. Of course, there are ways to make our place look more expensive even with cheap materials. Read through my 20 tips on how to make your home look expensive.
I learned these lessons the hard way and now I give you the information for free (wink) haha. If you are interested in learning how I furnished my apartment be sure to read the following article.
Now let's begin with my 20 tips on how to make your home look expensive…
20 Tips On How To Make Your Home Look Expensive
Update Cabinet Hardware
A quick and easy way is to add or change the look of your bathroom or kitchen by investing in cabinet hardware. The change of design presupposes something new and luxurious.
Choose The Paint Carefully
An important step that is decided during the repair, because it is very difficult to change the paint after you have furnished. Carefully choose it and bet on lighter colors. Another thing I would advise is to use one color in all rooms, colorful rooms do not give you that expensive feeling.
Add Wall Art
Add paintings with a variety of artistic qualities, it doesn't matter if it is a portrait, landscape, an inspiring quote with an interesting design or something else. Simply choose what would complement your room and convey a touch of aristocracy.
Lighting
The light in an apartment is everything. The design of lighting fixtures is an interesting detail that you can add to your home. In my apartment, I bet on black lighting fixtures, as this is the focus I am striving for! And you?
Do Not Use Too Many Colors
Again a very important step! Just as you don't have to make your home colorful with different paints, this also applies to furniture. Focus on 2 to 3 colors so that everything in your room can be in unison.
Decorative Pillows
The use of decorative pillows is a great addition to the interior design. it makes your sofa more complete and all people enjoy decorative pillows. Don't think twice and buy some pillows with interesting design on them!
Plants
The use of decorative or real plants helps to break the overall modern urban atmosphere. They give a feeling of nature in your home and are an interesting addition to every design style.
Choose One Style And Stick With It
Stick to the overall design that you have chosen! As you know, there are a variety of interior styles such as modern, retro, boho, Scandinavian, minimalist, industrial, vintage, Shiba chic, country and many others. If you want to make your home look more expensive, choose a design that you like and use elements that are typical for it, don't mix it!
Do Not Use Too Many Things
Do not overdo the decorations, try to keep the design as clean as possible and get rid of unnecessary things. You don't have to stack it all in one place. It just doesn't look good!
Curtains
One of my favorite things in my home is the curtains. This gives a feeling of an expensive home, especially when they are blacked out. Choose them based on the color in your room to get that perfect harmony.
Add Some Mirrors
Mirrors create a feeling of more space in the room. It is good to put a large mirror next to the front door and also in your living room. As a decoration, asymmetrical mirrors can be placed above the sofa.
Details makes your home look expensive
Choose the details carefully. For example, if your apartment is mainly in white colors, you can put black details such as moldings, wrench keys, door handles, cabinets, etc. to get a contrast that at the same time is well balanced.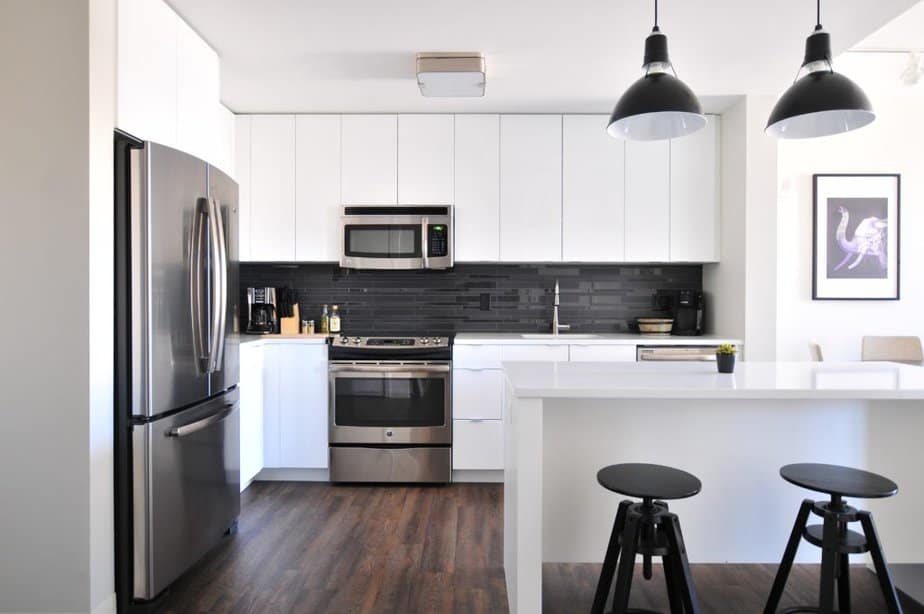 Remove The Unnecessary Things
Your apartment will never look luxurious if you clutter it with objects. So make a cleanup by getting rid of the tower of magazines that covers the table, the boxes from another purchase that you have been accumulating for months or the decorations that no longer go to the interior of your home.
Be Careful With Things That Will Make Your Home Look Unpleasant
First of all, make a plan where there will be electrical appliances to avoid seeing the cables. Always measure everything three times so that there are no bad surprises with the size of the furniture and the space they occupy.
Organise
Never! I repeat, your home will never look luxurious if you leave your little things everywhere. No one wants to know what medications you are taking or how many hair bands you have. Organize the space, arrange everything in boxes and you will notice how your home starts to look cleaner and tidy like from a magazine.
Use Aromas For Fresh Air
What could be cooler than entering a home and smelling something pleasant, clean, and luxurious? You can achieve this by choosing the right fragrances for the air freshener. As I want you to remember that this is your home and you must like the scent!
Flowers
There is nothing more pleasant than fresh flowers on the table. Choose the right color of flowers by choosing the right vase. There are many interesting budget vase designs available, so you can achieve a very beautiful result with little money.
Have Different Cups For Different Beverages
Choose the right glasses for drinks. Do you like to drink 20 years of aged wine in a beer mug? Surely not! The glasses do not need to be made of crystal to feel luxurious. It is enough to have the appropriate glasses for some of the basic types of alcohol.
Built-in Appliances
One of the things that create a better look of the home is the built-in appliances. The interior becomes cleaner and more spacious.
Keep Your Home Clean
The most important rule! Without keeping your home clean, nothing from the above-mentioned tips will help you replace this. You need to choose the right detergents and clean regularly. One tip: Make the cleaning process a pleasure, not a tedious task. This happens when you realize how much you appreciate everything you have done to make your home look good, and with cleaning, you maintain it that way!
Thank you for reading my tips about how to make your home look more expensive. Now it's time to impress your friends & family with the new look of your dream home!😉✨