Want to throw an amazing party for your 21st birthday, but don't know exactly how? In this post, you will find 31 ideas from party decorations to food and drinks to make your celebration unforgettable.
This post contains affiliate links, which means I'll receive a commission if you purchase through them. You will have no extra cost!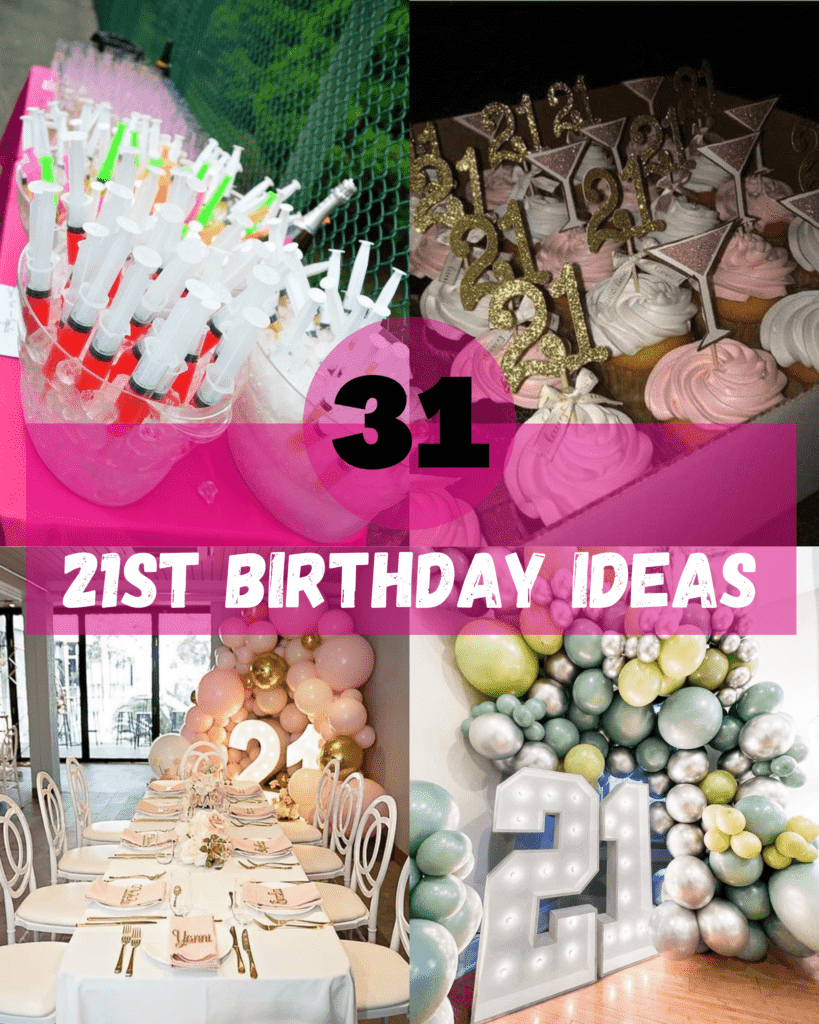 Every teenager looks forward to their 21st birthday. However, besides the opportunity to now legally get drunk and go to a nightclub, on this day you also become a fully fledged adult.
Therefore, your 21st birthday is certainly an event that should be celebrated properly with friends and family members.
With these 31 ideas that I have prepared for you, I am sure that you will be able to organize a party that will impress all your guests and you will remember it for a lifetime.
Why Is the 21st Birthday So Important?
In the US, when you turn 21, you get all the rights that your parents have as well. Such as buying alcohol, going to nightclubs, and even getting a weapon permit. For this reason, the 21st birthday is considered a milestone because a person reaches the legal status of a complete and responsible adult.
Why Is the 21st Birthday Called Key Birthday?
According to old traditions, when you turn 21 you are accepted as an adult in the family and you receive a key to the family's home. Hence the 21st birthday also being called Key Birthday.
31 Ideas to Throw a Memorable 21st Birthday Party
1. Welcome Drink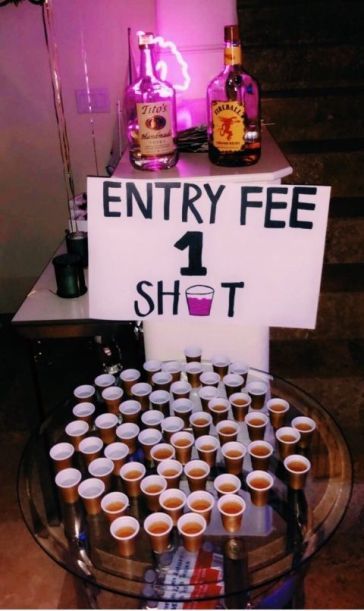 You're 21 now, so it is a must to include alcohol in the party lol. This table full of shots will save a lot of awkward silence at the start of any party and predispose your guests to relax.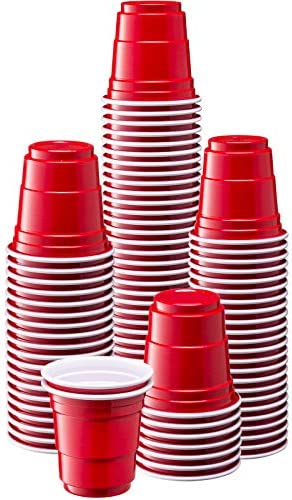 2. Memory Book
Another amazing idea for your 21st birthday party is to create a Book of Memories.
All you need is a book or notebook with blank pages, an instant camera, and some colored pens. During the party, every guest will be able to take a photo with you and leave a sweet message under it in the notebook.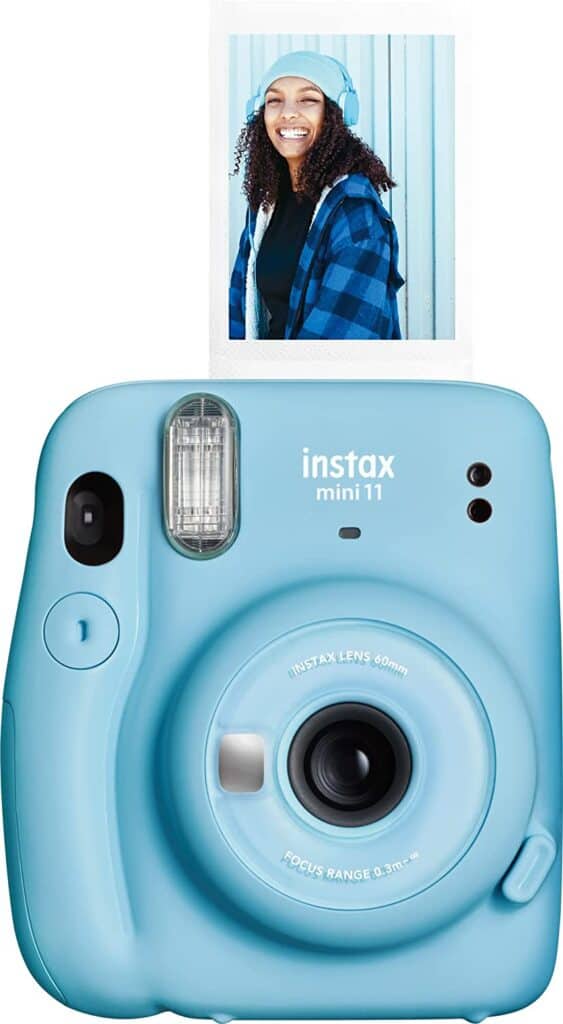 3. Funny Cake
If you have a sense of humor you can order a cake with a funny design that will be the highlight of the party. There are many cool ideas on the internet to copy when choosing your designer cake for your special day.
4. Instagram Photo Frame
Nowadays we all share our happy moments on social media. Therefore, it's a good idea to order or DIY a photo frame that will make the pictures look even cuter. With this, you will certainly get a lot of likes lol.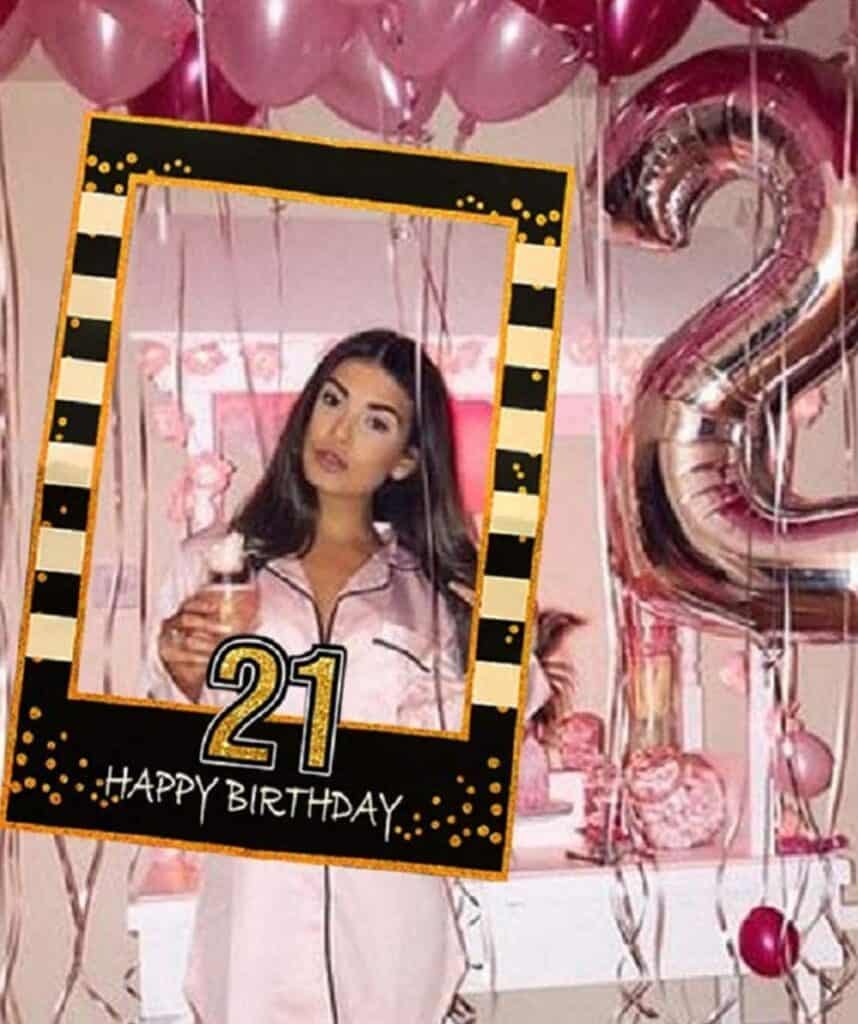 Related post: How to Make an Instagrammable Closet
5. Organize Games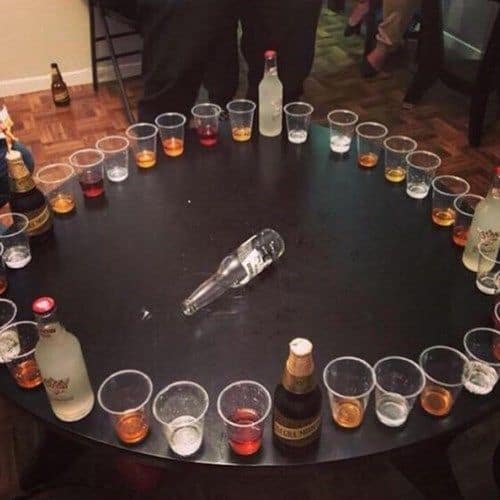 If you want to break the ice between your guests faster at the beginning of the party, come up with different engaging games to help them relax. Include alcohol for greater effect lol.
6. Decorative Bottles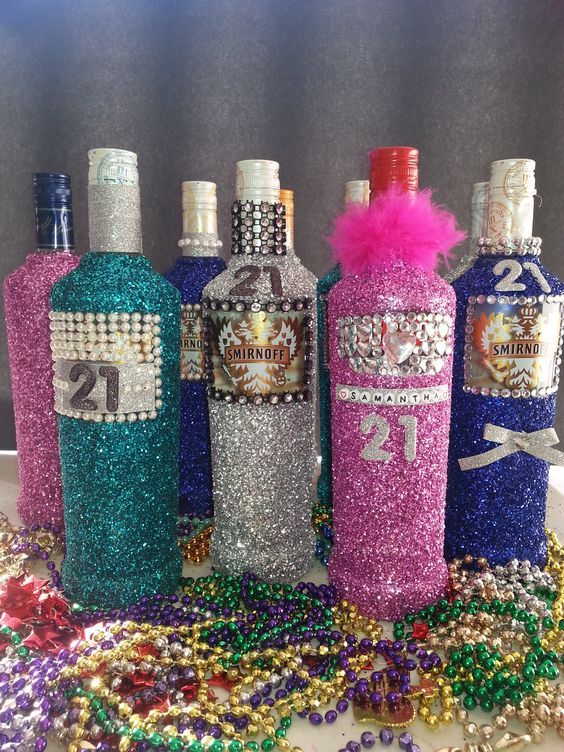 When doing the party decorations don't forget to pay attention to the small details. Add a stylish look to the liquor bottles by covering them with gems, glitter, ribbons, etc.
Recreate this idea with glitter and pearls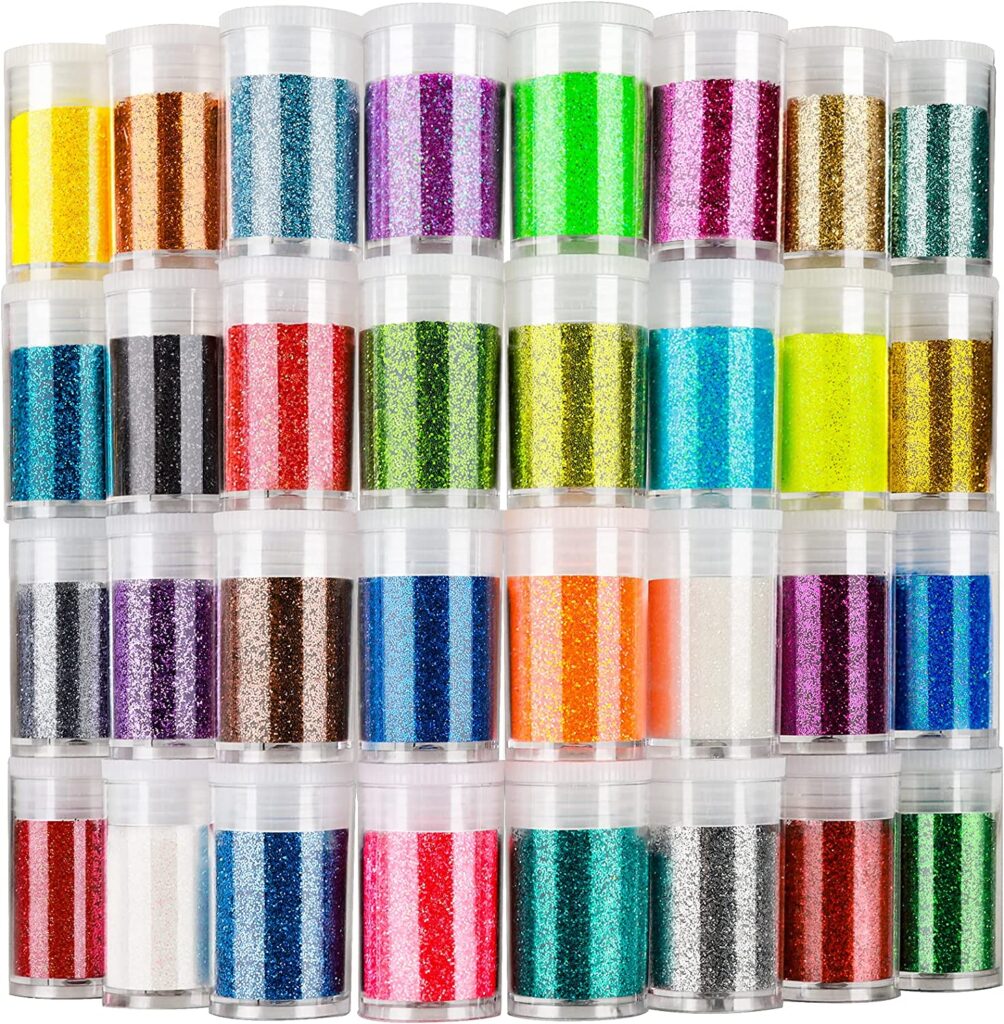 7. Cotton Candy and Rosé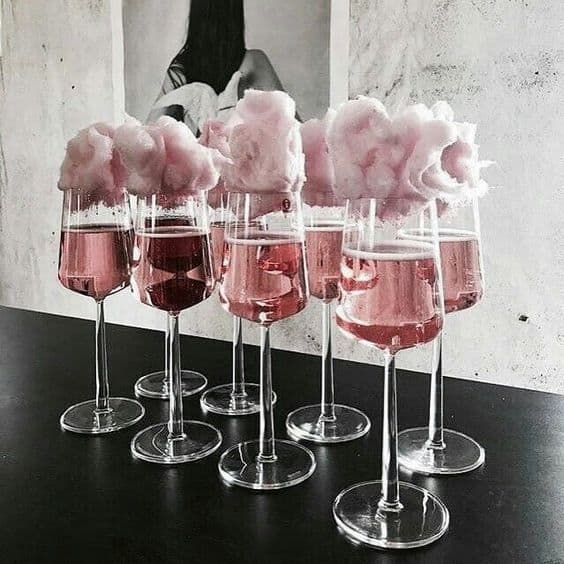 Here is an amazing suggestion for a ladies' birthday party. Use this idea as a welcome drink. The colors of the rosé and the cotton candy complement each other perfectly and the drink looks spectacular.
8. Chocolate Fountain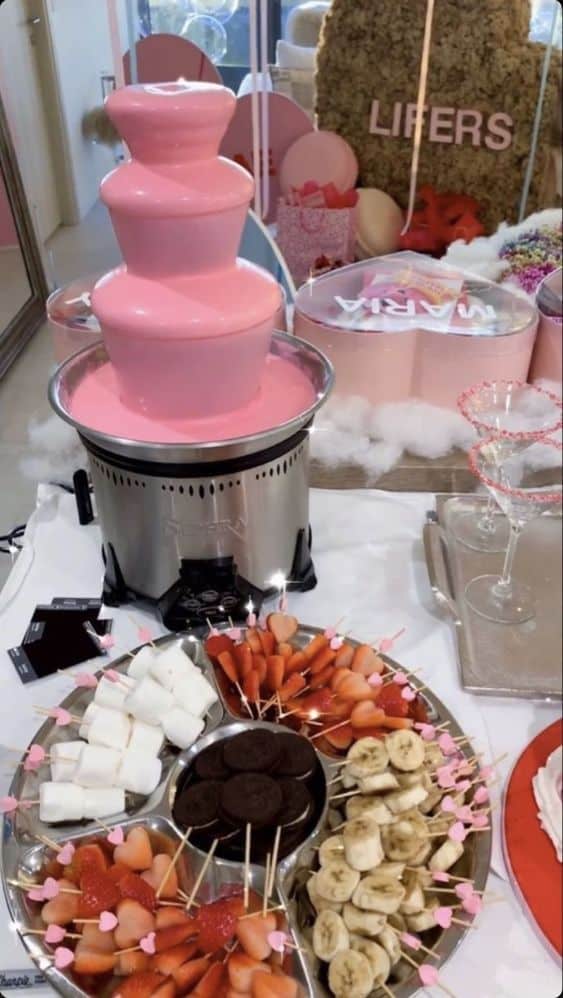 I love this! A chocolate fountain is one of the coolest things you can put at your birthday party. Apart from being a great addition to the food, it will also be a very eye-catching decoration.
Recreate this idea with chocolate fountain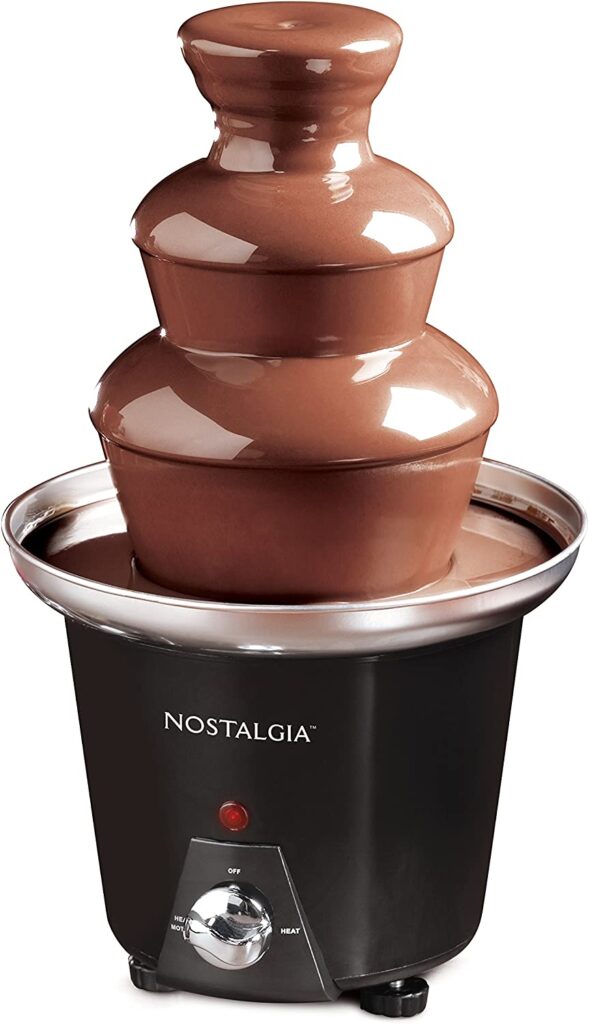 9. Punch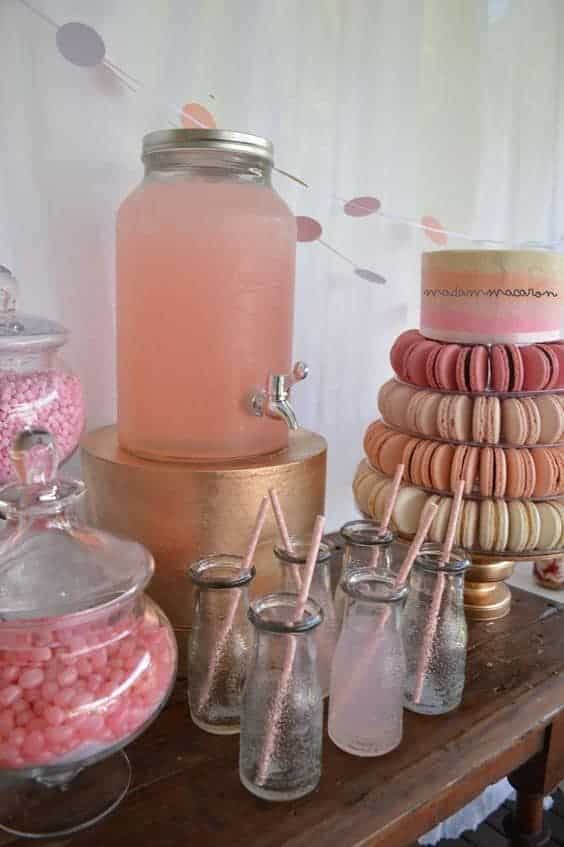 I think it would also be a wonderful idea if you add punch to the party drinks. Unlike the one at your prom, you can add alcohol to this one now lol.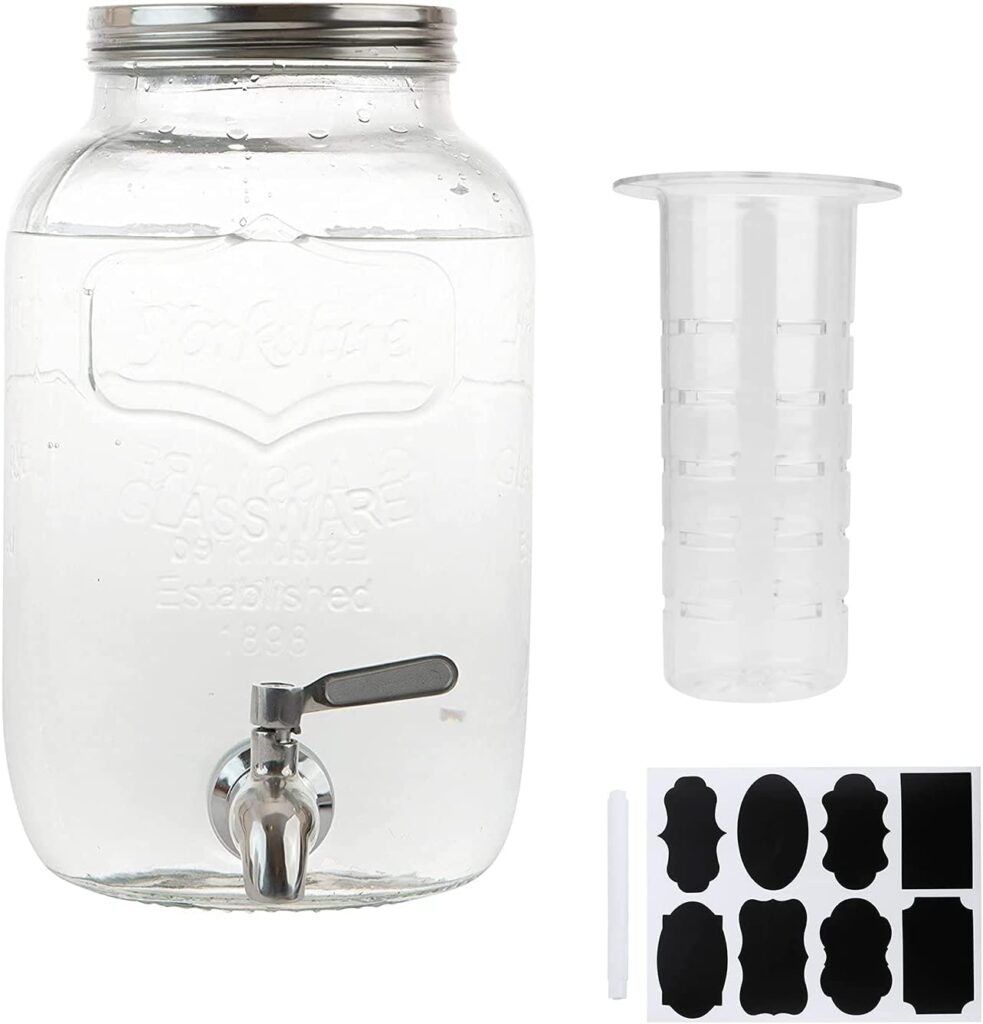 10. Plan a Photoshoot
If you love being photographed, you can capture the moment you turn 21 in a photoshoot. The professional photos taken will be a great memento and you'll have something to show off on Instagram haha.
11. Boozy Cake
Another amazing idea for your 21st birthday party is to have a boozy cake. Watch the video below to see how you can do it.
12. Shots in Syringes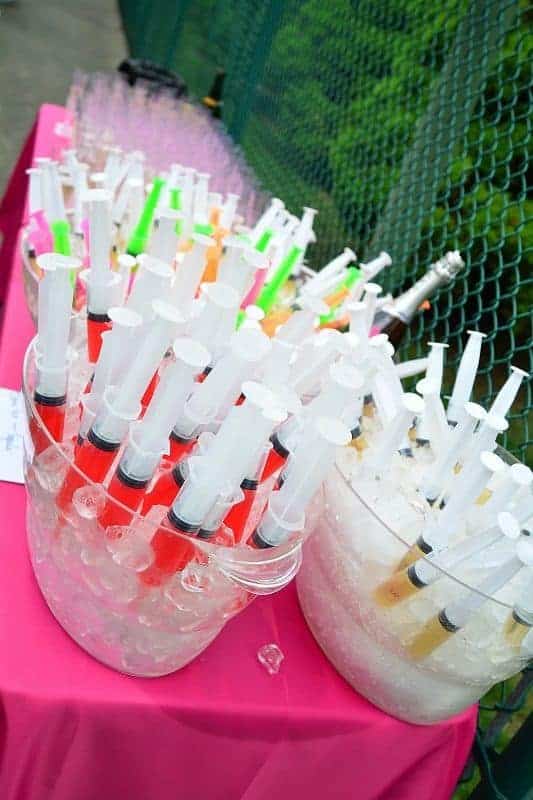 Well, this post is about your 21st birthday, of course, every other idea on this list is alcohol-related lol. This is an impressive way to serve drinks to your guests. Fill the syringes with different alcohol and keep them chilled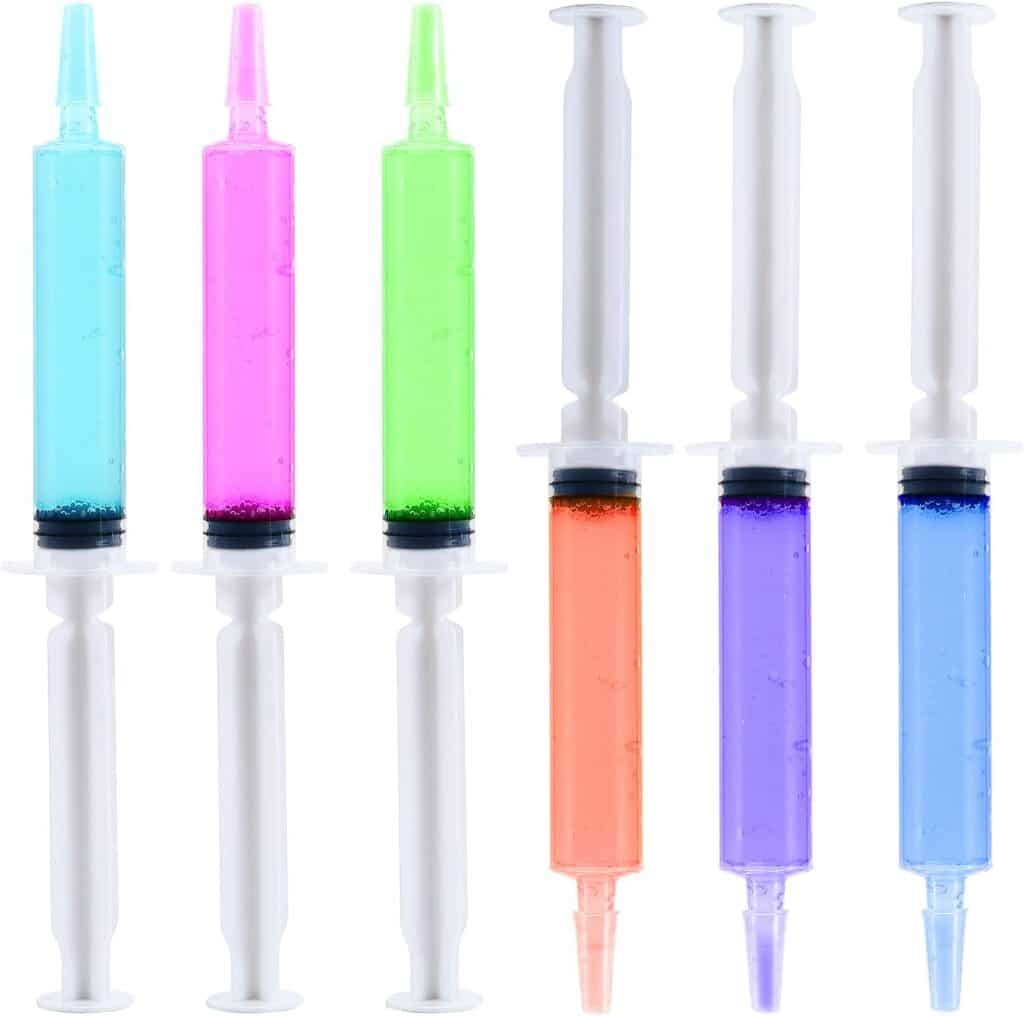 13. Cup with Names
At every party, there are always instances of people not being able to remember which is their cup. So let every guest have the opportunity to label their drink so there is no confusion.
This will be very thoughtful from your side and your friends will certainly appreciate it.
14. 21st Birthday Cupcakes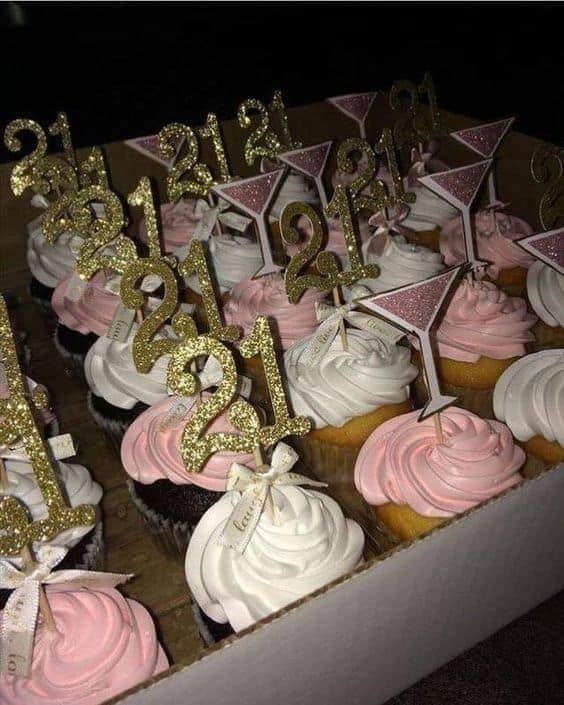 One of the best party desserts is cupcakes. They are great because each guest can have their own without the need for plates. You can put different decorations on top to make them themed for your birthday party.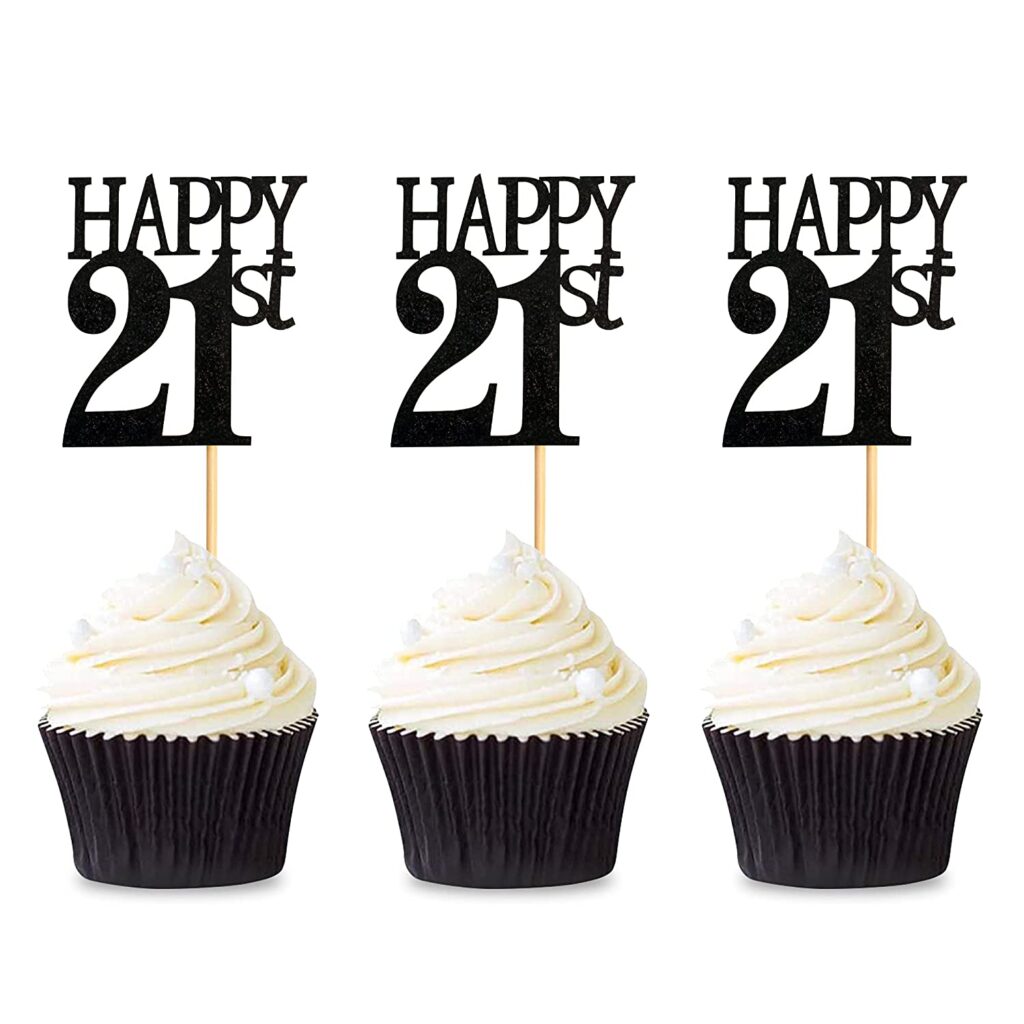 15. Balloon Bouquets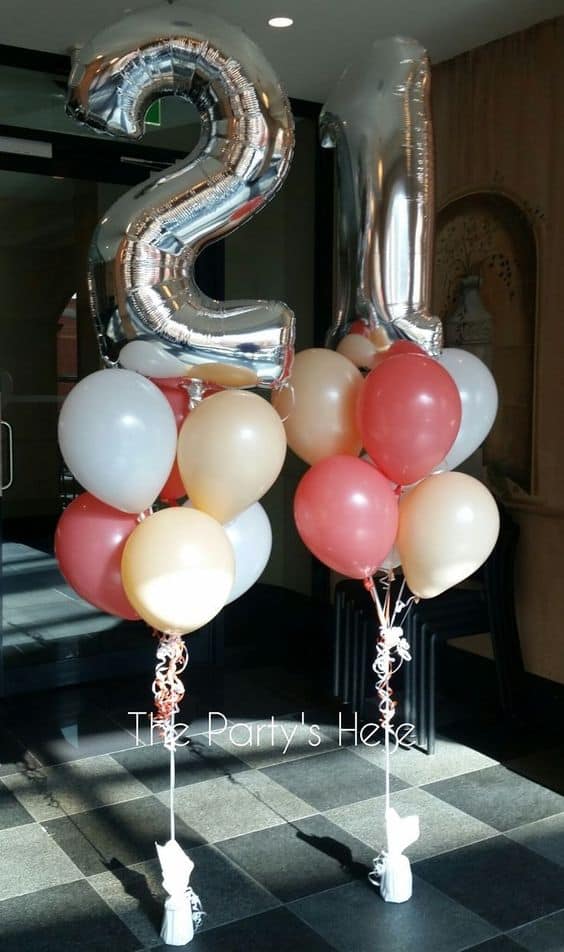 In my opinion, balloons are a mandatory decoration for a birthday party. You can place them anywhere, but also make a bigger and more beautiful balloon bouquet where you can take memorable photos with friends.
Related post: 20 DIY Balloon Weights Ideas That Will Make an Impression
16. Memory Bottle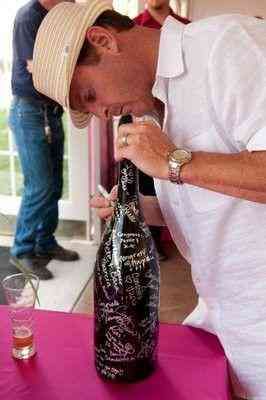 This idea is similar to number 2 from this list. Choose a large bottle with a beautiful design and get markers with contrasting colors so that the wishes can be read easily.
17. Giant Light Up Birthday Numbers
A very gentle decoration you can make for your birthday party is a wall of flowers complemented by lots of balloons and glowing figures. This way, you'll create a spectacular photo corner.
18. Barbie Party Decoration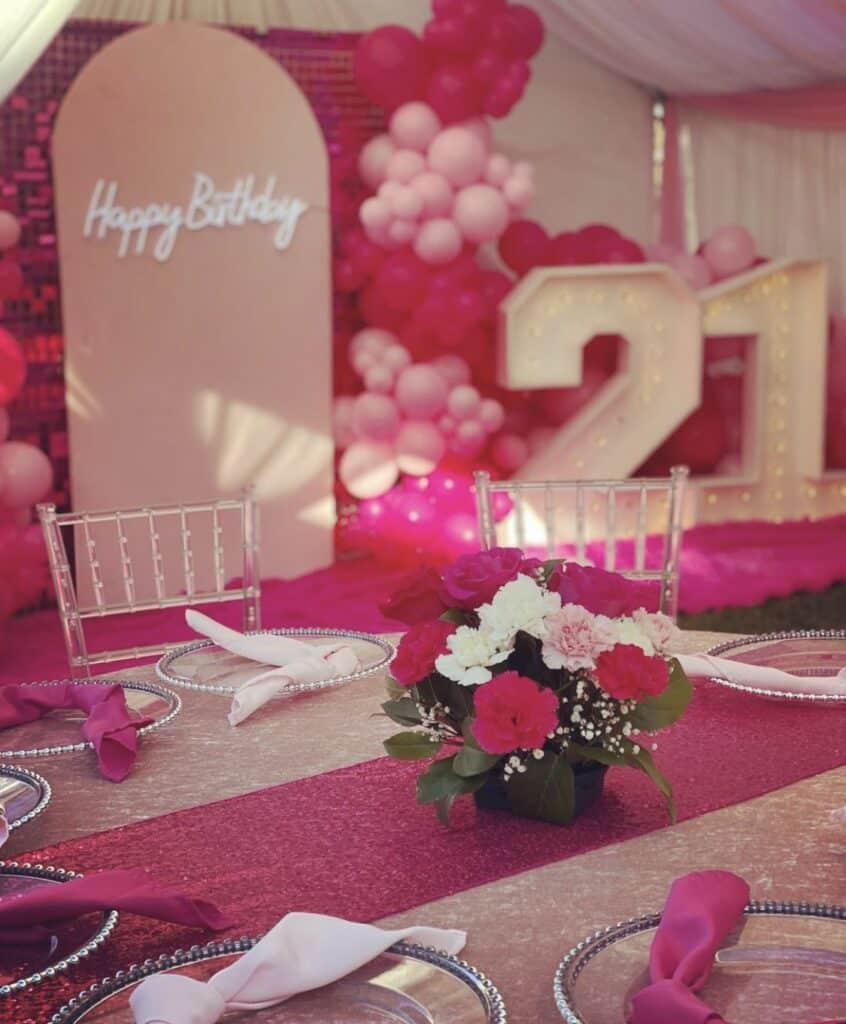 I am in love with this decor! If you feel like a princess why not create a suitable atmosphere for your birthday party? Make sure that all decorations are in different shades of pink and it will turn out perfectly.
19. Gold & Flowers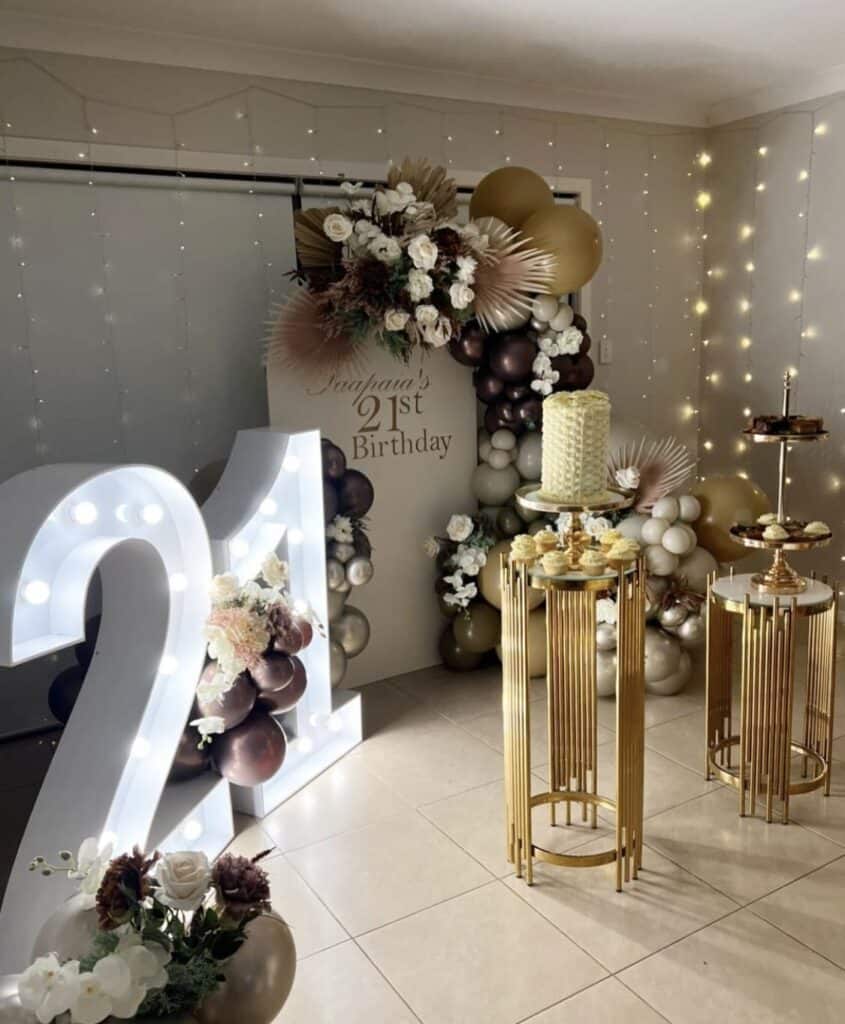 This combination of colors and decor elements looks stunning as well. The golden decorations will add class and style to the party, so you can safely bet on them.
20. Blue Palette Balloon Wall
The blue colour and its shades also look impressive. I would advise you to choose a few predominant colours for your party decorations to give an overall harmonious design.
21. Half Balloon Arch
Very popular in recent times, half balloon arches are spectacular and create a stylish festive atmosphere.
To make the arch even more lovely it should be made with balloons of different sizes. Also, add leaves or pampas grass to further enhance the look of the arch.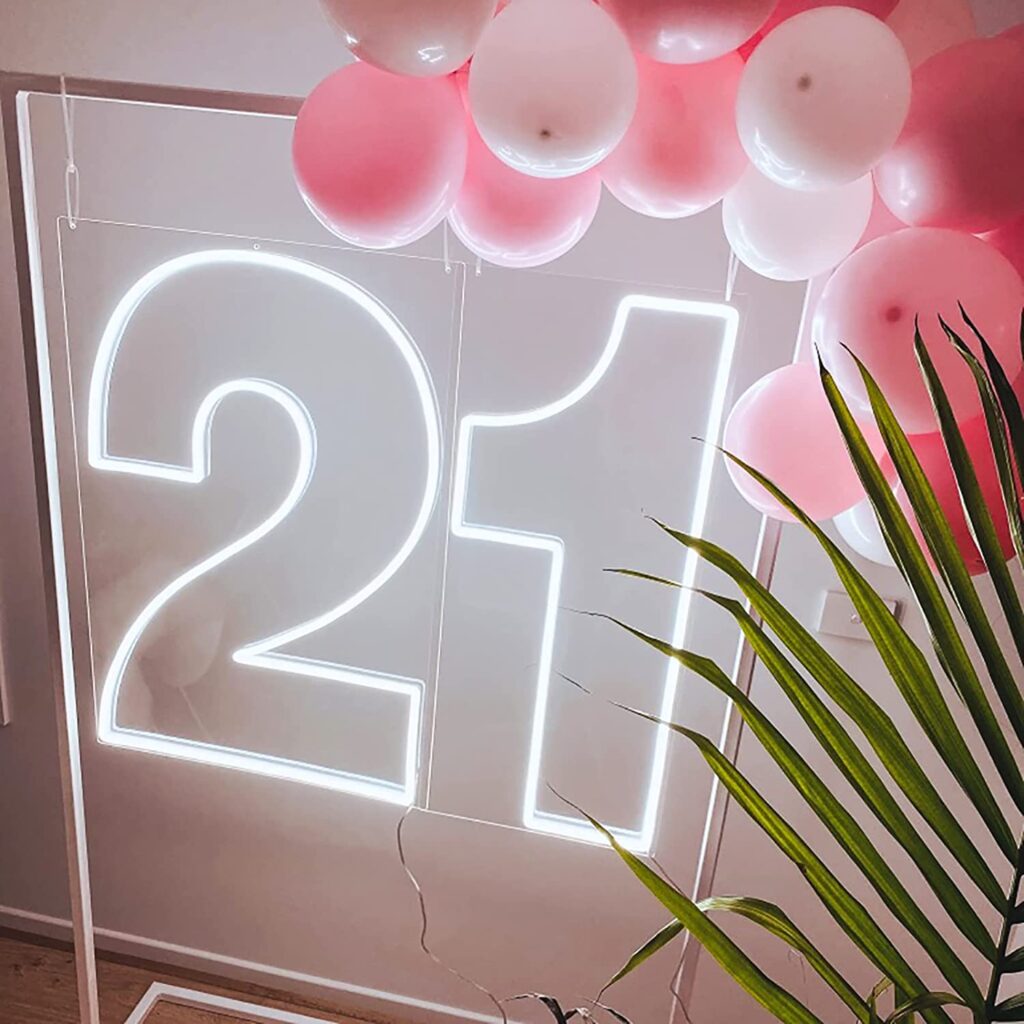 22. Beautiful Table
The dining table will be one of the main elements of the birthday party, and because of this, it should be decorated well.
Make sure that the tablecloth, plates, and napkins match each other in terms of colors and design. Also, put some eye-catching centerpieces to complete the look.
Related post: 23 Graduation Party Centerpieces That Will Complete Your Table Decor
23. Black and Gold
Black and gold are great colors to choose for the balloons or any other decorations for your 21st birthday party because of their strong contrast. They wonderfully complement each other and will give an elegant look to the decor.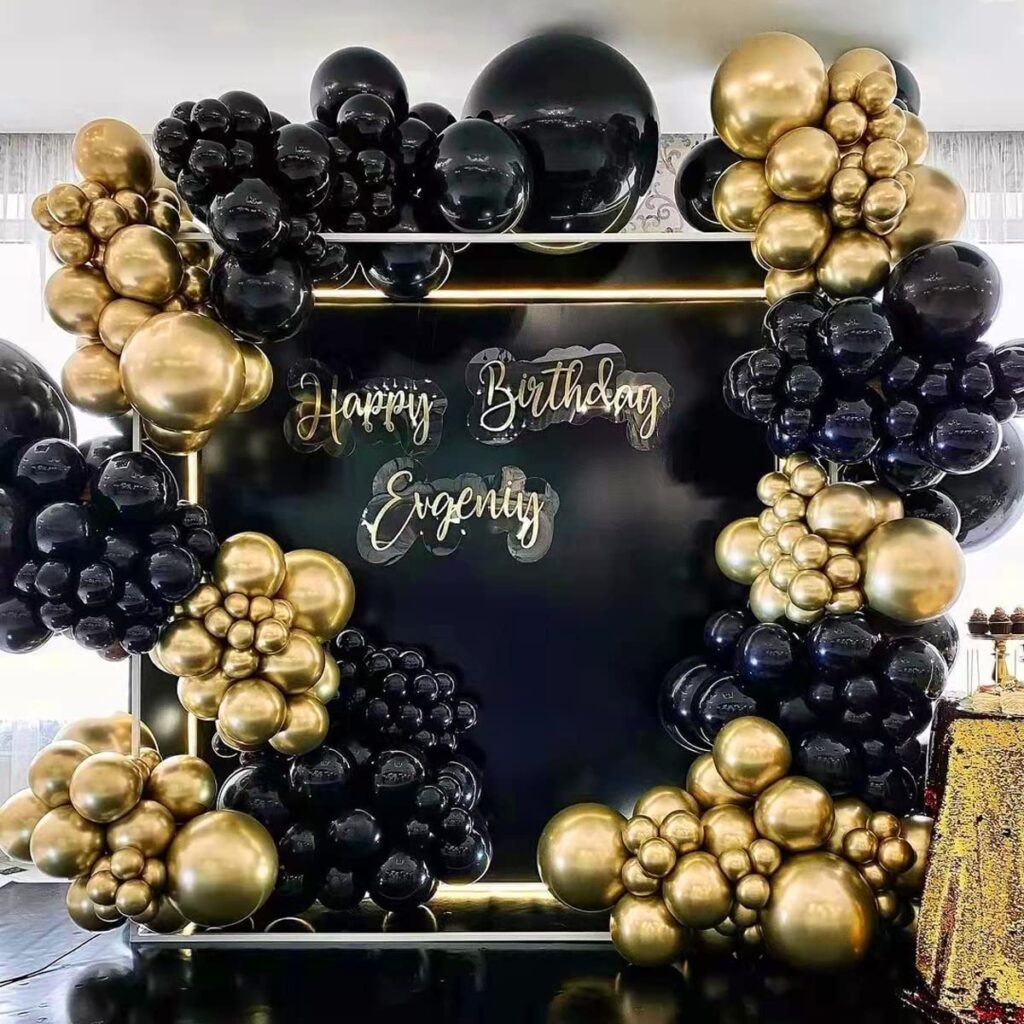 24. Décor Wall With Name
This is a great decoration to place at the entrance of the venue where the birthday will be celebrated. Furthermore, you can put champagne glasses on the table, for each newly arrived guest.
25. Big Balloon Wall
Put balloons of different sizes, glowing numbers and inscriptions. Additionally, decorate the wall with flowers as this will make it even more attractive.
26. Glowing 21st Birthday Ideas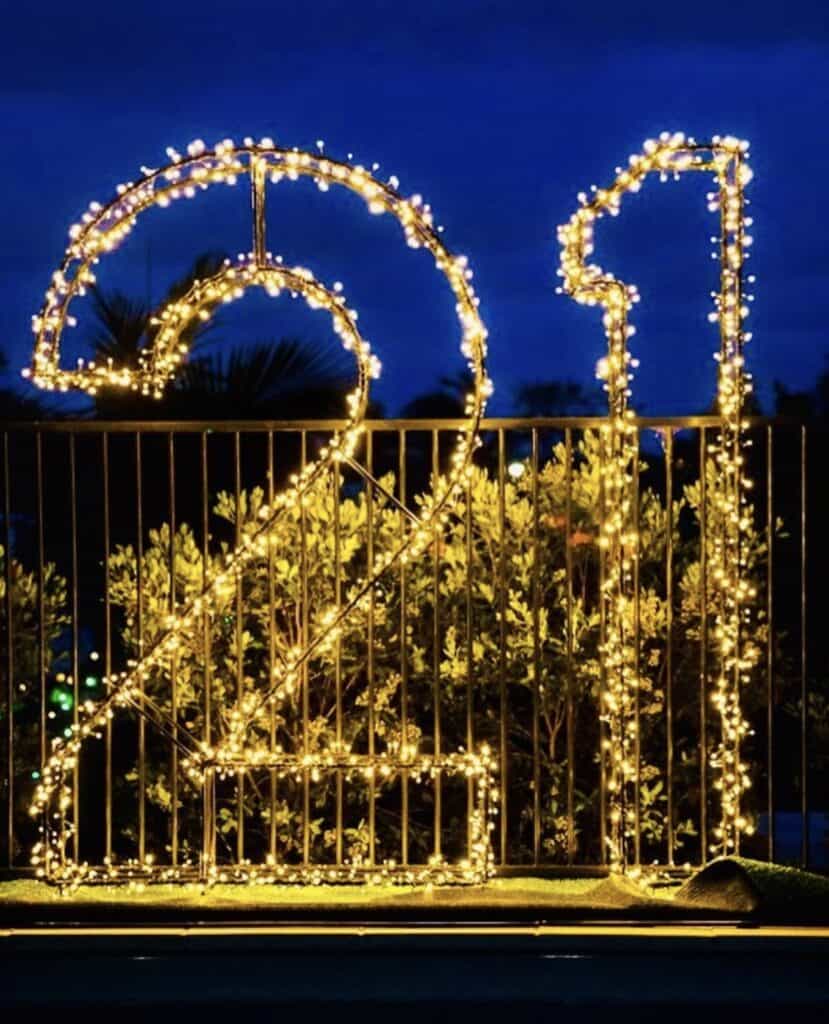 Besides indoors, you can have an amazing birthday party outdoors as well. To make a great decoration you can bet on large illuminated letters.
27. 21st Birthday Party Outdoors
If you were born in the summer, then I advise you to have an outdoor birthday party and take advantage of the warm weather.
28. Silver Balloons
Silver is much preferred as a combination with other colors, but few people opt for an arch with only silver balloons. The truth is that the arch turns out very spectacular.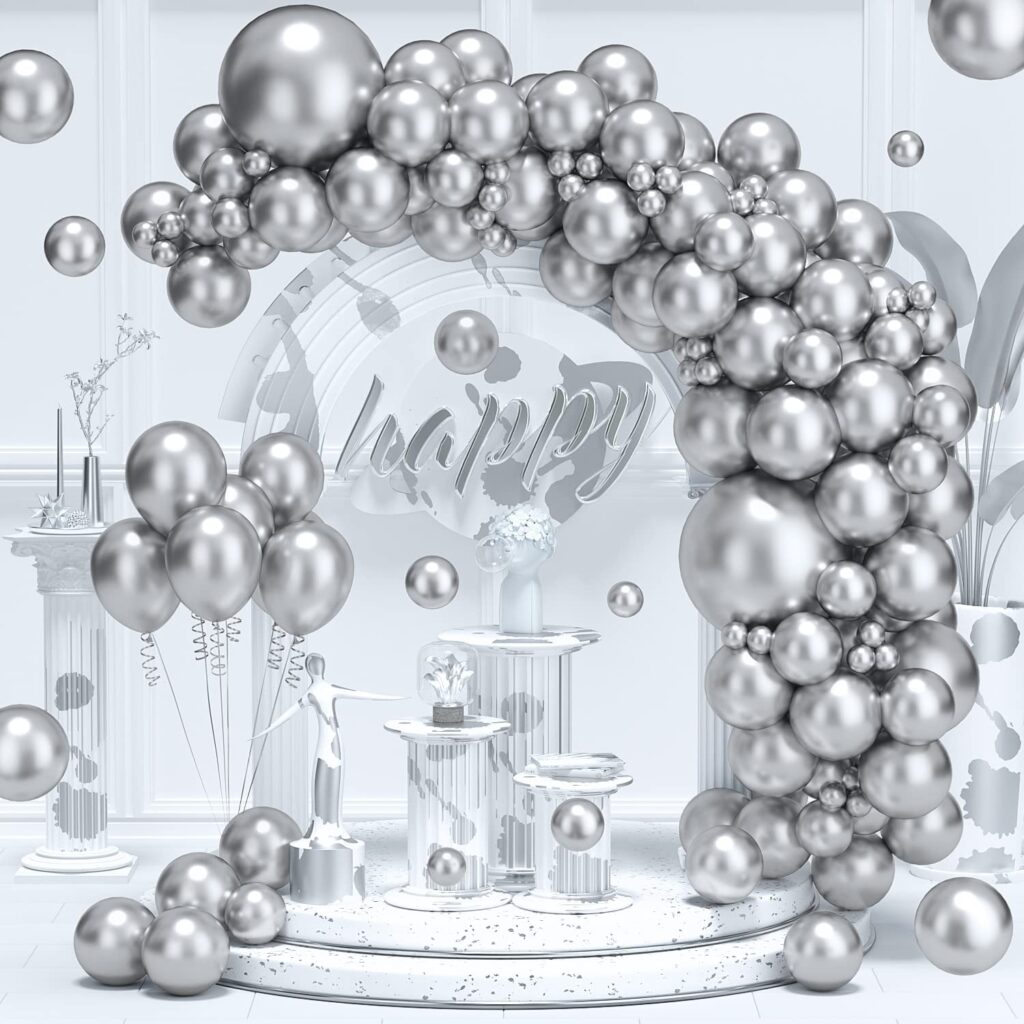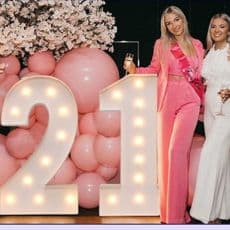 29. 21st Birthday Balloon Figures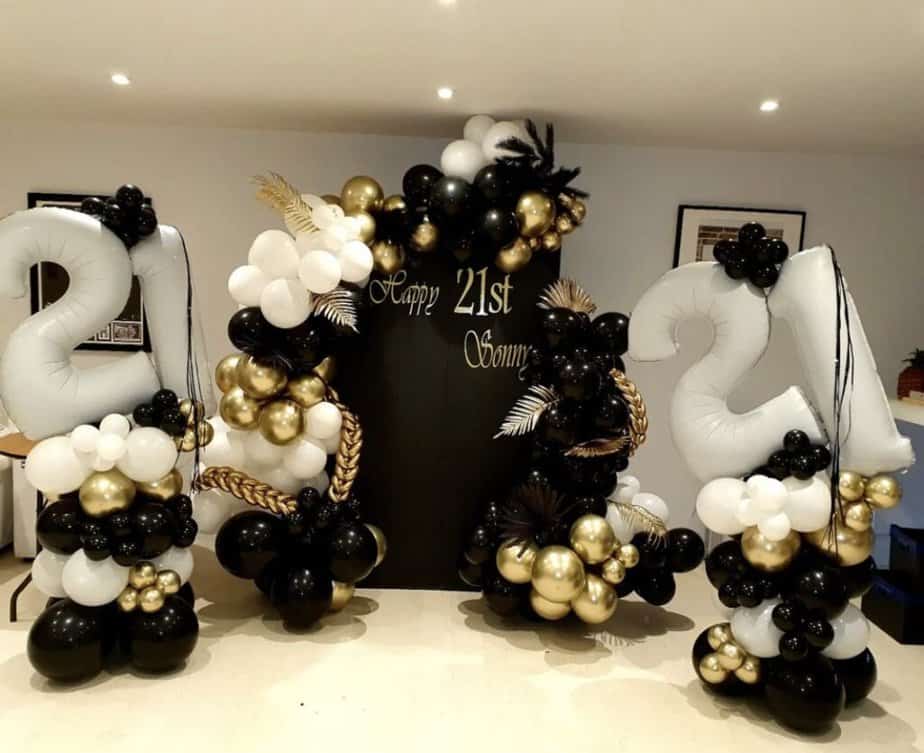 In addition to the standard balloons, you can also use oblong balloons in different shapes to make the decoration more varied and interesting.
30. Green Balloons with Glowing Numbers
You can bet on the green color by combining different shades. Green is suitable for many different themes in which you can organize your celebration.
31. Beer Pong
It is important to have a variety of games during the party so you can relax faster. Beer pong is the perfect game for the occasion, where you can once again combine fun and alcohol lol.
related posts you may WANT TO READ
This post showed you 31 Ideas to Throw a Memorable 21st Birthday Party