This post may contain affiliate links, which means I'll receive a commission if you purchase through my link. You will have no extra cost!
As everyone knows, we are very resourceful when it comes to gifts. But the truth is, sometimes we need help too. When we talk about a gift for a boyfriend, the situation becomes even more dramatic.
I'm always very excited when I have to choose a present for him. I just want to make him happy! For this reason, buying a gift could take sometimes months of planning for me. I'm a little crazy about this topic. Just a little… Well, let me tell you, I also find it difficult!
Choosing the right gift is a complicated job related to research, asking questions, including third parties in the scheme, etc.
But there are also some things that all guys will fall in love with. Today I have selected for you a list of 22 unexpected gifts for your boyfriend that he won't forget. Enjoy!
22 Unexpected Gifts for Your Boyfriend That He Won't Forget
01 of 22
Custom Couple Bobblehead Figurine
Every man wants to be his girl's superhero. Show him he's just that! Cool super figure with his face, he'll love it.
02 of 22
Wood Phone Docking Station
With this station, he will never be able to lose his keys or phone anymore. This ultimately means more time spent with you, instead of searching for items haha
03 of 22
Whisky Chilling Stones
Does your boyfriend drink whisky? Putting ice cubes is not recommended, because they dilute the drink. These chilling stones are the perfect solution. Now he can enjoy his high-quality whiskey cold!
04 of 22
DIY hand casting
The perfect romantic gift for both of you! I am sure he will like it!
05 of 22
Toilet timer
If your boyfriend complains to you about how he loses a lot of time playing games while in the bathroom… well, this is a very original gift, that he will surely appreciate. I am sure it will also make him laugh
06 of 22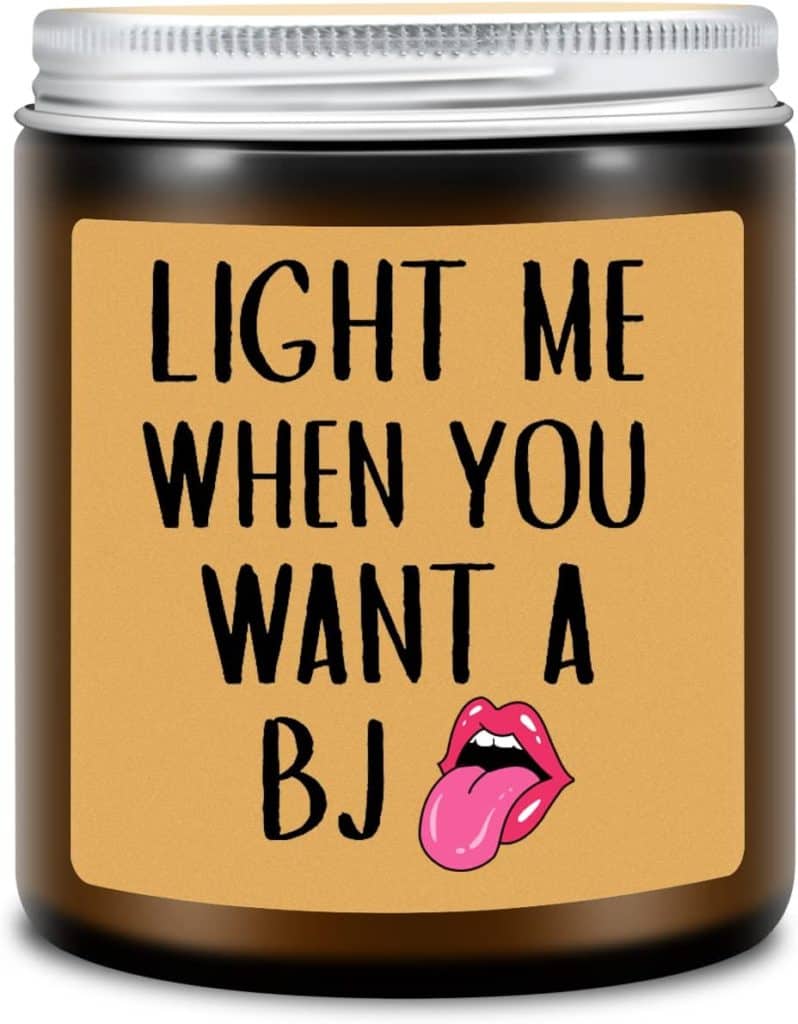 BJ candle
Well, no comments about this gift haha. But I don't think you can go wrong with it
07 of 22
Catcher for shaving and trimming
This is a very practical present. It will keep your bathroom sink clean. He will also feel better that he isn't leaving a mess after shaving/trimming.
08 of 22
Wooden Picture Frame
Put your favorite memories together in this classy wooden picture frame. Guys generally look to not show a lot of emotion, but are definitely sentimental about these types of gestures.
09 of 22
Amazon gift card
If you've been in a relationship for not so long and haven't got to know him well enough, this gift could be a good salvation.
10 of 22
Dior Sauvage
If you know what kind of fragrance he likes, act on it! If not, Dior Sauvage is most certainly a good choice. Most men are crazy about this parfume!
11 of 22
Shiatsu Neck and Back Massager
Help your man relax after a hard day of work with this awesome massager!
12 of 22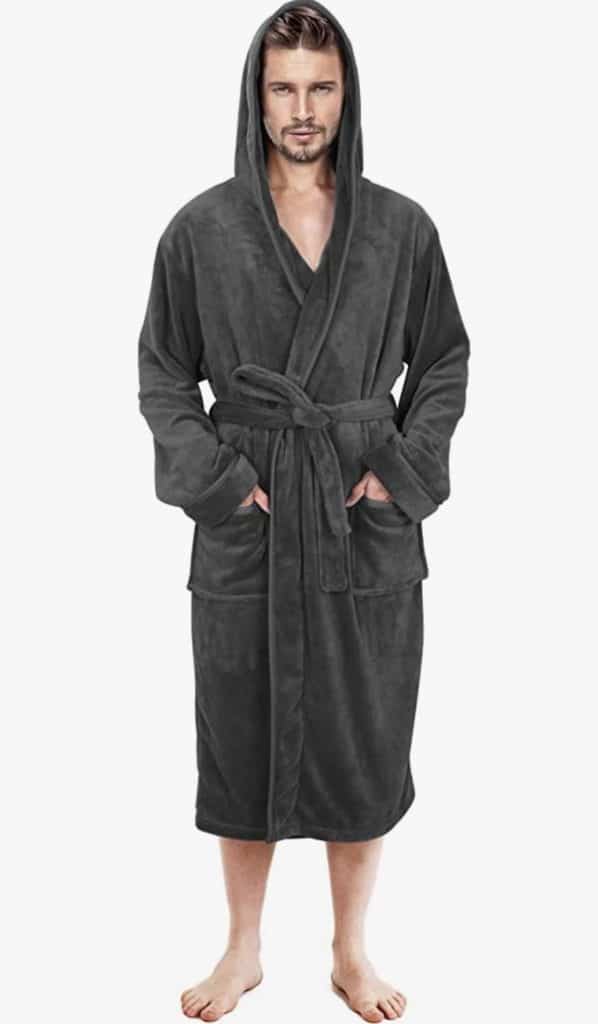 Hooded Fleece Robe
A fluffy robe with a stylish look. Perfect for wearing after showering, before going to bed, etc.
13 of 22
Bluetooth Beanie Hat
A cool gift that combines style with tech. Keep your head warm and listen to your favourite music without having to wear additional headphones.
14 of 22
Crocs Men's
Wild and comfortable. The Classic Realtree V2 clog offers the typical comfort of the Croslite material with wild camouflage print.
15 of 22
Schoolgirl Lingerie
This outfit is not for him, but for you ladies haha He will without a doubt appreciate the gift you have made for yourself
16 of 22
Slim Wallet
Great gift if your boyfriend needs a new wallet. It will help him carry all of his cards and money without taking too much space in his pocket.
17 of 22
Bracelet
Most men also like accessories and jewelry. Focus on black and silver, that's what is most preferred. This bracelet is a perfect gift for him.
18 of 22
Custom Photo Head
A fun gift you can use for selfies and other photos.
19 of 22
Bullet Whiskey Glasses
Make your man feel like James Bond with these glasses for whiskey. Combining them with number 3 from this list will be a perfect gift.
20 of 22
Camera Lens Coffee Mug
If your boyfriend is a photographer and loves coffee, then I can't imagine a better present for him. This mug will combine 2 of his favourite things and he will love it.
21 of 22
Custom Socks with Faces
Another great custom gift. You can choose a photo of you two together and buy 2 pairs for each. Fun and romantic at the same time.
22 of 22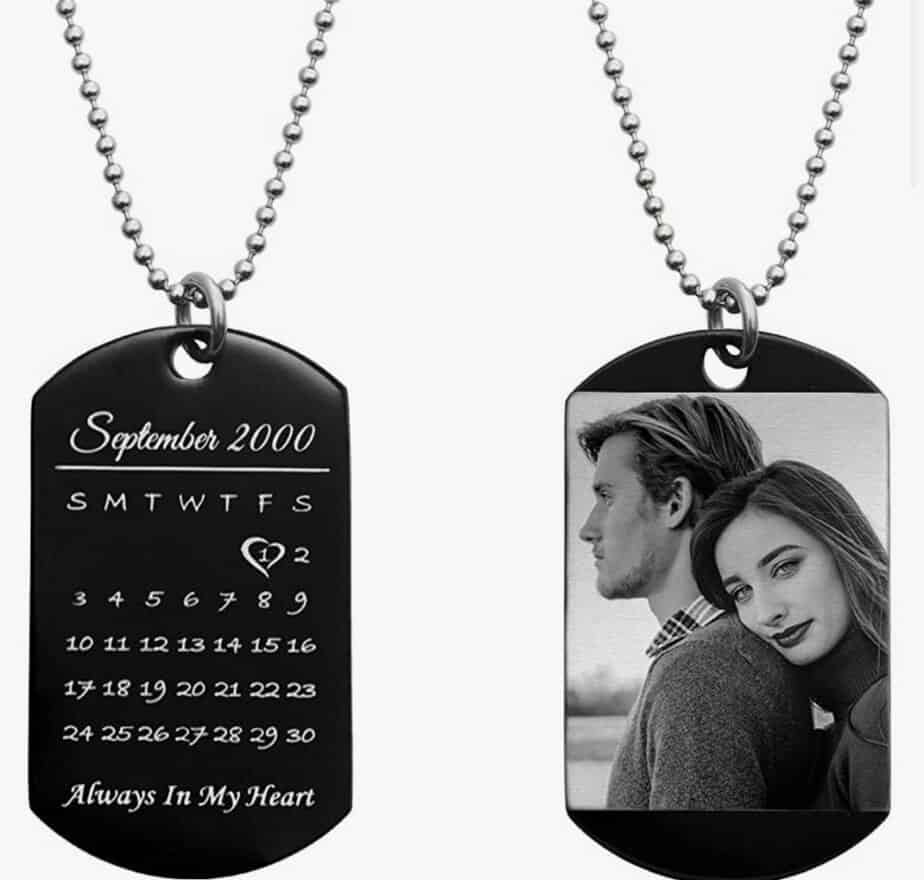 Laser Engraved Personalized Calendar
Perfect gift for celebrating an anniversary or any period that you have achieved together as a couple.
Thank you for reading this post! If you are searching for a gifts for her, you can read here