This post is all about 23 Christmas wrapping paper ideas for 2023.
This post contains affiliate links, which means I'll receive a commission if you purchase through them. You will have no extra cost!
23 Christmas Wrapping Paper Ideas For 2023
One of the most anticipated moments of the year is Christmas morning and the beautiful sight of the Christmas tree with loads of big presents under it.
This makes the whole experience of opening the presents even sweeter and more memorable. It could be said that the role of the wrapping paper is just as important as the present itself.
Because I want to help you to make your Christmas as magical as possible I have prepared in the following lines 23 Christmas wrapping paper ideas for 2023.
Christmas Wrapping Paper Ideas
1. The Green Glow of Christmas
Beige paper, green ribbons, and decorated twigs are some of the most beautiful Christmas gift wrapping ideas. The combination of these elements looks very stylish and the presents wrapped in it will stand very well under any Christmas tree. You can change the colors and so get also extremely beautiful packaging for your Christmas gifts.
2. The Red Colour as The Basis
Another lovely combination is the one from beige paper, red ribbons, and gold details. You can complement it with playful stickers or put additional colorful ribbons to make the packaging even more attractive. Don't forget to attach appropriate and beautiful Christmas cards filled with heartwarming wishes.
3. Christmas Wrapping Paper With Prints
Gift wrap with prints is a very cool and spectacular suggestion. You can decorate with different ribbons, twine, yarn, and suitable Christmas cards. This type of packaging is very often preferred for Christmas because it emphasizes the idea of the holiday by bringing a lot of cheer.
4. Combination of Colors
A good idea is to get different wrapping papers with colors that complement each other. The moment you put the presents under the Christmas tree you will see how beautiful it turns out and how pleasing the colors of the individual gift wraps stand next to each other. Add matching ribbons, stickers, and other additional decor items as a final touch.
5. Black Wrapping Paper
Black as a color is rarely used for decorations for happy holidays like Christmas. The truth is, you can make an exceptionally appealing gift wrap with black paper by combining it with the right things. For example, put bright ribbons, twigs, and cute Christmas cards to make the wrapping even more eye-catching.
6. White Christmas Wrapping Paper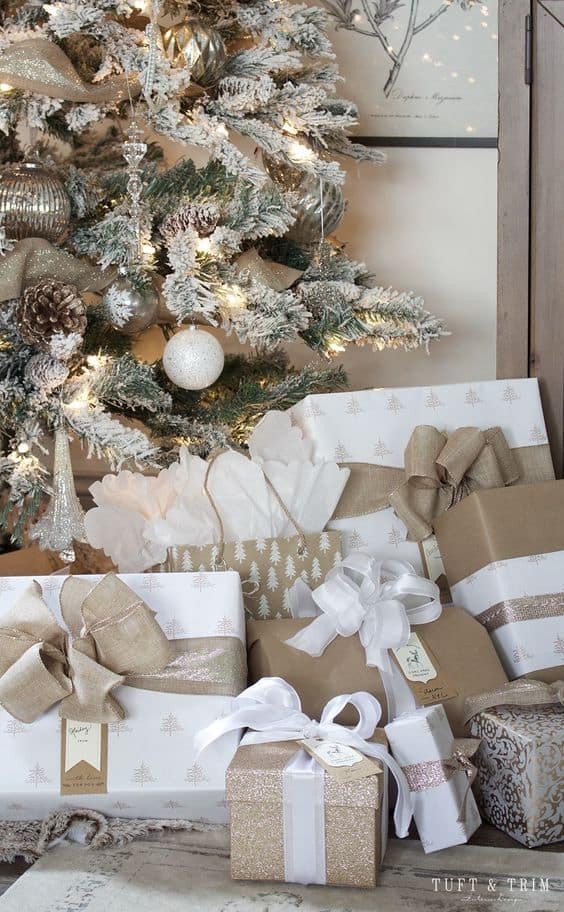 Christmas gifts wrapped in beige and white wrapping paper look amazing as you can see in the picture above. This combination stands very beautifully, especially under a tree that is decorated also in such motifs. You can also add golden elements to this color combination. I assure you that you will not regret it if you go for these colors.
7. Christmas Tree Wrapping Paper
Wrapping paper with small decorative Christmas elements printed on it is one of the most preferred gift packaging ideas. Most often on the paper, there are figures of Santa Claus, reindeer, elves, and Christmas trees.
You can further use different-colored ribbons, twine, twigs, pinecones, Christmas cards, and whatever you decide to make a wonderful gift wrap that will delight a loved one even before opening it.
8. Beige Christmas Wrapping Paper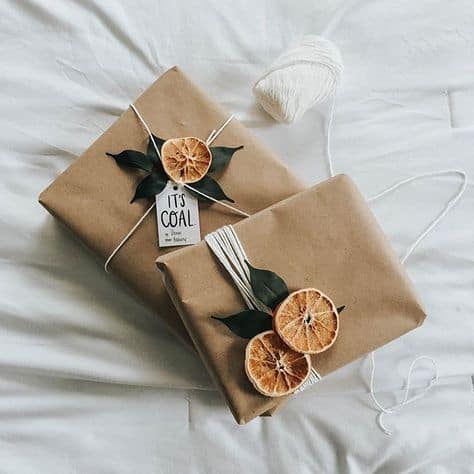 Beige wrapping paper is a simple, but effective solution for packaging Christmas presents. If you want to enhance the look of the gift wrap, you can add typical elements of the holiday. For example, dried oranges, a twig from the Christmas tree, Christmas cards, etc.
9. Animal Figure Wrapping Paper
You can also DIY gift wraps in the form of cute reindeer, teddy bears, and snowmen. For this purpose, you'll need to get colored paper and various stickers, the rest is up to your imagination and dexterity.
Do not forget the ribbons that highlight the holiday and make the gift complete. For these gifts, you need to carefully select the right place for the Christmas cards so it looks good.
10. Perfect Color Combination for Christmas Wrapping Paper
When wrapping gifts, you want to have aesthetically pleasing and harmonious color combinations. Choose only colors that go very well together.
For instance, red, gold, beige or red, white, and green complement each other especially well. When you choose the main colors you guarantee that the Christmas tree with all of its decorations and presents under it will look absolutely amazing.
11. Unusual Gifts Wrapping
You can create interesting wraps by folding the paper in different ways and shapes. Don't forget to add things such as stickers, ribbons, twigs, dried fruit, and cards. The more the gift wrapping impresses you, the more eager and excited you will be to open it.
12. Stylish Combination
When it comes to elegant present packaging, I picture this. The combination of black, white, and gold is amazing and looks very stylish. Another good idea is that if the gift doesn't allow it to be wrapped properly because of its shape, you can put it in a box and then apply the Christmas wrapping paper.
13. Red & Black Wrapping Paper
One more suggestion when using black paper is to draw something personal from you with the help of a white marker. Whether it will be some Christmas figures or symbols or a message is entirely up to you to decide.
Thanks to this, you bring a personal personal touch to the gift wrap that will be appreciated by your loved ones.
14. Favorite Character Wrapping Paper
I certainly recommend this idea for wrapping kids' presents. Every child has a favorite cartoon character that he/she adores. If you manage to find a Christmas wrapping paper with the face of your kid's favorite character on it, the little one will be jumping with happiness.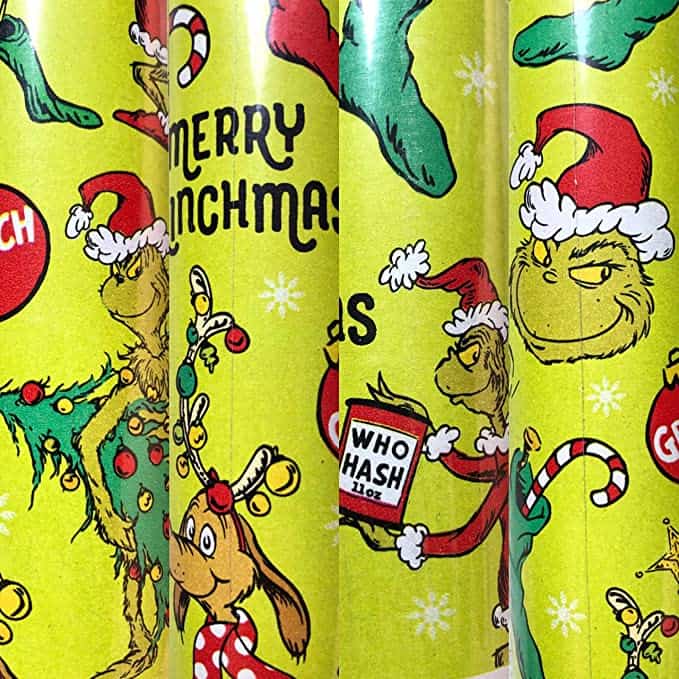 15. Elves Gifts
A creative and spectacular proposal is to combine two or three bigger gifts and with the help of additional elements transform them into the form of dwarfs, reindeer, teddy bears, etc. This will lift the Christmas spirit even more and your kids will love this decoration.
16. Golden Details Wrapping Paper
Gold details are some of the most beautiful and most appropriate for Christmas. Gold decorations are so preferred for the holiday because they can be interpreted as a representation of the sun and the Son (meaning the Son of God) and are used at Christmastime to bring light into the darkness.
17. Snowman Gifts Ideas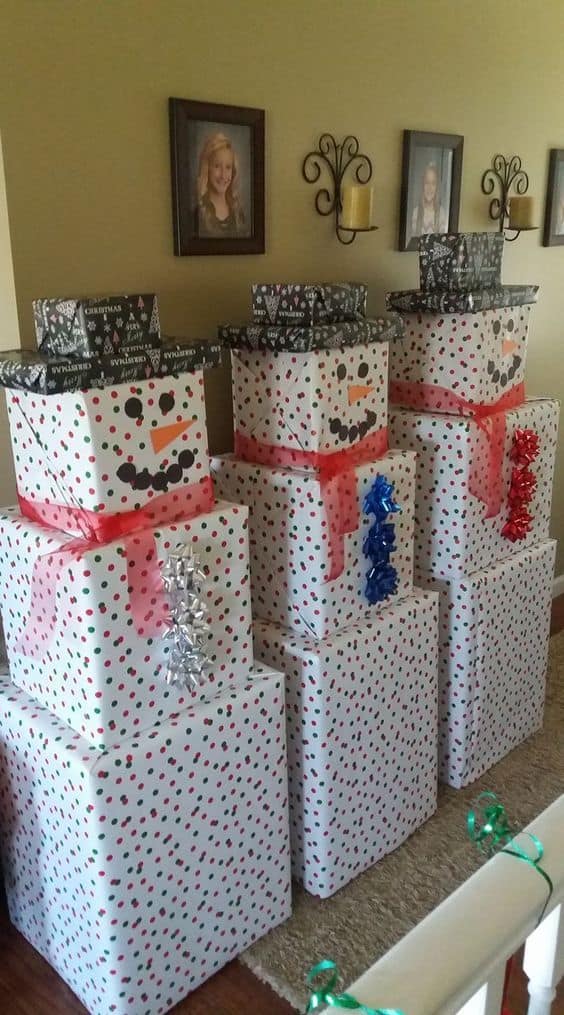 You can arrange several gifts in the form of a snowman as you need to find a suitable white paper and decor elements for the buttons, scarf, face, and hat. The wrapping paper can have different small details, but they must be white-based. Here you can also put Christmas cards on the snowman's buttons.
18. Christmas Bag
Besides Christmas gift boxes and wrapping paper, you can also bet on pretty gift bags. You can enhance the look of the bags by adding decorations from colored paper or other decoration materials. See in the photo above for example how an ordinary gift bag is made to look like a cute reindeer.
19. Christmas Wrapping Paper With Letters
Another sweet idea is to decorate the gift wrap with small decorative letters. With their help, you can write the name of the person for whom the gift is intended or write a short message for your loved one. You can further decorate the present with a beautiful ribbon and a twig.
20. Colorful Wrapping Paper
Colorful wrapping papers are much preferred because they bring a very festive and joyful mood. Pay attention to the paper colors to select the right additional detail decorations. On these colored papers, you should pick monochrome cards to make them stand out and look even better.
21. Stylish Wrapping Papers
You can also bet on simpler Christmas wrapping paper that has only one color. To complement the gift wraps you can add twigs and dried fruit optionally.
22. Wrapping Gift Like a Candy
The candy wrapper idea is my favorite because you can wrap irregular-shaped gifts with it easily. You need paper and pretty ribbons to make this fancy decoration. You can add pretty cards and cute stickers.
23. Cookie Detail
Apart from the lovely wrapping paper, ribbons, twigs, and other details that were mentioned so far on the list, you can also put cookies as decoration to make the gift wrap look even more unique. You just have to make sure that Santa doesn't eat them during the night haha.
related posts you may like:
22 Genius Dorm Room Christmas Decor Ideas To Copy
28 Christmas Gifts For Roommate From Amazon under $25
College Dorm Room Birthday Party Decoration
How to Decorate Your Dorm Room For Valentine's Day
This post is all about 23 Christmas Wrapping Paper Ideas For 2023