Expecting a baby and want to share its gender with your loved ones? Here are a few adorable ideas for a unique gender reveal party.
Cute Ideas for a Unique Gender Reveal Party
I couldn't take the smile off my face while writing this article. It's about that magical moment when you've gathered all of your loved ones and they're trembling in anticipation to find out the sex of the baby.
The whole gender reveal party requires a lot of organization as some people rent entire restaurants or bring everyone to a beautiful venue. This type of party is becoming increasingly popular in recent years and by now many couples have organized such a celebration for the occasion.
The most exciting part and the culmination of the whole party is the moment when the parents announce the sex of the baby in creative, interesting, and very funny ways.
In the following lines, I have prepared for you some adorable ideas for organizing a unique gender reveal party.
Adorable Ideas for a Unique Gender Reveal Party
The piñata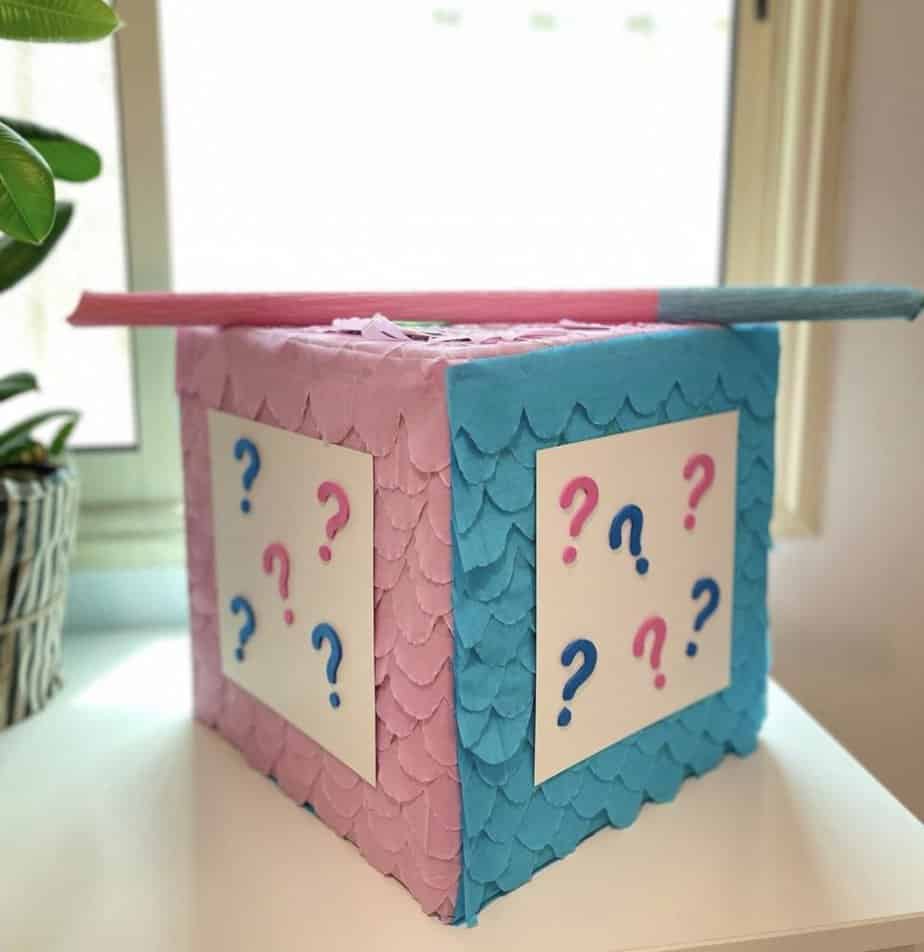 There are many variations of piñatas for gender reveal. For example, there are piñatas in a round shape, gift shape, question mark shape, and many others.
Usually, the father of the child breaks the piñata, but some families decide to do it together. Therefore, it's up to you to decide how you want to experience this precious moment.
Balloons
As far as I checked, this is probably the most common way of finding out a child's gender. It's very spectacular and I think it's that instant moment of the balloon popping that makes it even more of a surprise for both parents and guests.
There are multiple types of balloons suitable for the occasion. You can choose what to write on it and how big it should be.
Burnout Powder
This method of announcing the baby's sex is also very spectacular and is much preferred by many families. I've seen them scatter the colored powder with cars, planes, balloons, etc. It creates a great and festive atmosphere.
What I don't like about burnout powder is that your clothes can get dirty if you are in proximity. Everyone wearing their best clothes for the party better stay at distance haha. Moreover, the powder isn't toxic which means it is safe for you and the environment.
Read this post: What is Your Favorite Color Based on Zodiac Signs
Football
Here's another suggestion especially for dads who love football/soccer. Most of the balls are the same size as the official one for the game, but it is soft and filled with burnout powder.
However, there is a slight possibility of failure here because if the dad fails to target the ball and drops it, the powder will burst on the ground and that is not the effect sought.
Cupcake
If you want this moment to be personal for just the two of you, you can make lunch and a special dessert. This way you create the moment just for you. The surprise with the cupcake is the filling, if it's a girl it's pink and if it's a boy it's blue.
Pink and blue are generally the colors used for any gender reveal party. Nevertheless, I've seen more unconventional solutions like red and green, brown and ash roses. It depends on the parents and their color preferences.
Confetti Cannons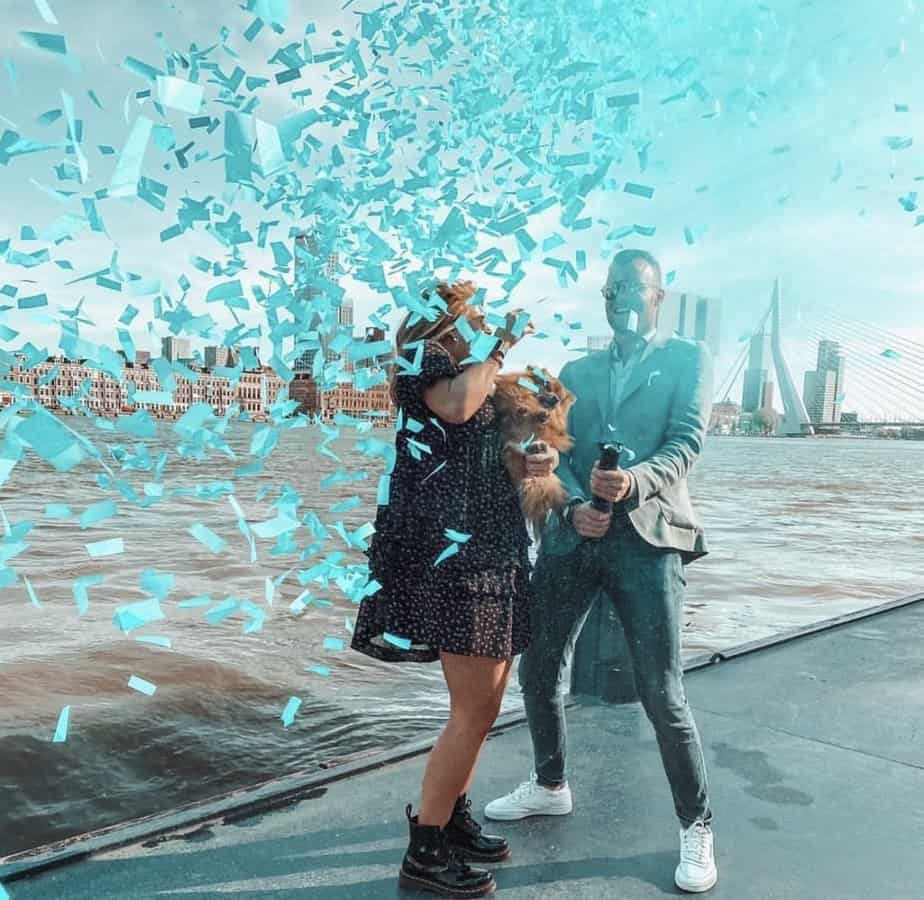 A favorite method of many first-time parents. Most videos I have seen on the internet about gender reveal use these confetti cannons.
The confetti cannons create a great show and elevated feeling as here again it has that moment of instant surprise which is very precious for both parents and guests.
Balloons in a box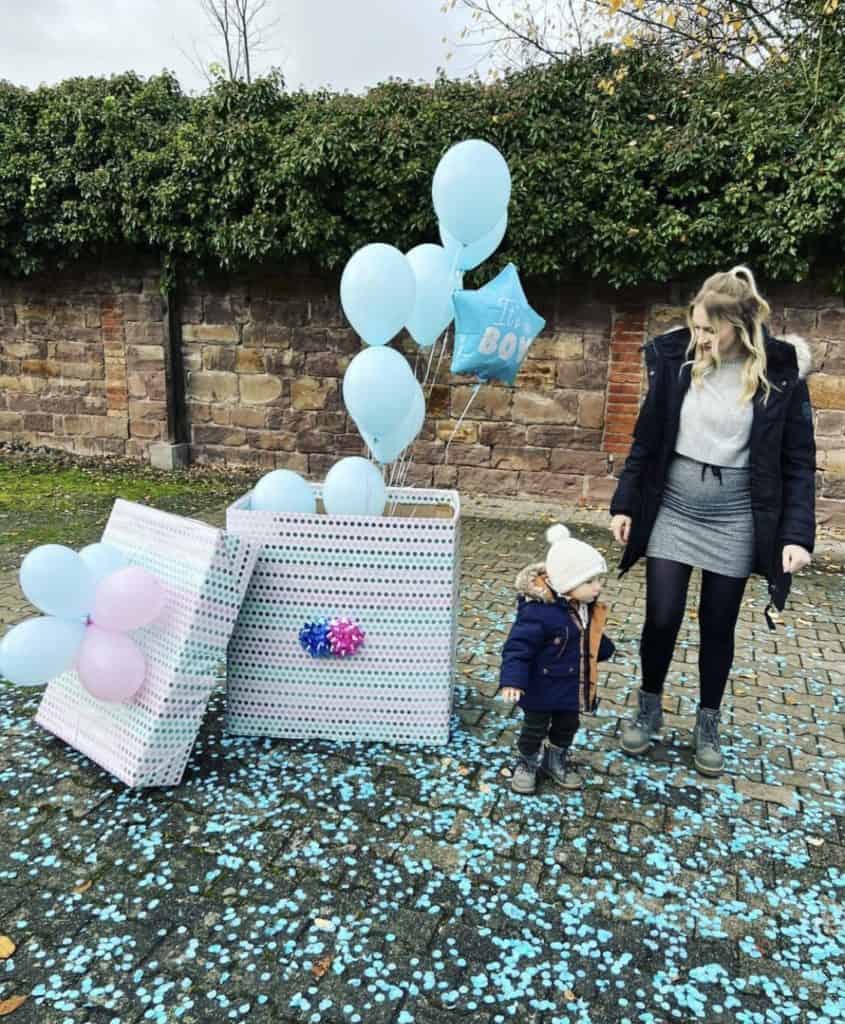 Another amazing idea. A big gift-type box that says "Boy or Girl?" or something like that, and when you open it helium balloons come out in the corresponding color.
Simple, but again an effective way to announce the gender of your upcoming baby. It is a wonderful experience for all loved ones.
Read this post: 10 Proven Ways To Look Naturally Beautiful Without Makeup
Play a game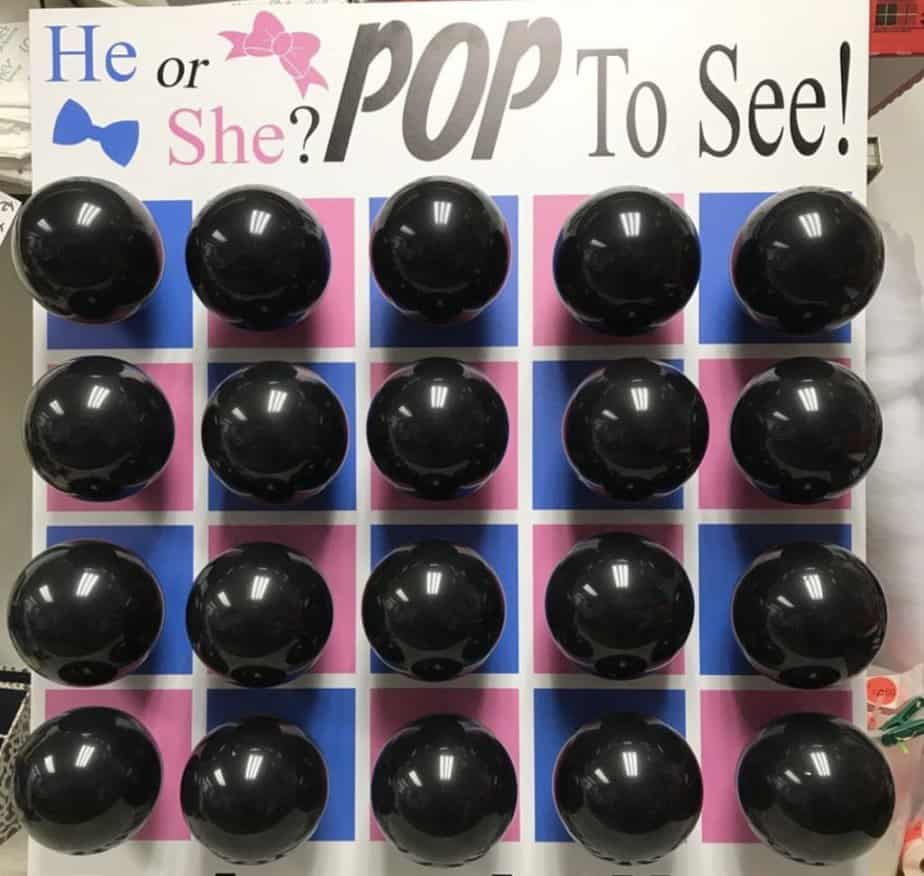 Some existing games are tailored as an interesting way to announce the sex of the baby. Let's take for example a cute version of darts. Balloons are pinned on a board and the parents have to burst all of them to see the colored powder inside them. The color that was seen more times represents the gender of the baby.
I have also seen tic-tac-toe which is adapted for this purpose and also basketball, archery, etc. This type of announcing is more entertaining and takes more time so the tension grows with each next move.
Gender reveal Cake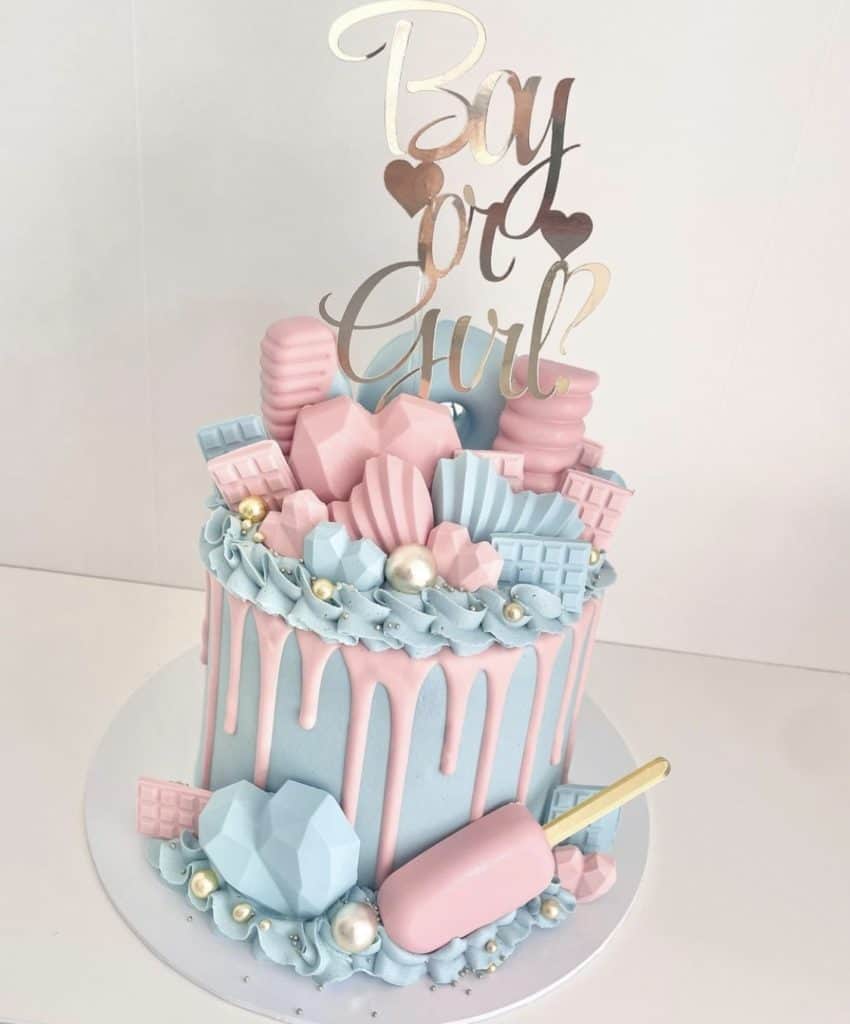 If you are not a big fan of games, burnout powder, or confetti cannons, you can just bake or order a cake. The color of its cream gives away the gender of the baby.
So if you want to celebrate this event without games and balloons, this is the most beautiful and elegant way to do it. I promise you that no one will be disappointed because everyone loves cake haha.
Fighting babies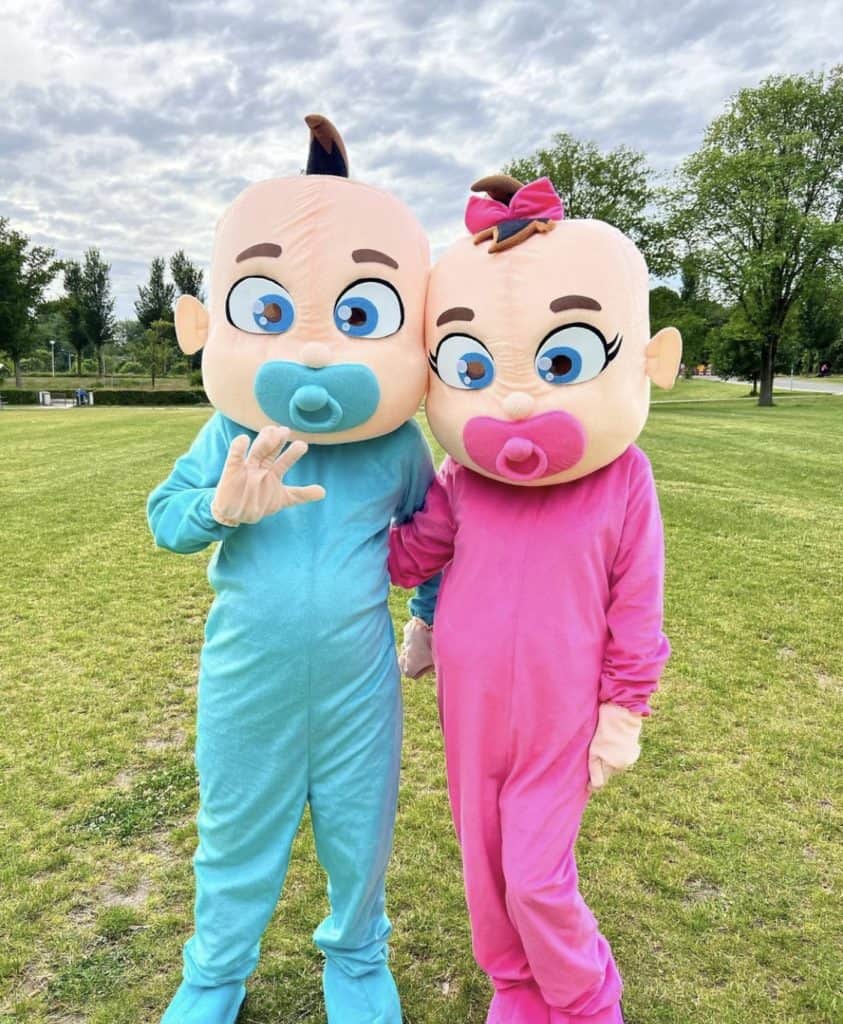 I purposely left this unique idea for last. Folks, I've laughed so much watching videos of this type of gender reveal. The baby fight is performed by two entertainers who are dressed as a baby boy and a girl.
The actors know in advance who should win but wrestle very passionately until the end. Both parents and guests will laugh to tears with this kind of performance and it will remain a dear memory for a lifetime.
Related posts you may also want to read
10 Ideas For Children's Room You Will Want to Copy
How to Make an Instagrammable Closet
26 Amazon Essentials To Complete Every Girls Room Decor
This post showed you Adorable Ideas for a Unique Gender Reveal Party