This post is all about Christmas Table Centerpiece Ideas!
I simply love the holiday season! It's the perfect time to gather with friends and family and enjoy each other's company over delicious meals. And, of course, an unforgettable dining experience always starts with a beautifully set table.
This year, I've found 18 amazing Christmas Table Centerpiece Ideas (and some DIY you can easily recreate) that will leave everyone in awe!
In my search for inspiration, I've discovered a variety of gorgeous designs that cater to different styles, from elegant to modern and rustic to vibrant. No matter your taste, you'll find a centerpiece idea that truly speaks to your heart and adds that special festive touch.
1. Spruce Tree Centerpiece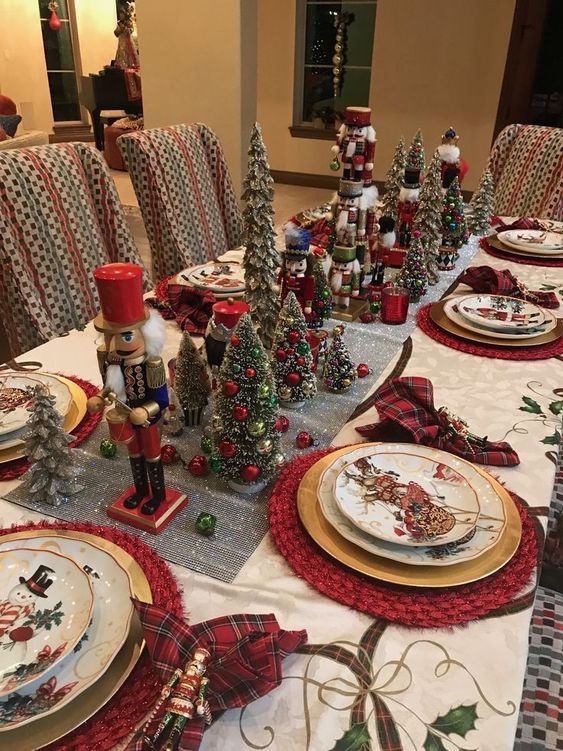 I absolutely love the idea of a Spruce Tree Centerpiece! It brings a touch of nature to the table and oozes holiday spirit. To create this centerpiece, you can simply arrange miniature spruce trees in a row down the center of the table.
Adding twinkle lights or even tiny ornaments can elevate the centerpiece to new heights. I've found that incorporating decorative pieces like pinecones and holly berries gives it that extra festive touch.
Oh, and don't forget to include a few candles for some cozy holiday ambiance!
Related posts you may like: Christmas Tree Toppers | 10 Xmas Toppers You'd Love This Year
2. Poinsettia Display
Nothing says Christmas quite like dazzling poinsettias, and they make for a stunning centerpiece display. I get really excited when I see them because they evoke a sense of tradition and warmth.
To create a Poinsettia Display, grab a few beautiful red or white poinsettias and arrange them in a prominent centerpiece location.
Trust me, your guests will admire the bright, festive vibe these lovely flowers bring to the table.
3. Classic Red and Green Mix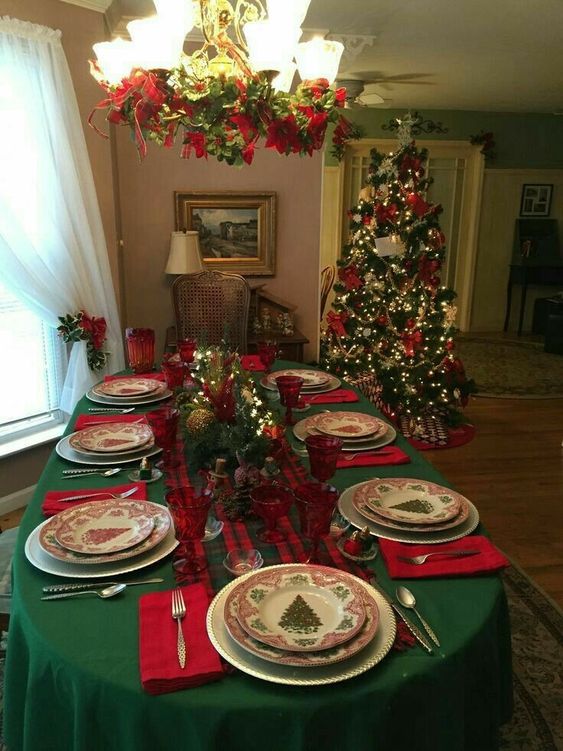 One of my all-time favorite centerpiece ideas is the Classic Red and Green Mix, which embraces the traditional Christmas hues. Use a mix of red and green components to give your table this classic appearance.
It never fails to make me happy and put a smile on everyone's face, and the secret is to maintain it classy yet also celebratory.
4. Minimalist White and Gold Display
I absolutely love the elegance of a minimalist white and gold display. It's so chic and sophisticated, and you can easily recreate it at home. All you need are some white candles, gold candle holders, and a few gold ornaments.
Arrange them on a simple white tablecloth, and you'll have a stunning centerpiece in no time. Plus, it's so versatile – it can complement almost any table setting!
5. Rustic Wood and Pinecones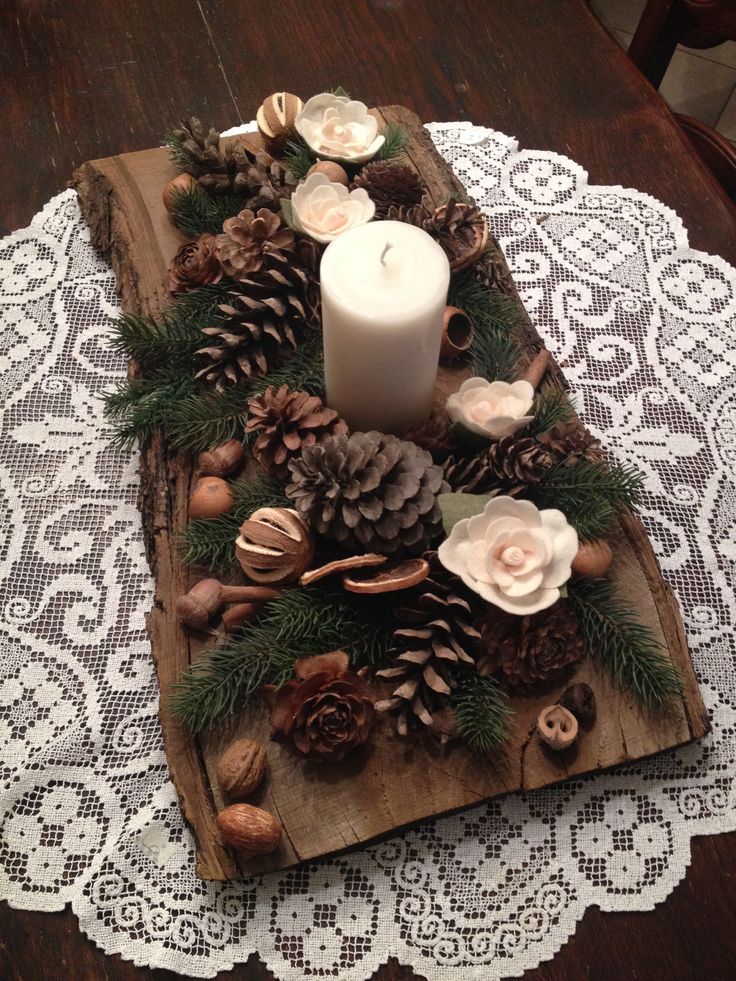 If you're a fan of rustic, cozy vibes like me, then this rustic wood and pinecone centerpiece is perfect for you.
To create this look, grab some wood slices (you can find them at craft stores or make them yourself) and arrange them in the center of the table.
Next, scatter pinecones and greenery around the wood slices, adding candles and twinkle lights for a touch of warmth. This centerpiece is perfect for a cozy Christmas dinner with family and friends.
Related posts you may like: Christmas Tree Ornaments You'd Love to Have This Year
6. Metallic Theme
If you want to try something a little different this year, why not go with a metallic theme? It's bold, eye-catching, and super easy to recreate.
Start by choosing your favorite metallic color (silver, gold, or copper).
Then, gather some metallic vases, candle holders, and ornaments. You can even throw in some sparkly metallic table confetti for an extra festive touch!
7. Candy Cane Centerpiece
One of my favorite ideas for a kid-friendly centerpiece is the Candy Cane Centerpiece. All you need are candy canes of various sizes, a vase or jar, and some festive ribbon.
Arrange the candy canes in the vase or jar, with their hooks facing outwards.
Tie a beautiful bow using the festive ribbon around the vase or jar.
Complete the centerpiece with some small ornaments or pinecones if you like!
This simple yet delightful centerpiece will leave children in awe and encourage some sweet snacking during the holiday feast.
8. Santa's Sleigh Display Table Centerpiece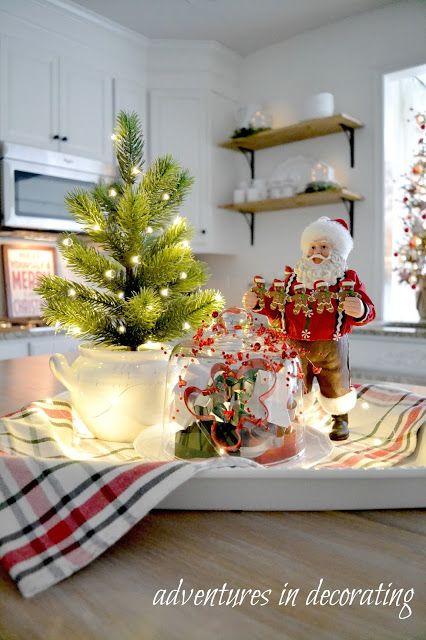 Bring the magic of Santa's sleigh right to your table with this Santa's Sleigh Display centerpiece. To create this fun display, you'll need:
A small toy or figurine of Santa and his reindeer
A wooden or cardboard sleigh
Wrapped mini Christmas presents
Snow-like material (e.g. cotton balls or fake snow)
9. Christmas Toy Display
A Christmas Toy Display is another great kid-friendly centerpiece idea that allows you to showcase some festive toys and ornaments on your table.
Grab some small Christmas-themed toys, such as nutcrackers, snowmen, or stuffed animals, and arrange them in the center of the table or on a festive serving platter.
Related posts you may like: 23 Christmas Wrapping Paper Ideas For 2023
10. Upcycled Centerpiece Ideas
I enjoy the concept of upcycling objects to make one-of-a-kind centerpieces for any Christmas table.
One fabulous idea I've come across is using empty glass bottles, mason jars, or wine bottles.
You can paint them in festive colors, add ribbons or other adornments, and then fill them with flowers or branches for a gorgeous display.
11. Natural Material Centerpiece
When it comes to creating festive table centerpieces using natural materials, I find that the sky's the limit! I personally love filling a large bowl or tray with pine cones, nuts, acorns, and dried fruit.
You can also add some ornamentation using twigs, branches, or fresh evergreen sprigs for an extra touch of holiday cheer.
12. Organic Candle Display
One of my favorite eco-friendly centerpiece ideas is an organic candle display. By using soy or beeswax candles with natural wicks, you'll have a cleaner burning option that's also better for the environment.
You can enhance the display by arranging the candles on a festive wooden or metal tray and adding some pine cones, sprigs of holly, or even small ornaments for a personal touch.
Remember that the size and height of the candles can add visual interest as well, so don't hesitate to play with that.
13. Crystal and Silver Display
One of the most breathtaking centerpieces I came across combines sparking crystal and elegant silver elements.
Imagine tall candelabras adorned with hanging crystal drops, surrounded by shiny silver ornaments and delicate, flickering tea lights.
This enchanting display creates such a lavish and festive ambiance on your dining table, it's sure to dazzle your guests.
Related posts you may like: First Christmas Decor for Your New Apartment | 17 Items to Have for Your First Christmas in Your New Home
14. Exquisite Glass Centerpiece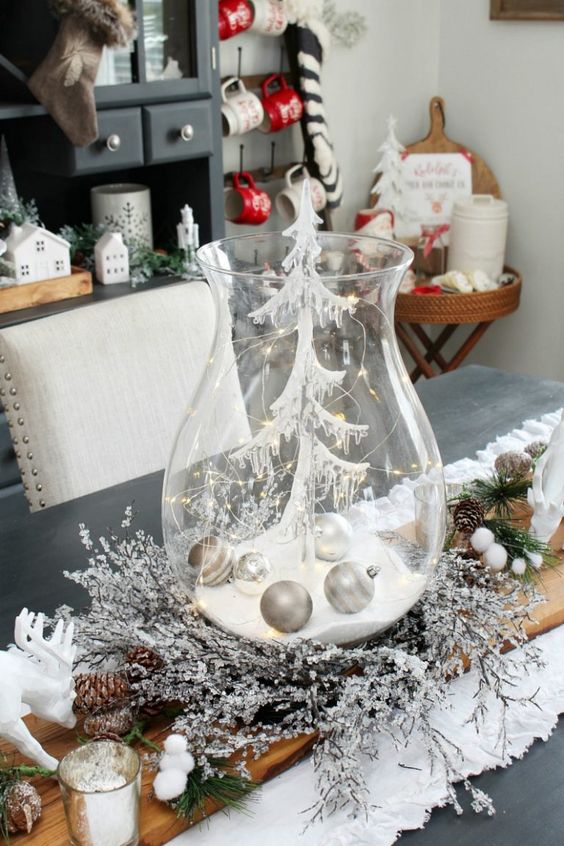 Another showstopper is the exquisite glass centerpiece.
Using various shapes and sizes of clear glass vases, you can create an artistic arrangement by filling these vessels with beautiful decorations like glass ornaments, jingle bells, or even fairy lights.
This centerpiece will literally light up your table and bring a magical and enchanting atmosphere to your Christmas dinner.
15. Extravagant Floral Design
This lush and opulent floral design exudes festive cheer and elegance, making it the perfect choice for your luxury Christmas table.
I've already mentioned how thrilled I am about these elegant centerpiece suggestions, and I can't wait to make them for my own holiday table this year! I hope they inspire you as much as they did me and that they give a touch of class and refinement to your holiday celebrations.
16. Handmade Snow Globe
I absolutely adore the idea of creating a handmade snow globe centerpiece. It's a fun and whimsical way to bring the magic of the season right to your table.
I've found an easy and affordable method to make a snow globe using a mason jar, some fake snow, a small winter-themed figurine, and a glue gun. Simply glue your figurine onto the lid, fill the jar with a little fake snow, close it up, and voila!
Your guests will be filled with wonder and awe at your beautiful handmade creation.
17. Crafted Christmas Tree
If a more traditional centerpiece is your style but with a personal touch, consider crafting a mini Christmas tree.
Decorate your homemade tree with mini ornaments, ribbon, or even sparkly beads! This crafted Christmas tree centerpiece is sure to be a conversation starter at your holiday dinners.
18. Homemade Ornament Display
For a simple and elegant DIY Christmas Table Centerpiece Ideas, try creating a homemade ornament display.
It's incredibly easy to put together and can be customized to match your holiday décor.
Select a shallow glass bowl or a beautiful cake stand.
Also you can include candles, pine cones, and colorful ornaments. For an additional layer of festivities, don't forget to add some greenery or colorful ribbon!
This post showed you 18 Christmas Table Centerpiece Ideas