Not familiar with the Big Little process or looking for some unique Big Little Reveal Day ideas? In this post, you'll learn all the essentials around this sorority's tradition and see 13 genius Big Little Reveal ideas to try out in 2023.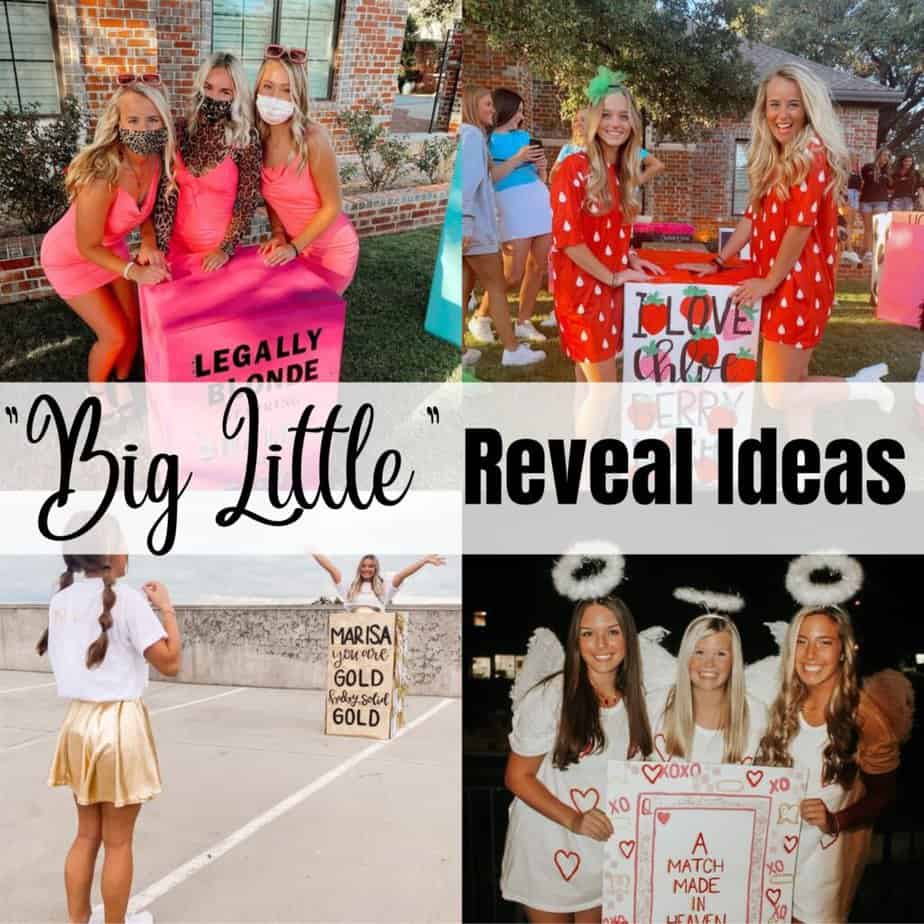 FAQ About Big Little Reveal
What Is Sorority Big Little?
Once the recruitment phase is over and you have received and accepted an invitation from a sorority on Bid Day, then the fun of the Big Little process begins.
As a new member of a sorority, you will need to learn more about your sisters, attend various events, and familiarize yourself thoroughly with the organization.
To make this process easier and more enjoyable, each new sorority member also referred to as Little Sister (Little) will be assigned a Big Sister (Big) to be like a personal mentor to her.
You can consider your Big as a mother who will make sure that everything related to your sorority and college life goes more smoothly and pleasantly. She is the person you can always turn to for support when you have questions.
Who Can Be a Big, a Little in a Sorority?
Everyone who just joined the sorority is automatically a Little Sister or for short a Little. This is a new member of the chapter who recently went through rush (recruitment) and got a bid from the sorority.
A Big (Big Sister) can only be an initiated member of the sorority that has been part of the organization for at least 1 year (sometimes 1 semester is sufficient as well). Furthermore, often a Big must have a GPA above the required minimum for the chapter, pay their dues regularly, and have a good standing.
It's important to note that not every initiated member of a sorority has to necessarily have a Little under their wing. In general, whether or not you're going to be a Big is entirely up to you and not an obligation by the organization.
Timeline of the Sorority Big Little Process
As soon as the Bid Day is over, potential new "Bigs" will begin contacting new members. Most often they will invite the Littles to the cinema, for a coffee, a walk or just to study together. All so they can get to know each other better and see if they are a good fit.
Usually, a few weeks after Bid Day, the New Member Educator, aka Pledge Mom will inquire as to which of the initiated sisters wants to become Big that semester.
Moreover, the Pledge Mom will investigate if the candidates meet the requirements to become Big and will connect them with potential Littles who might be a good fit.
And so begins the official Big Little Dating process, where the Little will be required to go on 1 to 3 dates per week with different older sisters chosen by the Pledge Mom for her. This process usually lasts about a month and ends on Big Little Matching Day.
On Big Little Matching Day, each Little has to write down on a piece of paper the Bigs she would like to be together with. Reciprocally, Bigs do the same thing. Finally, the Pledge Mom will connect the preferences of the Littles and the Bigs so that most are satisfied and get the person they want.
Immediately after Big Little Matching Day, the New Member Educator announces to all initiated sisters who will be Big and who is her Little. However, this information is not communicated to the new sorority members, they must remain in limbo.
What Are Big Little Reveal Week and Big Little Reveal Day?
A few weeks after the Big Little Matching Day spent in preparation by the Bigs, the most exciting and fun part of this tradition begins, namely Big Little Reveal Week.
During Big Little Reveal Week, each Little will be showered with a variety of gifts secretly given by her Big, which will contain playful and sometimes misleading clues to her true identity. The goal is for the Little to be constantly guessing who their Big is until Big Little Reveal Day comes.
On Big Little Reveal Day, the Bigs finally reveal themselves to their Littles and so their Big Little relationship officially begins in the sorority.
In general, each sorority chapter has its own way of revealing Bigs to their Littles. Some of the most popular are: a box reveal, wrapping paper reveal, and others. Later in the article, you will see more unique Big Little Reveal ideas.
Where to Go on a Big Little Date and What to Talk About?
Some good ideas for a Big Little Date are to go bowling, see a college basketball/football game, grab some coffee, eat at a restaurant, or just go for a walk. There are plenty of options, just pick somewhere you'll feel comfortable talking.
On these "official dates", talk about anything that interests you like movies, books, etc. Anything you like and that is important to you is a good topic of conversation and will help quite a bit in the process of getting to know your sisters and finding the perfect Big or Little for you.
Most often Bigs and Littles are brought together because of common interests, hobbies, majors, personalities, etc. These are all things that can transform their relationship into a nice friendship and where the older sister can pass on her experience to her Little.
Can a Big Have Two Littles?
Yes, that's a perfectly possible scenario. When a Big has two Littles, she is said to have "twins".
This can happen when there are more Littles than older sisters willing to become Bigs or 2 new members have the same Big as their first wish, which also agrees to take 2 Littles under her wing.
Generally being responsible for two rather than one Little is more stressful and takes certainly more time and resources to mentor them both properly. That's why it's not that common for Bigs to take on twins, but it's entirely possible and does happen.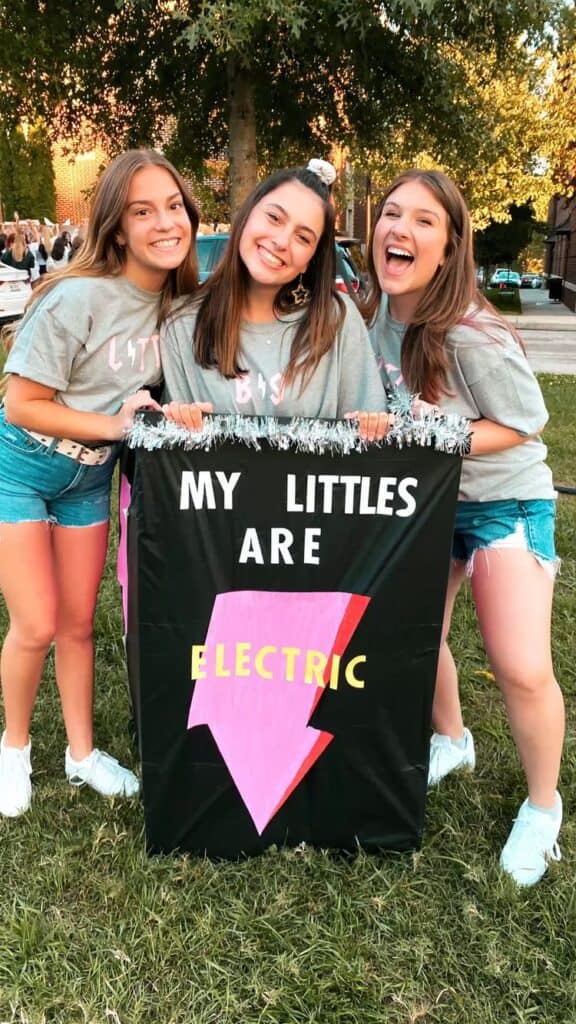 Big Little Reveal Ideas 2023
1. Box Reveal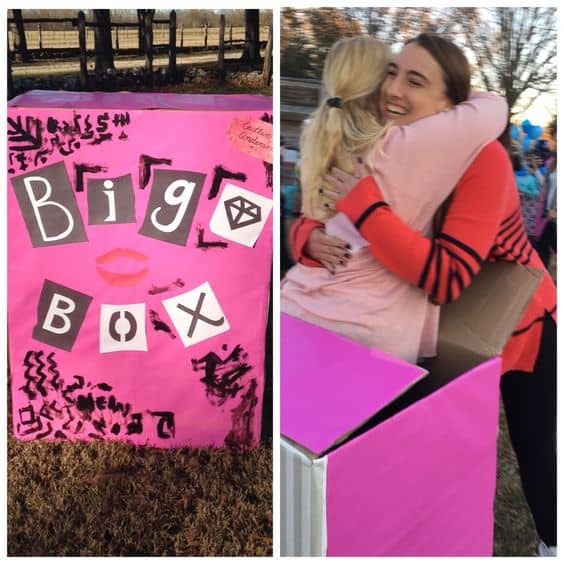 One of my favorite ideas that you can use to surprise your Little is the giant box reveal. Decorate it with different beautiful ornaments and colors that are associated with your sorority chapter and write your little sister's name on it.
The moment you jump out of the box and surprise your Little with your true identity will be priceless.
2. Balloons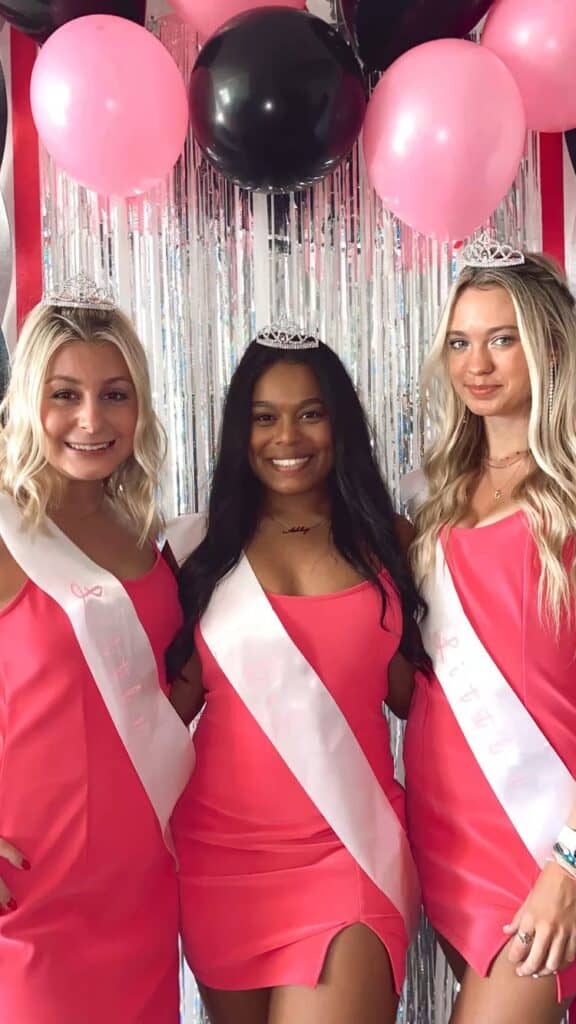 Another original suggestion for Big Little Reveal Day is to use inflated balloons that are inscribed with the names of the new sorority members. Once a Little bursts her balloon, there will be a slip of paper inside with her Big's name.
3. Big Little Hoodies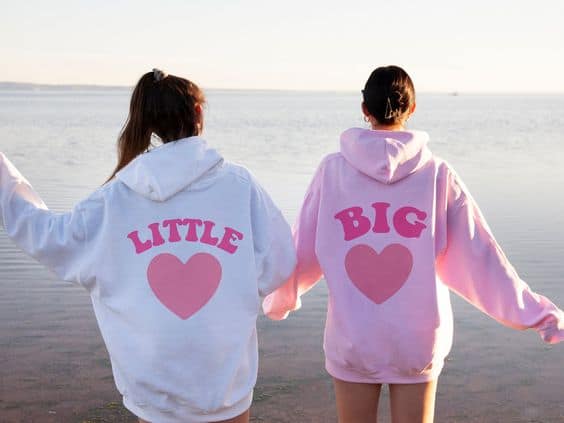 Hoodies in the same color or with unique personal details can also do a perfect job for Big Little Reveal. However, it's better to give it as a gift to your Little once she finds out your true identity.
4. Big Little Theme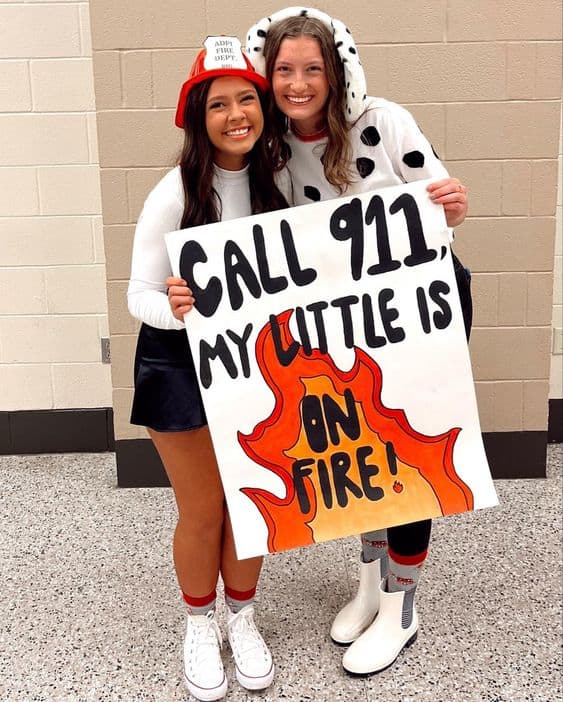 You can also connect your reveal idea with an item you gave as a gift to your little sister during Big Little Reveal Week.
For example, if you gifted a firefighter's hat and told your Little one to wear it on Big Little Reveal Day and you came up with this poster from the picture above, it would become quite an original idea.
5. Big Little Shirt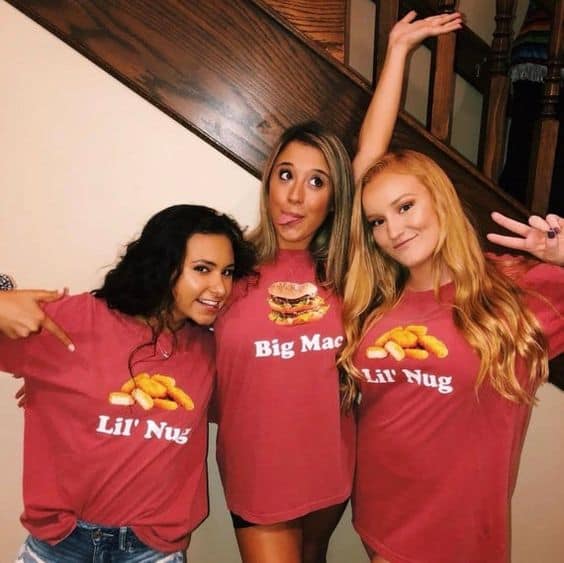 Ba da ba ba ba, I'm lovin' it! You can order themed t-shirts with a catchy design for you and your Little. I'm sure this McDonald's idea will appeal to everyone.
6. Princesses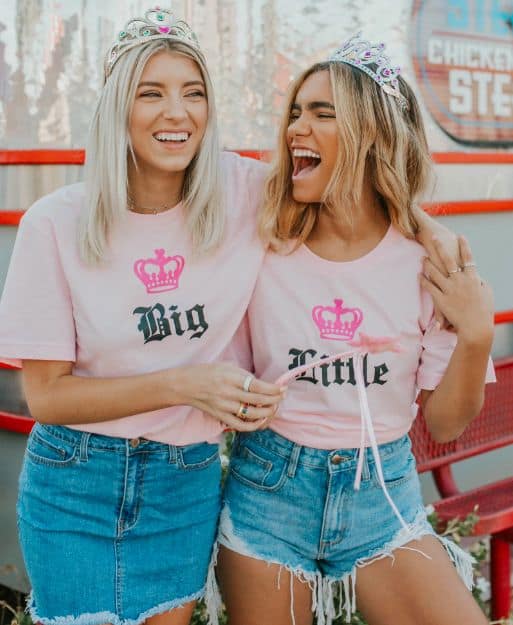 Another similar proposal to the previous one is to make princess-themed t-shirts that you can both wear.
Gift a crown to your little sister during the week and have her wear it on Big Little Reveal Day where you'll also be wearing yours together with the princess t-shirt.
7. Butterfly Sorority T-Shirts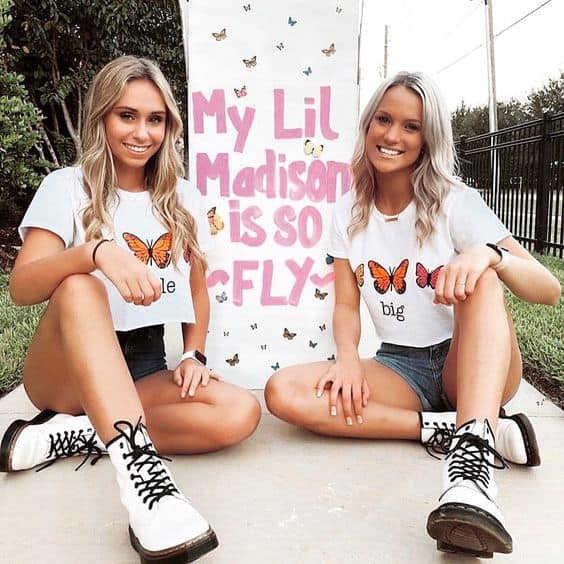 These t-shirts with butterflies are very trendy and preferred in sororities. This idea will surely be very well received by all. The t-shirts are very delicate and beautiful.
8. "Big Little" Balloons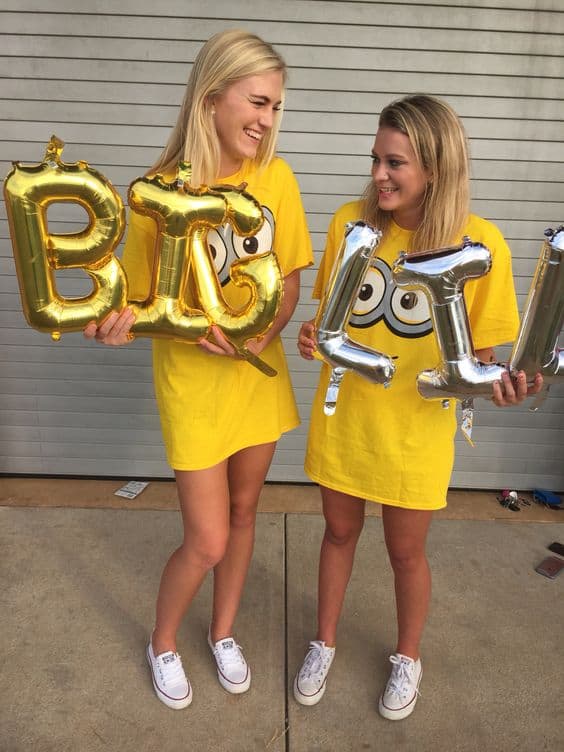 You can welcome your little sister with festive, Big Little balloons.
9. Bear Costume
You could gift secretly some sort of animal costume to your little sister and have her come with it on Big Little Reveal Day.
When she sees you in a similar costume, she'll know right away that you're her Big and lots of nice pictures will be taken.
10. Angel Sorority Costumes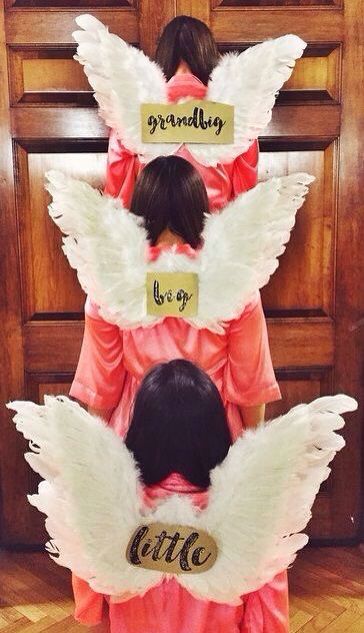 To dress up as angels is also a wonderful idea that will look very spectacular and beautiful.
11. Big Little Room Banner
Sometimes Bigs can also break into their Little's dorm room during Big Little Reveal Week, decorate with balloons and other ornaments, and leave a clue about your identity that teases the new member.
Of course, you'll probably need her roommate's help here to make this surprise happen.
12. Sheets Reveal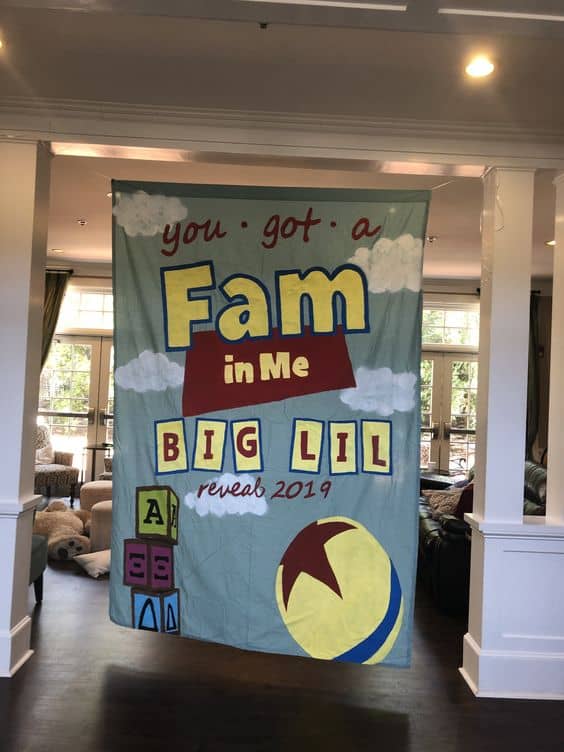 Another popular option that quite a few sororities use is the sheet reveal. You can decorate it in a variety of interesting and colorful ways and write your Little's name on it.
13. Greek Paddle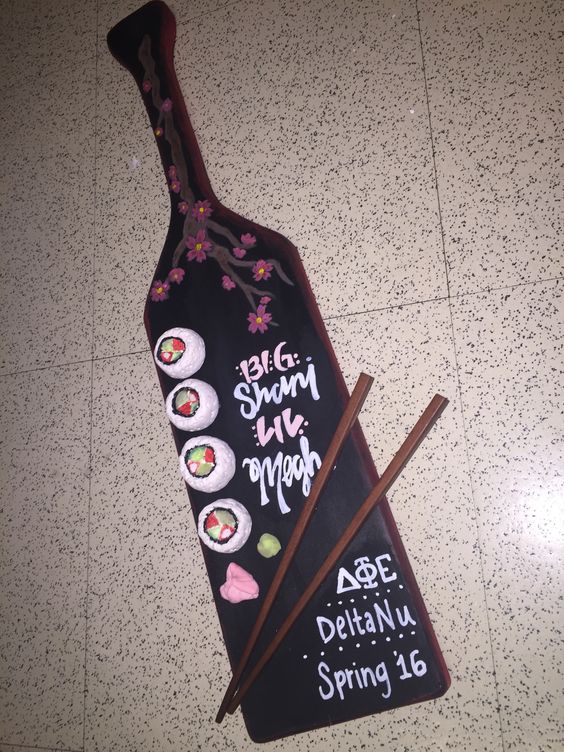 This could be a great Big Little Reveal Week gift to treat your little sister with. You could also write a playful message to suggest something about your true identity.
related posts you may like
This Post Was All About Big Little Reveal Ideas