Is something missing from your Christmas decor? This post is all about Christmas curtains to complete your home decor.
This post contains affiliate links, which means I'll receive a commission if you purchase through them. You will have no extra cost!
Christmas Curtains to Complete Your Home Decor
When we talk about the most wonderful time of the year, we always think of Christmas. To achieve an incredibly beautiful and spectacular decoration for the holiday we need many things, but first and foremost we need the desire to create a magical place for us and our families.
Important decor elements that bring the Xmas mood to your home are the Christmas tree, lights, stockings, etc. However, the truth is that there are some decorations that everyone forgets about but can be game changers and instantly improve the overall decor. I am talking about Christmas curtains.
In this article, I put together a list of 18 Christmas curtains to complete your home decor for the holiday.
Christmas Curtains
1. Colorful Swirls and Stars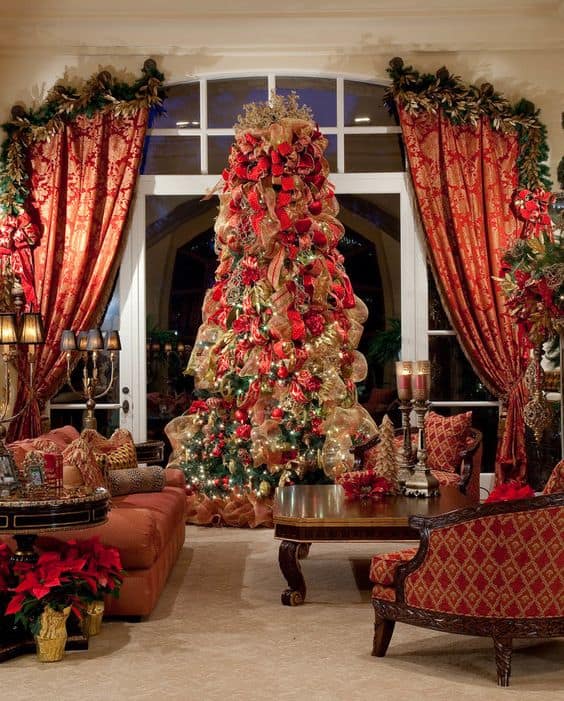 For Christmas, you can bet on massive curtains. I think they bring a lot of coziness to the home and are very attractive to the eye. Match the colors and ornaments on the curtains with the rest of the decorations and you will achieve an amazing Christmas atmoshpere.
Recreate This Christmas Decor
2. Red Plaid Curtains
Plaid elements have always carried the spirit of Christmas and this can also be found in the curtains. You can combine them with matching cushions, wreaths, and other Xmas decorations achieving the perfect harmony in your home.
Recreate This Christmas Decor
3. Grey Plaid Curtains
Gray is not a common color that many people rely on when it comes to Christmas decorations. However, you can create impressive and cozy home decor thanks to these curtains. You just need to be able to complement the grey with other matching colors.
Recreate This Christmas Decor
Related post: 16 Stylish Shower Curtains For Dorm Room
4. Pure Red Curtains
Red is one of the main colors of the holiday. Every year, many people rely on it because it creates exactly that festive mood we all look for at Christmas. On the other hand, it looks very stylish and easily blends with the other decorations and this makes it the most preferred color for Xmas.
Get This Christmas Curtains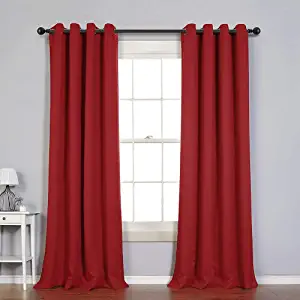 5. Christmas Valances Curtains
Here is a very interesting suggestion. Christmas-themed valances are great for decorating the top of a window and add a nice touch to the overall decor for the holiday. There are plenty of models out there, choose the one that best fits your existing design.
Recreate This Christmas Curtain Home Decor
6. Christmas Curtains with Printed Snowflakes
Snowflakes are a symbol of the holiday and this makes them a perfect choice for the theme of various key Christmas decorations. Snowflake curtains are very elegant and are ideal for people who don't like overly colorful decor items but want to bring the spirit of Christmas into their home.
7. Blackout Christmas Curtains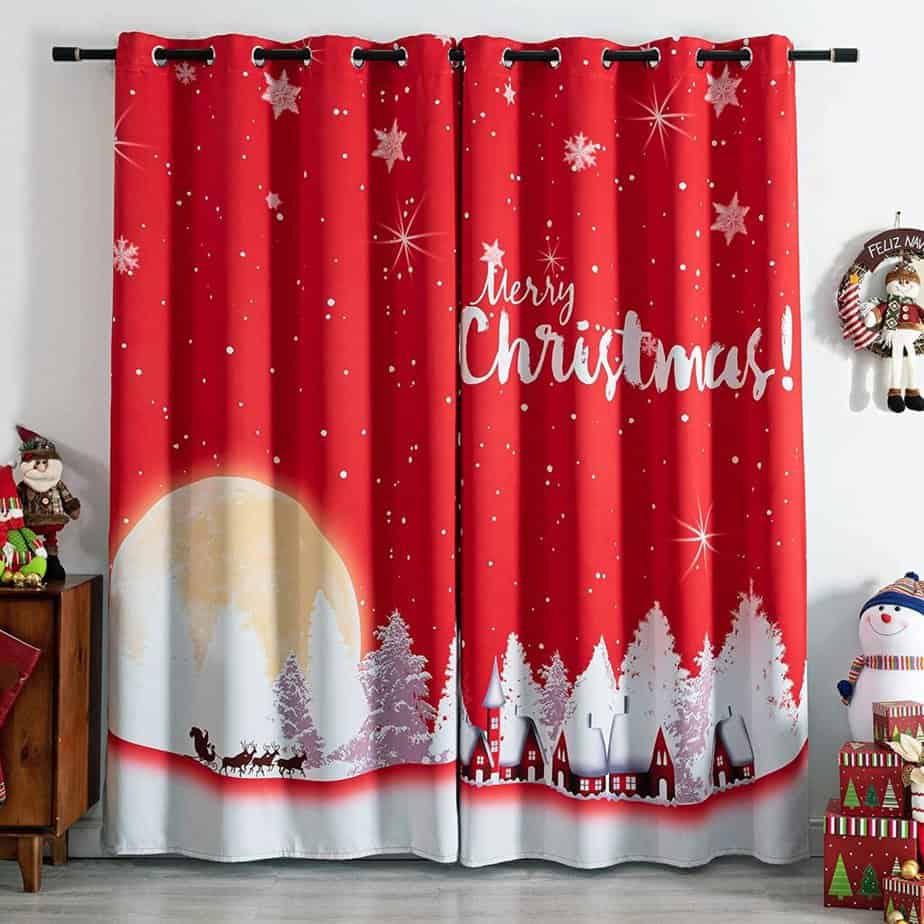 Christmas-themed curtains that have also a message on them are a great design solution. Make it so that every time you see this message, you smile and be grateful.
Related post: Read more about advantages and disadvantages of blackout curtains
8. Christmas Photo Print Curtains
You can opt for photo print curtains. They can certainly make your Christmas decor even more stylish and attractive.
9. Xmas Sheer Curtains
Sheer curtains will help you achieve a very elegant Christmas look in the room. You can find many different colors of thin curtains to complete your place in an ideal way. They look extremely beautiful when lights are put underneath.
Related post: 12 Different Types of College Dorm Room Curtains
10. Curtains With Reindeer
These cute drapes feature some of the most iconic symbols of Christmas, namely reindeer, trees, snowflakes, and stars. Curtains like this would go well with any other Christmas decoration in your home.
11. Snowflake Foil Print Christmas Curtains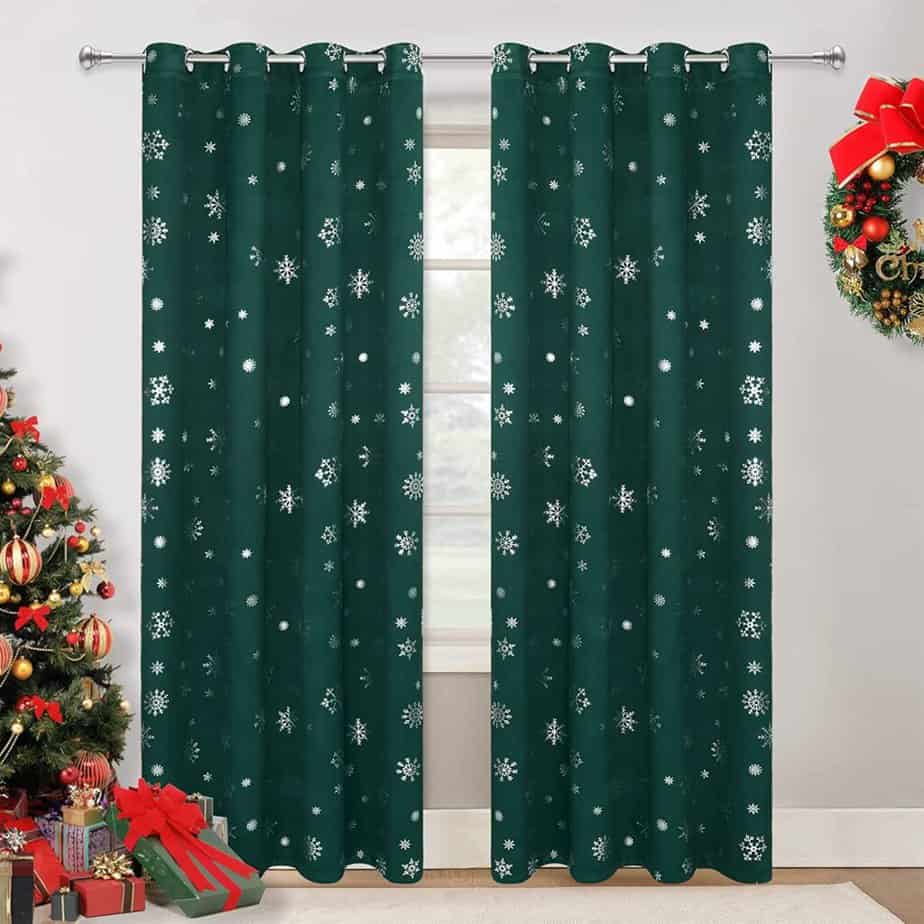 Green curtains can complement perfectly your Christmas decor. There are also silver snowflakes printed on them which makes the design even more attractive. If you opt for drapes with silver elements, you should match this with the rest of your decorations' colors.
12. Valance Curtains for Kitchen Windows
All rooms should be properly decorated for the holiday, this includes also the kitchen. A nice way to do this is with Christmas-themed valances for the kitchen window. It's up to you to choose if you want a simple one with just one color and some ornaments, or with a photo print on it.
13. White & Red Christmas Curtain
If you are into more unconventional things, put curtains with pendants. They are very interesting and would help create an amazing festive atmosphere. The red color is versatile and would stand great together with the other Christmas decorations.
14. Christmas Sheer Curtains
Many people opt for short curtains for many reasons. They are suitable for both the kitchen and living room. There are many beautiful short curtains with a Christmas theme to choose from.
Related post: 14 Shower Curtains For Halloween To Perfectly Match Your Halloween Decor
15. Christmas Ombre Curtains
A lovely idea for your Christmas decor is having drapes with iridescent colors. They would wonderfully complement the decor in your home. The snowflakes on them bring extra joy to brighten up your holidays and delight your soul.
16. Christmas Striped Window Curtains
I don't know why, but while drafting this article, a lot of curtains passed before my eyes, but I fell in love with this model. The white and red stripes remind me of Christmas candy canes, and the combination is just astonishing. I also like that the design is very clean.
17. Soft Red and Green Christmas Curtains
When we talk about unusual things, we can't help but mention this type of Christmas decoration. More and more often I see windows decorated in this way with drapes wrapped around the rods. It is certainly more impressive in this way.
18. Christmas Boho-style Curtains
This type of curtain is the most versatile and the most preferred by most people. It is stylish, brings Christmas cheer, and is guaranteed to be a great decor detail and even accent. You can also match it with thin curtains and have it tied on the side.
#Bonus – Christmas Decoration Idea
You can tie the curtains with beautiful Christmas elements to finish the decoration properly. Opt for stars, reindeer, mistletoe, hats, candy canes, etc. Binding in this way becomes very beautiful and creates an even more festive mood in your home.
Christmas Curtain Buckles
related posts you may like
First Christmas Decor for Your New Apartment
23 Christmas Wrapping Paper Ideas
22 Genius Dorm Room Christmas Decor Ideas To Copy
This post showed you 18 Christmas Curtains to Complete Your Home Decor