Christmas is one of my favorite holidays and as a student, I loved decorating my dorm room appropriately. Therefore, I decided to share with you 18 extremely creative Christmas dorm door decor ideas that you don't want to miss.
This post contains affiliate links, which means I'll receive a commission if you purchase through them. You will have no extra cost!
When talking about Christmas decorations, I can think of all kinds of ideas that you can use to turn an ordinary dorm door into a Christmas work of art.
The suggestions shared here will certainly inspire you to roll up your sleeves and start decorating your dorm room door for Xmas. This will bring much joy and raise not only your Christmas spirit but that of all your flatmates as well.
18 Christmas Dorm Door Decor Ideas
1. Snowman Dorm Door
For this sweet idea, you'll only need colored paper. With it, you can make the snowman's eyes, nose, buttons, etc. In the end, just glue the details on the door and the Christmas decoration is finished.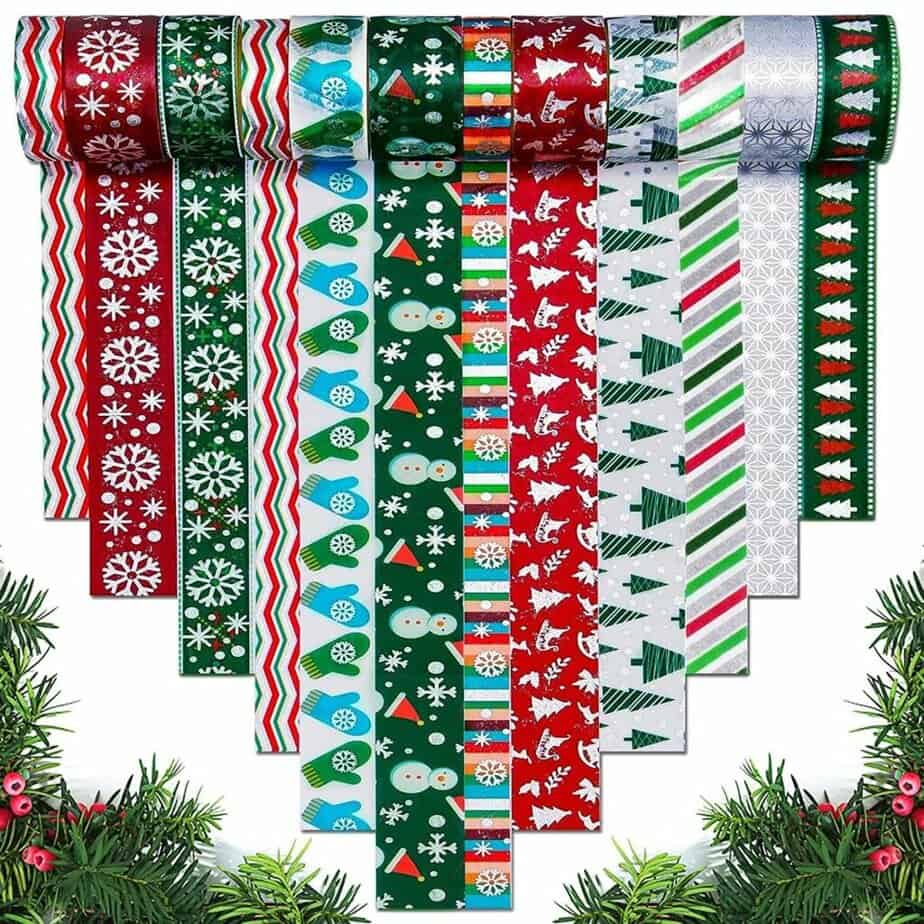 2. Christmas Garland Tree
Another very cute and easy-to-make door decoration is the Christmas tree. To get it right, you need to have a green garland, baubles, and optionally some other small ornaments. To make it even more complete, put a Christmas message above the tree.
3. Christmas Stockings
Christmas stockings are one of the holiday symbols as they create an amazing festive mood, especially among children. Put your initials on it to personalize the decoration.
Christmas Socks with Letters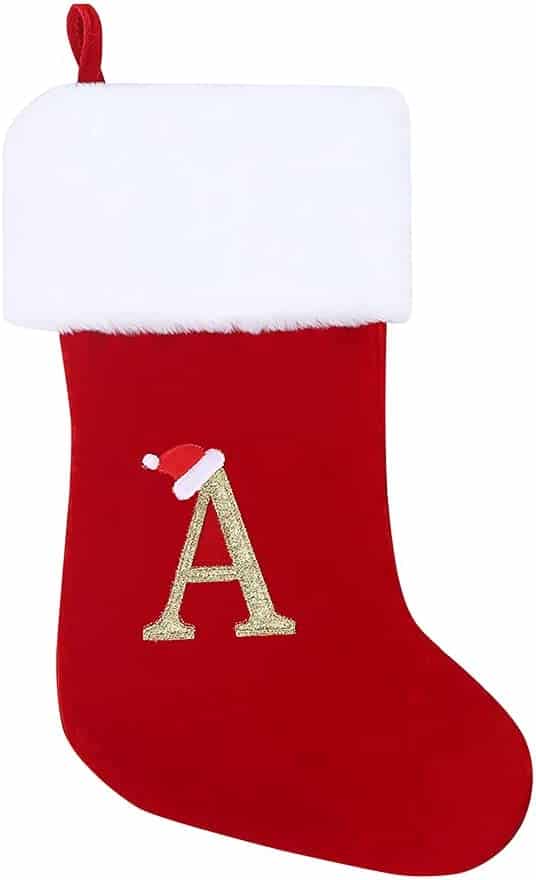 4. Snoopy Christmas Dorm Door Decor
Combining traditional Christmas decorations with your favorite cartoon character is also a super creative suggestion.
For example, if you like Tom and Jerry you can find a Christmas wallpaper with them to put on the door. Don't forget to add other Xmas decorations such as lights, figurines, and stockings to make it even prettier.
5. Christmas Deers
Put fun collages of you and your roommate. You can make collages of gnomes, reindeer, and other Christmas figures. Add lights, figurines, and cotton to create a lovely Christmas decoration. Complement it with a cool and catchy Christmas message to make it even more spectacular.
Christmas Snow Decor
6. Dorm Door Chalkboard
Turning your dorm room door into a chalkboard is very clever. Because everything will be done with chalk, you will be able to change the messages and drawings every day if you wish.
Chalkboard Sticker
7. DIY Santa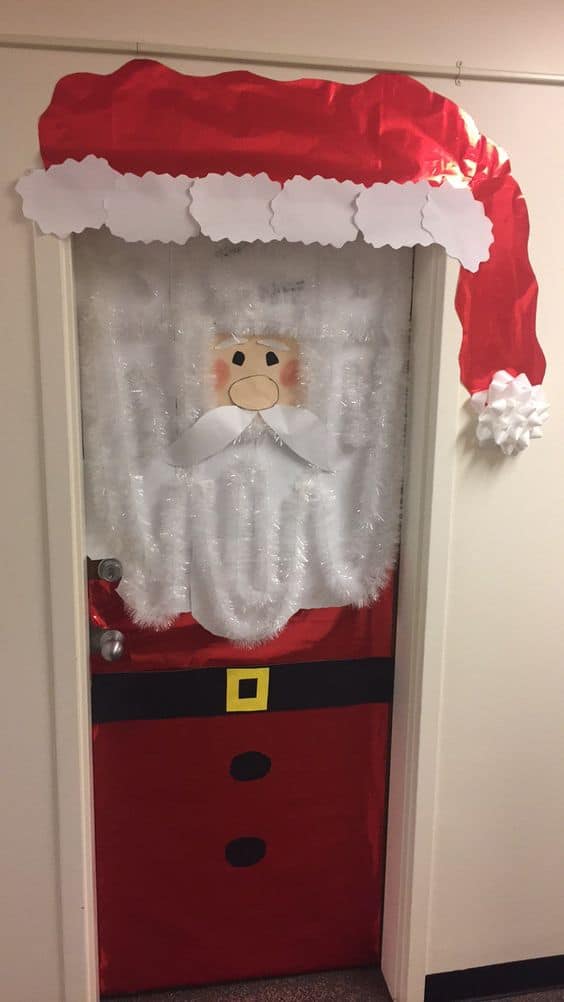 Now, this is a fantastic way to decorate your door for Christmas! Santa is the main symbol of the holiday and you will never go wrong if you decide to use his image as Xmas decor.
It may seem complicated at first, but you can also achieve this Christmas door decor. For this, you need colored paper, white garlands or cotton for the beard, and just a little imagination.
8. Dirty Christmas Dorm Door Decor
If you don't suffer from a lack of humor, you can make yourself a dirty Christmas door decoration.
Some useful items to use for this are ribbons and wrapping paper. Moreover, you can mimic the popular doorsock signal by hanging Christmas stockings on the doorknob instead lol. Add a catchy sexual quote on the door to complete the decoration.
9. Christmas Snowman
Get your hands on large reusable plastic cups and start creating at will. Make three hemispheres: small, medium, and larger by stapling the cups together.
Don't forget to make the eyes, nose, mouth, buttons, and scarf of your charming snowman. This Christmas decoration idea is unique and your flatmates will fall in love with it!
10. Snowflakes
If you don't want to do some massive decorations for your dorm room, go for snowflakes and Christmas stockings.
Don't forget to add ribbons too because they can contribute a lot to the overall appearance and design of the door decor. You can make your own snowflakes out of paper, which will save you some money, and allow you to choose their shapes and patterns yourself.
11. Fireplace
An often overlooked element when talking about Christmas is the lit fireplace and its warmth. You can achieve an incredibly eye-catching decoration thanks to it.
It is possible to DIY the fireplace using only colored paper. To complete the door's decor, hang also Xmas stockings on it with your and your roommate's names to create a great Christmas mood.
12. Christmas Presents
Christmas won't be Christmas without any presents. This is an amazing and very colorful idea. What you need for it is to find different Christmas wrapping papers and Christmas gift bags.
Cut them in a square shape and don't forget to add a ribbon. This Christmas door decoration brings lots of cheer and is very pretty.
Wrapping paper
23 Christmas Wrapping Paper Ideas For 2022
13. Christmas Dorm Door Present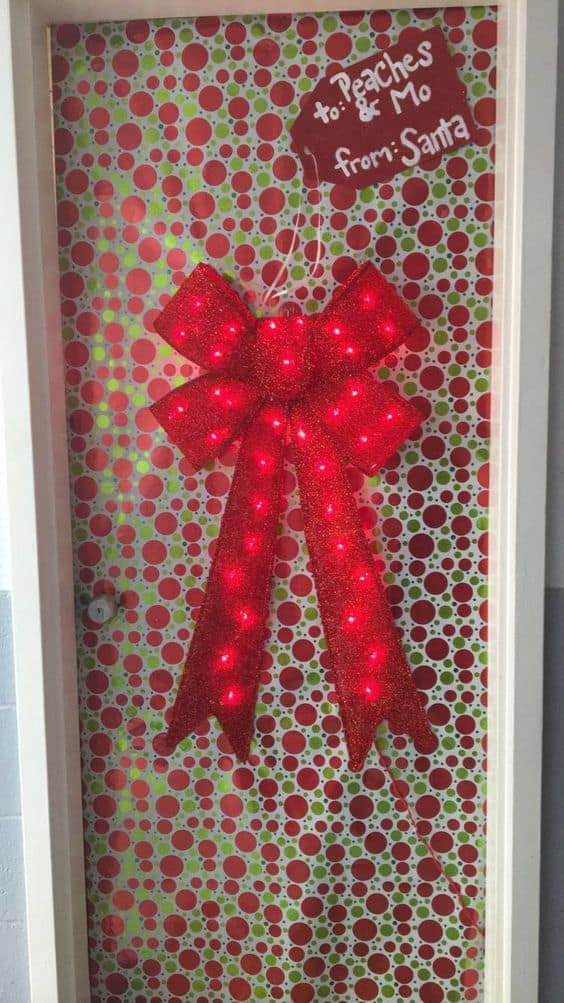 You can wrap the whole door to look like a gift with wrapping paper. Add a big gift bow and a name gift tag to make it even more realistic and spectacular.
14. Girl Snowman & Lighting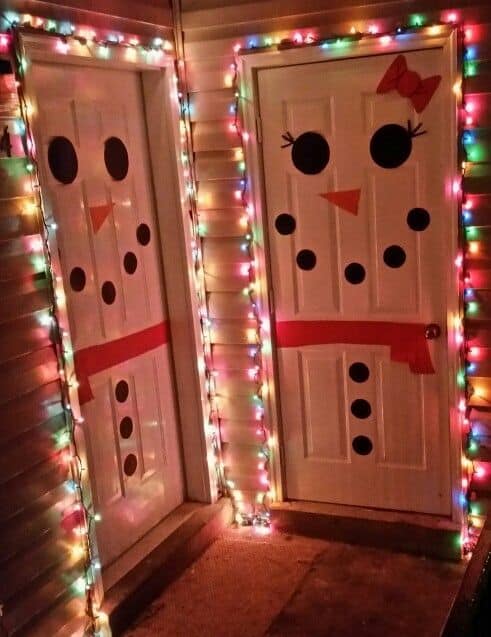 I love lights and think this is one of the most spectacular Christmas door decorations. The combination of 2 snowmen, one male and one female is super cute and definitely won't fail to catch the eyes of all the flatmates.
Best 15 Dorm Room Lighting Ideas to Make Your Place Comfy
15. Gnome for the Door Hanger
If you want something simpler as a door decoration, then this Christmas door hanger is perfect for you. Sometimes even with smaller decorative elements, we can achieve super results.
16. Festive Bow
This door decoration is very cute and you can easily achieve it. You need a ribbon long enough to wrap the whole door with as a gift.
You can buy a ready-made bow or make it yourself. If you buy the ribbon, be careful with the colors because there is a big possibility that they will differ.
How to make a door bow for Christmas
17. Cup of Hot Chocolate With Candy Cane
This looks like a very stylish decoration just for me haha. Small decorations can also bring you a great Christmas mood and lift your spirit. Make your Xmas dorm door decor such that it makes you smile when seeing it.
18. Christmas House Decor
This decoration is the biggest on today's list and will take a lot of time and effort. It's not very demanding in terms of materials though, you just need colored paper. The person who made it has done a wonderful job and created a great Christmas mood in the dorm.
Related posts you may like
This post showed you 18 Of The Best Christmas Dorm Door Decor You'll Want to See