Want to surprise your niece with a suitable present for Christmas? However, you don't know what teenage girls like? In this post, you will find 35 popular gift ideas for what to get your teenage niece for Christmas.
This post contains affiliate links, which means I'll receive a commission if you purchase through them. You will have no extra cost!
What to Get Your Teenage Niece for Christmas?
Christmas is that amazing time of year when the whole family gets together and celebrates with tables overflowing with delicious food. This holiday is also associated with giving gifts to your loved ones. Of course, the presents don't need to be big and expensive. The main idea is to just show that you appreciate and love the people around you by getting them something for Christmas.
Nevertheless, choosing the right gift is not always an easy job as it is based on how well we know the person and their interests. Let's say this year you are invited for Christmas to your brother/sister's house who has a daughter.
You want to get your niece something nice, but you don't know what. Now that she is a teenager the task becomes even more complicated. But don't worry, this post will show you 35 popular ideas on what to get for a teenage niece for Christmas!
Table of contents
35 Popular Gift Ideas For Teenage Niece For Christmas
1. L'Oréal Advent Calendar
One of the coolest Christmas gifts to give your niece is an advent calendar with beauty products from her favorite cosmetic brand. I assure you that she will love this because besides getting a lot of new cosmetics, she will also experience a lot of excitement when opening each day of the calendar.
2. Friends Mini Backpack
If your niece is a fan of the TV show "Friends", give her a themed backpack, and if she's passionate about some other show, music band, or actor you can safely bet on them as well. It's a useful gift that she will certainly appreciate.
3. Friends TV Show Coffee Mug
We've already talked about the show's backpack, but now I'm going to offer you this cute mug. A lot of teens watch soap operas and have their favorites, so you might research this and pick a mug with your niece's favorite stars on it. Make sure it's something very cool and a keepsake.
4. Sports Bra
If your niece plays a lot of sports you can get her new sportswear. Anyone who trains 4-5 times a week knows how much clothing is needed just for working out. For that reason, this would be a pretty good gift.
5. Beanie Hat
Winter is the coldest season and it is important to dress in warm clothes. Teenagers often skip putting on a hat during the season. Most often the reason is to avoid spoiling their hairstyle or because it doesn't go with their outfit. Be resourceful and get your niece a cool beanie that she will love to wear.
6. Cute Animal Slippers
You can surprise your niece by getting her cute puffy slippers. Find out which shoe number she is wearing and get something colorful and comfy. This gift is very appropriate for the holidays because that's when we spend a lot of time at home with loved ones.
7. Disney Minnie Mouse
Get a t-shirt with her favorite characters from a TV show, music band, performer, actor, etc. It will always be useful and I assure you that she will wear it. Make sure the fabric is nice and soft.
8. Lighted Vanity Makeup Mirror
A great gift idea for a teenage girl is a makeup mirror. At this age, girls are rediscovering the world and starting to put on makeup and use different cosmetics. If your niece loves makeup or has shown an interest in it, gift her a makeup mirror with lights that she will fall in love with immediately.
9. Color Changing Cinema Light Box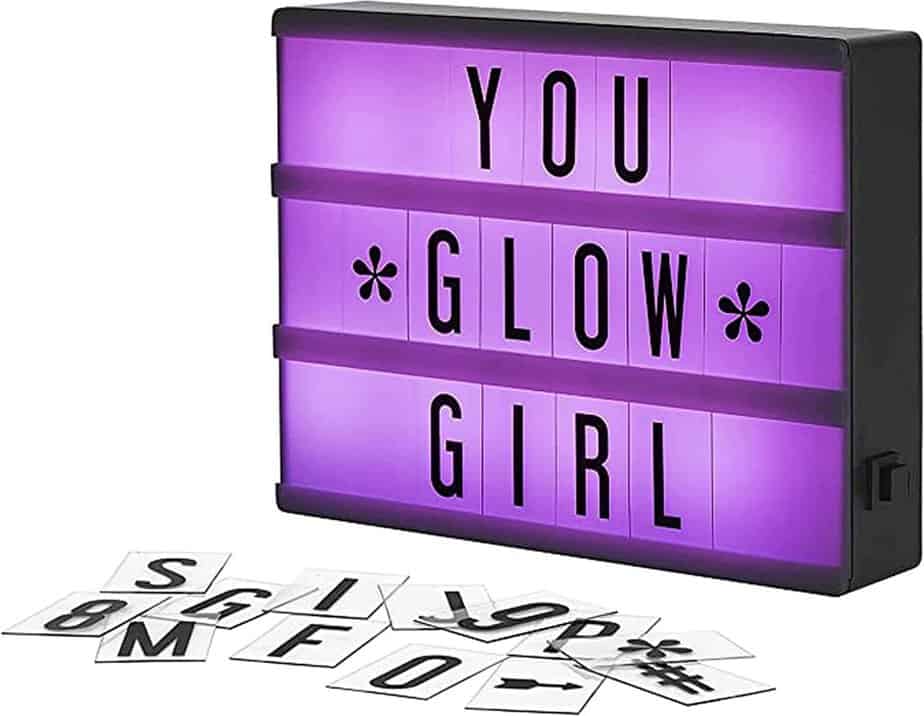 This is a relatively new trendy item that many teenagers like. It can be used as a bedside lamp and she can write on it whatever she wants. This glowing box can change colors which makes it even more attractive as a decorative element.
10. MacBook Case Cover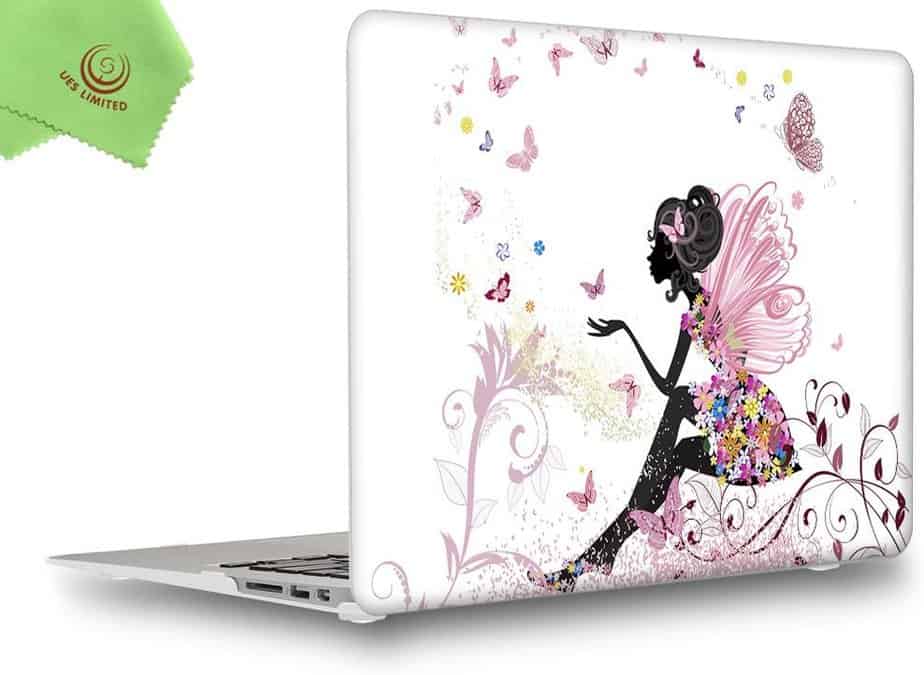 This is a super cool and useful gift because teens spend a lot of time on their laptops nowadays. There are a wide variety of laptop protector designs, so you have the freedom to choose. Two things here are important to know. First, the exact model and size of her laptop. Second, what color or design your niece would be happy with.
11. Premium Makeup Brushes
As we've already talked about, makeup becomes a part of girls' everyday lives during their teenage years. Therefore, anything related to cosmetics is an ideal gift for your niece. The key thing here is to get quality brushes with nice bristles.
Related post: 30 Perfect Gift Ideas for Her
12. Love Heart Pendant Necklaces
Gift your niece a heart-shaped necklace to show her the love you have for her. There are a ton of different colors and designs out there, so pick the one that you think she will fancy the most.
13. Hair Dryer and Hot Air Brush
Another amazing beauty-related gift idea is this hair dryer and hot air brush. Thanks to them, your niece will be able to dry her hair and give it volume at the same time. This will appeal to a teenage girl because now she will have the means to quickly and easily fix her hairstyle.
14. Hairlace Hairbands
Colorful hair bands are also a great gift for a teenage niece for Christmas. They are used when doing makeup or when getting different facials. You can gift them to your niece as there is a wide variety of colors and there will be a fit for any type of outfit.
15. Vera Wang Princess
Many people think that perfume is not a good gift idea, but the truth is that when a person gives you the right one it means a lot. If someone gives you a fragrance you like it means they know your taste. However, don't bother gifting your niece perfume if you don't know what aromas she likes.
16. Gel Nail Polish Starter Kit
Girls' habits change during teenagehood. One of them is to maintain a beautiful manicure. You can gift your niece an amazing manicure kit. Here it is good to emphasize quality, even if it comes out more expensive.
Creating a beautiful manicure is a difficult task and requires a lot of practice and if she has an interest in doing it, it can become her hobby.
17. Cute Cat Ear Hoodie
As we all know, teenagers feel heavily the need to be unique. For example, they wear unconventional clothing to stand out from the crowd. If your niece also likes such things you can gift her this cool cat sweatshirt with ears on the hood. Make sure she is a cat person first, to make the gift even more special for her haha.
18. Satin Pillowcase
Lovely rose gold pillowcase that your niece will fall in love with. This set is amazing because satin is a very suitable fabric for both hair and skin. It's a great gift for an adolescent young lady.
19. Hogwarts Glitter Cup
Teenagers watch a lot of movies like Harry Potter for example. You can get your niece a Harry Potter-themed mug, which I guarantee will become one of her favorite items.
To be honest, I am a fan of the Harry Potter series myself and I'll be happy to receive such a present for Christmas.
20. Comfy Blanket
If you're wondering what to get your niece for winter, here's an idea. I know what it's like to be given something warm during the cold winter days. This will become one of her favorite blankets and she won't stop wearing it around the house. There is also plenty of colors to choose from for this gift.
21. Instant Photo Maker
This is an instant camera that is simply unique. It takes pictures in a flash and they stay forever as a memento of amazing moments. Gift this to your niece, so she can capture the beautiful and happy moments and immortalize them.
22. Glowing Photo Clips String Light
This is a suggestion that will appeal to every teenage girl. These photo clip string lights are so cool and your niece will love to put these in her room as decoration. Combine these lights with the previous Instax Mini 11 and you will have an amazing Christmas present.
Related post: 22 Unexpected Gifts for Your Boyfriend That He Won't Forget
23. Smart Speaker – Alexa
Nowadays, virtual assistant technology is becoming increasingly common in households. One such example of this technology is Amazon Alexa. Every teenager will love to have a smart speaker in their room. Only with voice commands, you can make Alexa play music for you, tell you the weather, or help you with your math homework for example. These are new and very cool technologies that are of great interest to the newer generations.
24. Harry Potter Jewelry
If your niece is into Harry Potter or any other movie series, she will surely appreciate this gift for Christmas. Make sure to know her favorite movie and see what jewelry associated with it are on the market.
25. DIY Journaling Set
Every lady needs a journal to write in there her private stuff. In this set, there are many different sticky notes, color sheets, paper clips, glue sticks, and many more. With them, your niece can decorate her diary any way she wants.
26. Bluetooth Headphones
In this day and age, everyone uses headphones. You listen to music on them while taking a ride on public transport, while you work out at the gym, etc. Moreover, wireless headphones are extremely trendy right now. Therefore, your niece will certainly be happy with headphones as a Christmas gift.
27. Initial Butterfly Necklace for Girls
Get your niece a necklace with a personalized message. This is a very sentimental gift that I am sure she will love very much. These necklaces are an amazing way to tell someone how special they are to you.
28. Facial Sheet Mask
We continue on the beauty theme with an amazing set of face masks for your niece to do her treatments with. There is a wide variety of them so she can choose from many types with different properties. Face masks will always be an amazing hit for a young lady's gift.
29. LED Ring Light with Phone Holder
I think this gift idea tops the list. Teenagers love to take pictures and make videos, so if you gift a ring light with a tripod like this to your niece you'll hit the jackpot. Make sure she hasn't got one already to avoid any awkward situations.
30. Set of Backpack, Mini Purse & Shoulder Bag
Give your teenage niece for Christmas a set containing a backpack, a smaller purse, and a wallet. Backpacks are preferred by teenagers, purses are suitable for more formal outfits, and a purse is always necessary. Choose the color that you think will appeal most to your niece.
31. Dustless Hair Chalk
This is a very interesting Christmas present, with which you will prevent early hair dyeing, which teenagers want so much. With these chalks, your niece can dye individual strands of her hair and after that remove the dye easily.
32. The Baking Cookbook for Teens
If your niece is interested in cooking, you can gift her a recipe book. When choosing gifts for teenagers, it's important to notice their hobbies and encourage them to keep doing them as they develop in that particular area.
33. Bluetooth Beanie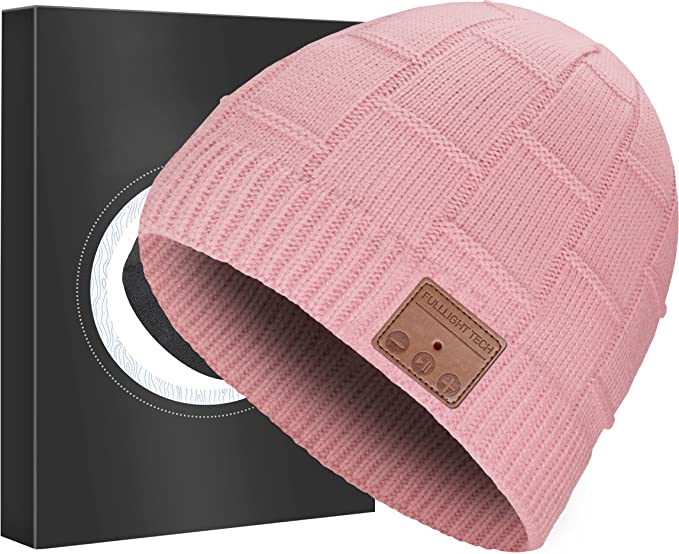 You can get your niece a very cool Bluetooth beanie. This is a very suitable gift for the cold months as you can connect the hat to your phone via Bluetooth and listen to some music directly from it.
Related post: Last Minute Genius DIY Valentine's Day Gifts
34. Jewelry Box
One more very suitable gift for an adolescent young lady is a jewelry box. Your niece is yet to start wearing jewelry and she will surely need a place to store it. There are many jewelry boxes in different shapes and colors from which you can choose the most appropriate one.
35. Amazon Gift Card
If you don't have any ideas about what to gift your niece for Christmas, I offer you a very elegant solution. Give her an Amazon gift card so she can buy whatever she wants with the loaded amount in the gift voucher.
Read More Related posts
This post showed you What to Get Your Teenage Niece for Christmas