Do you love getting your nails done for the holidays? You don't need to have long nails for that! Here are 26 Christmas short nails to copy this year!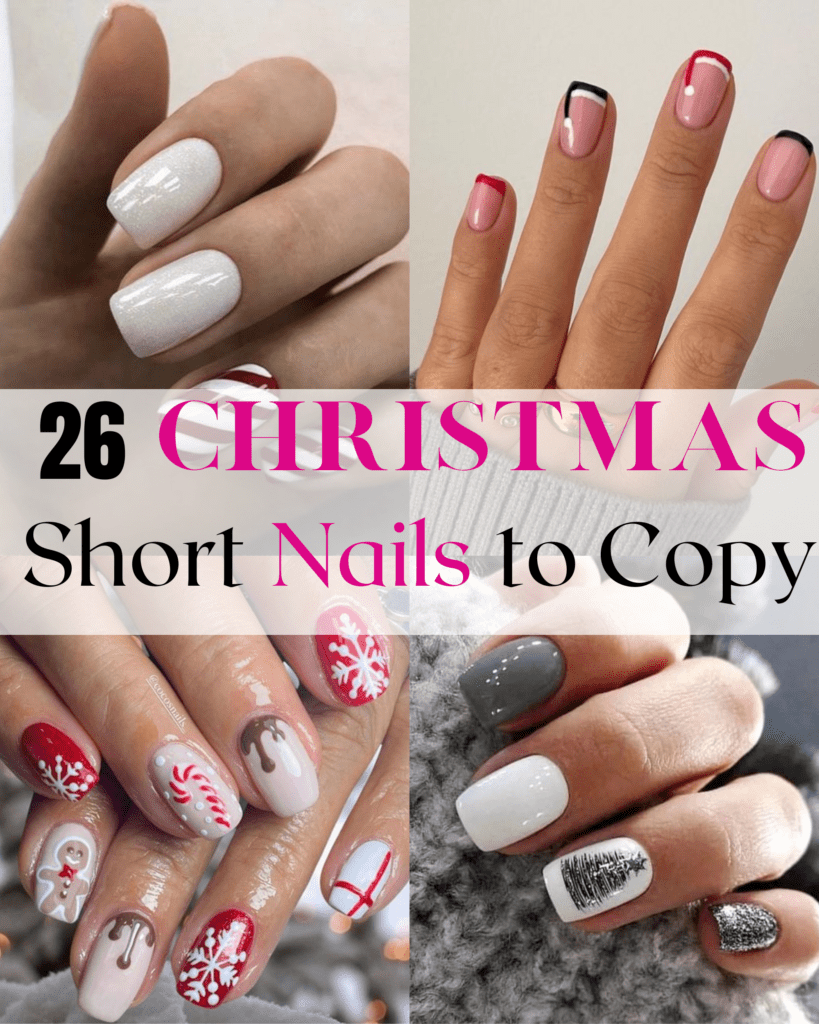 Every year just before the holidays I like to get a Christmas manicure. The reason is, it makes me feel even more beautiful and lifts my spirits every time I look at my nails.
A lot of women think that you need to have long nails to get a nice manicure, but that's not true at all.
That's why in this post I decided to show you 26 Christmas short nail ideas to prove that you don't need long nails to have a great-looking manicure for the holidays.
26 Christmas Short Nails to Copy This Year
1. Reindeer Christmas Nails
One of the most popular Christmas manicures is the one that includes the image of a reindeer. It turns out very cute as you can combine it with different colors. It works very well with red because of Rudolph's red nose.
2. Clean Nails With Snowflake
This is definitely my kind of manicure. If you're like me and don't like to have very colorful nails but still want an eye-catching Christmas manicure, this is an amazing idea. Decorate with snowflakes and glitter.
3. Red Manicure With Snowflakes
Red is one of the Christmas colors and that's why many ladies choose it. You can get an amazing festive manicure by using red as a base and adding white snowflakes on top.
The contrast between the two colors will certainly make your short nails stand out.
4. Pink Shades and White
Another very favorite Christmas manicure of mine. I love the combination of pink shades and white. It turns out very delicate and you can do many different decorations on your nails.
5. Pink and White With Snowflakes
I'm a fan of softer and gentler color combinations like this one. Moreover, add glitter to make it even more pretty and festive. You can do this type of manicure on square nails as well as round ones.
6. Grey With Christmas Tree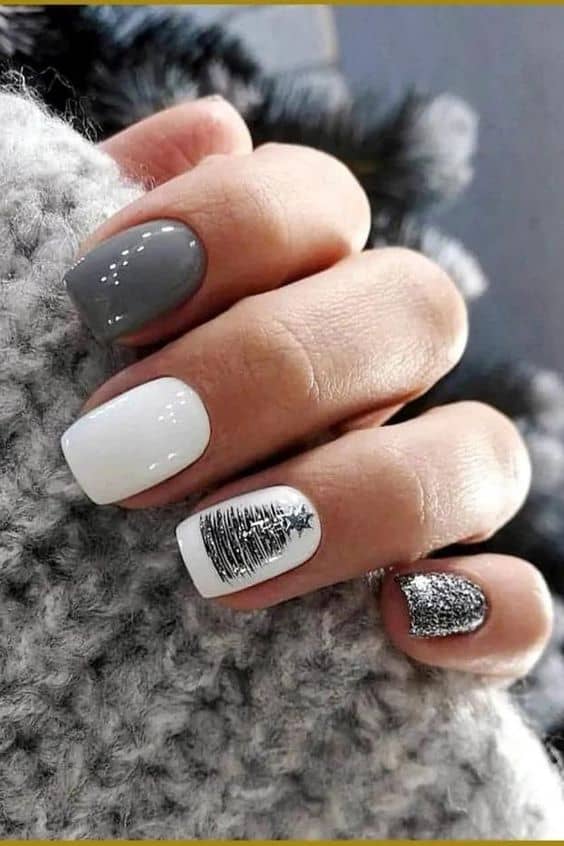 Interesting choice of colors, definitely not common, but still turned out spectacular. I like how the Christmas tree is done as a detail too.
7. Black & Gold
Black and gold create a feeling of luxury and glamour. You can make many beautiful nail details with these colors such as snowflakes, Christmas trees, reindeer, etc.
8. Manicure With Fir Branch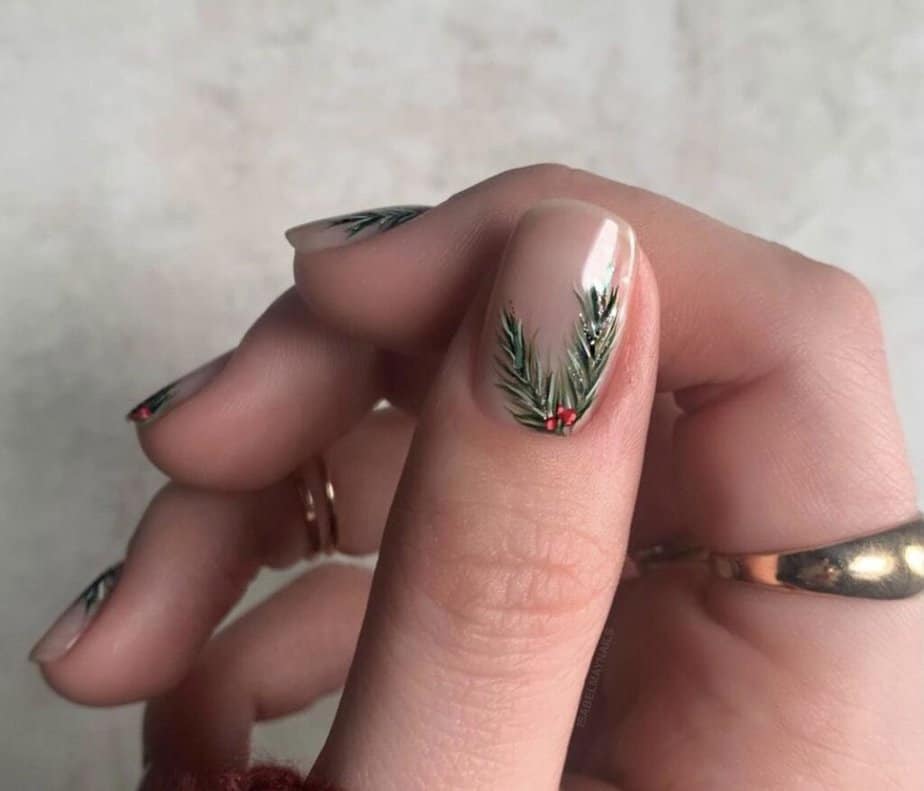 Wow, this looks really realistic! The fir branch is a great Christmas decoration that will create a lot of style in your manicure.
9. Christmas Gift Short Nails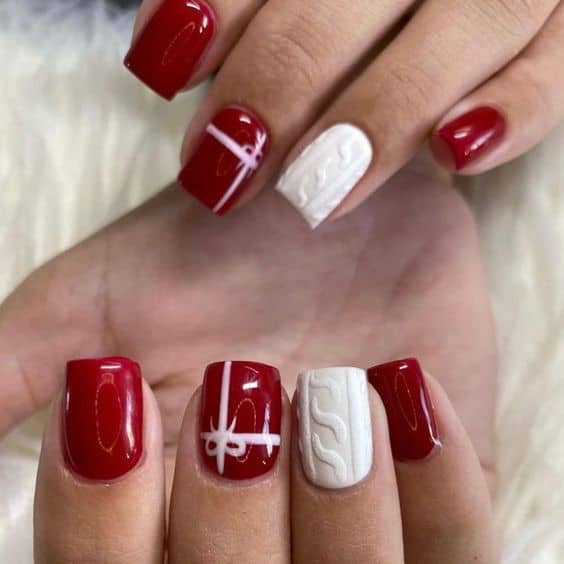 Christmas is always associated with gifts. We can make an amazing manicure, in which some of the nails are decorated as presents. Use red and white or any other colors that will complement each other nicely.
10. Blue, Grey and White
If you're a fan of cold colors, go for it. You can choose one hue as a base and use the rest to make the details that symbolize the holiday.
11. Short Nails with Christmas Lights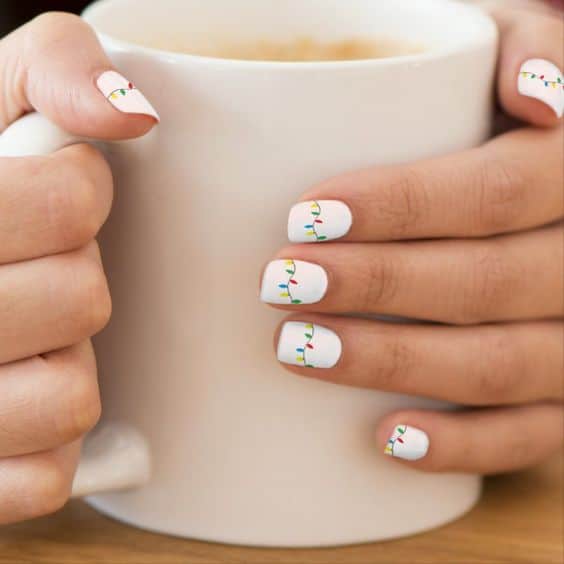 This is one of the cutest ideas I've seen so far. You definitely won't go wrong if you copy this manicure and add something of your own to it as well.
I think it's a very soft and colorful idea that would suit most everyday outfits because it's based on the color white.
12. Matte Manicure + Embossed Ornaments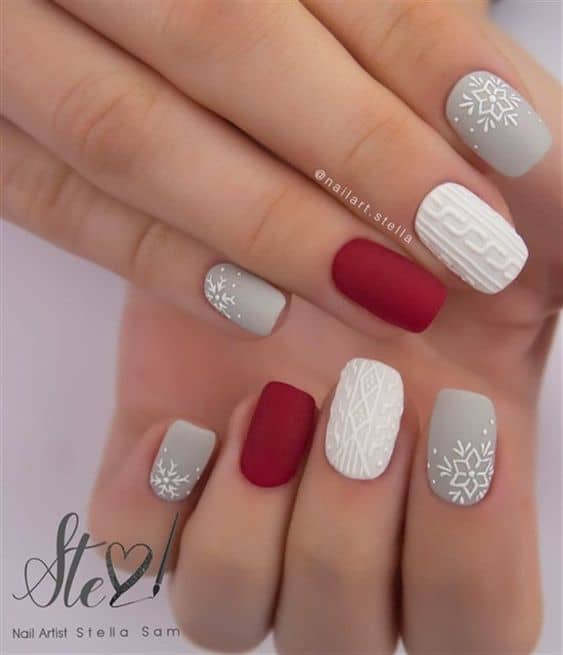 The combination of matte nails with embossed decorations looks amazing.
For me, it is one of the most spectacular and beautiful manicures a girl can get. Personally, these embossed ornaments remind me of a warm winter sweater.
Related post: What To Get Your Teenage Niece For Christmas (35 Popular Gift Ideas)
13. Christmas Short Nails With Candy Cane
Christmas candy canes are a great manicure detail. Use a base color that will make the candy canes stand out on your nails.
You can also put on a clear or milky base if you don't want a very colorful manicure.
14. Ombre Snowflakes
Some of the most beautiful nails are those with an ombre pattern. This melding of colors isn't achieved easily, so I encourage you to use the services of a professional manicurist.
Put gems and glitter to enhance the effect of your manicure and make it even more attractive to the eye.
15. Christmas Candy
If you want something a little more polished, you can safely bet on this idea. It's a manicure with a clean and simple design but still looks lovely.
16. Pinky Christmas Nails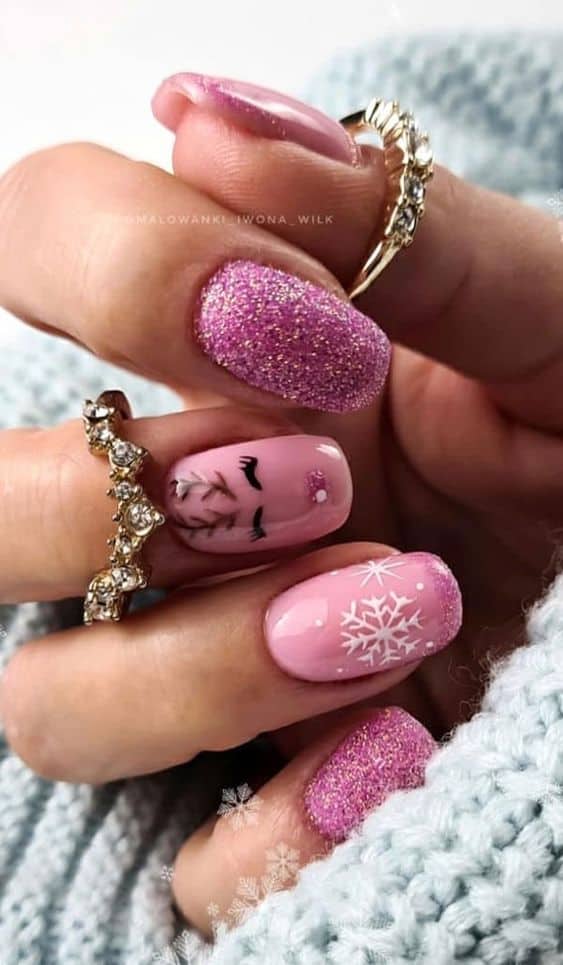 Pink isn't your standard Christmas color, but it will still work great as long as you add a few details connected with the holiday.
17. Olaf Nails
Another brilliant idea is to use cartoon characters from popular movies that tie in with the Christmas theme. Here, for example, Olaf from 'Frozen' is a great example.
18. Mini Mouse Christmas Nails
Another suitable and often chosen cartoon character as a manicure detail is Mickey Mouse or Minnie Mouse.
I advise you to put the image of the character on only one or two fingers and the rest of the nails in some matching colors.
19. Manicure With Christmas Baubles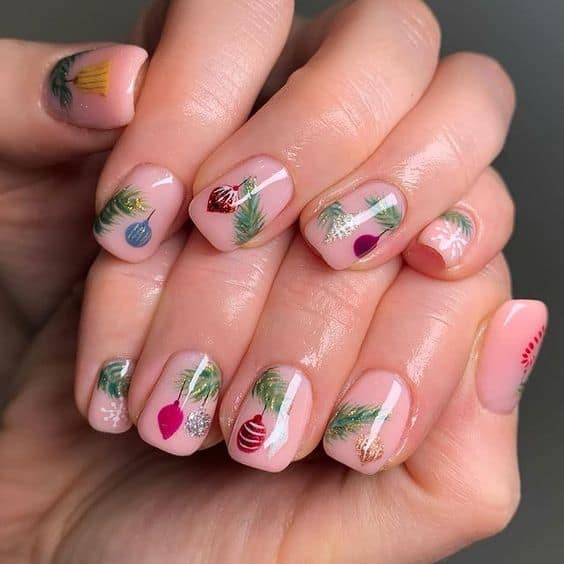 I'm in love with this manicure! What I find awesome about it is how on each nail, the bauble has a different design and color from the others. The pink color as a base also looks fantastic.
20. Gingerbread Man
Make your manicure so that all the details are related to desserts and sweets during Christmas. You can add things like hot chocolate, gingerbread man, candy cane, and more.
21. Santa Christmas Short Nails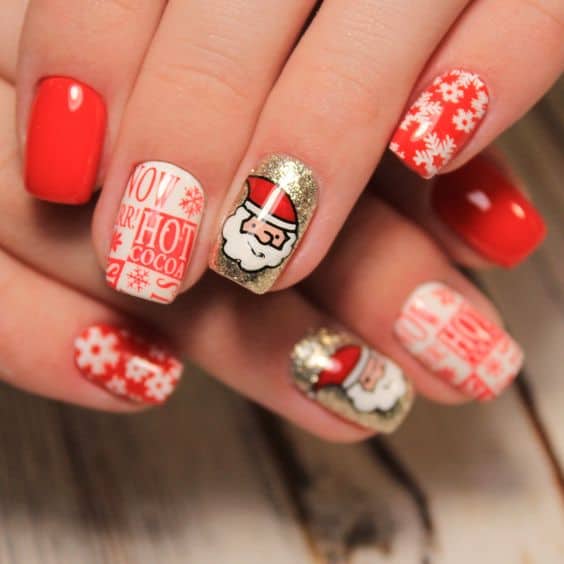 Many people rely on Christmas manicures with inscriptions. Put lettering on one or two fingers, as well as a letter on each finger. Choose a cool and catchy Christmas message that will look good on your nails.
22. Polar Bear Christmas Short Nails
One of the elements of Christmas or the winter months is polar bears. You can make an amazing manicure by combining the right colors that enhance the polar bear details.
23. Christmas Candy Cane Pattern
We can't help but mention the reverse French manicure. You can do it with a pattern of Christmas candy canes or you can also do it as Christmas lights.
24. Christmas Stockings
Another amazing idea for a festive manicure is Christmas stockings filled with toys.
You can do this decoration on one or two fingers by painting the rest of the nails completely or you can put this decoration on all the nails.
Related post: Christmas Curtains to Complete Your Home Decor
25. Small Christmas Decorations
French manicure is one of the most beautiful types of nail decorations you can choose. To turn it into a Christmas French manicure you can add things like candy canes, Christmas trees, hats, etc.
26. Christmas Short Nails with Hats
You can transform the French manicure with many different Christmas elements. For example, you can make a French manicure of Christmas hats on each finger or certain fingers. It turns out very beautiful and stylish.
related posts you may like
This post showed you 26 Christmas Short Nail Ideas to Copy This Year