This post is all about Christmas tree ornaments you'd love to have this year.
This post contains affiliate links, which means I'll receive a commission if you purchase through them. You will have no extra cost!
Christmas Tree Ornaments You'd Love to Have This Year
I love absolutely everything related to Christmas! Things like Christmas music, holiday movies, stockings, seeing friends and family and so much more. One more thing I enjoy greatly is the process of decorating the Christmas tree, which I am personally responsible for in my family haha.
I think the Christmas tree is the most important element of any Christmas decor and should always be carefully decorated. It should also be positioned in a central place so that everyone can admire its beauty and be filled with positive emotions.
For a Christmas tree to become spectacular it needs to be decorated with the right ornaments. Therefore, I offer you 17 Christmas tree ornaments you'd love to have this year on your tree.
17 Christmas Tree Ornaments
1. Santa Christmas Tree Ornaments
Santa Claus is the symbol of this holiday and there are a variety of decorations with his face. You won't go wrong if you hang Santa pendants on your Christmas tree this year. Additionally, you can place large Santa figurines under the tree to make the decoration even more complete.
2. Pine cones as Christmas Ornaments
Pine cones are another beautiful ornament that you can add to your Christmas tree. Moreover, decorate the pine cones with colorful ribbons and small bells to make them even more effective.
3. Wooden Snowflakes Ornaments
Christmas-themed ornaments made from natural materials such as wood are a good choice. If you're not a fan of plastic, these decor elements are just for you. I have to admit, they look wonderful and their natural colors bring a lot of beauty to the Christmas tree.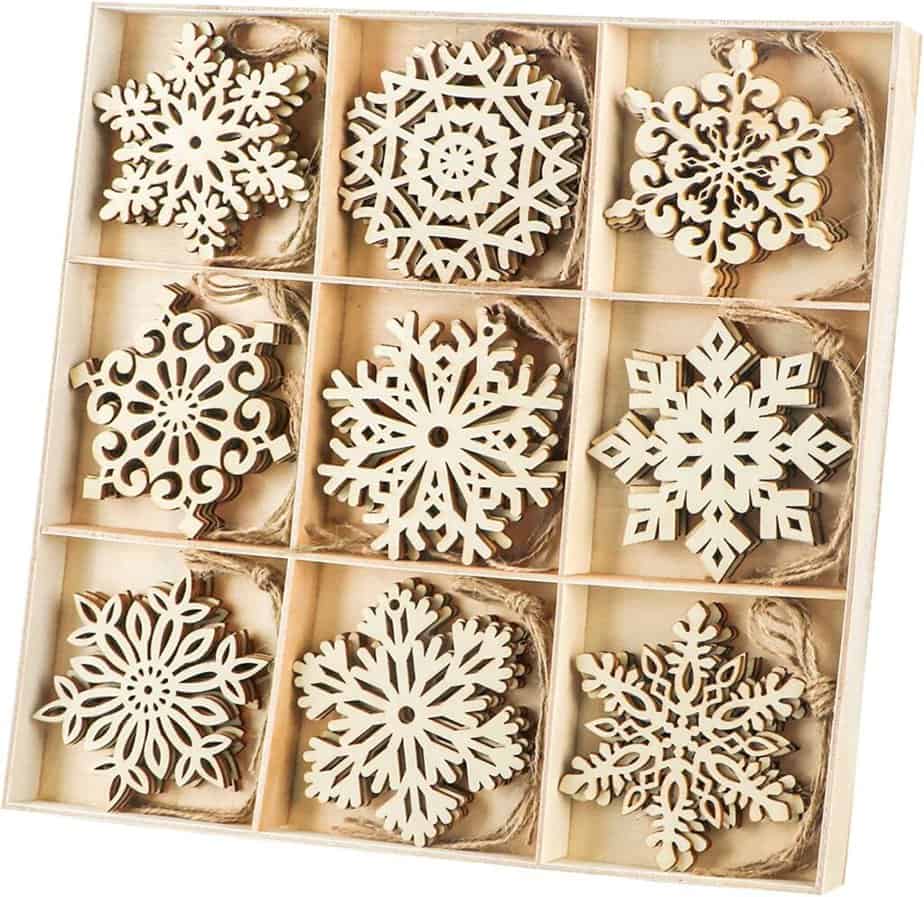 4. Little Houses Christmas Ornaments
Here's another lovely decoration you can put on your tree for the holiday. Small house ornaments are very appropriate because they symbolize the togetherness of a family during these heartwarming holidays.
5. Decorations With a Message
Message ornaments are a fantastic suggestion as well. They convey in words all the main ideas of Christmas such as gratitude, love, connection, caring, peace of mind, etc. Many companies also offer Christmas baubles with a custom message of your choice which I find very neat.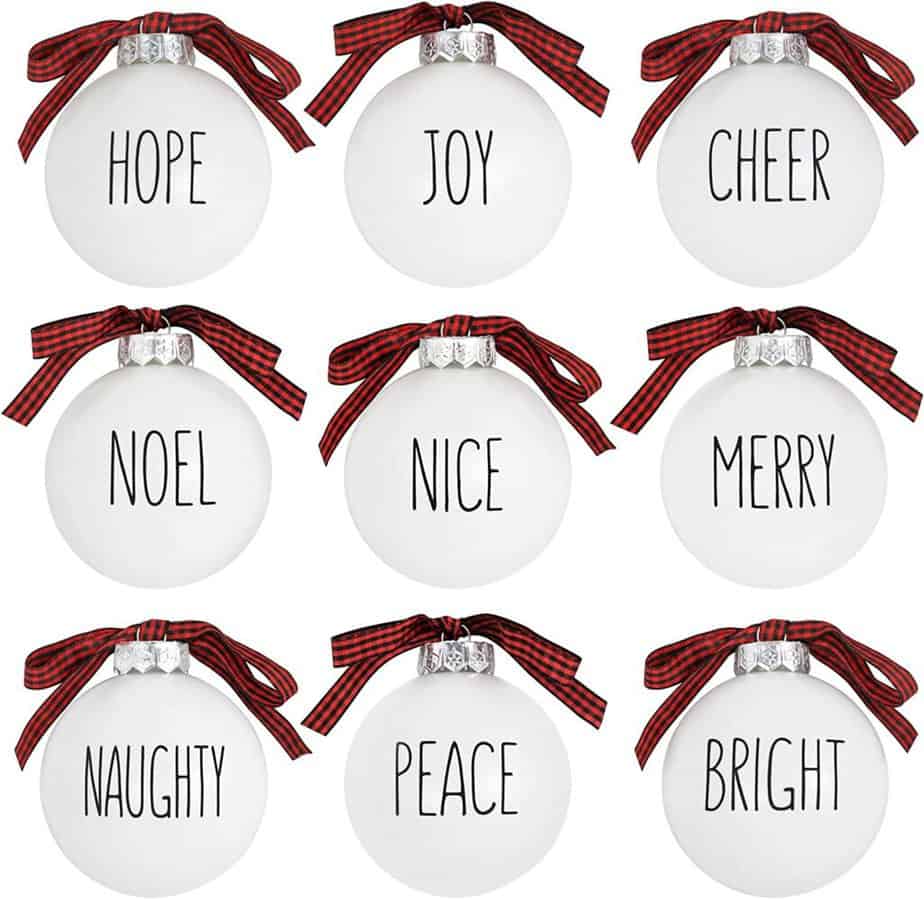 6. Hot Chocolate Christmas Tree Ornaments
Needless to say, you can also bet on more interesting and different Christmas ornaments. They are going to be more noticeable on the tree precisely because of their atypical design. I've seen many decorations like reindeer with sunglasses or a snowman on a surfboard that are very cool and eye-catching.
7. Vintage Shiny Ornaments
We are all familiar with the typical Christmas colors such as red, gold, white and green. However, we haven't seen many decor elements in colors such as cyclamen, turquoise, purple, etc. If you are a fan of these hues you can bet on them and have a very colorful Christmas decor.
8. Salt Dough Fingerprint Christmas Tree Ornaments
Now that is a very cute and sentimental idea. You can bake new decorative pieces every year and therefore create a collection of them as a fond memory of years gone by. Read about how you can make salt dough fingerprint Christmas tree ornaments.
Related post: 22 Genius Dorm Room Christmas Decor Ideas To Copy
9. Candy Canes
This is again one of the popular symbols and sweet delights of Christmas that can be used as decoration too. Attach them to different places on the tree to create something like a garland. I am sure that the kids will love this type of Christmas tree decor.
You can find many different patterns and variants of candy canes, so you can stock up on the perfect ones for this upcoming Christmas.
10. Orange Slices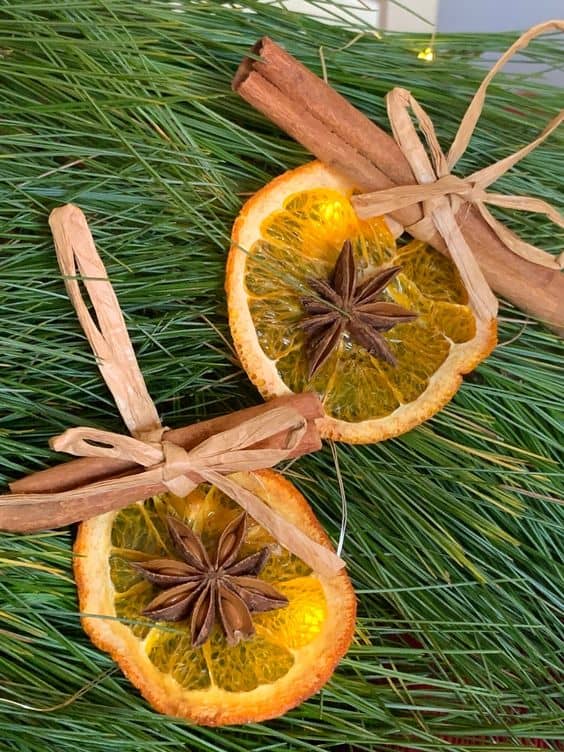 Orange slices are such charming and natural decorations. They will bring a lot of freshness and variety to your Christmas tree. Furthermore, add cinnamon to make the ornaments even more beautiful and fragrant.
11. Painted Christmas Tree Ornaments
Baubles are the most common decoration for a Christmas tree and you can them in all sorts of colors and patterns. Of course, you can also design these ornaments with your own unique taste. For this, just grab a few single-color baubles and watercolors, then let your imagination do the rest of the work.
12. Christmas Tree Lighting
In my opinion, lights are essential for a finished Christmas tree decoration. They make everything so much better and magical. You can put up both multicolor and classic yellow lights.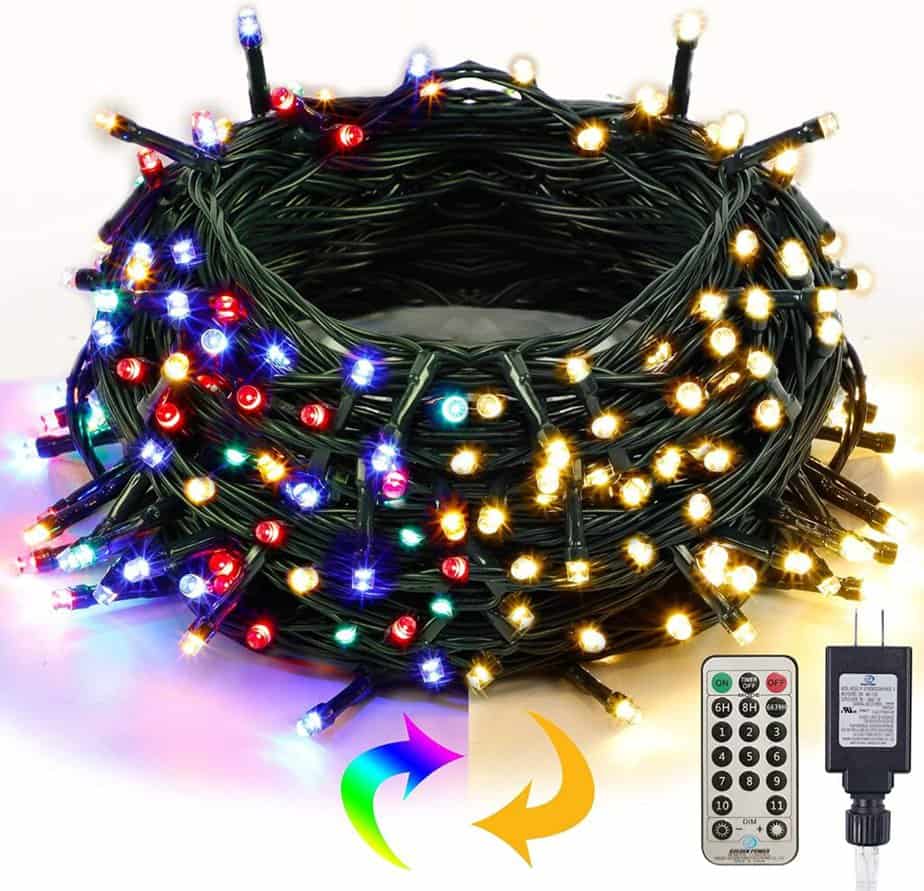 13. Star
You can get away with the lights, but the star on top of the Christmas tree is an absolute must. A Christmas tree without a star is like a gift without wrapping paper – you can do it, but it's just not the same and the magic will be lost.
14. Christmas Tree Garlands
In addition to all the Christmas ornaments mentioned so far, you can also decorate the tree with tinsel. The garlands made from this material give the tree a shiny and complete look. There are plenty of colors and models you can choose from. Pick the ones that best match your other Christmas decorations.
15. Christmas Tree Figurines
You can find a variety of Christmas tree figures such as snowflakes, stars, presents, trees, Santa, reindeer, etc. Such figures look great on the tree and are super cute. Decorate with figurines of different sizes and colors to achieve exceptional tree decor.
16. Christmas Tree Photo Collage
Here's a completely out-of-the-box suggestion that is heartwarming and appealing. Hang pictures of you and your loved ones on the Christmas tree to create a wonderful photo collage decor. Of course, you can combine this idea with the other ornaments that have been mentioned so far in the list.
Related post: 20 Photo Wall Collage Ideas
Hang a beautiful sign on the Christmas tree. The message on the tree will look amazing and stand out great. You can find different Christmas-themed banners or DIY them yourself. Brainstorm some ideas and create an amazing work of art.
related posts you may like:
This post showed you Christmas Tree Ornaments You'd Love to Have This Year