The holiday season is fast approaching. Have you thought about Christmas tree toppers yet? If you don't know what this is or you need ideas on what to put on top of your Xmas tree, this article will help you!
Decorating my home for Christmas is one of my favorite things to do. I always love the beginning of November searching the internet for new ideas on how to decorate beautifully for the holidays.
It's something of a tradition in our family to decorate the house together and the process always brings back very fond childhood memories.
For as long as I can remember, my last task has been to put the tree topper on top of the Christmas tree. After that, the decorating was over and we gathered to drink hot cocoa as a reward.
What Is Supposed to Go on Top of a Christmas Tree?
On the top of the Christmas tree, you can put a star, an angel, or a fairy. These are the most commonly used tree toppers. Other popular ornaments are a white dove, Santa Claus, a sunburst as well as a Christian cross.
Besides the well-established angel and star, there are also other more unconventional Christmas tree toppers. For example, I've seen Xmas trees decorated with an octopus plushie on top lol. So yes, what you want to put as a topper on your tree is entirely your choice.
Does a Christmas Tree Need a Topper?
Yes, it's nice to have a Christmas tree topper. No matter how well-decorated your evergreen is with tinsel, baubles, etc., it just won't look complete without a topper. This is the final touch that is added to the Christmas decorations and it officially kicks off the holiday season.
Moreover, it's also a tradition with hundreds of years of history to use Christmas tree toppers. In the beginning, it was popular to put a figurine of Baby Jesus on top of the tree. Over time this evolved into an angel or star which are also symbols associated with the nativity of Jesus.
How Do You Get a Tree Topper to Stay on Top of the Christmas Tree?
It depends on the shape and weight of the tree topper, but most often what helps is to fold the top twig down so you're putting the Christmas topper on top of the structure of the tree itself. It also helps to wire it in place.
Here's a video demonstrating how you could put and easily secure a tree topper on top of your evergreen.
Which Two Items Are Traditionally Put on Top of a Christmas Tree?
Traditionally, an angel or a star is placed on top of the Christmas tree. The first one symbolizes the angel Gabriel who told Mary that she would give birth to a child that should be named Jesus. The second one represents the Star of Bethlehem that led the Magi to the Christ Child.
Both of these tree toppers with religious significance complete the look of every Christmas tree wonderfully.
Why Do We Put a Star at the Top of a Christmas Tree?
We put a star on top of the Christmas tree not just because it looks good as a decoration. It represents the Star of Bethlehem which signifies the birth of Christ. Therefore, the star's presence as a tree topper is quite appropriate. After all, on Christmas, we celebrate the birth of Jesus Christ.
Why Do We Put a Fairy on Top of the Christmas Tree?
Because figures of fairies and angels are often mistaken for each other. If we are going to strictly adhere to Christianity, there should be an angel on top of the evergreen, not a fairy.
Fairies are not mentioned anywhere in the Bible and have no religious significance to the holiday and should not be present in the decorations of the Christmas tree.
How Big is a Christmas Tree Topper?
There are Christmas tree toppers in all kinds of sizes and shapes. In general, make sure to choose the topper according to the size of your evergreen so it looks proportionate and beautiful.
Furthermore, it's also a good idea to match the color of the top ornament with those present in the rest of the Christmas tree's decorations.
Should You Decorate Your Christmas Tree from the Top Down or Bottom Up?
I don't think there's a correct or wrong way to decorate a Christmas tree. Whatever suits you would be the way to do it. In my family, we always decorate randomly and just leave putting the Christmas topper on top for last.
10 Amazing Christmas Tree Topper Ideas
1. Snowflake Tree Topper
One amazing suggestion for a Christmas tree topper is the snowflake. A themed and very beautiful ornament that will finish off your Xmas tree perfectly. You can find different colors of snowflakes to fit perfectly with the rest of the tree's decorations.
2. Gingerbread Tree Topper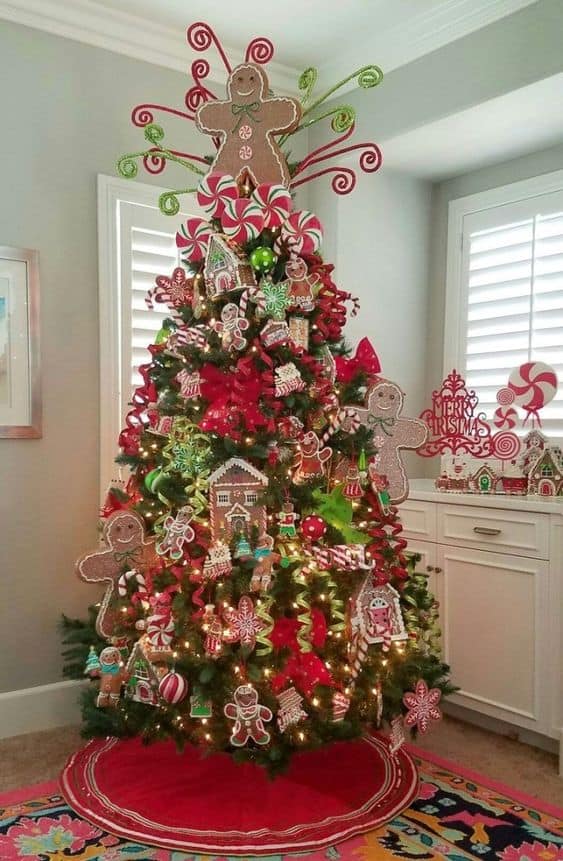 The gingerbread man is a very cute idea for a tree topper and you can complement it with even more decorations like Christmas candy canes, lollipops, etc.
3. Baby Yoda Christmas Topper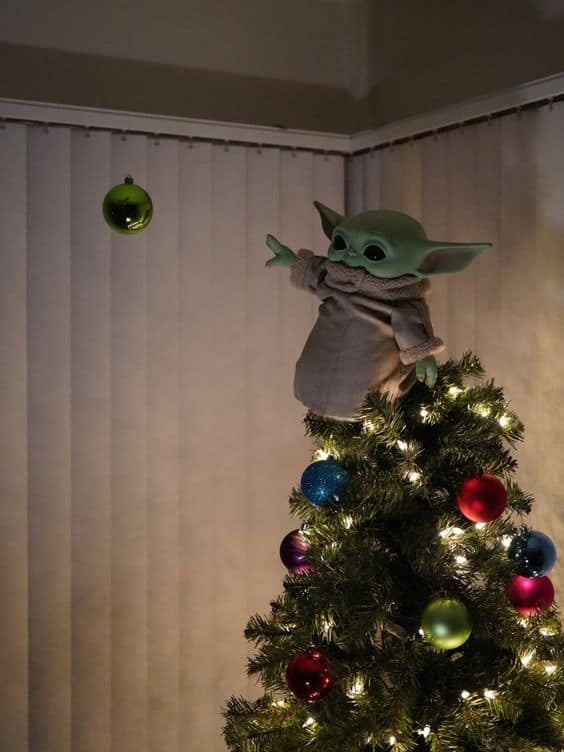 Are there any Star Wars fans here? This would be the perfect decoration for your Xmas tree. It's a more offbeat idea for a Christmas topper, but that's what makes it so unique and cool.
4. Sunburst Tree Topper
The sunburst topper is also commonly placed on top of the Christmas tree because it creates an amazing festive feel. Many people put this topper up with the idea of a sunny and happy new year.
5. Star Tree Topper
Everybody knows that the star topper symbolizes the Star of Bethlehem. However, besides its religious significance, it also symbolizes light and joy. It creates incredible Christmas cheer and hopes for an even brighter future for the entire family.
6. Finial Christmas Tree Toppers
I remember when I was a kid we had a topper like this at home. It looks amazing on top of a Christmas tree as it fits its shape wonderfully. There are lots of different colored finial toppers to choose from. Therefore, make sure it can complement nicely the rest of the tree ornaments.
7. Dove Tree Topper
Another amazing idea is the white dove tree topper. The symbolism of this beautiful bird has always been associated with hope and purity.
8. Christmas Angel Tree Topper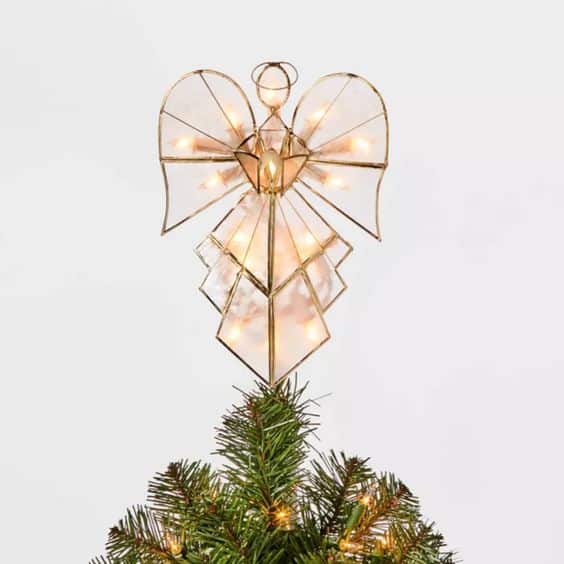 After the star, the angel is probably the other most used Christmas tree topper. There are a wide variety of figurines from which you can choose the right one for your Xmas tree.
9. Christmas Tree Topper with Lights
If you want your Christmas tree to catch the eye with ease, then go for lighted tree toppers. I would say that the most appropriate shape in such a case is a star. It will perfectly imitate the Star of Bethlehem.
10. Ribbon Tree Topper
The ribbons can also be used as a tree topper as you see in the picture above. Make it so that it runs down the top of the Xmas tree for an even more awesome effect.
Related posts you may like
This post was all about Christmas Tree Toppers