Want to make your dorm room cozier and more stylish than ever before? See how by using these 12 different types of college dorm room curtains.
This post contains affiliate links, which means I'll receive a commission if you purchase through them. You will have no extra cost!
Most dormitories are poorly furnished. In most cases, all of the things a room has is a desk, a chair, a cupboard, and a bed. You're going to study for at least a couple of years in college. Hence, you should try to make your dorm room feel like home as much as possible.
One way to better the overall design of your dorm room is by using curtains. Each room should have a window to let sunlight in and curtains will be useful when you want privacy. They will also make your room look more classy and cozy.
In the following lines, I have brought up different types of curtains to help you choose the ones for your dorm room.
12 Different Types of College Dorm Room Curtains
1. White Sheer College Dorm Room Curtains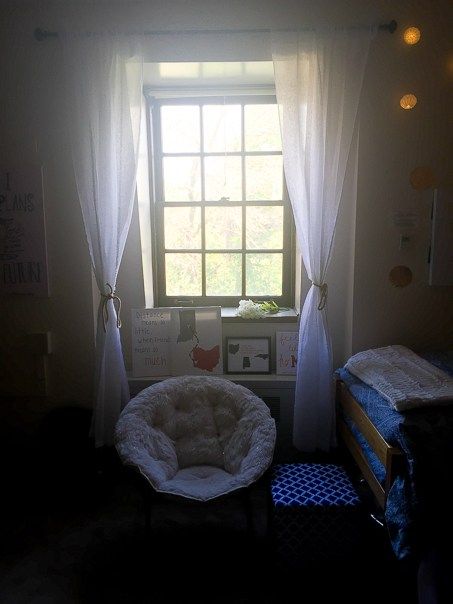 Long curtains are extremely elegant and will look great in any room. Measure the window's dimensions and the distance to the floor so you can pick the right size for the curtains.
Curtains in a small dorm room will always be the first to catch the eye. Therefore, if they are not the right size or color, they will look ugly and ruin the overall design.
This type of curtains should be well maintained. They should be washed every few months. Otherwise, they can negatively affect the inhabitants of the room because they retain a lot of dust.
Recreate These College Dorm Room Curtains
2. Short Sheer Curtain Dorm Room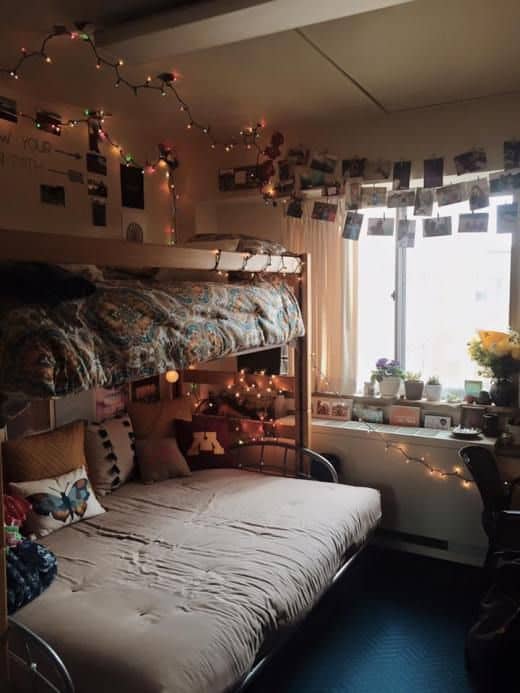 You can easily bet on short sheer curtains. They are easier to maintain than the long sheer ones. Most dorm rooms have only one window. We can say that short curtains are a good choice for it. This is confirmed by the fact that many people rely on them.
If there is a desk or a cabinet right under your window I recommend you go for short curtains.
Recreate This College Dorm Room Curtains
3. Thin Curtains
Airy and delicate thin curtains look very pretty and are suitable for a beautiful ladies' dorm room. They can be in different colors depending on the interior and the taste of the ladies in the room.
If you are going to put thin curtains in your dorm room, you should know that color is very important. You need your thin curtains to be in colors that enhance the sunlight and help brighten the room.
4. Blackout curtains
If you wish to make your room pitch black while sleeping, you can take advantage of blackout curtains. By doing this, you will add style to your window and control how much light enters your room.
I also had such curtains in my dorm room as a student. Let me tell you that without their help I wouldn't be able to sleep until noon after a party night.
Recreate This College Dorm Room Curtains
Related post: Why You Should Get Blackout Curtains ⬇
5. Colorful College Dorm Room Curtains
You have to be very careful in choosing the right colors for your room design. When it comes to curtains, you should know that colors can help improve the look of your room. However, they can also as easily ruin it.
For your dorm room, you should choose light colors that will enhance the illumination of the indoor space.
If you want curtains that stop the light from getting in, you should put in additional curtains. Choose colors like yellow, orange, or everyone's favorite white color that looks great and blends well with any decor solutions.
Recreate This College Dorm Room Curtains
6. Transparent Curtains
Transparent curtains are put in places where there is a need for light. They also complement the interior around the window nicely.
If you have opted for saturated colors in your room design these curtains will look insufficient. From an accent, they will be turned into a defect.
7. Curtains With Prints
To make your dorm room a cozy and welcoming home, you need to plan well what the colors of the curtains will end up being.
You also have the option to put curtains that have some prints. This could make the design a bit more interesting and eye-grabbing.
Keep in mind that the colors of the curtains should be matched with the main accent color of the room.
8. Window Blinds
Not everyone likes curtains as a window decoration. Some people prefer to use blinds instead. There are many varieties of blinds you could find like made of metal or fabric.
Fabric blinds are great because they come in all kinds of colors. It will be easy to find the right ones to complement the interior of your room.
In my apartment, I opted for such blinds by putting them on the kitchen window. Because the oven is right next to it, it would have been a bad idea to use curtains. They would retain with days any smell coming from the oven.
Recreate This College Dorm Room Curtains
9. Linen College Dorm Room Curtain
This is another type of curtain I really like. Linen as a fabric adds a lot of sophistication and is suitable for a boho-style interior. The beauty of this fabric would highlight a lady's room perfectly but would be in complete contrast to a men's room in my opinion.
These curtains will complement perfectly decorative twine elements, plants, beige, and pampas grass.
Recreate This College Dorm Room Curtains
10. Organza curtains
The most exquisite curtains, for me, are made of organza. I can see a white curtain like this fitting perfectly in a pink room. Additionally, if it is paired with pink blackout satin curtains, it will be an amazing look.
To picture the organza I can tell you to think of very fine and delicate fabrics gently flowing down from the ceiling. It's truly magical having curtains like that in your room!
Related post: How to Make Your Living Room Cozier | 12 Proven Ways
11. Curtains With Embroidery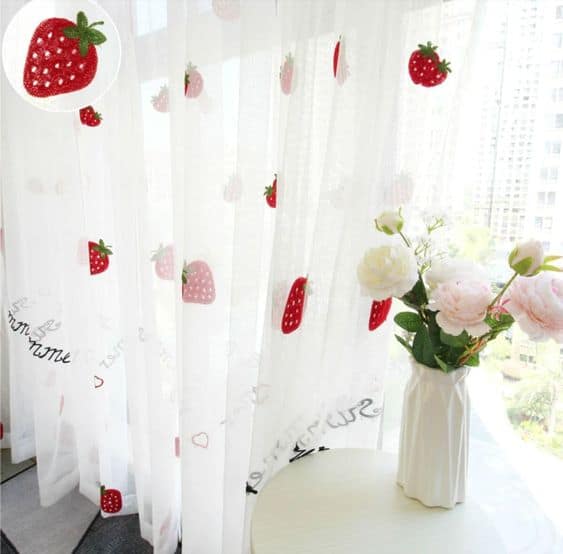 Embroidery elements can greatly impact the design of your curtains and make them even more unique. This kind of curtains is in general more appropriate for a girls' dorm room.
Embroidery also goes well with other fabrics as you can find organza curtains that at the bottom edge have embroidery elements.
12. Natural Bamboo Blinds
Bamboo is exceptionally attractive as a decor element in any room. I opted for a bamboo curtain in my apartment and I'm happy with this choice because it stands out uniquely.
Bamboo also pairs well with blackout curtains as I think it even makes them look better and more finished. You can find bamboo curtains in different colors so that it matches the colors in your dorm room.
related posts:
Dorm Room Headboards You Will Love
Dorm Room Chairs Without Wheels For College Students
14 Shower Curtains For Halloween To Perfectly Match Your Halloween Decor
This article is all about College Dorm Room Curtains | Make Your Dorm Room Cozier With Curtains