Planning to have helium balloons as decor for your special event? Well, this decoration would not be possible without balloon weights. For this reason, in this article, I will present you 20 DIY balloon weights ideas that you will be able to easily make and enhance the effect of your balloon decoration.
This post contains affiliate links, which means I'll receive a commission if you purchase through them. You will have no extra cost!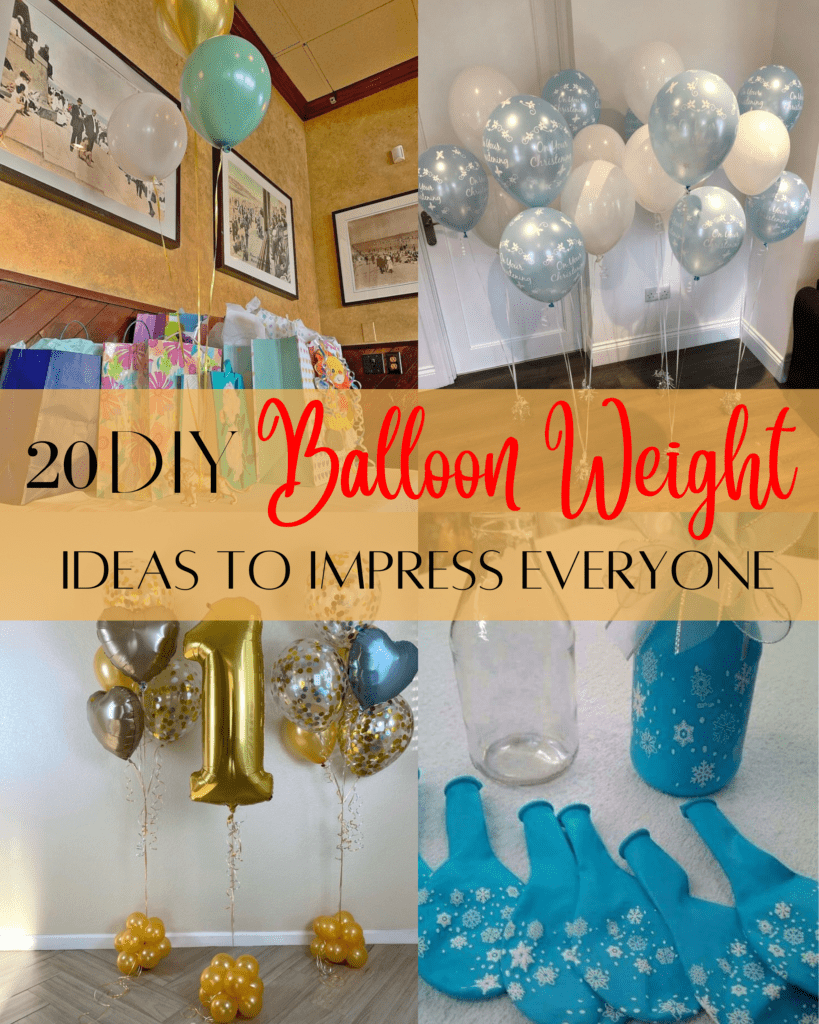 When we talk about party decorations we focus on the balloons, plates, cups, napkins forgetting about the little details like the balloon weights.
Balloon anchors hold your helium balloon decorations in place and ensure that they aren't all over the room. Additionally, they also contribute to the beauty of the decor. You can buy ready-made ones or make them yourself.
Мaking a balloon base is cheap, doesn't take long, and can be made from any materials you have around the house. Therefore, here are 20 DIY balloon weights ideas to complete your balloon bouquet or centerpiece for the party.
20 DIY Balloon Weights Ideas That Will Make Impression
1. More Balloons
A very good way to make a nice-looking weight is to take a small heavy object and cover it with small balloons. This way you will keep the helium balloons in one place and at the same time you won't mess up the beauty of the decoration.
2. Metallic Wrapped Balloon Weights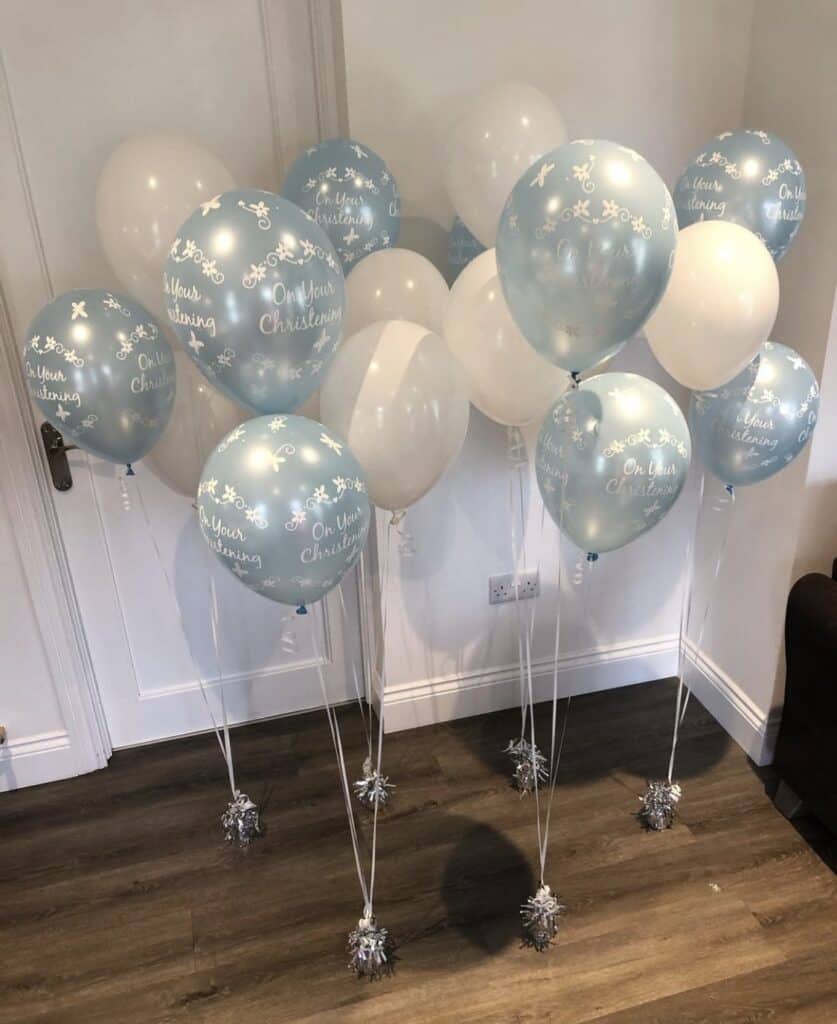 The most used and best-selling balloon weights are the ones wrapped in colorful metallic plastic with fringe. You can find them in all sorts of colors and shapes on Amazon.
These balloon anchors will look good both on the floor, on the table, and even in the garden if you plan the party to be outdoors.
Of course, instead of buying ready-made ones, you can just buy metallic plastic film roll and wrap various small weights you have around the house yourself. The most important thing here is to just get the metallic plastic film roll in a color that matches and complements the colors of the balloon decoration.
3. Animal Figure
A very stylish suggestion. If the party is intended for a child, then you can use animal toy figures. If it's for an adult, you can buy or take one of the figures you use to decorate around your home.
4. Weights with Years
This is a very lovely balloon weights idea that is suitable for table decoration with helium balloons for a birthday party.
As you can see from the picture above, the effect that is achieved with them is amazing and all guests will be strongly impressed.
5. Balloon Dog Sculpture
In addition to regular balloons from number 1 on the list, you can also use long balloons that are used to make sculptures. It is important to put small weights in them before making the sculpture to make sure the dog doesn't fly away with the helium balloons haha. This balloon base is more suitable for a children's party.
How to make a dog balloon
6. Ice Cream Weights
Super 'sweet' balloon weights that I am just in love with! These are suitable for both table and ground. You can achieve a very cute decoration with them as they are more appropriate for children's or girls' parties.
7. Balloon Weight Gift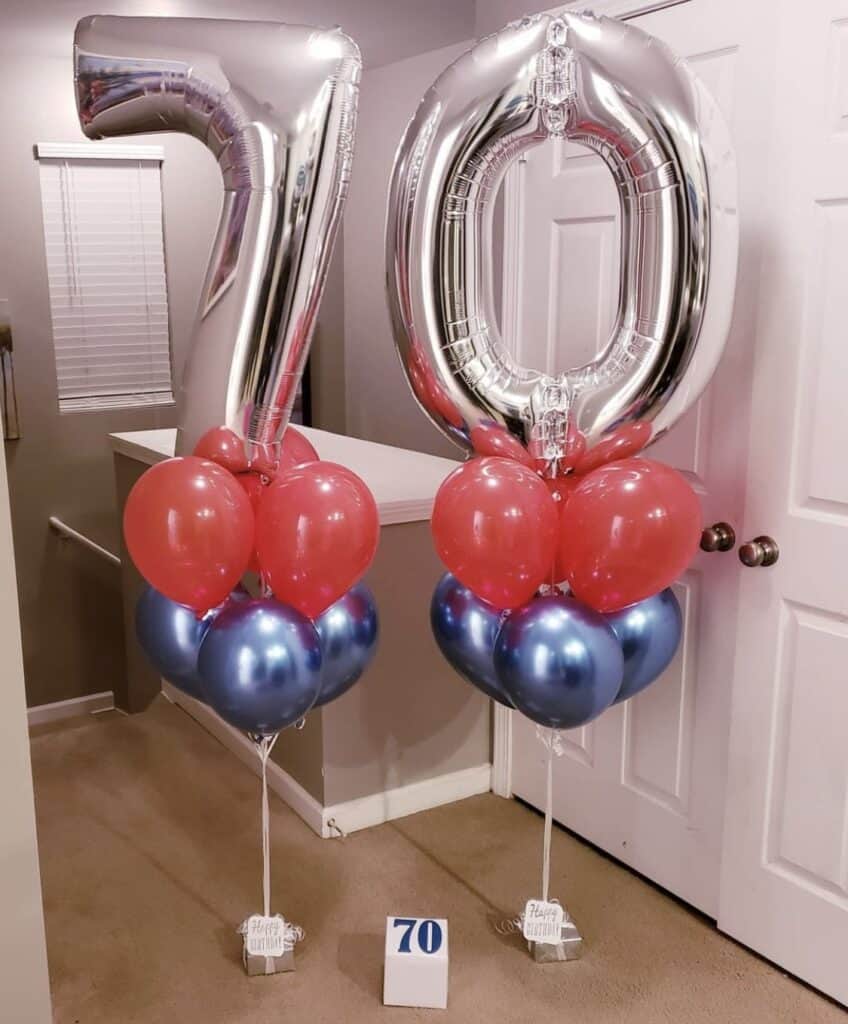 I often rely on this idea because I think it turns out great. Normally I do it with the actual gifts as the weight and just tie a balloon to it, but you could also use regular weights with gift wrap and achieve the same effect.
I think these type of balloon weights are best for Christmas or birthday parties.
8. Cube Weight
When you want to use balloons as table decor, you should aim for a small weight that will hold your balloons in place. These cubes are perfect for the job as you can see in the picture above.
9. Water Balloons
If you have forgotten to take care of the weights and need to act quickly, you can trust the tried and tested method with water balloons.
One tip from me is to be cautious not to step on them by mistake because the water balloons will burst and the ones with helium can fly away.
10. Star Weight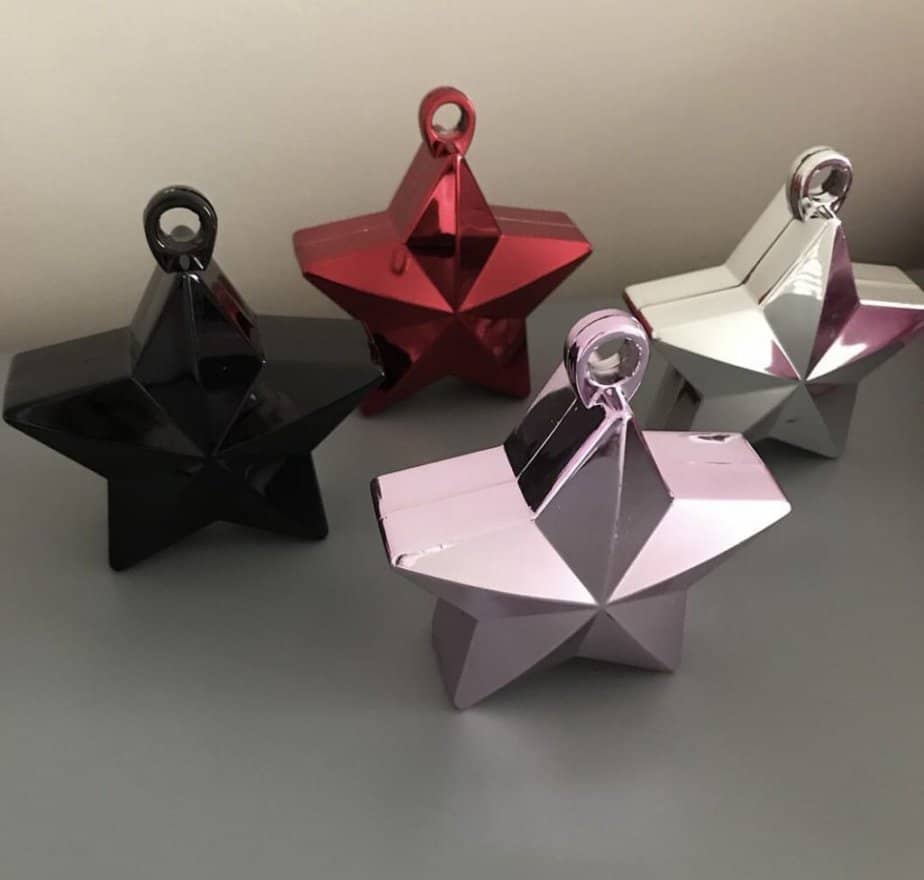 Here is a favorite balloon weight of mine that looks superb because of its star shape. As well as being extremely pretty it's suitable for both table and garden party decoration.
Balloon anchors with more unusual shapes will always attract attention and enhance the beauty of your decoration.
11. Dice Weights
An awesome suggestion for a night party is the glowing balloon weights. They certainly look spectacular and would be a great addition to any decor.
12. Pyramid Weights for Balloons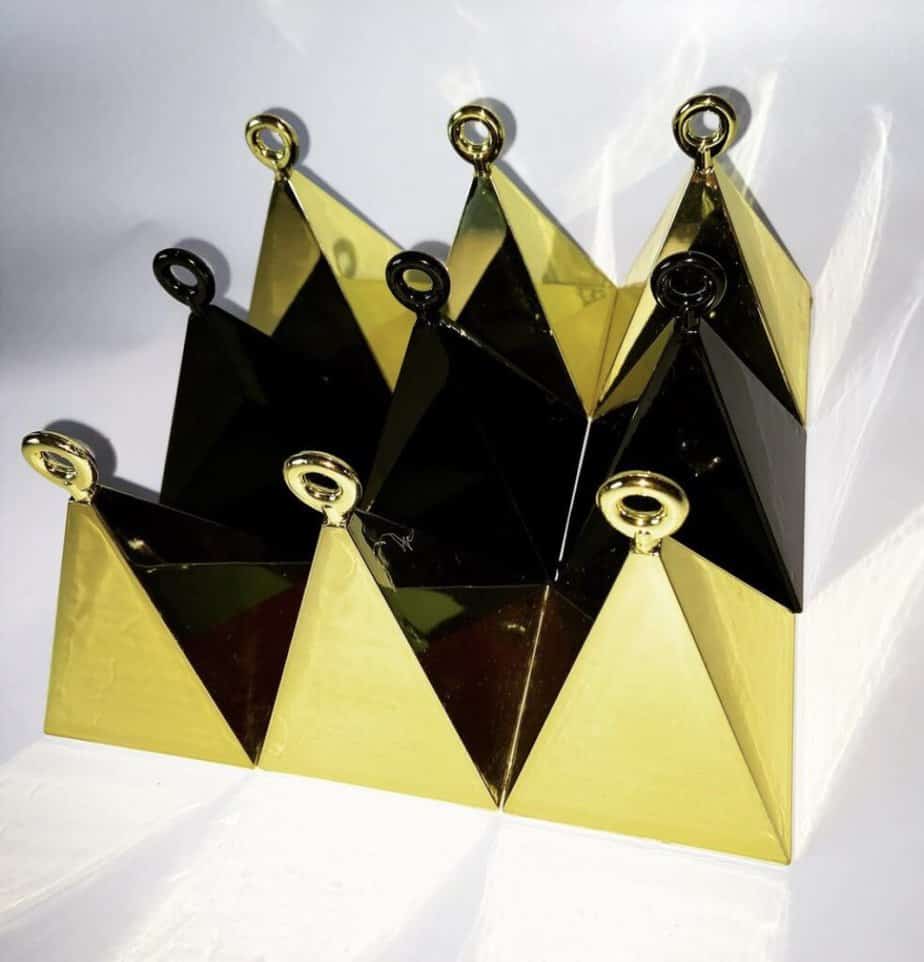 These are super stylish balloon weights. You can find them in many different colors to fit with the theme of your celebration. It is a wonderful addition to every party and automatically lifts the party mood.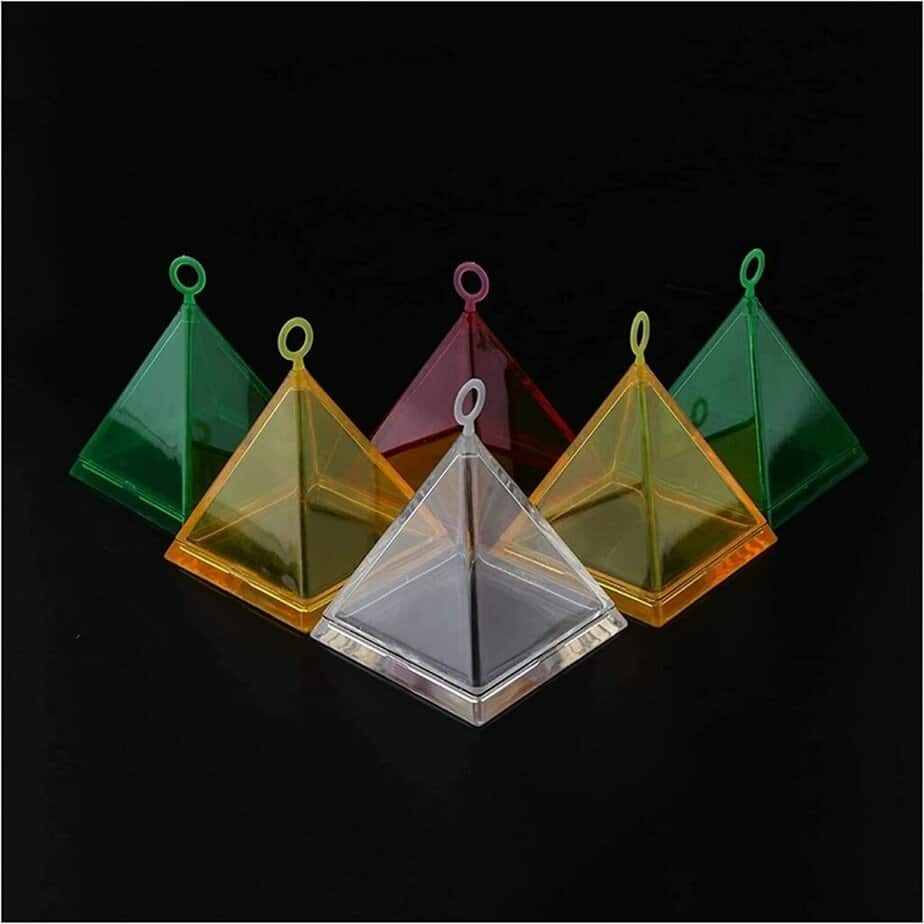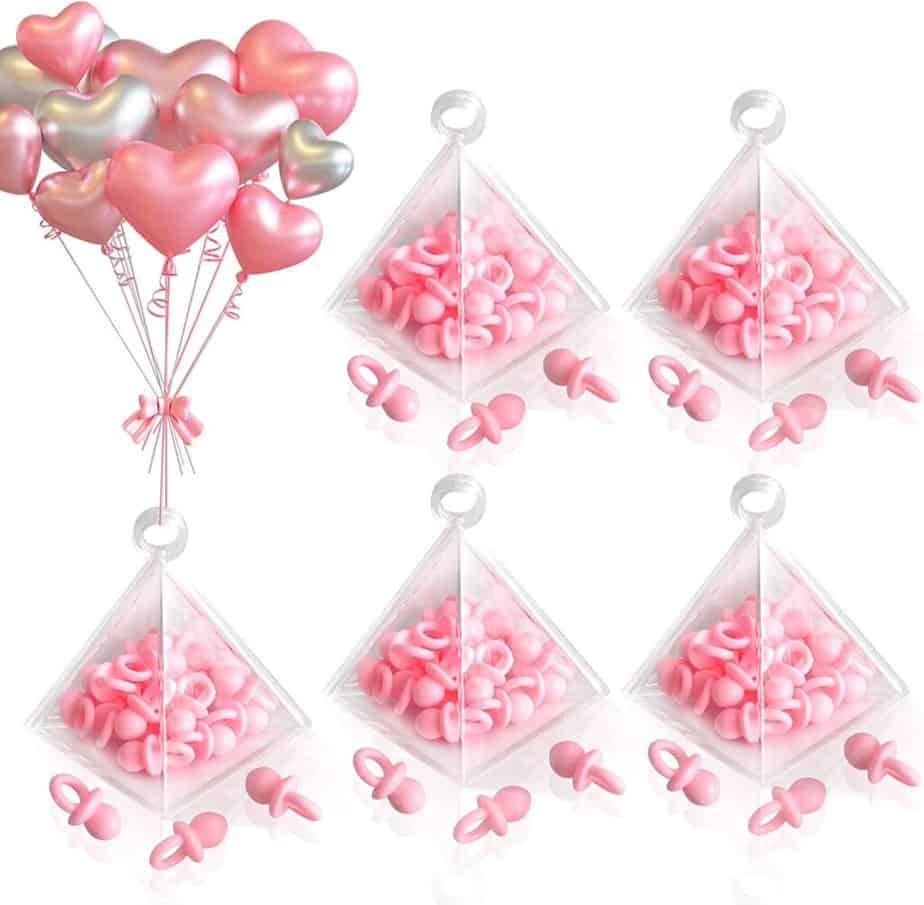 13. Burlap Balloon Weights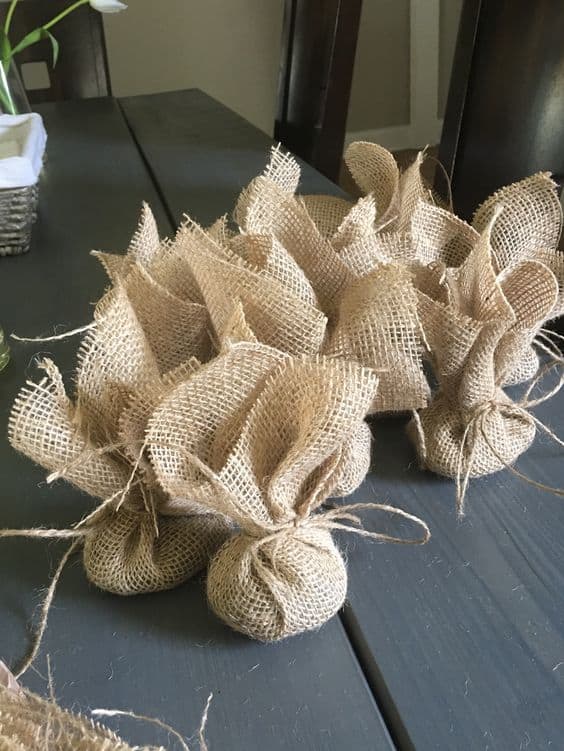 If you want a boho-style decoration, then the burlap balloon weight is the one for you. You can use it wherever you see fit both indoors and outdoors. Very budget-friendly and eye-catching.
14. Photo Balloon Weights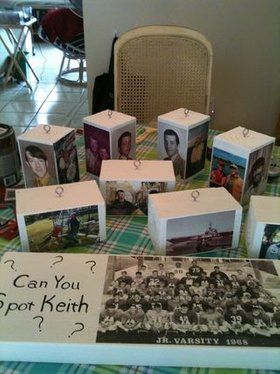 I'm crazy about this idea! You too can make these balloon anchors by using blocks of wood and pinning the pictures on all sides. It's a more massive balloon weight, but still very impressive.
15. Balloon Weight with Sand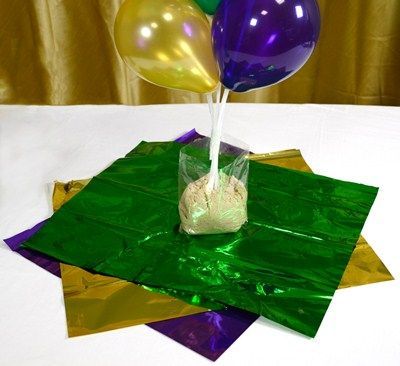 This may be my most simple solution. You just need a small plastic bag and some sand to secure the balloons in place. This option is best if the celebration will be outdoors.
16. Balloon Bottle Decoration
This is genius! You can make a balloon base out of a glass bottle and all you have to do is dress it in a balloon to make it more visually pleasing and finish the decoration with style. This idea would be very suitable for a table centerpiece.
17. Stones as a Weight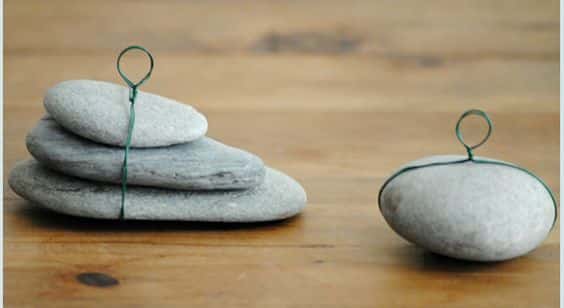 The truth is that the coolest solutions are often the most simple ones. You can make balloon weights out of stones. The decoration turns out very well as it is suitable for both outdoor and indoor spaces.
If you wish, paint the stones in certain colors to achieve an even cooler effect.
18. Batman Bag Balloon Weight
Another idea that is suitable for a boy's party. Buy a themed gift bag with the face of his favorite character, fill it with something and attach the balloons to it. It will turn out amazing and the boy will be very happy.
19. Candy Bag
You can tie the balloons to candy bags. This idea is most suitable for table balloon decoration as it turns out unique. To make it yourself, you need transparent plastic bags, candy in a particular color, and optionally a ribbon.
20. Weights from Toys
It's time to make use of the children's toys by turning them into a very spectacular part of the party decoration. If you are organizing a children's birthday celebration, you can safely bet on this idea.
related posts you may like
This post showed you 20 DIY Balloon Weights Ideas That Will Make an Impression