Having a dog can be so much fun on Halloween because it can wear a costume too. In this post, I present to you the best 30 Halloween costumes your dog must wear this year.
Halloween is an incredible holiday that every year brings so many positive emotions to young and old. It could also be very exciting for your pets too because they see their owners disguised and acting scary. Why not include them in the whole experience as well?
Today I have prepared for you 30 lovely Halloween costumes your dog must wear this year. Try out the idea you like the most, experiment and add details and let your dog be part of Halloween.
Warning: This post may cause a cuteness overload, read at your own risk haha
30 Lovely Halloween Costumes for Your Dog
Halloween Outfit #1
Adorable idea for your pet's costume. Let it be the living garden gnome in your backyard. This costume is mostly suitable for smaller breeds.
Halloween Outfit #2
The scary ghost is the easiest Halloween costume. I'm not going to suggest a product, but tell you how to DIY it. Take an old sheet or tablecloth, measure your pet's eyes, and snout and you're done. Secure it with the collar so it doesn't come off.
Halloween Outfit #3
If you have more dogs you can experiment with different costumes that are themed just like Little Red Riding Hood and Grandma.
Halloween Outfit #4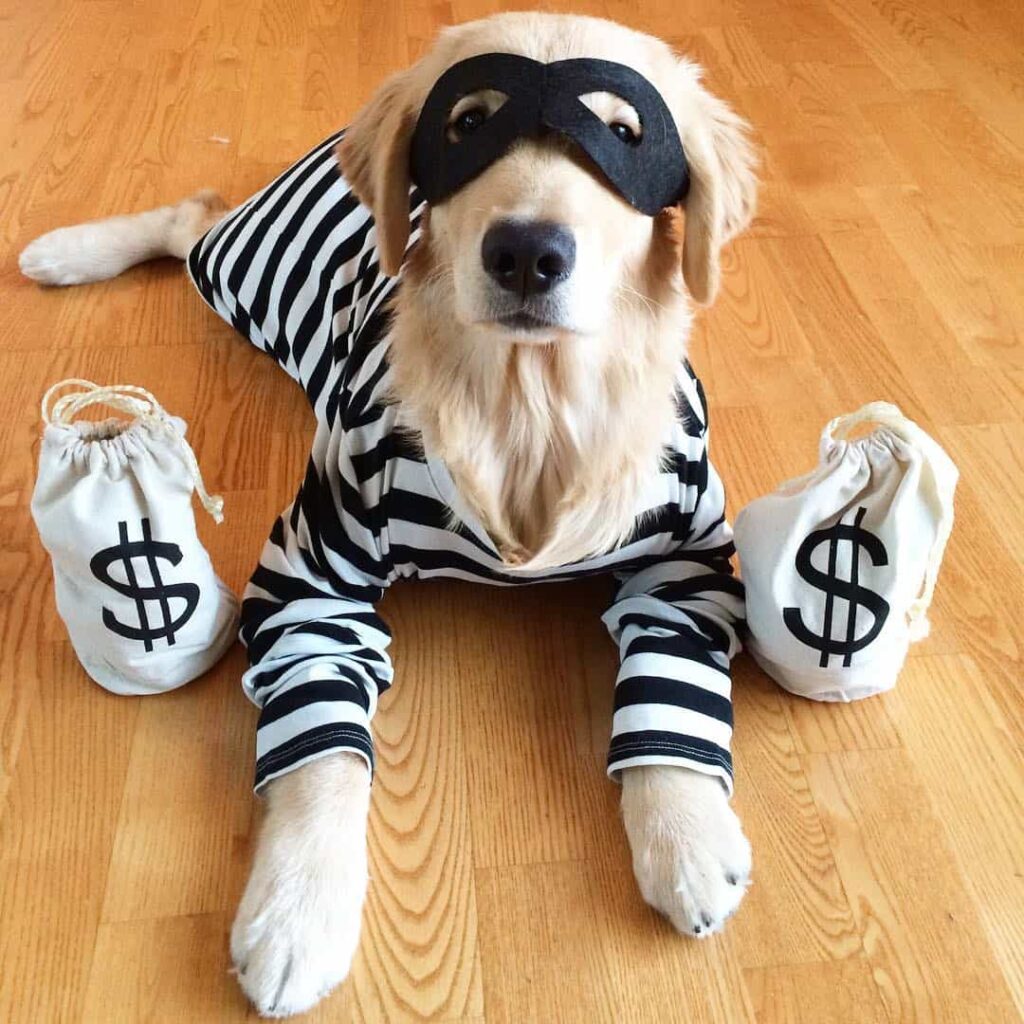 I wouldn't mind this criminal stealing all of the dog food from my house. A very original and amusing idea for your pet's costume.
Halloween Outfit #5
This is a great example of the saying "Work with what you have". If your dog needs to wear a funnel for medical reasons, it could be used as part of the costume.
Halloween Outfit #6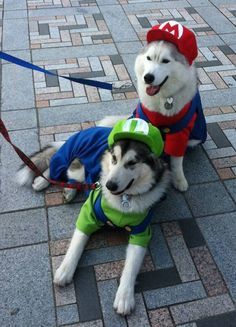 Everyone has played Super Mario Bros. If you have 2 dogs why not disguise them as Mario and Luigi? They will get a lot of pictures on the street haha
Halloween Outfit #7
Here's an idea of how to make your dog ready for Halloween without causing him any discomfort with a costume. You just need to get good quality paints suitable for dogs.
Halloween Outfit #8
What's Halloween without tacos? This type of costume looks nice on smaller dogs. So if you and your dog love tacos, you know what to do haha
Halloween Outfit #9
Dachshunds are my favorite. Because of their body shape, a lot of costumes will go for them, just like that banana in the picture. It looks so adorable!
Halloween Outfit #10
If you've decided to disguise yourself as Batman this year, then don't forget your loyal reinforcement. This is a more stylish pet costume.
Halloween Outfit #11
This is another wonderful recreation of a favorite cartoon character! With just a few painted spots and a suitable leash, your dog turns into Scooby Doo. It will be awesome if you disguise yourself as Shaggy.
Halloween Outfit #12
I can't get over this version of Yoda. I love this costume and I think you will too.
Halloween Outfit #13
You're always going to need a doctor at the party, just in case you know. Why not a doctor on 4 paws who cures everything with his cuteness😍
Halloween Outfit #14
I saw many different variations of such costumes, so you can find the option that you like the most for your pet.
Halloween Outfit #15
And we continue with the lovely Halloween costumes ideas for Dachshunds. Disguising it as a HOT DOG is pure gold haha. To make it even better you can be a hot dog vendor.
Halloween Outfit #16
Just look at this sophisticated lady. This costume was made with a humorous motif and I think it turned out very well.
Halloween Outfit #17
A real angel! All you need are wings and a halo and you have yourself a Halloween angel. Pay attention to the halo, it shouldn't be too heavy.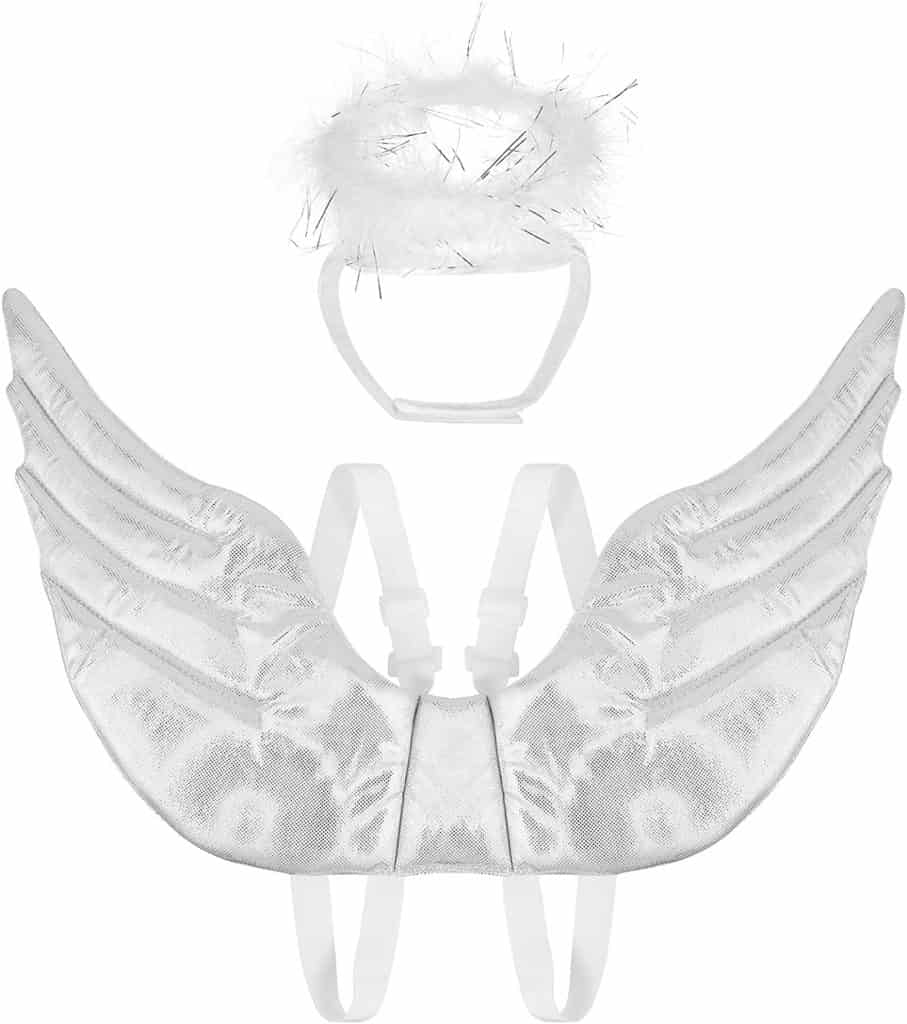 Halloween Outfit #18
This Mummy is scary, but also cute. For a costume like this, you only need bandages but don't overdo it. You don't want to make your pet feel uncomfortable.
Halloween Outfit #19
Are there any Harry Potter fans here? I fell in love with this idea and it's not so hard to do. I am going to try it out with my dog for next Halloween.
Halloween Outfit #20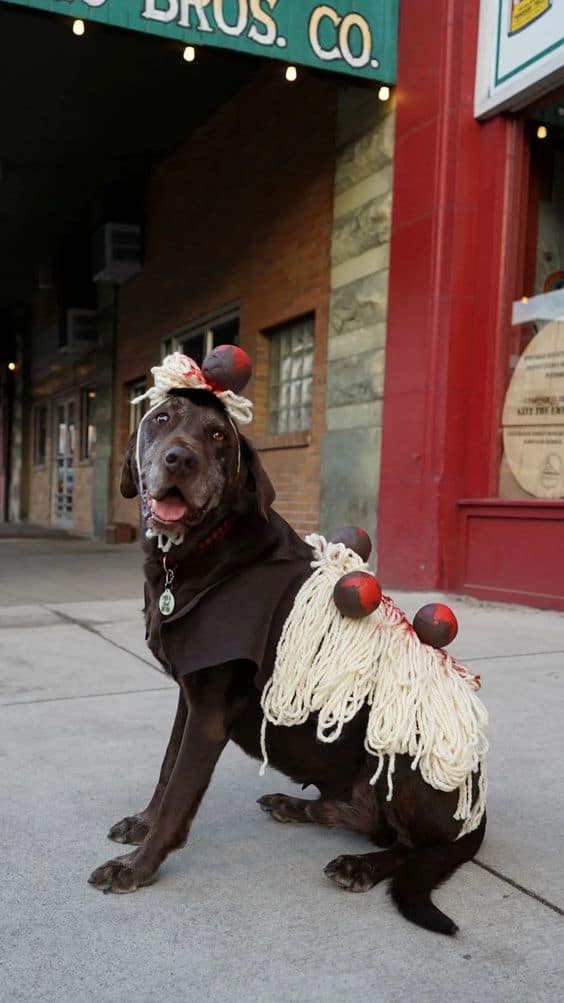 This is another idea for an adorable combo. Dress your dog as pasta and yourself as a pizza. Make sure the Italian cuisine is appreciated on Halloween. It will be even more fun if you are Italian.
Halloween Outfit #21
Being dressed as a wizard for Halloween is a classic. Let your dog be the best magic helper this year.
Halloween Outfit #22
If you are planning to be a cowboy this Halloween, then this is a perfect solution for your dog's costume.
Halloween Outfit #23
Afraid of all the ghosts that come out during this day of the year? Why not get a sweet ghost hunter in your home to protect you?
Halloween Outfit #24
This is an original suggestion. It's not required to have all the elements as in the picture above. Just some goggles and a snorkel will do the trick.
Halloween Outfit #25
Are you into sports? Let your dog also experience some of your passion for movement. Of course, you have to provide it with the right sports equipment haha
Halloween Outfit #26
So cute Wonder Woman. I love this Halloween costume for dogs because it can be combined in so many interesting ways.
Halloween Outfit #27
Make the whole family disguise this Halloween as super-heroes, and include your pets as well. Your home will look like the headquarters of the Justice League haha
Halloween Outfit #28
Want to bring Africa to your home this year Disguise your pet as a lion and you can be the safari guide.
Halloween Outfit #29
Just another amazing proposal on how to take advantage of your dog's recovery cone. Just as original as the idea in #5.
Halloween Outfit #30
Okay, this now really looks spooky. Pennywise is a very famous and horrifying character. This costume will take longer to make, but it is possible if you liked the idea.
This post showed you 30 lovely Halloween costumes for your dog