Are you looking for the best chair for your dorm room? This post shows you the best 25 dorm room chairs without wheels for college students!
This post contains affiliate links, which means I'll receive a commission if you purchase through them. You will have no extra cost!
College moving involves a lot of luggage and long shopping lists. One of the most necessary things to get is a chair.
There are many types of chairs. You have to consider where exactly you will put it and whether you have enough space for it. However, the most important thing is comfort. You will spend long hours studying for exams sitting on it, so it needs to be the best one possible.
Today, I've picked out 25 dorm room chairs without wheels for college students that will be useful during your wonderful college years.
My Favorite Dorm Room Chairs Without Wheels For College Students
1. Faux Fur Saucer Chair
2. Wide Velvet Chair
3. 5 Fingers Shape Chair
4. Modern Tufted Dorm Chair
5. Hollywood Director Chair
6. Dorm Room Hammock
7. Giant Bean Bag
8. Egg Chair
9. Swivel Foam Lounge Chair
25 Dorm Room Chairs Without Wheels For College Students
1. Faux Fur Saucer Chair
Beautiful and stylish! This model chair is very comfortable for both desk and dining table. You can decorate it with different cushions to make it look even nicer.
Copy this dorm room chair
2. Wide Velvet Chair
This chair is really impressive and quite big. Probably it is not so suitable for a desk, but for chilling and watching Netflix – it's perfect!
I see chairs like this a lot in beauty salons. It will certainly complement well any dressing table. There are lots of matching cushions that would go great with this chair.
Copy this dorm room desk chair
3. Velvet Cushion Chair
It's very nice when you and your roommate speak a common language haha. One of the coolest things is to go shopping for furniture together that will suit both your tastes.
Why not get matching chairs like these in the picture? I think they're super pretty and will go well with any dorm room. Cushions are again an option.
4. Round Shape Chair
Round shapes look always aesthetically better to the human eyes. They are usually heavier and require more space, but are really comfortable.
Copy this dorm room idea
5. Swinging Dorm Room Chair
I love rocking chairs because they remind me of sweet memories. My grandma used to have one and I really loved playing with it.
Not the best choice if you are going to use it as a desk chair. Still, it'll be very attractive to have one in your dorm room and use it when reading books for example.
6. Modern Tufted Dorm Chair
Another upholstered and soft chair. I'm a big fan of these because of how beautiful they look. Chairs like these influence every interior design in a positive way.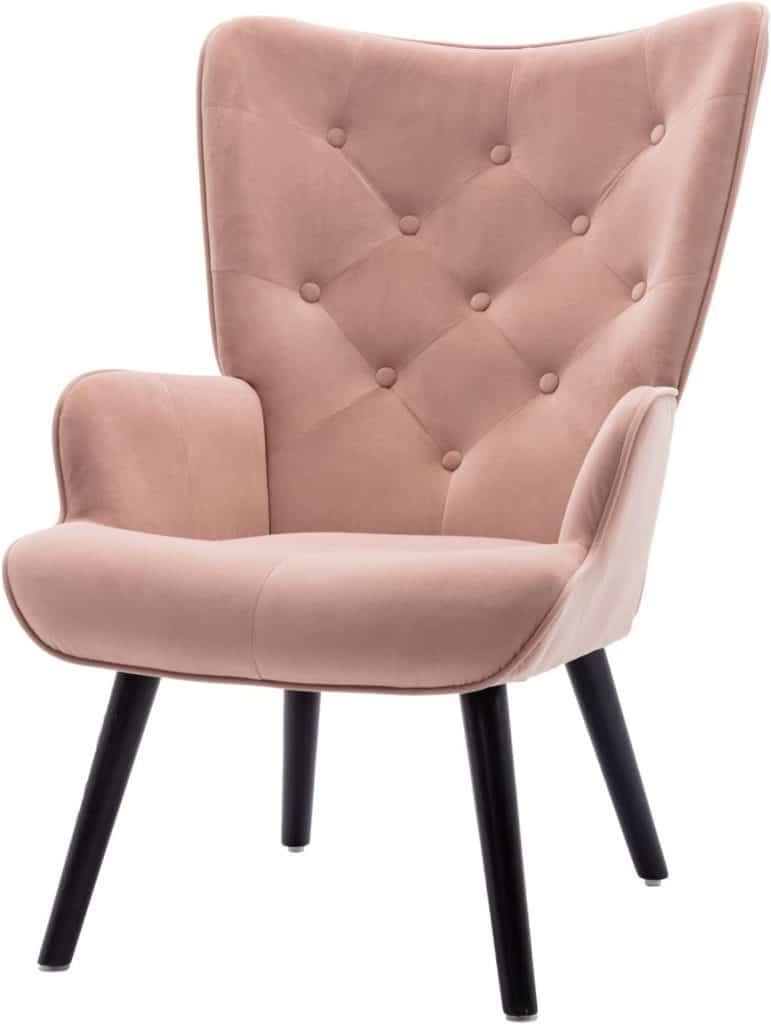 7. Your Lazy Chair For Dorm Room
I have a friend who has one of these and I know from her that they are awfully comfortable. They are extremely soft and are great for relaxing after a long day of college.
Here again, we find a cute cushion as a supplementary decoration, which perfectly fits the overall look of the room. Approach every detail with taste and you will achieve an incredibly beautiful harmony in your dorm room.
Copy this dorm room chair idea
8. Comfy Dorm Room Chair
A Comfy seat with sharper features, which is very cool for rooms that are decorated in more neutral colors. Remember, every piece of furniture's shape matters and you have to match everything very well to get a balanced design. Keep in mind that these chairs take up more space.
Get this comfy chair
9. White Plastic Chair
Here's a much more budget-friendly and space-saving option. This type of chair is usually hard, so better put something soft on top of it like a blanket. I remember that initially, my college room was also furnished with similar chairs.
Even if they are not so comfortable, they are perfect for studying and doing any desk work. Lightweight and easy to move around the room.
10. 5 Fingers Shape Chair
Massive chair! It looks really heavy and hard to move around. Takes up a lot of space as well, but if we are talking about looks – it's pretty cool!
Your dorm room will certainly be more attractive with this chair. Every one of your classmates will want a picture sitting on it for Instagram haha
11. Round Ottoman Chair
The little fluffy stool is very compact and practical. I remember my grandfather used to have one of these and used it when he went fishing. The drawback is that you can't rest your back on it.
12. Hanging Chair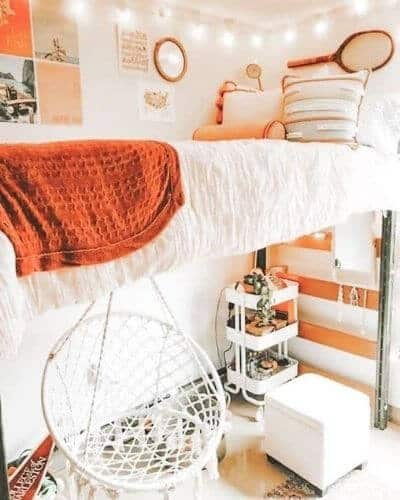 Super fun chair, but before buying it you have to consider a few things. The first is that it takes up a lot of space. The second is that you need to have a solid place to hang it on. This chair is suitable for relaxation while reading a book or listening to some good music.
Copy this dorm design idea
13. Egg Chair
For me, this is the most fabulous chair on the list. If I had one I would spend every free minute sitting on it. You can probably guess why I love this chair so much.
If you think it's because of the lights, well you guessed it right! But it's not just because of that. I like the overall design of it and the way the chair encapsulates you.
Get this Egg chair
14. Giant Bean Bag
Bean Bags are a perfect fit for any dorm room. They are easily portable and very comfy. I promise you that whoever comes into your room will immediately sit on the bean bag. Their design is just so attractive.
15. Double Chair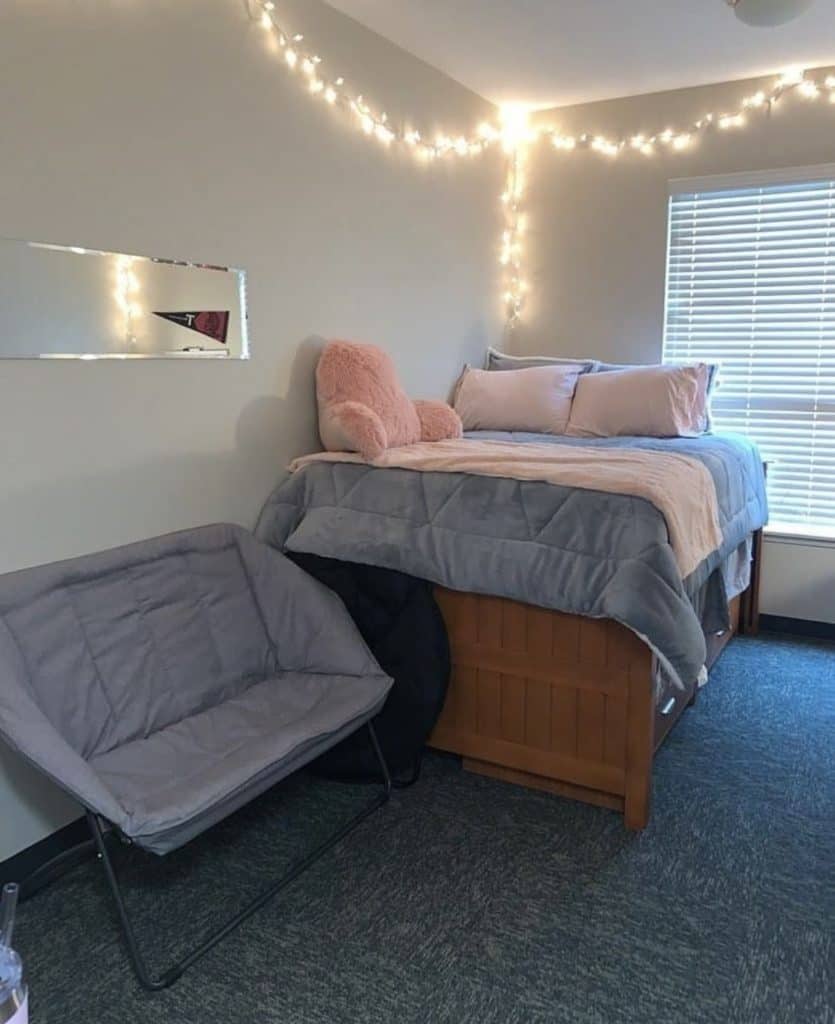 It's a mini sofa! If you have the space, you have to get one. It will be very useful for putting things on it and for entertaining guests. You can make it even more comfortable by decorating it with cushions.
16. Wooden Chair
The regular wooden chair is a classic. It's the most solid chair you'll ever have. The nice thing about it is that you can come up with many different decorations to make it more comfortable.
It is perfect for studying and working because it has the right height and a large backrest, which can support a good posture.
17. Dorm Room Hammock
Hammock chairs are awesome. They are suitable for reading and resting. To have one in your college room you need space and a secure place to hang it.
Get this hammock
18. Swivel Foam Lounge Chair
I see a lot of these in more fancy cafés. People seem to find them comfortable and appealing. Probably not the best one to sit on while studying long hours, but it certainly grabs the eye.
19. Hollywood Director Chair
These chairs make you feel like a Hollywood star, I'm telling you this from experience. Another positive feature of these chairs is that they take up very little space and can be easily folded and transported.
20. Colorful Chair + Ottoman
Very cool set, the colors are very soft and perfect for a lady's dorm room. I like the fact that you can use the smaller chair for elevating your legs and rest them as well. Decorate it with monochromatic elements to fit the colorful design.
21. Arm Chair in Clear
This chair reminds me of Cinderella and her glass slipper haha. It has a very gentle design that makes it perfect for a princess's room. This chair doesn't need any decorations, but for more comfort, you can put on a decorative cushion.
22. Casual Chairs
If you need a compact chair, this is the right choice for you. These models take up very little space and are exceptionally beautiful. They will be a nice fit for any dorm room.
23. Contemporary Gray Chair
Simple but at the same time very stylish. I think this chair will be suitable for studying and working.
24. Adjustable and Reclining Chair
This is a classical ergonomic office chair suitable for long working hours. One nice thing about it is its softness and the comfort that it will bring you. Moreover, you can adjust the height to your preference.
25. Boho-Style Chair
If you're a fan of boho style, this option is for you. You can decorate the wicker chair with a monochrome cushion because the chair is an accent in itself.
related posts you may like:
18 Under Bed Storage & Organization Ideas For Your Dorm Room
9 Things You Should Consider Before Buying the Perfect Couch
How To Set Up a Home Office in 5 Easy Steps
This post showed you 25 Dorm Room Chairs Without Wheels For College Students