Are you looking for the best dorm room lighting ideas? This post is all about the best 15 dorm room lighting ideas to make your place comfy.
This post contains affiliate links, which means I'll receive a commission if you purchase through them. You will have no extra cost!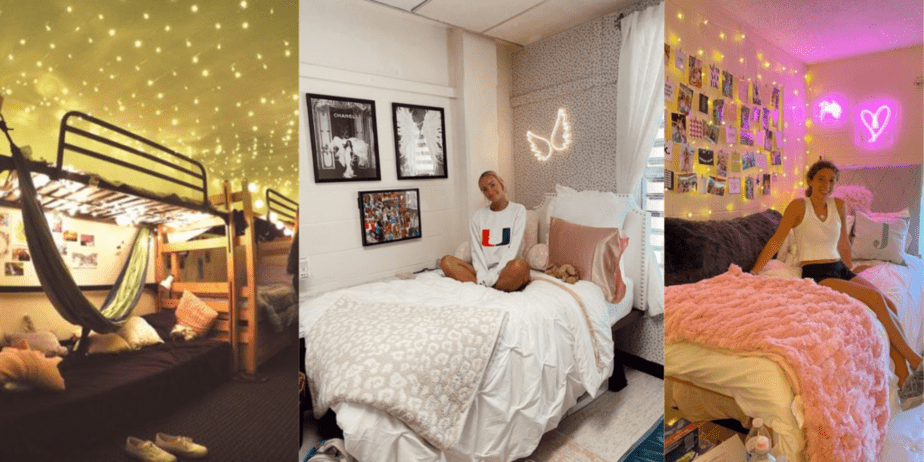 Best 15 Dorm Room Lighting Ideas to Make Your Place Comfy
Lighting is important for any dorm room. If you have to study all night for an exam, you'll need a powerful desk lamp. Or maybe you just want to relax and have a movie night, then dim room light will be perfect.
So, you need different types of lighting to make your dorm room cozy and functional. After all, this will be your home for the next couple of years, so why not make it amazing? This blog post shows you the best 15 dorm room lighting ideas to make your place comfy.
Dorm Room Lighting Ideas
1. Dorm Hanging Lighting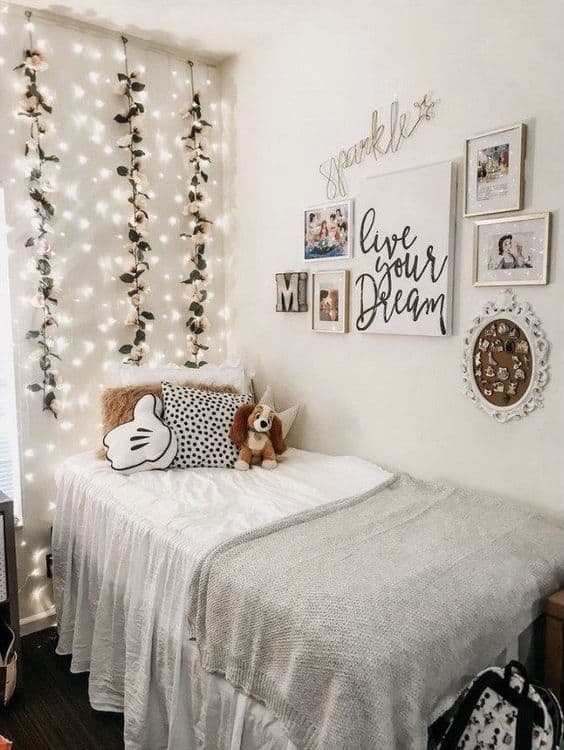 Beautiful and budget-friendly lighting for any dorm room. I like the fact that the design looks so simple and unfussy, and the leaves further add to the magical look of the lights.
Even without the leaves, these small decorative lamps will look great. Moreover, instead of the leaves, you can put pictures of loved ones. It will also look very nice.
Recreate This Dorm Room Lighting Idea
2. Figure Lighting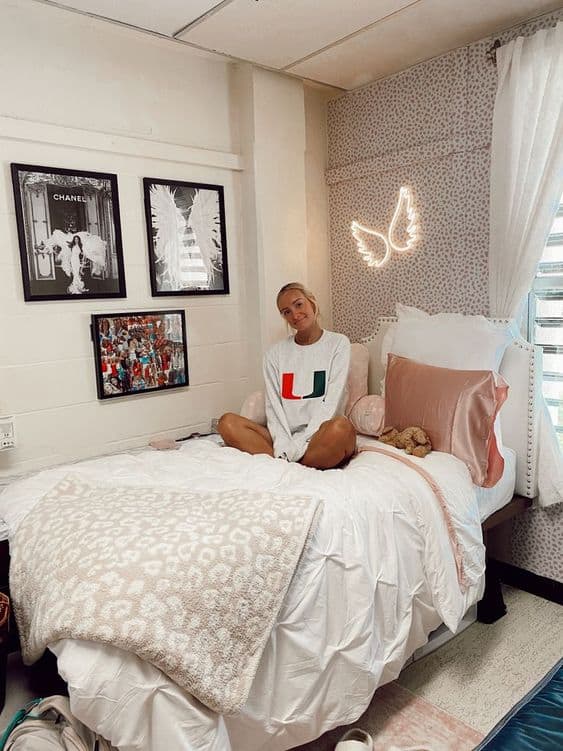 I love these pieces because they are so beautiful and bring a very interesting accent to a room. You can find many different types of these figures and choose the one that is most suitable for your dorm and its design.
You can combine several such pieces if you wish. If you like lamps, you can add such and make the atmosphere even more magical and finished.
Recreate This College Room Lighting
3. Bedside Lamp
There's nothing more fitting than a lamp that is placed right next to your bed. They are very convenient while reading a book or watching a movie. There also right next to you and you can turn them off easily before going to sleep without leaving the comfort of your bed.
Recreate This Dorm Lighting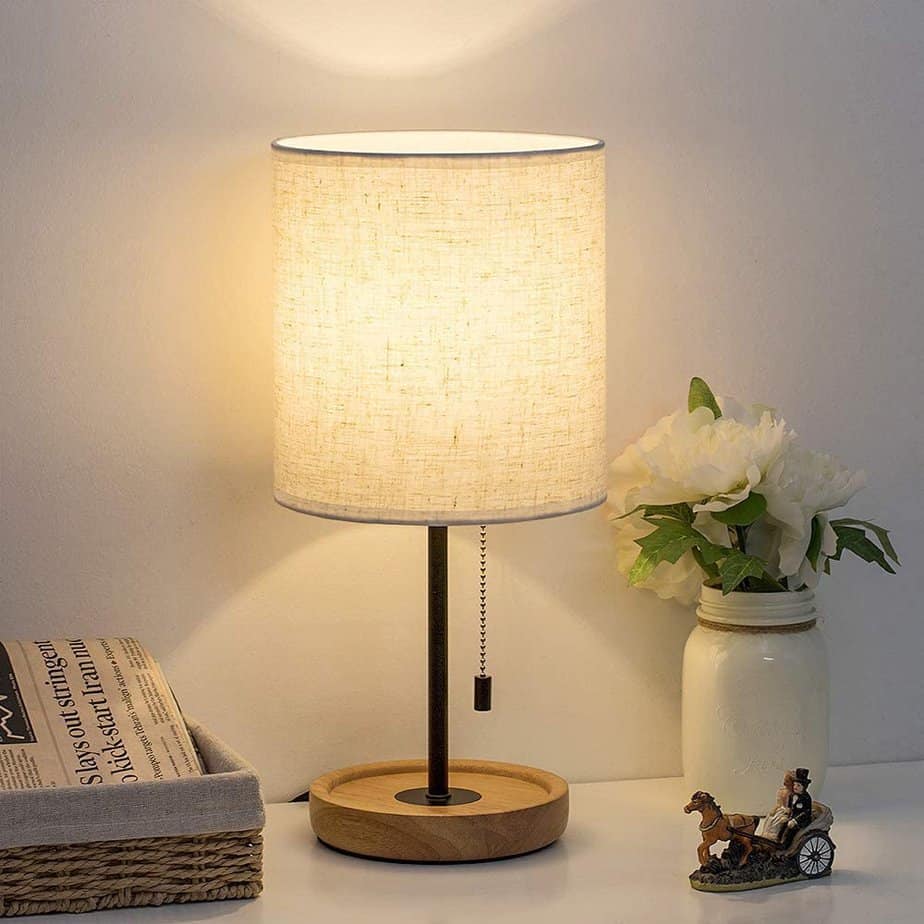 4. Branch Lighting
When I saw this photo I just fell in love with it. Look at how beautiful these lights stand and how the artificial branches create a magical feeling that can be experienced even through the picture.
You could place these lights right above the bed, and why not hang pictures and paintings on the wall as well? I think it will look splendid!
5. Lights With Photos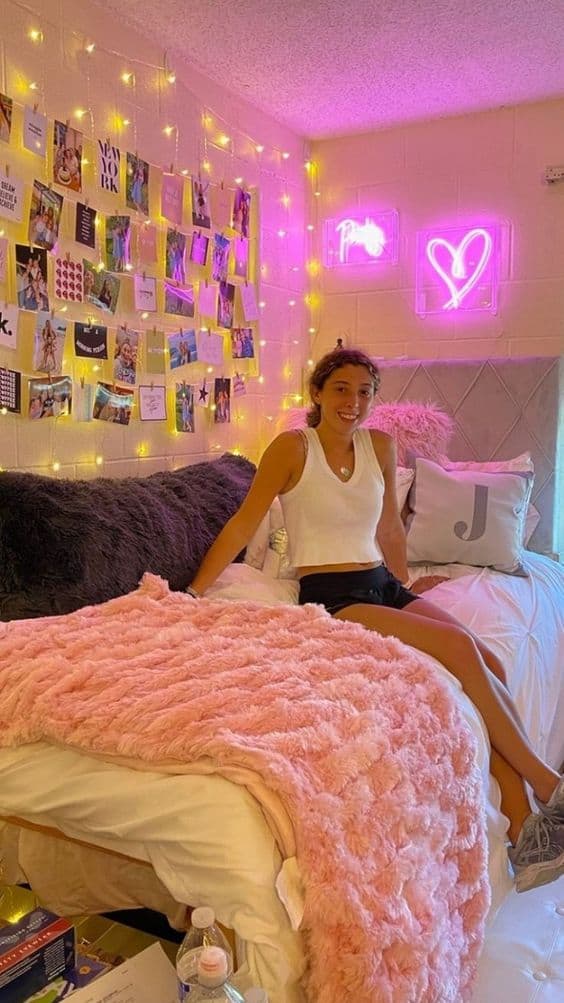 You can use lights to form glowing shapes which will be very effective and eye-grabbing. The lights can be placed so that you can hang pictures and images on them.
You can dedicate a whole wall to this and make a glowing photo collage with happy moments that make you smile.
Recreate This Wall Photo Collage
related post you may like
20 Photo Wall Collage Ideas For Every Bedroom
6. Desk Lamp
At university, you will often have to pull all-nighters because of exams. Therefore, you will need to get a desk lamp that is suitable for studying.
You need good strong light while studying, but also not too strong so you don't strain your eyes. Furthermore, it will be great if the design of the lamp goes well with the rest of your dorm room decor.
Recreate This Dorm Desk Lamp
7. High Night Lamp
This lamp is very suitable for the height of beds in most dormitories. There are many interesting models of such lamps and you can choose the model that will fit best in your nook.
If you decide to put such a lamp in your dorm room, choose very carefully the place where it would stand. Otherwise, it may not look right and damage the harmony of your interior design.
Recreate This Lighting Idea
8. Colorful lighting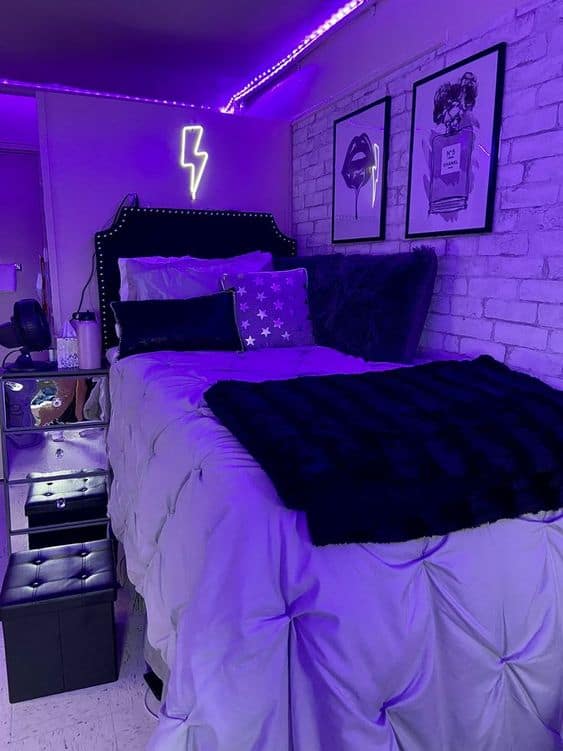 If you are a fan of more unusual things, you can put LED strips that will light your dorm room in all kinds of colors. You can also arrange the strips in glowing shapes to make the lighting even cooler.
9. Sting Lights For Dorm Room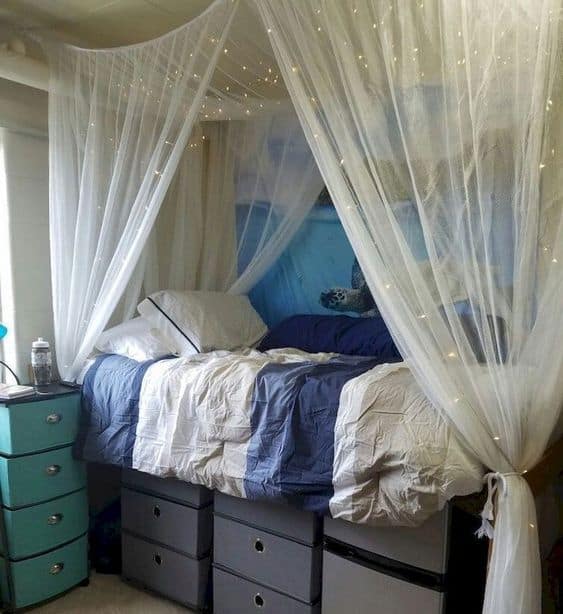 If you haven't done it, I encourage you to give it a try. The sting lights go perfectly with the curtains because they spread the light very gently and everything turns out great.
If you put them above the bed it will turn out amazing. To be completely honest, this is one of my favorite light decorations because the atmosphere is magical.
10. Full Ceiling Lights
The implementation of this decoration is not so easy, but certainly not impossible. A ceiling of lights is probably one of the coolest ideas. It's like you are a meter away from the sky and the stars. I think your partner will also appreciate it because these lights create a very romantic setting.
11. Floor Lamp with Shelves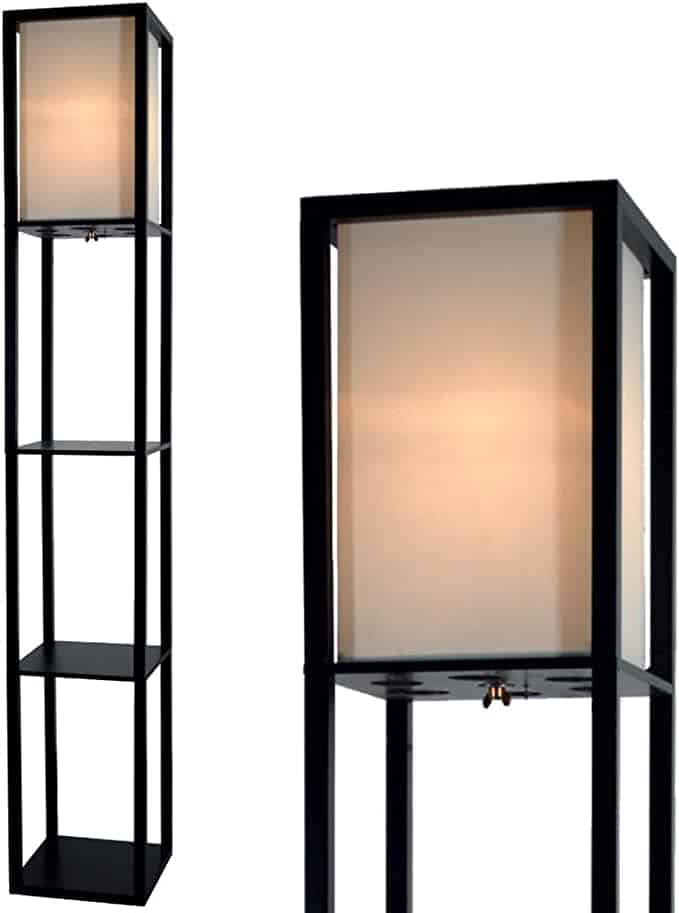 A lamp that has an exceptionally spectacular design. Moreover, you can use the space below it for shelves and organize your belongings.
The shelves are suitable also for putting decorations and photos of your loved ones. This model will fit perfectly with an interior that includes black metal and beige color.
12. College Dorm Room Desk Lamp
A multi-purpose desk lamp with a stand that is a great solution for any hardworking student. You can charge your phone on the stand or put different materials such as pens, pencils, scissors, etc. in it.
It will provide you with very good light to work with. Furthermore, you can adjust the light strength, making this lamp perfect for studying and a movie night.
13. Standing Lamp For Dorm Room
I like this lamp because of its gentle and beautiful design. Another nice thing about it is that the smaller lamp is designed for reading and it is flexible. You can position it behind a sofa or your reading armchair so you can adjust the angle and strength of the light you need.
14. Led Desk Lamp With Charging Port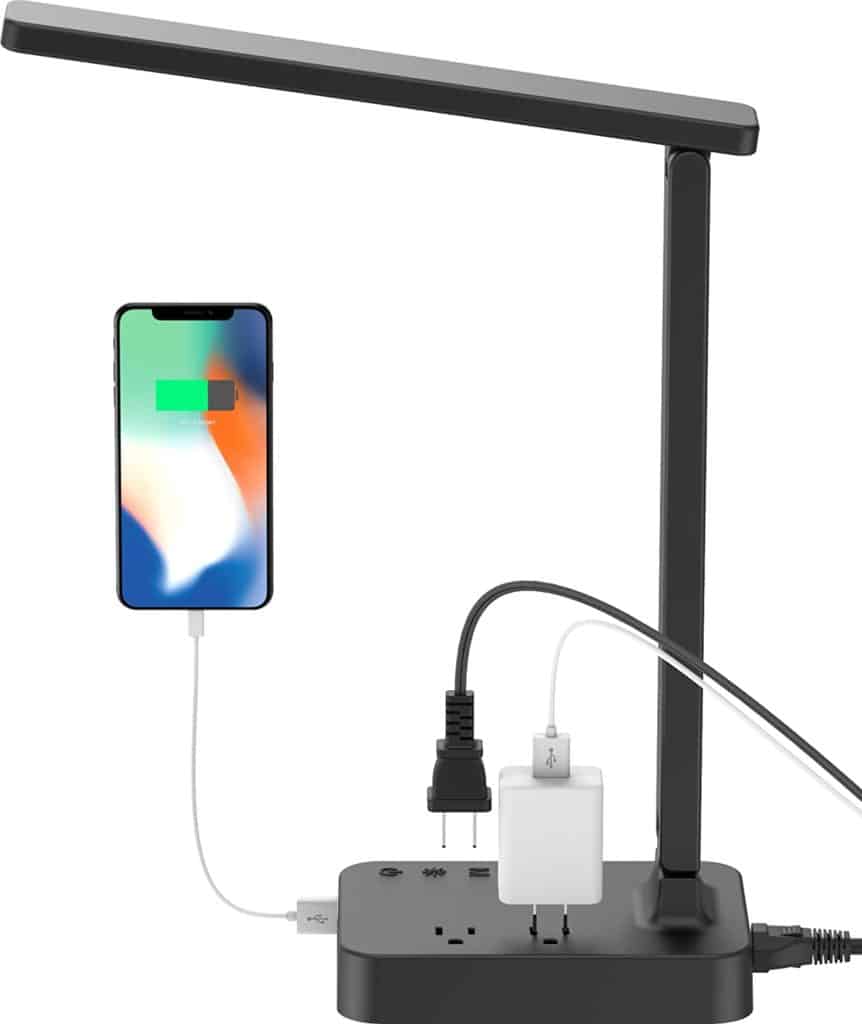 A great desk lamp that gives you the ability to charge your laptop and phone while studying. The lamp has a very handy design and will do a great job for any diligent studious student who spends a lot of time up late studying.
15. Banana Lamp
I love this lol! This lamp is amazing, especially if you love similar decorations with strange designs. You can position it both on the desk and the bedside table. It's perfect for dimmed light. However, in any case, I don't recommend reading or working under such light because it can worsen your eyesight.
Related posts you may like
Dorm Room Chairs Without Wheels
This post showed you the best 15 dorm room lighting ideas to make your place comfy