If you want to impress your friends with beautiful Friendsgiving decor, then you should not miss these 18 affordable decoration ideas.
This post contains affiliate links, which means I'll receive a commission if you purchase through them. You will have no extra cost!
In recent years, Friendsgiving has gained popularity as a word and as an event, but many people still don't know exactly what it is. So in this article, I will explain the meaning, the origin, how it is celebrated, and how to decorate your home appropriately for the holiday.
What is a Friendsgiving party?
A Friendsgiving party is a gathering between close friends that mimics Thanksgiving. It usually has a lavishly set table and the dishes are quite often the traditional Thanksgiving ones. The idea of the event is to celebrate and give thanks for your friendship.
When is Friendsgiving?
Friendsgiving has no exact date on which to celebrate it because it is not an official holiday. However, it is most often celebrated instead of or near Thanksgiving.
Is Friendsgiving the same as Thanksgiving?
Friendsgiving is much the same as Thanksgiving, but instead of celebrating with your family members, you are doing it with close friends.
How many people should I invite to Friendsgiving?
How many people you invite to a Friendsgiving party depends on how many friends you have, how big your home is, and other factors. The number of guests is entirely up to you and there are no limits.
18 Festive Friendsgiving Decor Ideas Under $25
1. Friendsgiving Balloons
Colorful balloons are always a great decoration for any party and lift the mood instantly. However, if you want to truly impress your friends, get a Ballons Letter Banner that spells out Friendsgiving.
Recreate this Friendsgiving decor
2. Friendsgiving Decor Cups
Disposable cups are a necessary item for any party, but the effect is completely different if they are specially made for the celebration with suitable inscriptions and beautiful details.
You can find all sorts of cups to suit the theme of your party decor. And even if you don't find a good fit, you can always easily DIY using some colorful markers.
Recreate this Friendsgiving decor
3. Friendsgiving Centerpieces
What's better than a big cake in the center of the table decorated with a Friendsgiving cake topper? Your guests will be charmed and will be eager to taste the delicious dessert.
Happy Firendsgiving Cake Topper
Related post: 23 Graduation Party Centerpieces That Will Complete Your Table Decor
4. Painting Happy Friendsgiving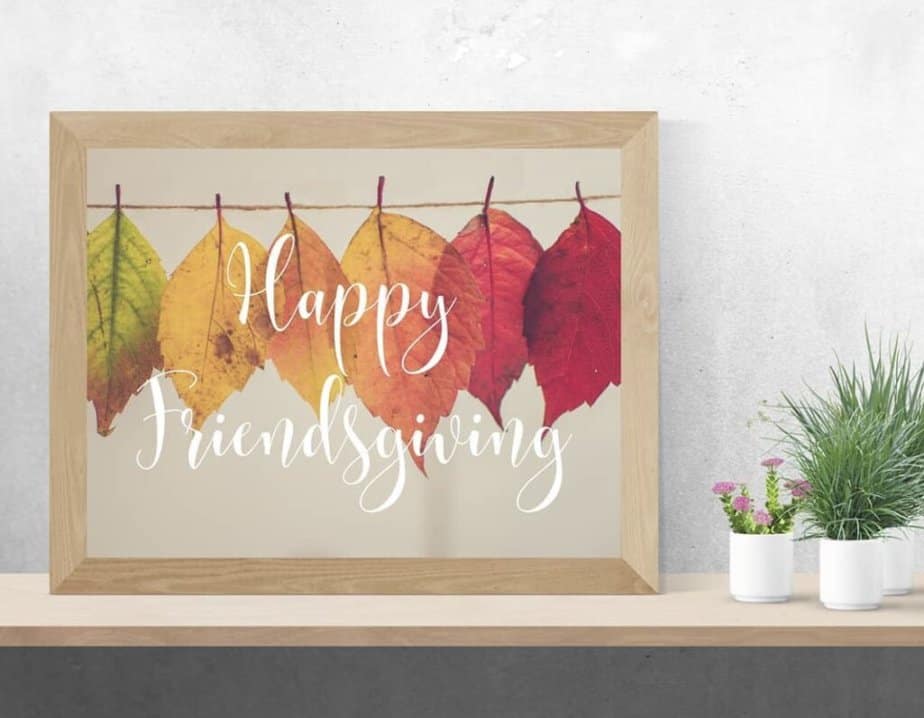 A painting or photo that represents friendship is also a great ornament for the party. You can hang it on a wall somewhere prominent or even put it on the dining table as a centerpiece.
5. Friendsgiving Wall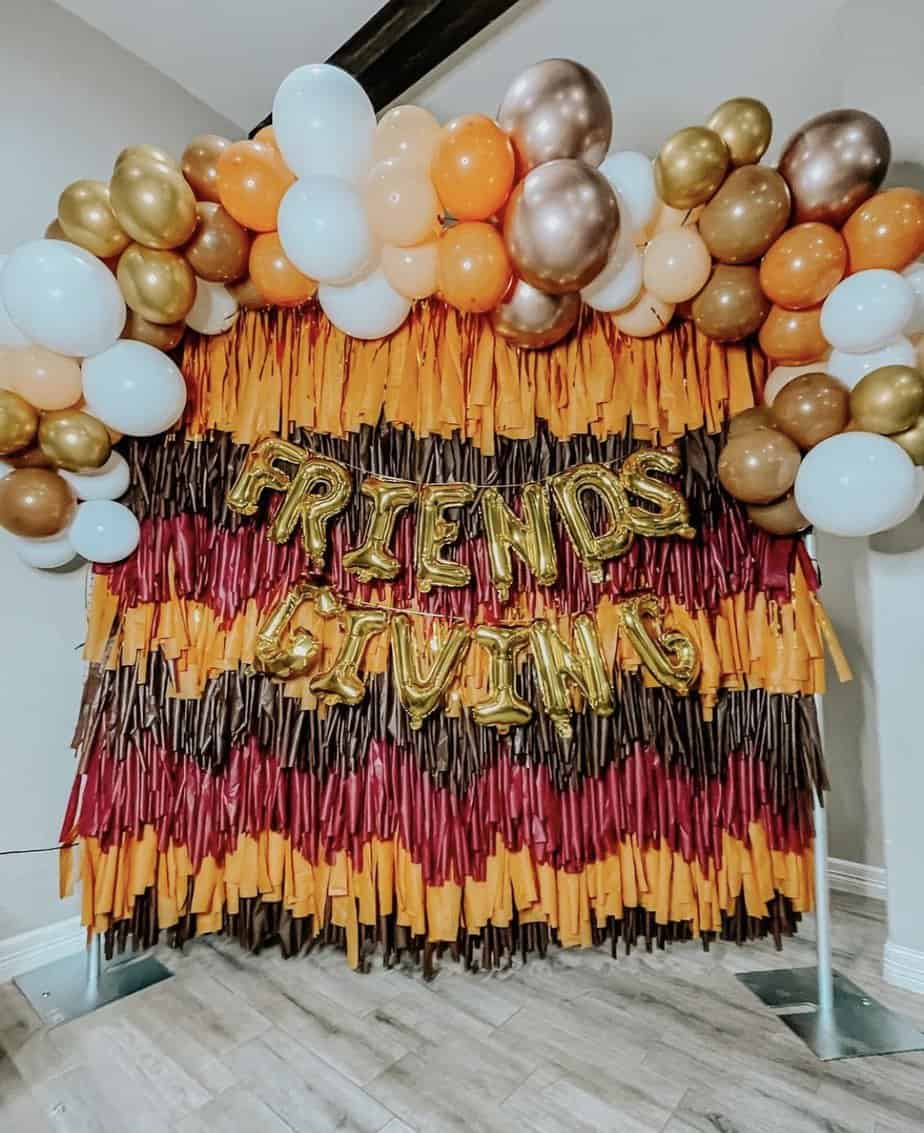 This is a more massive decor element that will need more planning in advance, but it will certainly impress your friends. It would also be a great background for selfies and regular photos that you can show off on social media later haha.
Related post: How to Make an Instagrammable Closet
To make such a Friendsgiving wall you need balloons, banners, and fringe garlands. Make sure you combine the different colors well and it will turn out amazing.
Recreate this Friendsgiving decor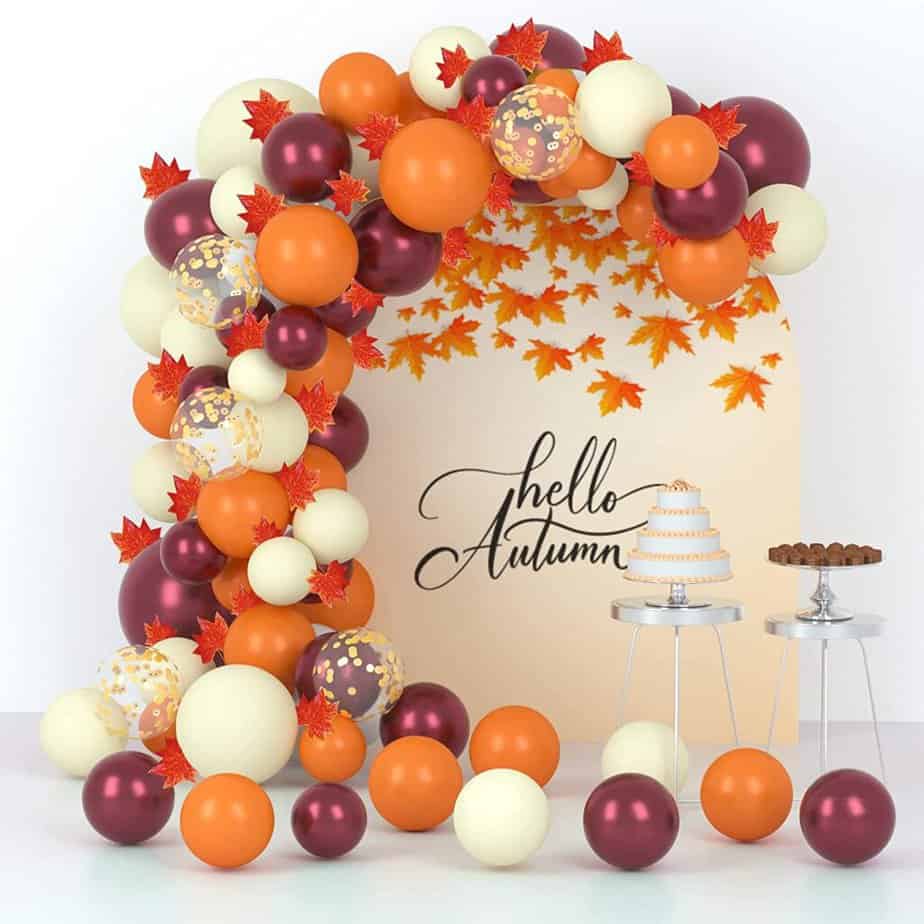 6. Happy Friendsgiving Banner
Letter banners are always preferred as decorations for all kinds of celebrations and occasions. Whenever I see them I remember with a smile how my mom used to make me a new one for every birthday when I was younger. I think your friends will love this Friendsgiving banner as well.
7. Friendsgiving Plates
Table decoration is an important part of the overall party decor. Make personalized little signs with the names of each of your friends and place them next to their plates. This will certainly warm their souls and they will strongly appreciate your diligence.
8. Friends Sign
Another item that can serve as a great centerpiece on the table. You can combine it with more ornaments if you wish and make a wonderful Friendsgiving decoration.
9. Friendsgiving Invitation Cards
It is also important to make cute invitation cards for your friends regarding the party. Write some humorous and playful text to make them smile and look forward to the Friendsgiving celebration.
Choose a beautiful design for the invitation cards and don't forget to write the most important information like where and when the party will take place.
10. Friendsgiving Party Plates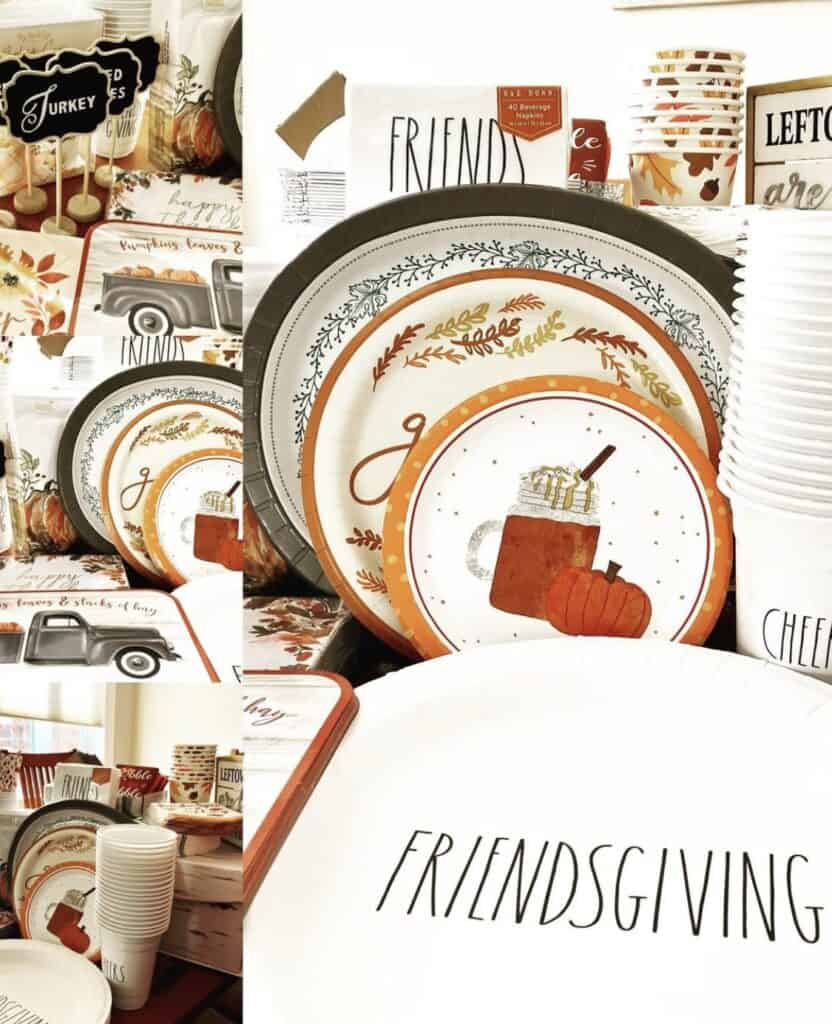 As you found out earlier, Friendsgiving is celebrated in November, so any plates in autumn colors, motifs, or directly related to Friendsgiving will be a great decoration for the table.
Happy Friends Giving Party Supplies Dinnerware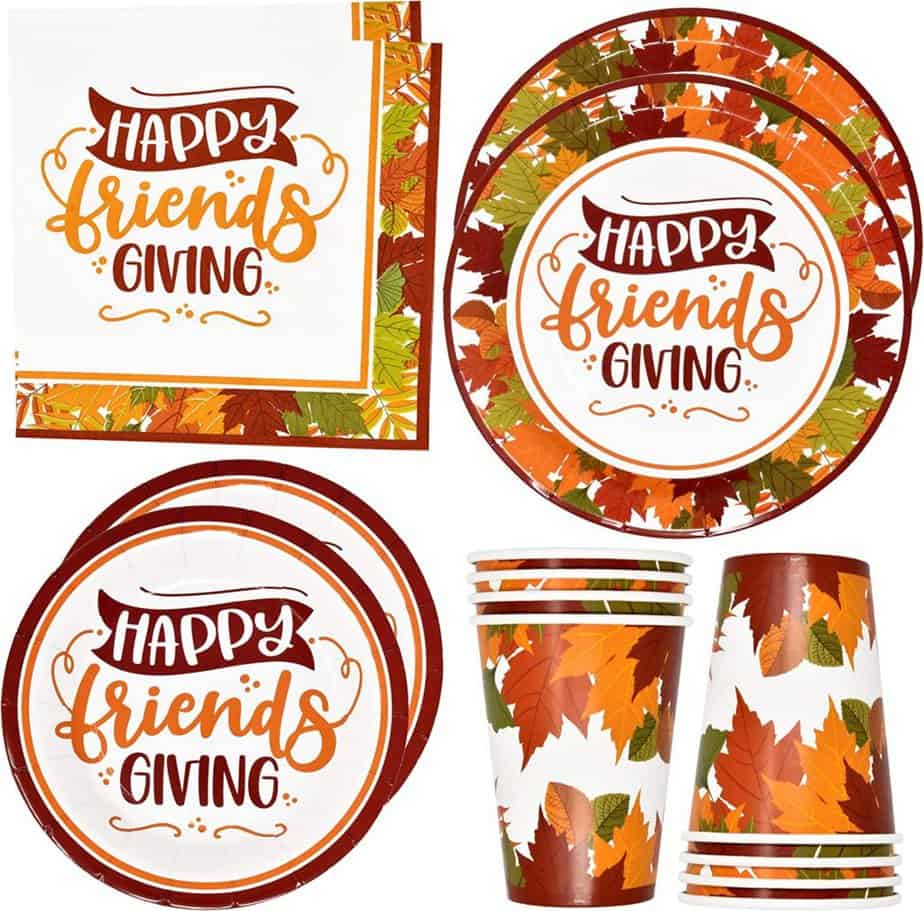 11. Straws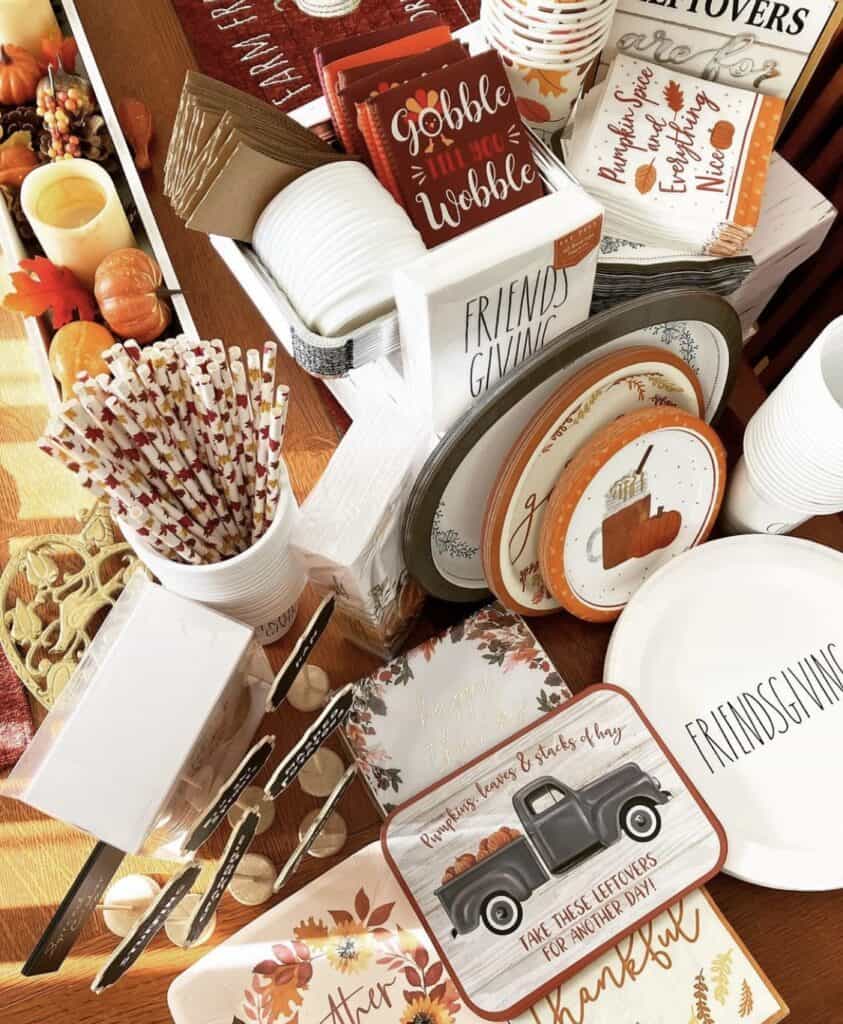 Colorful and patterned straws are also nice additions to the Friendsgiving party decor. Combined with the themed plates from the previous number on this list and an appropriate centerpiece, the table decoration will look fantastic.
12. Cutie Pie
You can't have the Friendsgiving party without a sweet dessert at the end. Therefore, prepare some dessert plates that have a cute design as decoration. Serving the pie or cake on such plates will surely make the dessert even sweeter for your guests.
13. Themed Napkins
This is a great suggestion for your Friendsgiving party decor. Themed napkins will match and nicely highlight the plates, straws, and other decorations on the table. Fold them beautifully and let their colors complement the rest of the decor.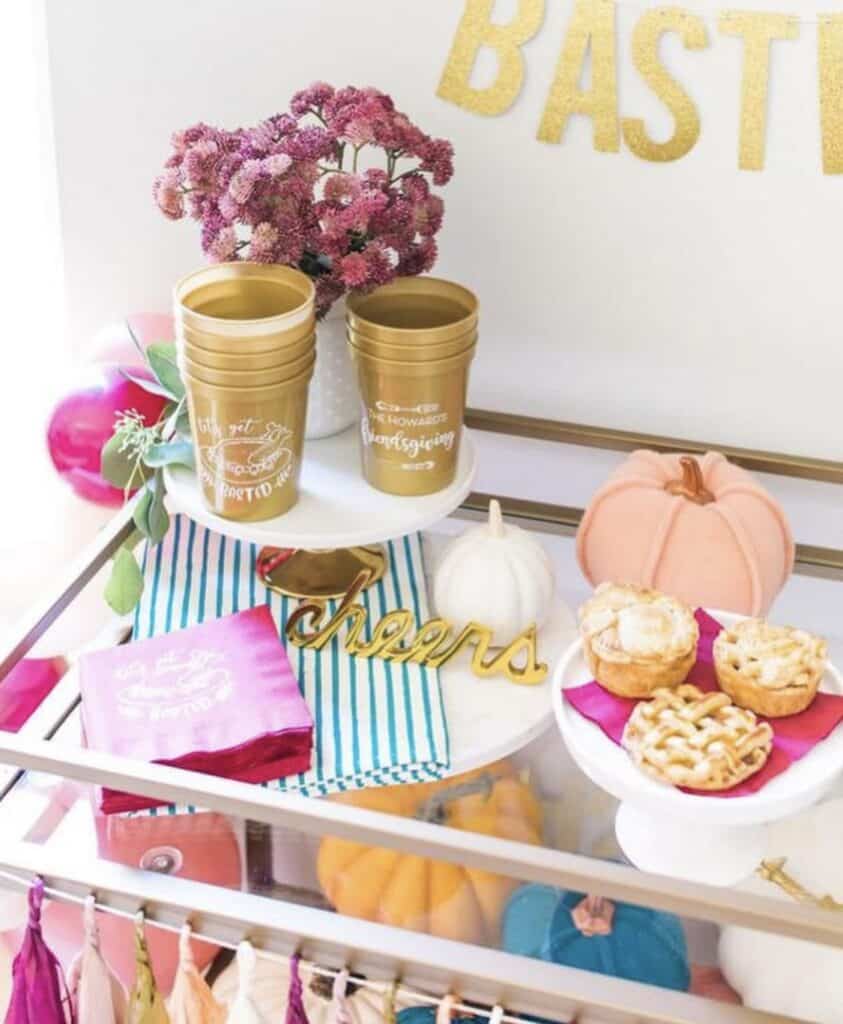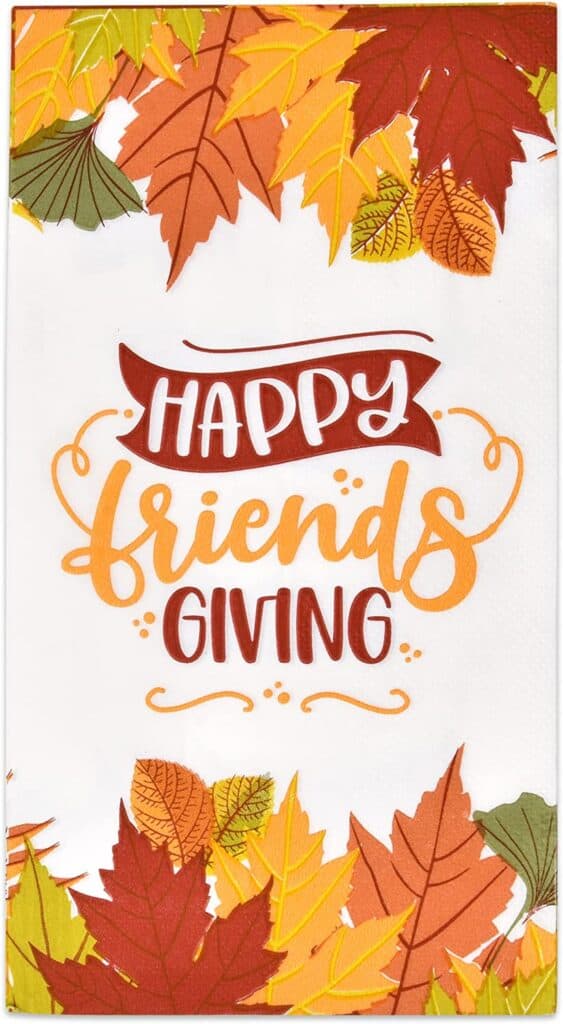 14. Hanging Decorations
Because Friendsgiving is celebrated in late autumn, if you've already put up your Christmas tree, you can decorate it with some Friendsgiving-themed baubles. This will certainly be a great detail to your party decor.
Related post: Christmas Tree Ornaments You'd Love to Have This Year
15. Chalkboards
The chalkboard is also a great idea. You can place it in front of your entrance door and write a catchy message on it. This will lift your friends' spirits even before the party has started.
16. Decorative Jar
These jars are a very versatile decoration that you can put on the table to create a festive atmosphere. You DIY this very easily by using old jars and filling them with paper fringe. Furthermore, you can add inscriptions and figurines as a finishing touch.
17. Friendsgiving Pillows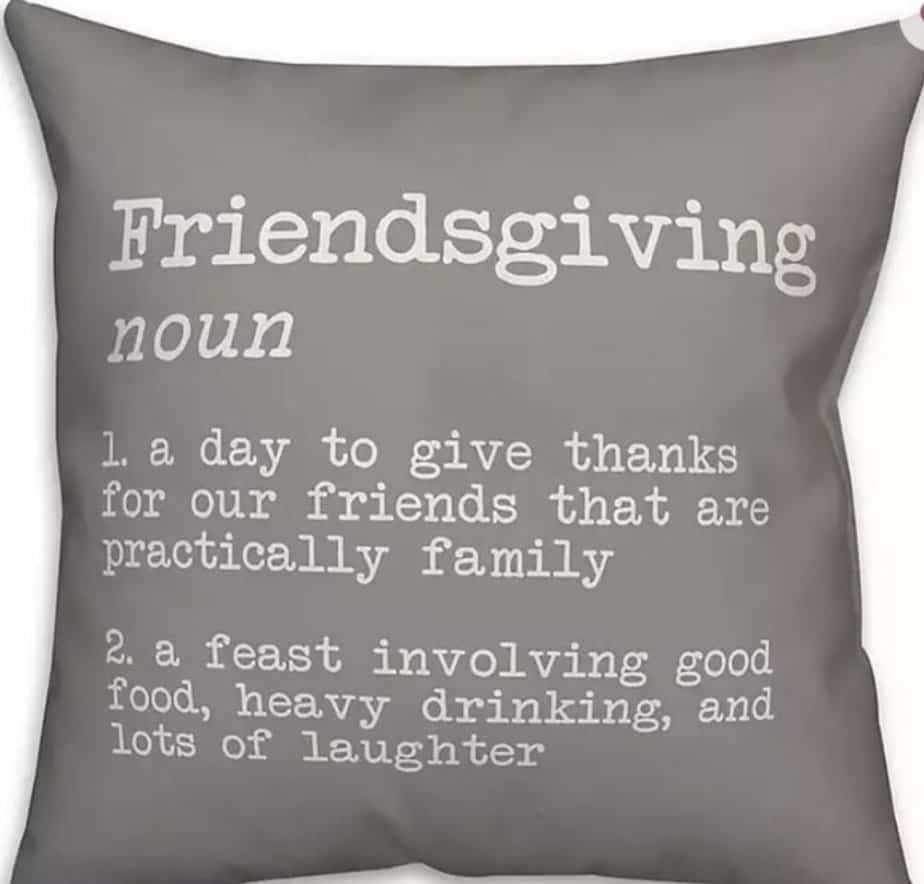 To decorate the sofa, you can put themed cushions to freshen up your living room in a very stylish and elegant way. Your friends will surely admire your diligence once they see the Friendsgiving pillows.
18. Flags
Achieve a wonderful table decor with these themed flags by putting them on each plate. It is a very small decoration, but it will complement perfectly the other ornaments and create a lovely mood.
Read the following related posts
This post showed you 18 Festive Friendsgiving Decor Ideas Under $25