Are you searching for some home renovation inspo? Read about the renovation of my first apartment with before and after images.
Buying an apartment at 22 is something very exciting that not many people my age have experienced. For me, it was a dream I worked hard for years… In this article you will read about renovating my first apartment (before and after transformation).
If you already know my story, you know that I grew up in a small village and I always envisioned having a lovely place of my own by the sea that I will furnish to my taste.
Years later I have finally succeeded thanks to my passion for social marketing. I went through a lot of hardships until I found the perfect place that I could then bring to life and transform the way I wanted.
Now in this post, I'm going to tell you the whole story of picking the interior design and how I renovated my first apartment and furnished it like a pro.
My First Apartment Renovation
1. Love from first side (or maybe not😂)
To be completely honest, I was pretty picky while searching for my new home. But isn't that expected? Buying an apartment is a big deal (at least for me) and everything had to be just perfect!
I was looking for the right place for months, but nothing caught my eye. All of the flats shown to me were either too big or too small… too expensive or just the one, but in a bad neighborhood.
I was starting to feel that I will never find my place and that the city just doesn't want me here. All I wanted was a spacious living room with a kitchen in it. My home needs to be also sunny with lots of windows that show beautiful greenery outside. Is that so much to ask…?
After many failed inspections, my broker called me about another potential place. At first, I was not very hopeful but I gave it a shot and decided to go see it. As soon as I entered the apartment, I knew that my time would be wasted again.
It had small rooms with a bad layout and it smelled awful! The bathroom was as big as a doll's house… I wanted to cry about another failure, but something caught my attention.
There was a large tree right next to the windows of the living room and its beautiful green crown was just at the level of the apartment. That instantaneously grabbed me!
I instantly began to think about how the layout of the rooms could be changed to my desire. I asked the owners which walls could be removed and requested details about the construction.
After realizing what I wanted to do was possible, the picture in my head was in order, Voilà! I had already torn down the walls in my mind, moved pipes, enlarge the bathroom, and many other changes. I just felt it, this was my new home and nothing could stop me anymore!
2. New home under construction🔨
After we fixed the documents and the apartment was finally mine, the hard part came. To turn the apartment into what I wanted, I had to tear down one wall. I connected the two bedrooms and turned them into a spacious place as a living room and kitchen. Since I had to turn one part of the new space into a kitchen, we had to install pipes.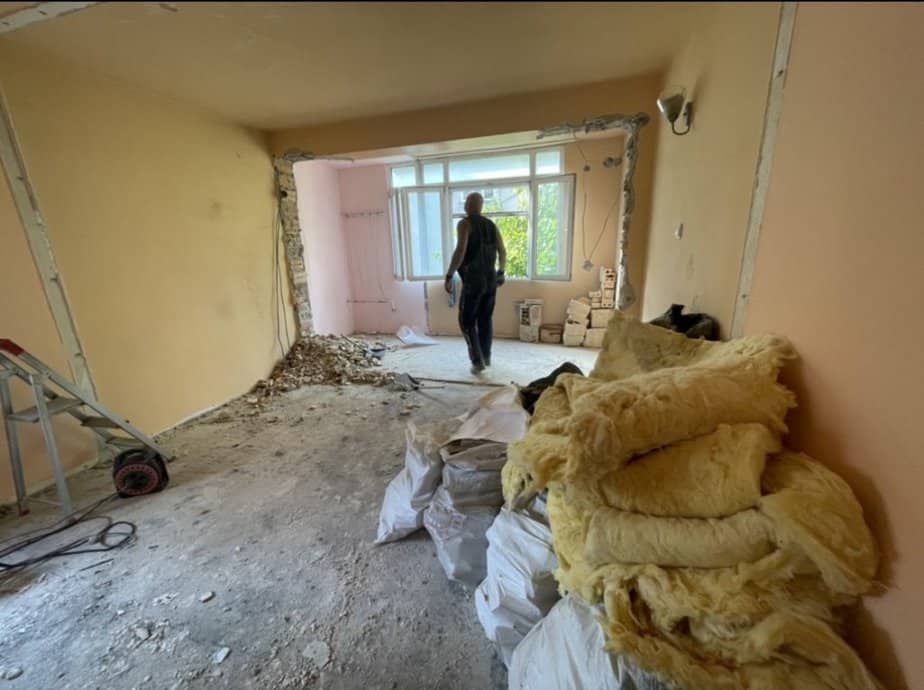 After all this demolition and drilling, the apartment was in a miserable condition! Looking at the pictures I suppose you can't imagine how this place will be turned into a cozy new home.
We changed the windows by resizing the one in the kitchen area and walled up a doorway between the rooms. A strange construction that served as a terrace was dismantled. The picture got even worse when I decided to expand the bathroom.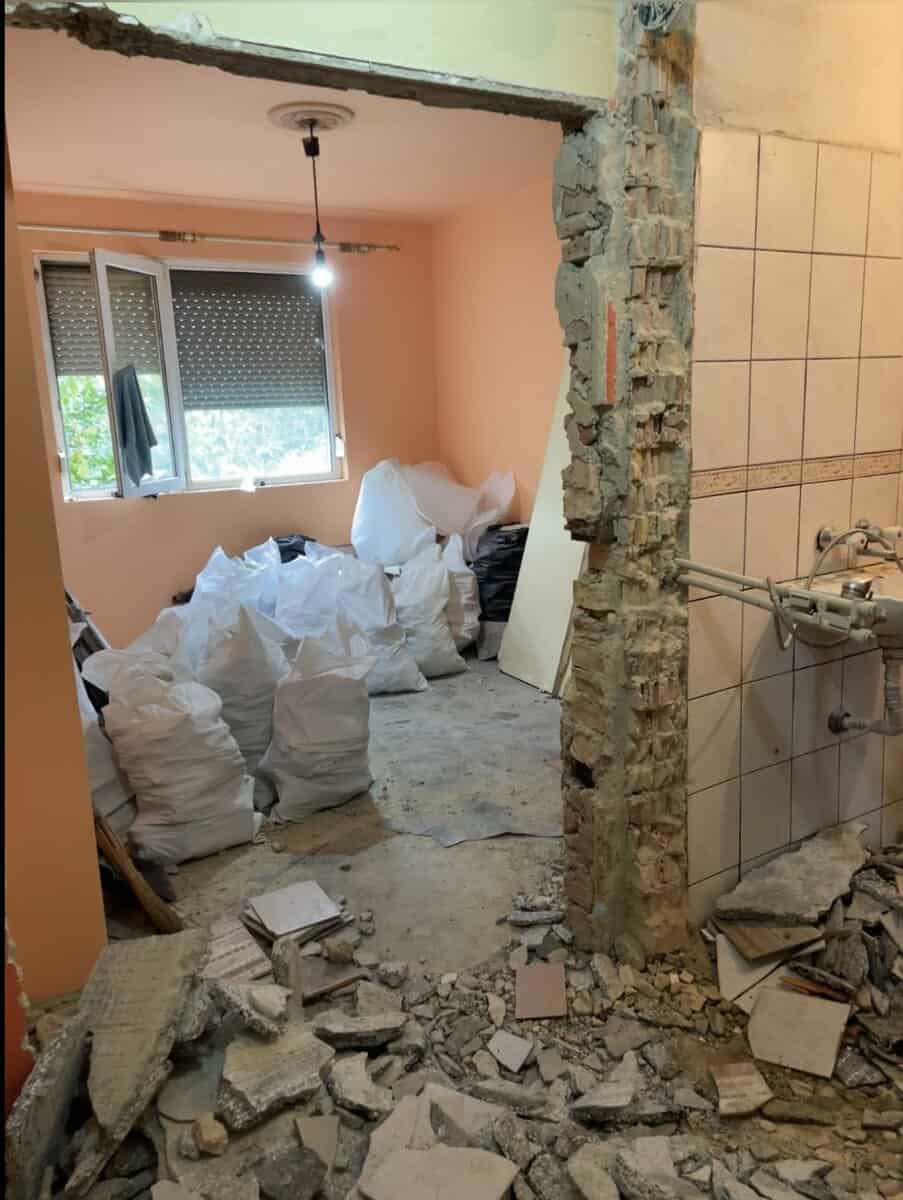 The whole process of demolition took a lot of time and the apartment was looking even worse than when I bought it. The only thing that kept me going was the vision in my head of my finished new home!
Despite all the difficulties, I was so happy and grateful that I could see every improvement and how things were little by little starting to work out. My dream was slowly becoming a reality!
3. Hard work pays off😎
Months after the start of the apartment's renovation came the long-awaited moment – choosing the furniture and the overall interior design.
The first important step was to select the right paint. So, the living room and bedroom were colored in light beige, which I think brought the rooms an extra feeling of comfort and calmness. We put marble tiles on the floor which gave the apartment an elegant and luxurious touch.
After the paint and floor were finished, I needed furniture that will go with them and complement the existing colors. I am going to tell you a little secret…ready?
I am a big fan of black and since the start, I longed to add such elements to the apartment. So, furniture and decoration with black nuances were definitely on my shopping list.
That was also a rather difficult task, I visited like 10 stores for home decor, but I couldn't find what I was looking for. Oh well, at least the whole process of visiting different shops gave me new ideas and helped me organize the final vision in my head.
Fortunately, I was able to find a small company that had just what I was searching for and the deal was closed. For the kitchen, they offered me a sample that was a combination of graphite and wood elements, I absolutely fell in love with it!
Because the living room and kitchen are together, I wanted to have an element that serves as a boundary between the two. That's why I also planned to have a countertop. It was also the perfect solution to where I should put the washing machine and dryer.
All the appliances are built-in, which contributes to the clean look of the kitchen. The overall shade is black matte which I absolutely adore and brought a unique look to the place.
The dining table is made of solid wood and again… black matte legs. Finding the appropriate chairs for this gorgeous table was difficult.
I visited a lot of stores searching for the perfect ones until one cold day when I walked into a furniture store to warm myself up and look at what they had to offer I finally found them! Soft, comfortable and gray, as if they were just waiting for me.
I was so happy when I bought them and brought them home, they complemented the table just perfectly. But something was still missing from the picture…
To complete the dining area, I decided to put a soft gray carpet under the table and chairs and it worked like a charm, now everything looked like taken from a famous magazine for interior design.😁
Step by step the final version of the room was being shaped, but it was time for one of the most important parts for me – the sofa. For me, the living room furniture is based on the sofa. I wanted it to be big and comfortable to make my guests feel even better than at home.
Luckily, things here went fast because even before buying the apartment I had a certain model in mind. The sofa is a dark gray color with a couch as an addition – just perfect! I decorated it with very cool-looking pillows that quickly became one of my favorite things in the apartment.

In front of the soft furniture, I decided to put a more interesting table in white gloss. I really wanted the table to have a lower shelf, so I can put books, magazines, laptops, etc.
I wanted the shelf to be hidden from the outside perspective because I didn't want the first thing you see when you enter the room to be the colorful magazines. After all, they will immediately attract attention away from my perfectly decorated room.. haha.
The last part left was the space under the television set which we mounted on the wall. We put there a white cabinet with glossy doors and a matte top. I decorated it with candles, photos, books, figurines, and a flower (always have some plants in the room, to bring nature closer to your home).
Regarding the lighting, I chose to put hanging lamps from both sides along the length of the apartment. In the middle, there is a very beautiful and non-standard main lamp.
Above the counter, there is a system with four small lighting fixtures, and above the table are hung again four, but more massive ones. As a final touch, I used beautiful ethereal curtains which suited the colors of the room magnificently!
In the end, everything turned out perfectly. I created the home from my dreams. Now I feel great spending my time here. This is only the first from a series of posts regarding my new apartment. I have much more to tell and show you, but you know how it goes – to be continued…
Related posts
How I Chose The Perfect Kitchen Design
How I transformed my kitchen into a bedroom
My little bathroom transformation
Thank you for reading this post about my apartment renovation