Is your school doing Anything But A Backpack Day this year? If yes, here are 35 genius Anything But Backpack Day ideas to copy and impress all your classmates!
This post contains affiliate links, which means I'll receive a commission if you purchase through them. You will have no extra cost!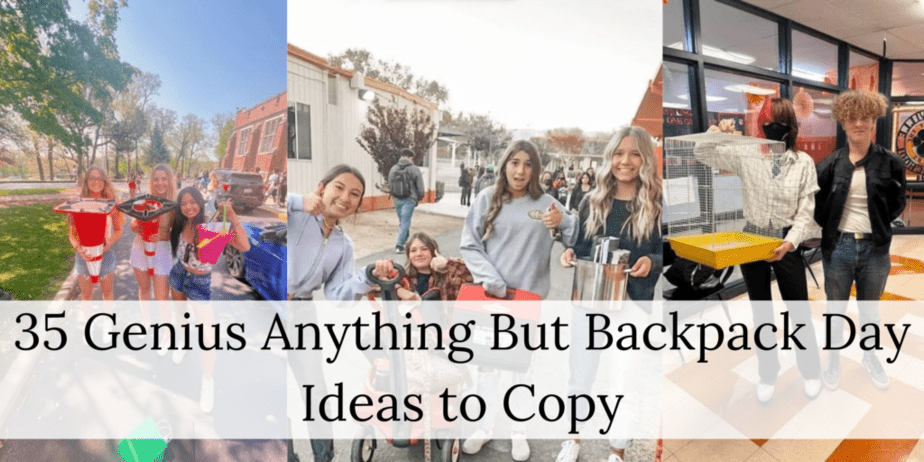 In recent years, a fun trend has been gaining popularity among school students in America, namely Anything But A Backpack Day. The goal is for everyone to come to school carrying their textbooks and other study supplies in anything but a backpack.
Each year the students show more creativity and humor in deciding how to replace their backpacks. Some fun solutions are for example suitcases, baby strollers, and even microwaves lol.
To show you how inventive students can be, I have prepared a list of 35 genius Anything But Backpack Day ideas that you can copy and impress all your classmates.
What is Anything But a Backpack Day?
On Anything But a Backpack Day, students must bring all their school supplies in anything but their backpacks.
When is Anything But a Backpack Day celebrated?
Anything But a Backpack Day can be celebrated on a different date in each school, but most often it is done during the school's spirit week when students are encouraged to show school unity and spirit.
Are There Rules For Anything But A Backpack Day?
For Anything But A Backpack Day to bring only positive emotions to the students and the school as a whole, there are a few basic rules that must be followed:
No alcohol or tobacco products
No weapons or other dangerous items
No items that may interfere with the learning process
No stolen items
If you don't want to be sent home and miss out on this exciting day at school, check with your school management if the item you have chosen as an alternative to your backpack is okay.
35 Genius Anything But Backpack Day Ideas to Copy
1. Construction Cart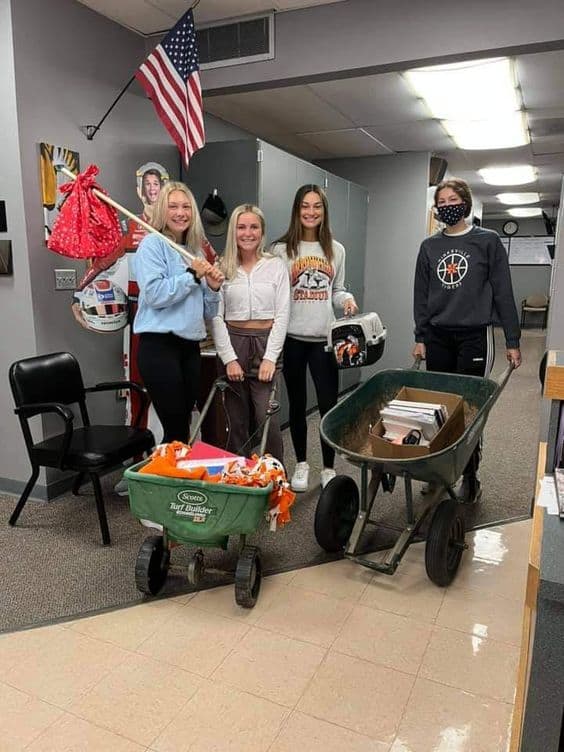 Turn your school into a construction site by carrying your textbooks in a construction cart instead of a backpack. If you also put on a safety helmet it would be a great finishing touch lol.
2. Toolbox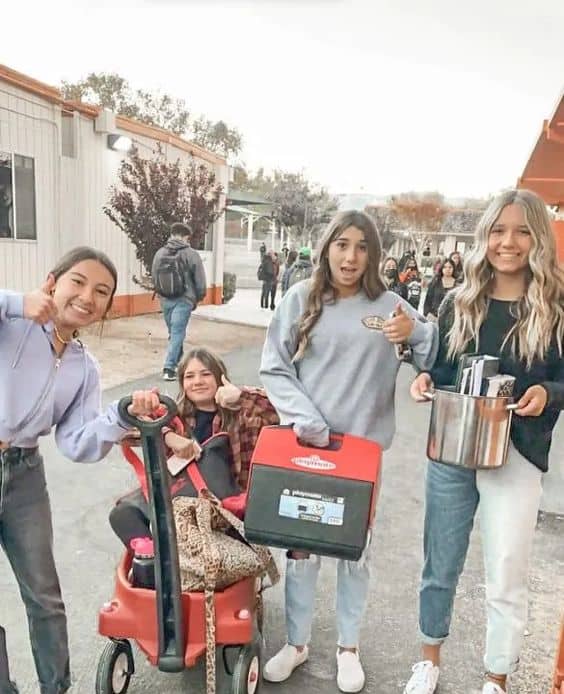 Super convenient and cool idea. Ask your father or grandfather if you can borrow their toolbox for Anything But a Backpack Day.
Recreate this idea:
3. Baby Carrier Basket
If textbooks are your babies, then I don't know of a better way to carry them around school than in a baby carrier basket lol. You'll find plenty of room for all your school supplies and it'll be easy to carry.
Recreate this idea
4. Mop Bucket
The school now has a new janitor lol. I like this idea because instead of carrying heavy things, you'll be pushing, which I think is more enjoyable.
Recreate this idea using mop bucket
5. Baby Stroller
Another cute idea. You can find such baby strollers for an affordable price in all toy stores. However, instead of riding your dolls in them, this time you'll be riding your textbooks haha.
Recreate this idea using baby stroller
6. Toy Shopping Cart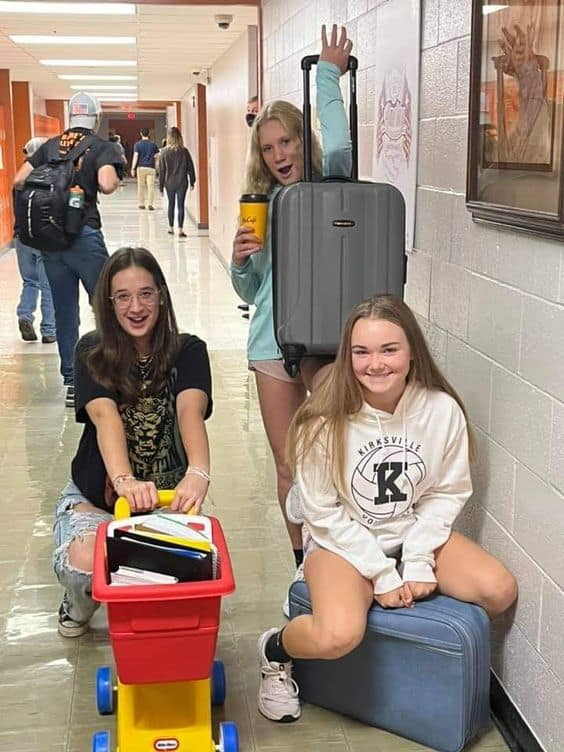 If you have a younger sister or brother who has such a toy cart, you can ask them to lend it to you for a day. Your classmates will love the idea and you'll be the reason for lots of smiles.
Recreate this ideas using mini shopping cart and luggage set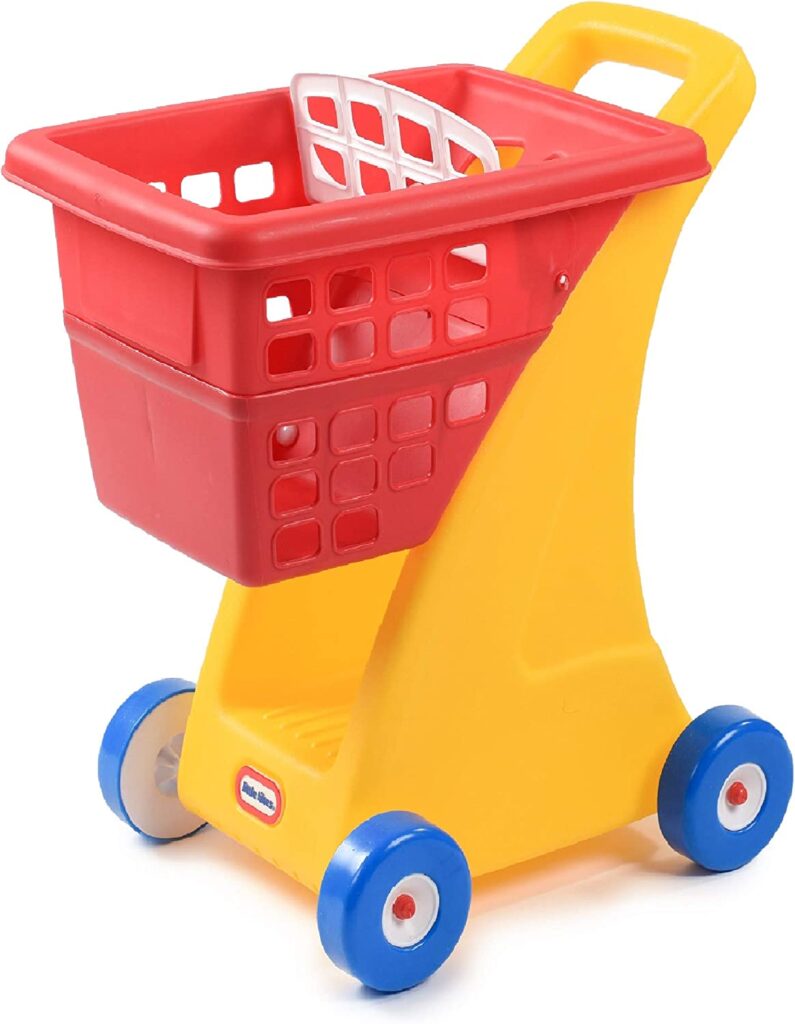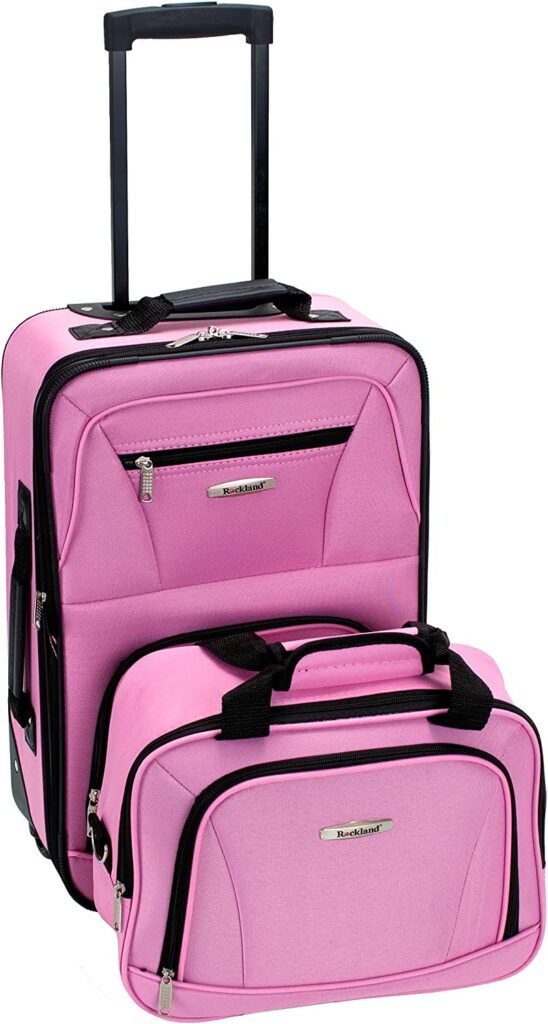 7. Pets Kennel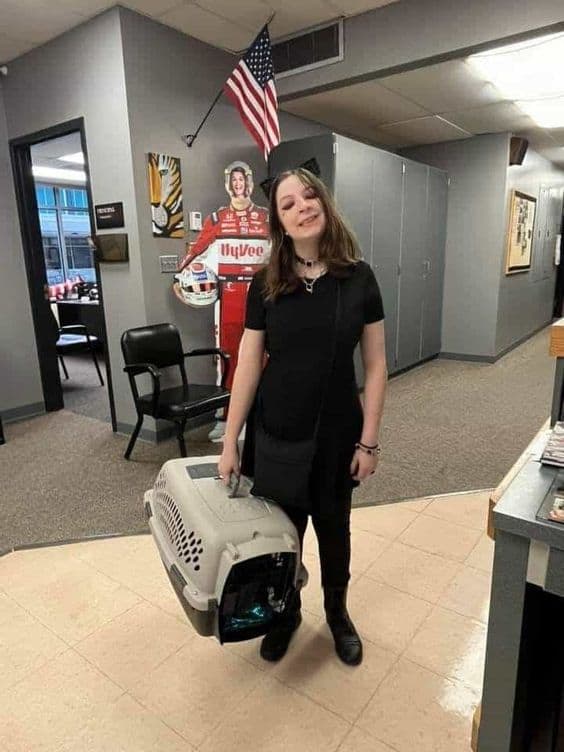 If you have a dog or a cat that you carry around in a pet kennel, it's time to make it useful for something else. For example to carry your school books in it lol.
8. Bucket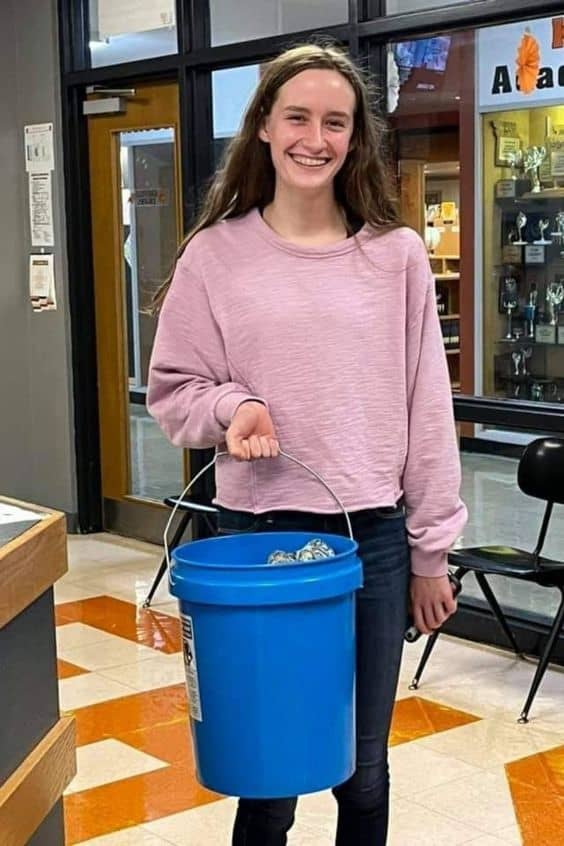 A lot of various things can be carried in a bucket. However, I strongly doubt that anyone in the past thought they could also be used for carrying textbooks lol.
9. Little Tikes Cozy Coupe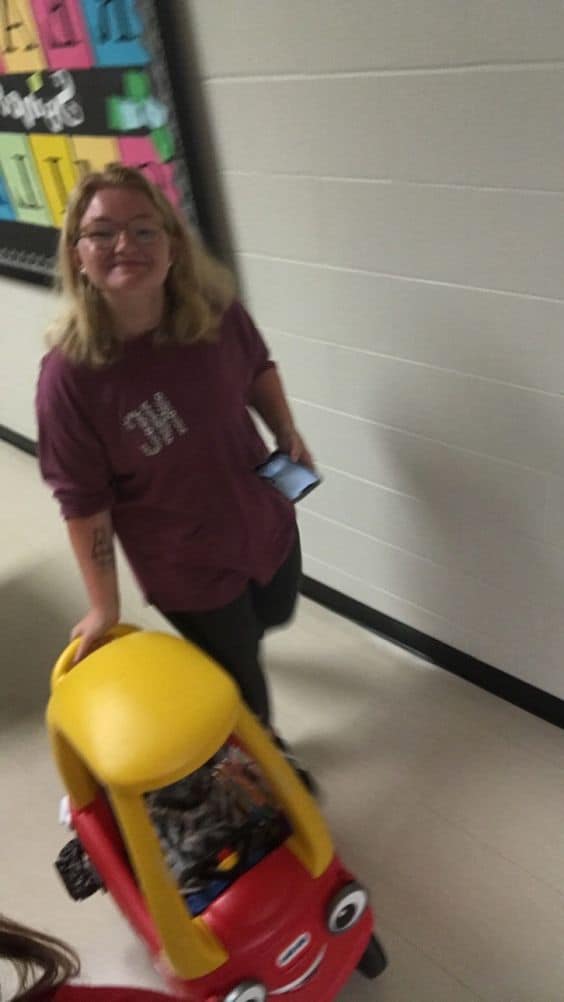 Time to borrow another toy from our younger siblings lol. It would certainly be spectacular to carry your school supplies in the Little Tikes Cozy Coupe.
Copy This Idea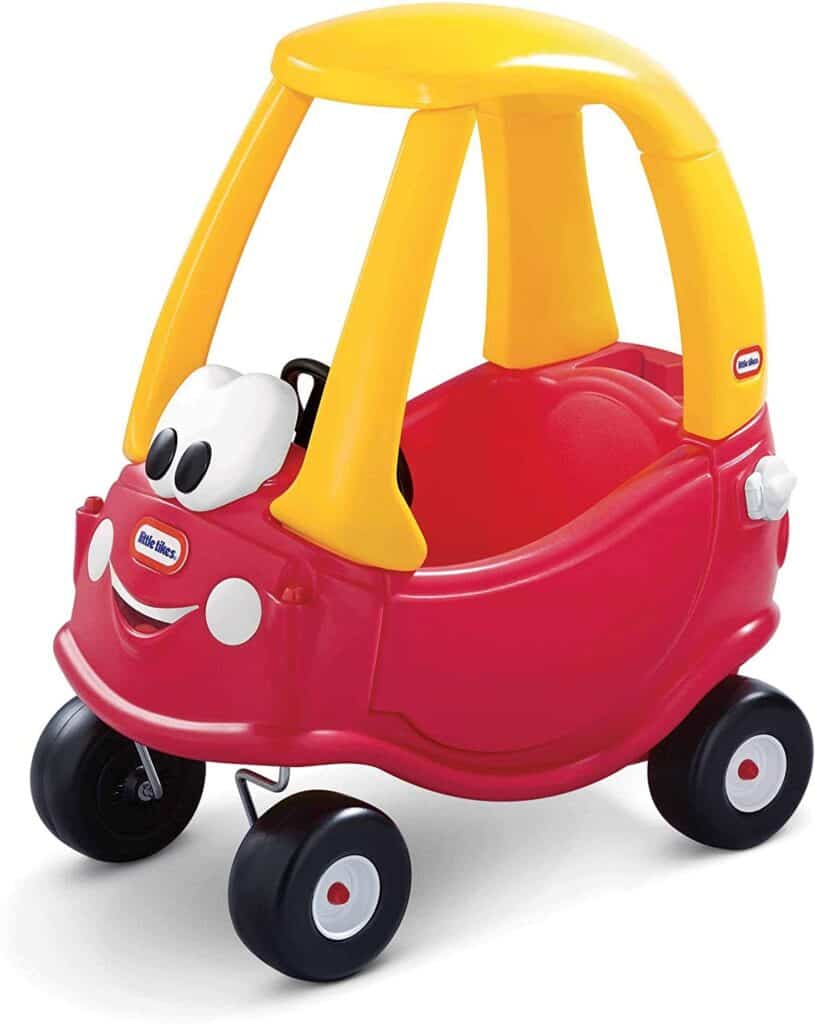 10. Picnic Basket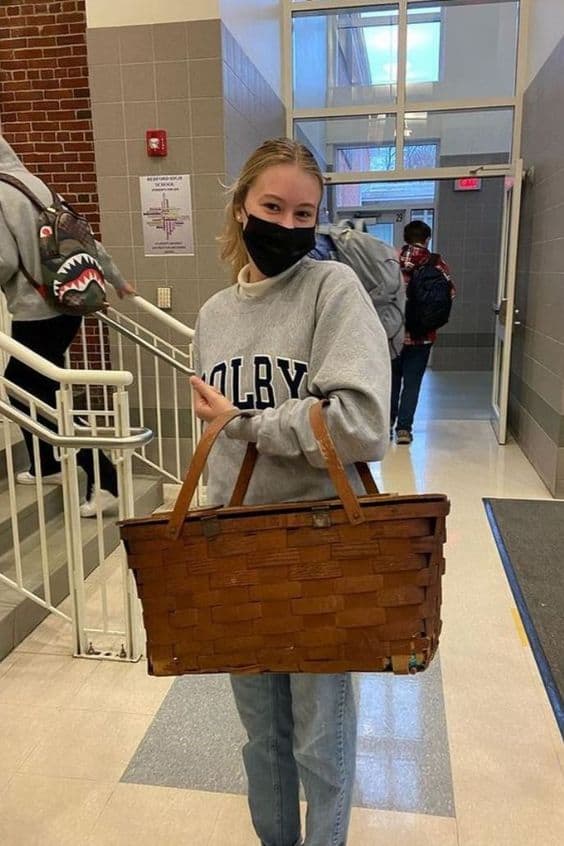 Your mom will hardly believe that you stole the picnic basket to carry your school books inside haha. In it, you can collect everything you need, including your lunch.
Recreate this idea using picnic basket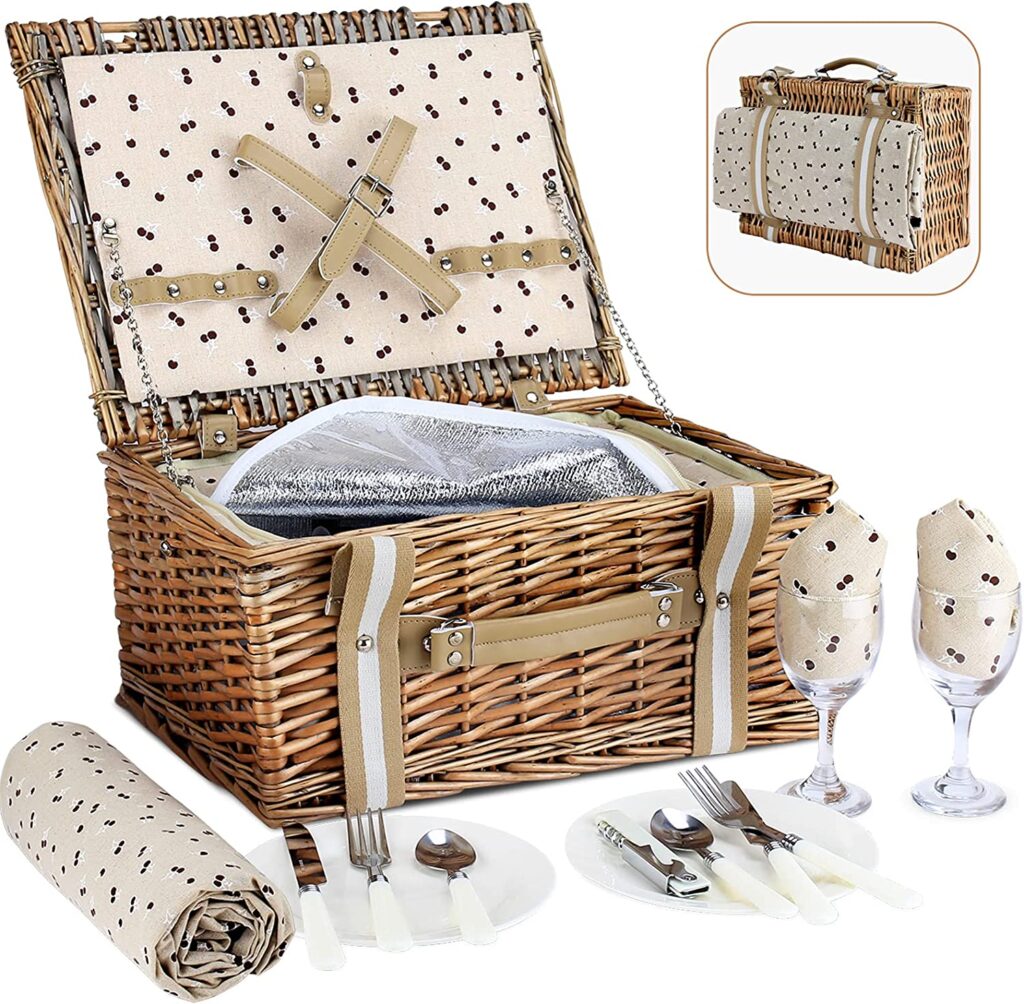 11. Suitcase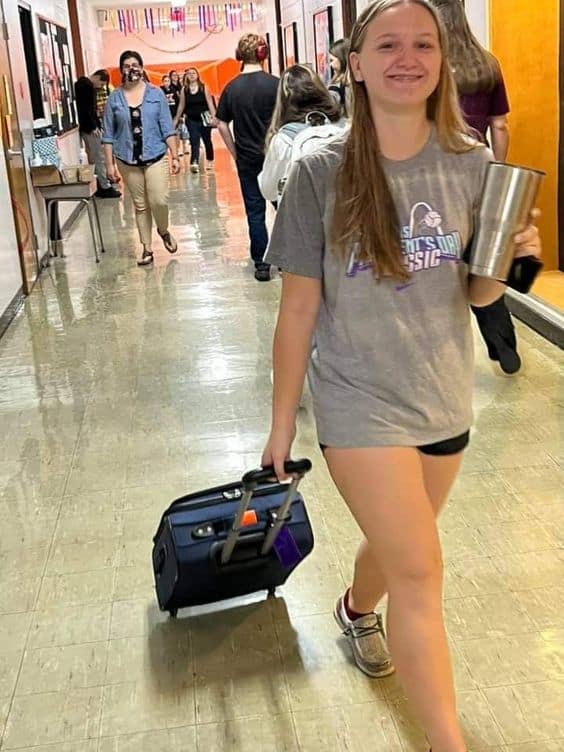 Take your textbooks on an exotic trip to school lol. A suitcase is surely a good alternative to a backpack and you'll be able to fit everything you need easily.
12. Microwave
I have to admit that carrying textbooks in a microwave is without a doubt the most unconventional idea on the list. However, I don't recommend this idea to the girls because microwaves are a bit heavy and you might get a bit tired carrying them around the school.
13. Road Traffic Cone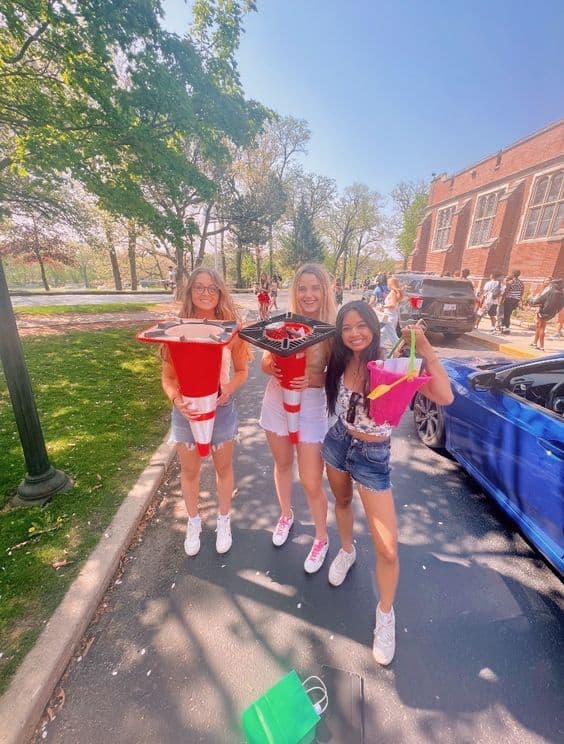 I've found a lot of pictures of people using a traffic cone instead of a backpack and it's a super original idea. Don't steal them off the streets though, buy them from Amazon lol.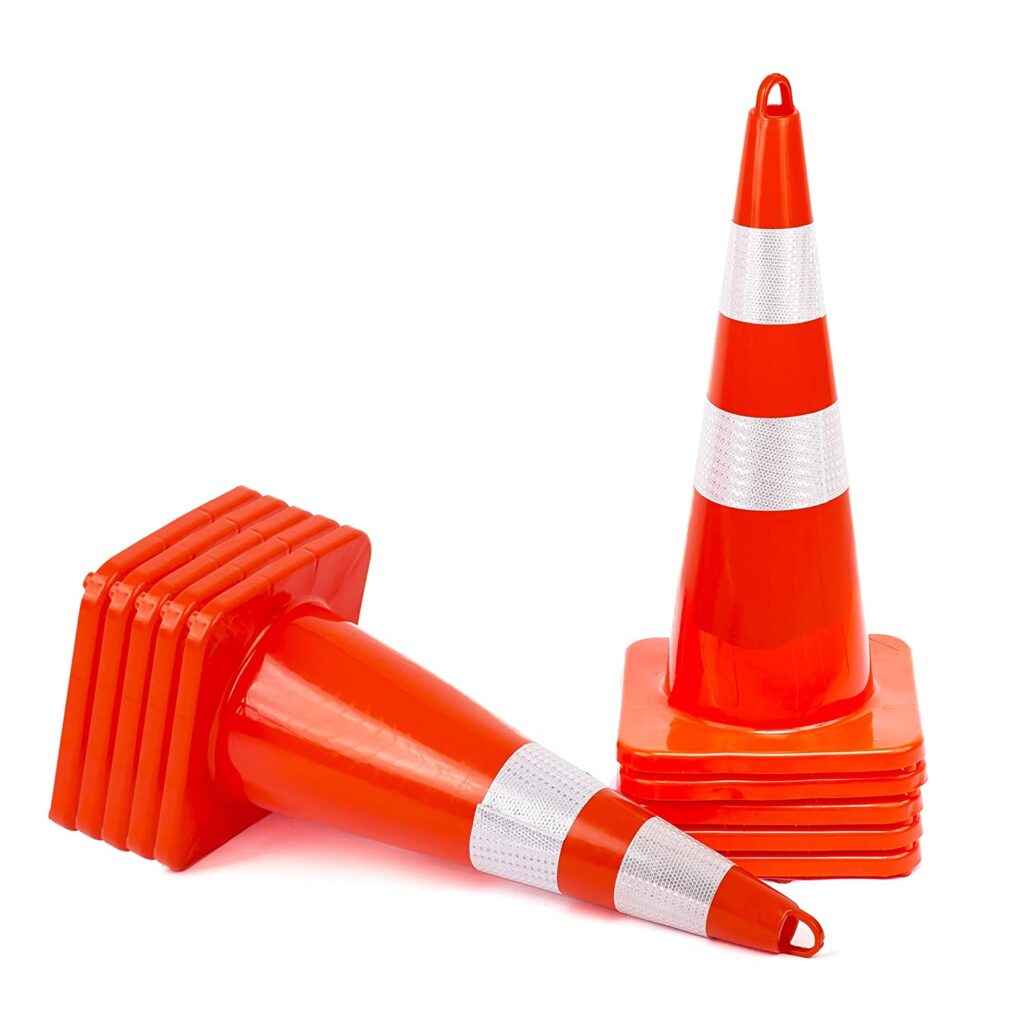 14. Laundry Basket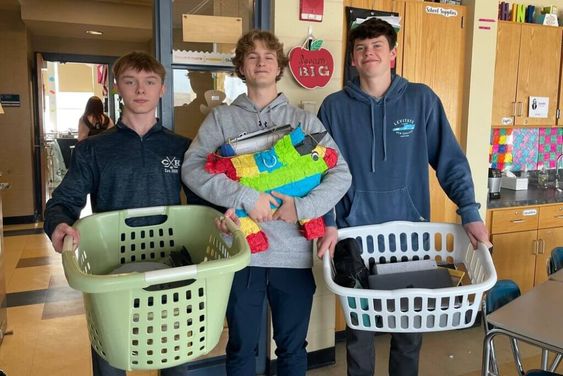 This is a very cool and fun idea to copy but definitely speak with your mom before you take their laundry basket haha.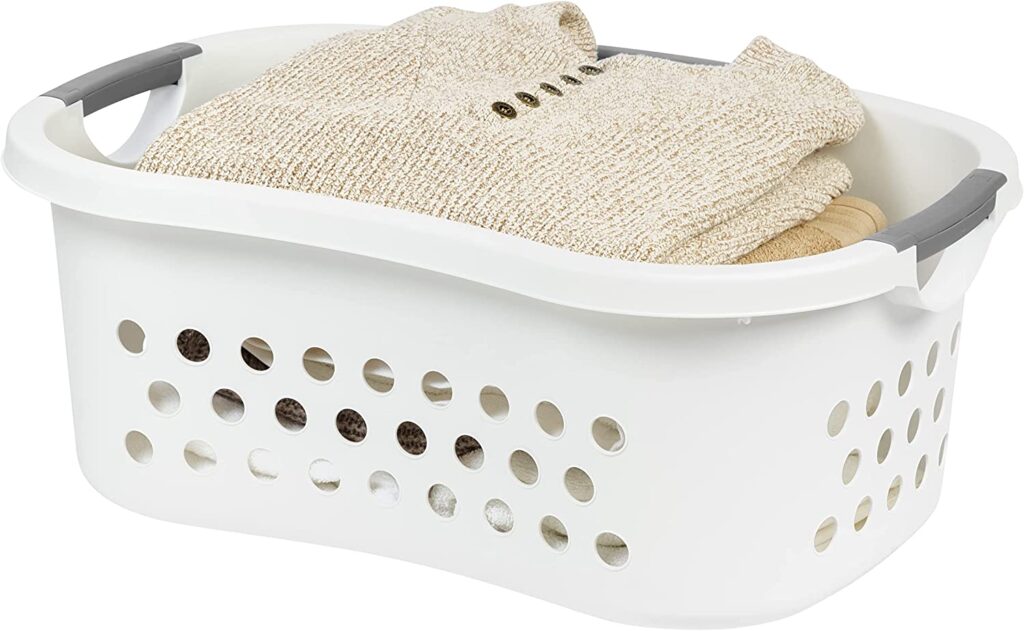 15. Toy Truck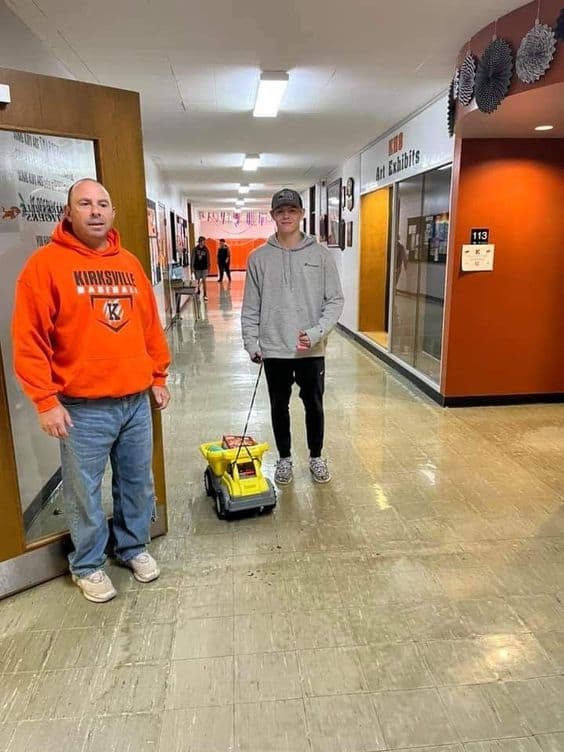 I'm guessing you've seen many kids that play with such trucks in the sandboxes. Here is the time to buy one and use it instead of a backpack. It will be very convenient because you don't have to carry it.
16. Cooking Pot
Let's hope your mom hasn't decided to cook something that day, because she'll be very surprised when she finds out that one of the pots is missing. It's easy to carry but keep in mind that there is not much room.
17. Toy Basket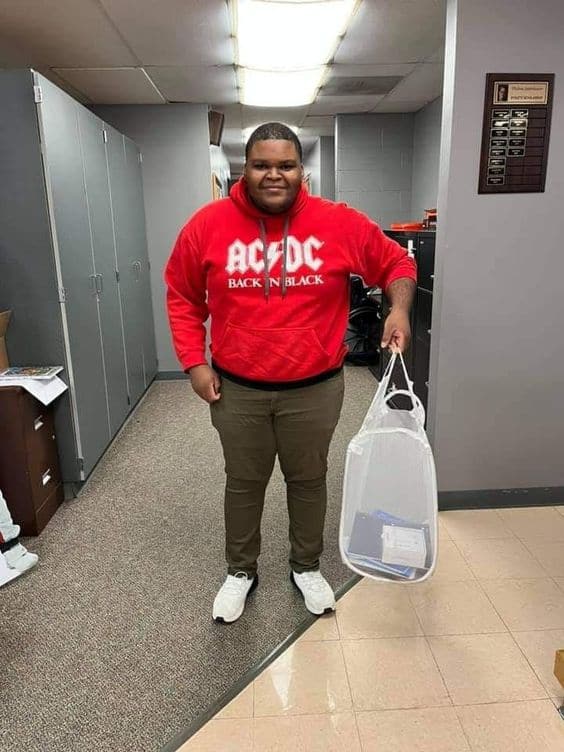 This is a very good suggestion because with a toy basket you can carry a lot of study materials without any problem. To make your 'new backpack' even more thematic, put a couple of toys in there as well.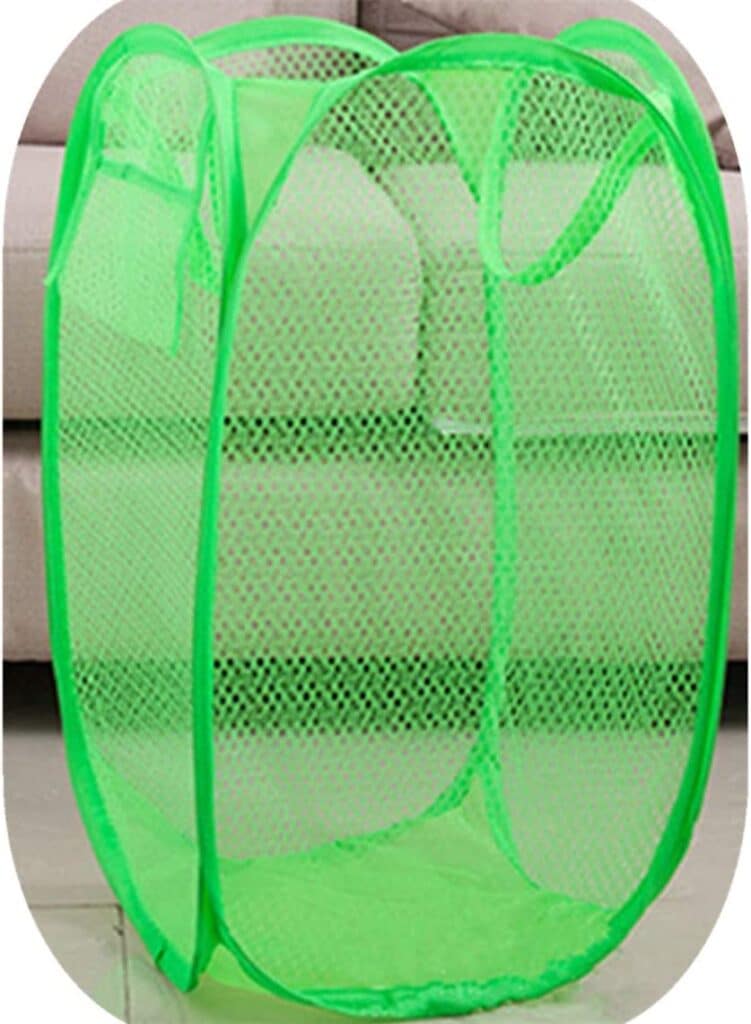 18. Guitar Case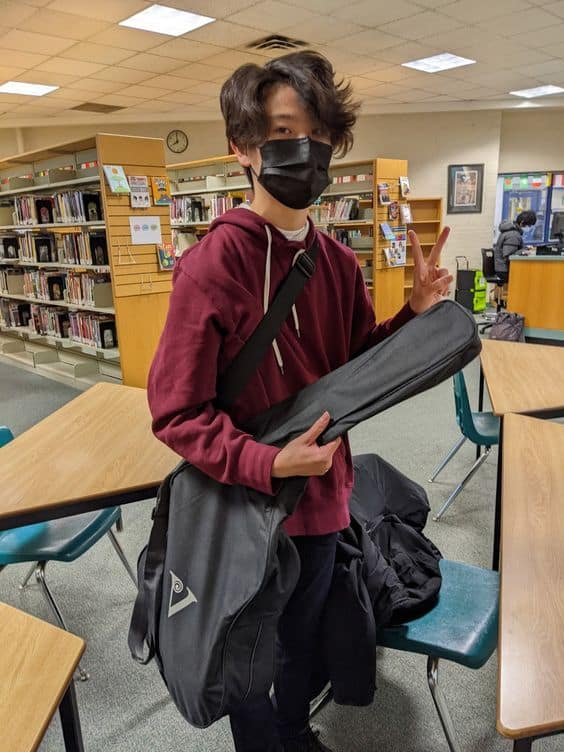 If you play the guitar or some other musical instrument, you can use its case as a backpack. This will work out very spectacularly and you won't be uncomfortable carrying it.
19. Shoe Box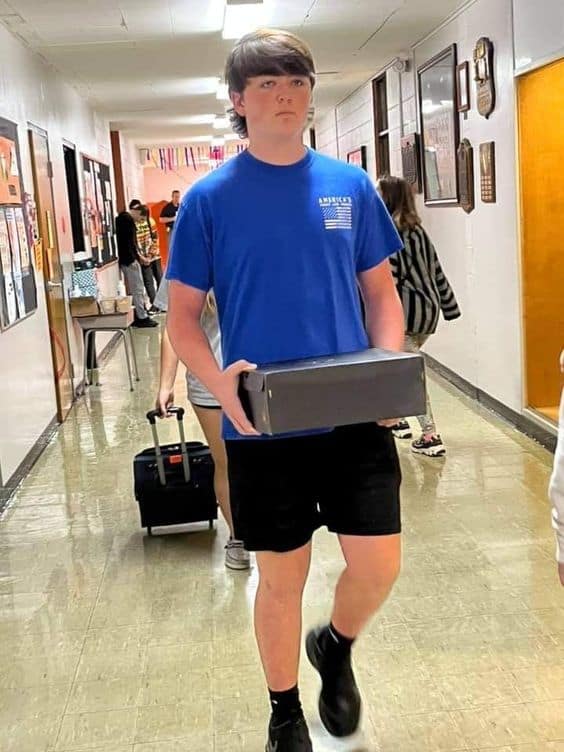 I'm a fan of this idea because it's super simple and at the same time hilarious. Look in your closet if there is any shoe box left and you are ready for Anything But Backpack Day.
20. Landing Net
Haha, someone made use of his fishing gear. Who would think to use a landing net for carrying textbooks lol? It's a genius idea and it's very handy because there's enough room for all of your school supplies.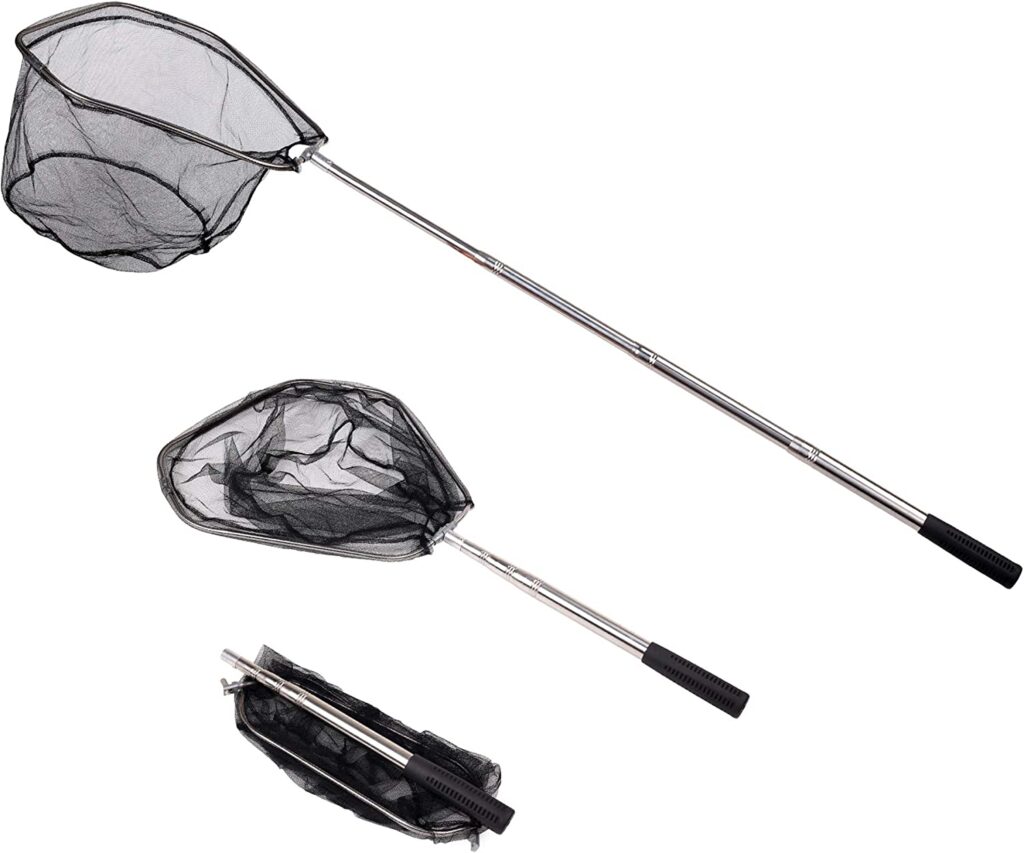 21. Vacuum Cleaner
If you decide to carry your school materials in a vacuum cleaner, I guarantee there won't be many like you because that is a very crazy, but also a brilliant idea. However, it will have to be a larger model to fit all your textbooks.
22. Bird Cage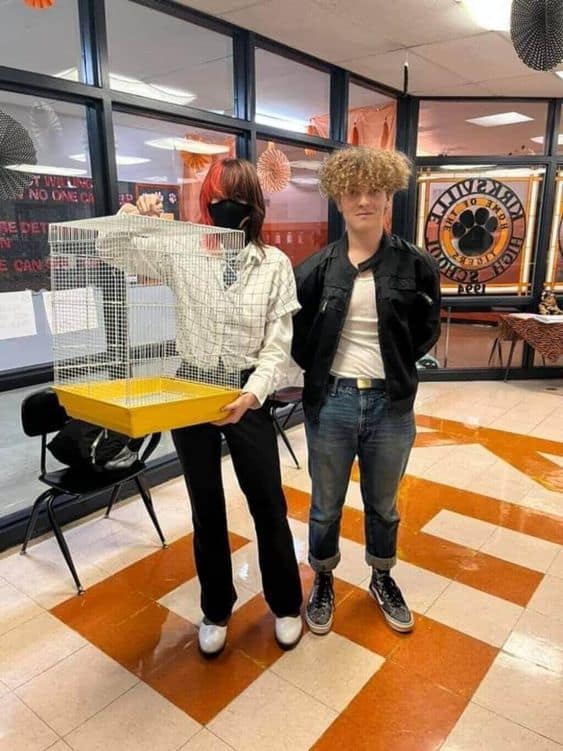 This is another one of the crazy and out-of-the-box Anything But Backpack Day ideas you can copy. If you have a pet bird, take its cage, clean it and come to school with it, fitting all your school books in it.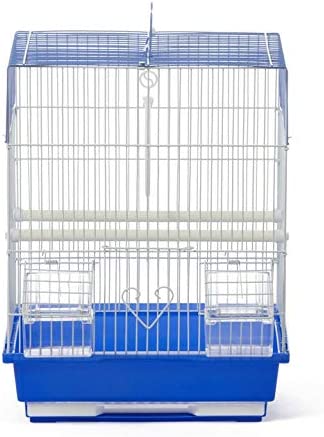 23. Armrest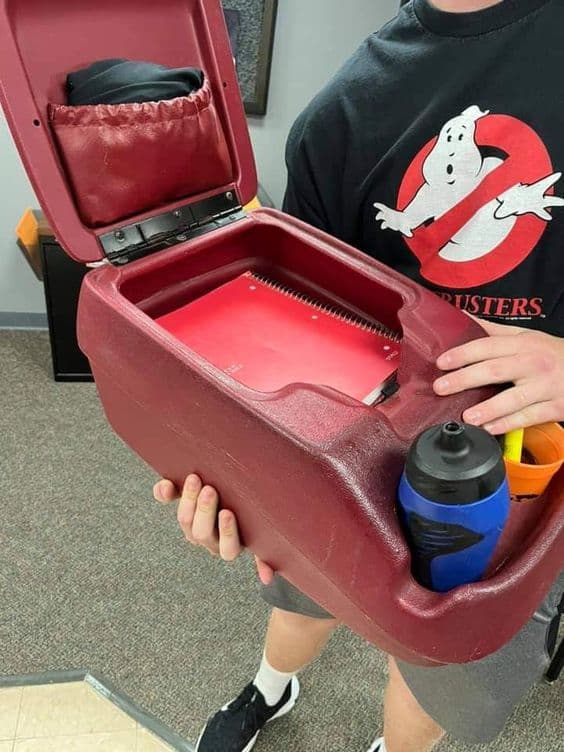 If you find an old car armrest why not use it instead of a backpack. It's very handy, has different sections and drink holders so it will do a perfect job at putting all sorts of things in it.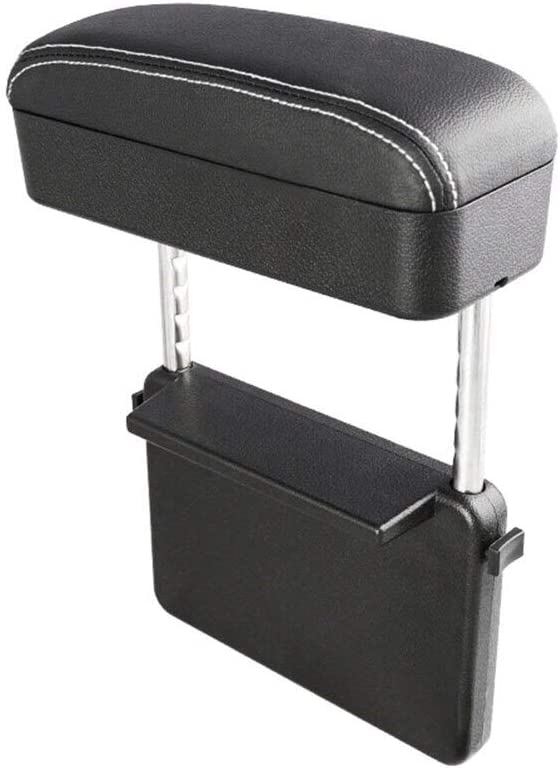 24. Bookshelf on Wheels
A rolling bookshelf instead of a backpack is one of the great Anything But Backpack Day ideas. It's spectacular, convenient, and definitely a fun idea.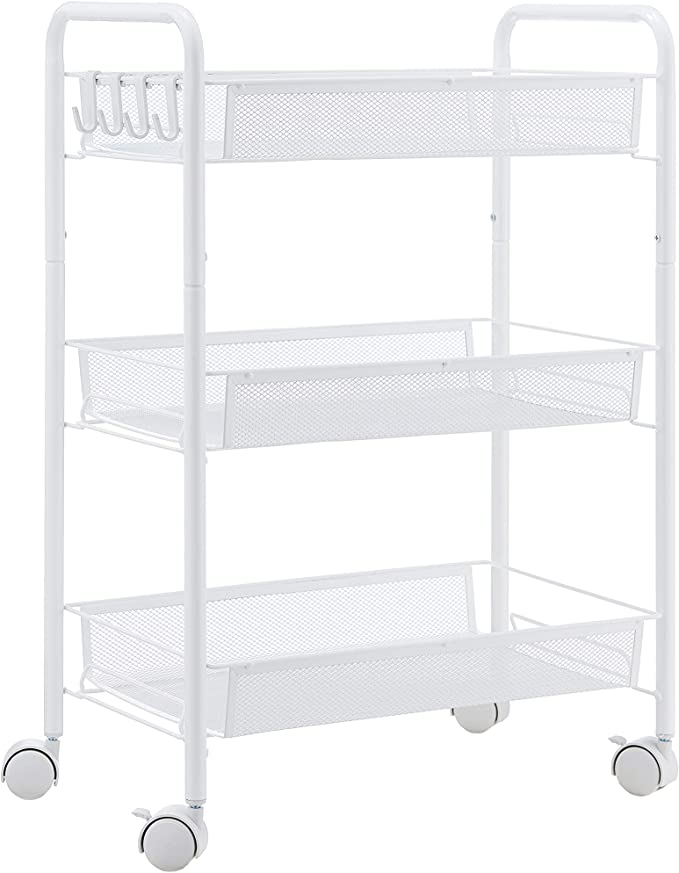 25. Trash Can
The only problem I see is getting the textbooks out of the bottom of the bin if it is a bigger one, but I guess a solution can be found.
26. Night Stand
If you have the strength to carry an entire cabinet around school, why not?! This idea is very cool, but it's harder to do because you need to have a lot of physical power to carry a whole cabinet back and forth. But at least you will have enough space for everything.. haha.
27. Shopping Cart
This is one of the popular ideas for Anything But A Backpack Day and it's impressive as well as a lot of fun. I hope that you don't steal all the shopping carts from Walmart now just for this themed day haha.
28. Golf Bag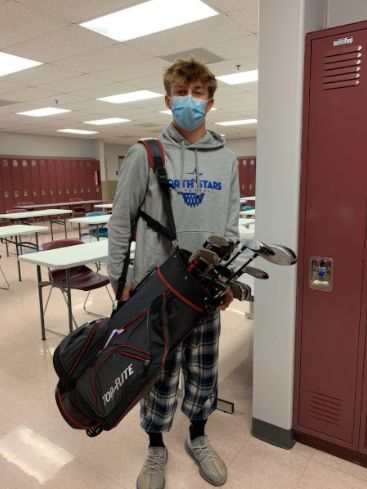 Now is the time to borrow something from your dad as well lol. If he plays golf and has a golf bag, you can use it instead of a backpack. Put also a golf club in there for a more finished look haha.
29. Briefcase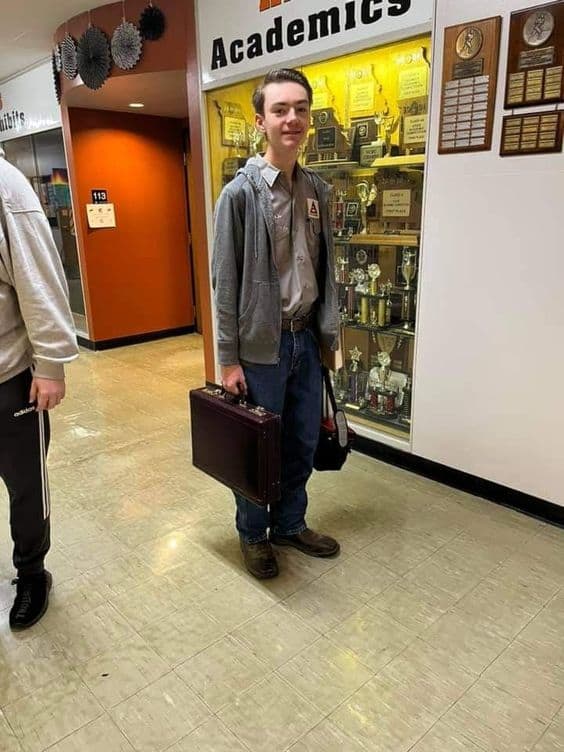 With this briefcase, you will look like a professor lol. But if you want to make it more interesting, you can buy toy handcuffs and handcuff yourself to the briefcase to make it look like you're carrying money in it haha.
30. Tool Case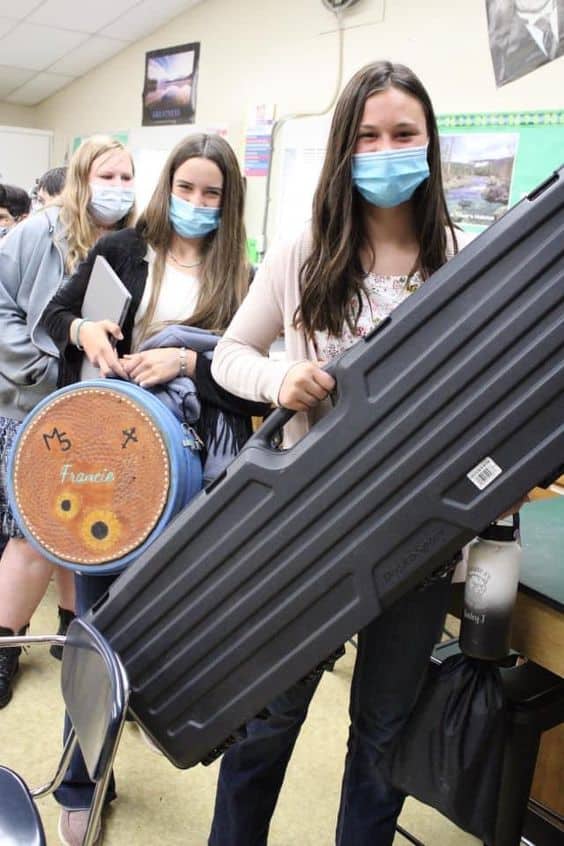 Wow, this is one large tool case. It will be able to store all your school supplies, there will even be plenty of free space left. I'd advise you to find a smaller model than the one in the picture because you'll be more comfortable while carrying it back and forth.
31. Gift Bag
I'm sure no one likes textbooks as a gift lol. But still, the gift bag remains a great idea for Anything But Backpack Day.
32. Cooler Bag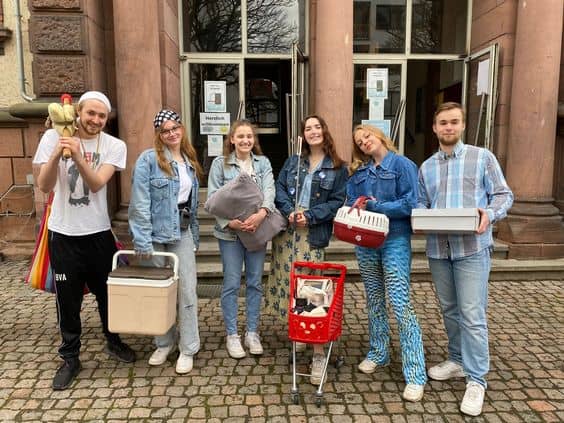 My absolute favorite on this list is the cooler bag. In it, you can carry your books as well as a chilled drink. It's a very original idea, which is also very handy because you can fit a lot of things in the cooler bag without a problem.
33. Sack Bag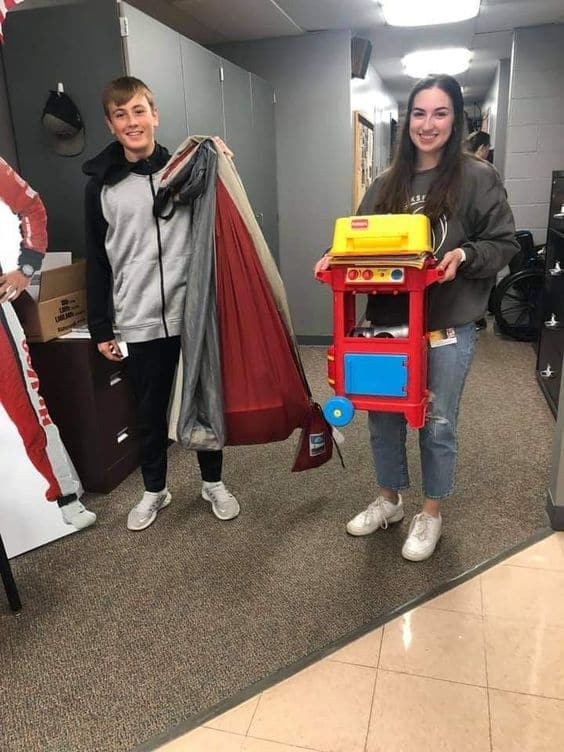 One of the most preferred backpack alternatives is the sack bag. Needless to say how many things can be packed in it while at the same time it is very convenient to carry.
34. Truck Toy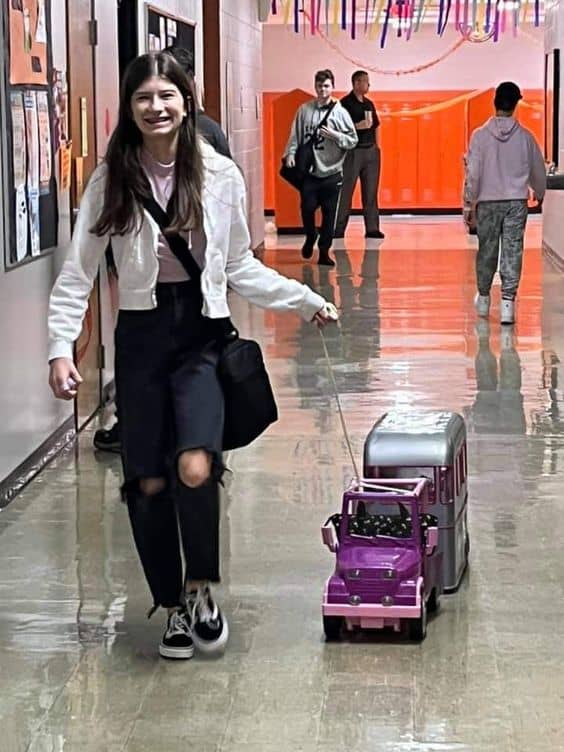 Instead of a backpack, use some truck or car toys in which you put your textbooks. It looks cool and you can easily move it around the hallways.
35. Kids Car
Again, if your younger siblings have a similar toy, borrow it for the day if they don't mind. In the end, you can repay them with a big chocolate bar haha.
More related posts to Read
You Read 35 Genius Anything But Backpack Day Ideas to Copy