Want to surprise your older brother with a nice present? This post presents the perfect gift ideas for a brother in college from his sister.
This post contains affiliate links, which means I'll receive a commission if you purchase through them. You will have no extra cost!
In life, it often happens that the most annoying people are our favorite. Everyone that has a brother or sister will understand perfectly what I am talking about. I have an older brother and as much as he irritates me sometimes, I will always love and support him no matter what. When he went to college I wondered for a long time what to choose for him as a gift.
After some digging on the internet, I found that the best gifts for the occasion are some practical decorations for a dorm room or sentimental accessories to remind him of you. Therefore, today I will share with you the perfect gift ideas for a brother in college from his sister.
18 Perfect Gift Ideas for Brother in College
1. Flannel Throw Blanket
Give your brother a warm hug in the form of a blanket. It can be personalized with different messages that will remind him how important he is to you and express your affection for him. To make the present even better, wrap the blanket with stylish wrapping paper.
Related post: 23 Christmas Wrapping Paper Ideas For 2022
2. Matching Heart Necklace
Want to gift your brother something very sentimental that will always remind him of you? A suggestion of mine is to buy two necklaces that when combined form a whole piece together. This present is very interesting and symbolic because it shows extremely well how strong your bond is.
3. Brother and Sister Bracelet
If your brother does not like necklaces, you can replace the previous suggestion with bracelets. Еngrave messages on both bracelets that will remind you and your brother that even if you are far away you are always together.
When people go off to college it is often hard to adjust in the beginning. Often your brother will need something to motivate him that there are people who believe in him. Such a bracelet can be a source of strength and a sweet reminder of you.
4. Multi-tool Hammer
Boys will be boys. Very often, if there is some small damage in their dorm room, they will try to fix it themselves. In these cases, this multi-tool will be of great use to your brother, so if you are a fan of practical gifts, this is the right one.
5. Tommy Hilfiger Men's Leather Wallet
A new wallet is always a good gift idea. Choose one that your brother will fall in love with. Moreover, put a family picture in it with a message to remind him of you and your support.
6. Keychain Big Brother Gifts from Sister
A key chain with a personalized message is another great idea. Now that your brother will live in his new dorm room, his keys will certainly become more. This is a practical gift for the occasion so he can keep everything well organized.
7. Beanie Hat
The Bluetooth hat is one of the coolest presents on this list. It will keep your brother warm and allow him to listen to music while walking or jogging. This is a very interesting and original gift that will appeal to every brother in college.
8. Sandwich Maker
Food takes an important place in every student's life. Most young people learn to cook and build their eating habits while in college. Because of that, a great gift for your brother will be an appliance for making sandwiches. Sandwiches are quick and easy to prepare, but can also be healthy. I am sure, this present will come in handy many times for your brother.
Related post: 10 Ways to Organize Your Food in a Dorm Room Mini Fridge
9. Wood Phone Docking Station
This is an especially useful gift for any man because we all know how irresponsibly 90% of men treat watches, glasses, etc. This accessory holder is great as a gift for your brother because thanks to it, he will have a special place to leave all his small belongings.
10. Best Brother Ever Cup
Coffee plays a big part in many students' daily life. They need caffeine during the long hours of studying and visiting different (often boring) lectures. Therefore, a nice gift for your brother could be a mug with a cute design.
11. College Graduation T-shirt
A t-shirt is always an adequate gift idea because there will always be a situation where it comes in handy. You can get him one with a design of his favorite video game or car brand, or you can go for something more formal like a collared t-shirt. T-shirts with funny and catchy inscriptions are also very popular among college students.
12. Backpack Gift for Brother
A backpack as a gift for college – I don't think you can find something more useful and appropriate. Find out if your brother still doesn't have a nice college bag. If that's the case, this is your chance to surprise him with a practical present.
13. Portable Espresso Maker
This is the best choice for me personally. If your brother drinks coffee every morning, get him a portable coffee maker that will fit perfectly in his dorm room. Don't forget to include his favorite coffee to go with the machine. In addition, you can also combine this present with the mug from number 10 on this list.
14. Portable Book Lamp for Headboard Camping
Every student needs such a lamp. It's no secret that there are countless sleepless nights in college spent studying. For that purpose, such a lamp would do the perfect job. You can hang it on your bed, desk, or wherever else you see fit.
15. Home Office Lap Desk with Device Ledge
Such lap desks are also a great option as a gift. I promise that your brother will be happy to own such a thing because he will be able to do most of his computer work from bed in peace and comfort. This is a very handy desk because it has a separate place for a mouse, a phone holder, and enough space for a laptop up to 15.6 inches.
16. Cover Case for MacBook
Another cool gift you can give your brother is a colorful laptop protector. Choose one with some interesting print on it that your brother will appreciate. This cover case will make your big brother think of you every time he uses his laptop.
Related post: 30+ Best Guys Dorm Room Ideas To Copy
17. Wall Art Black and White Lion Head Portrait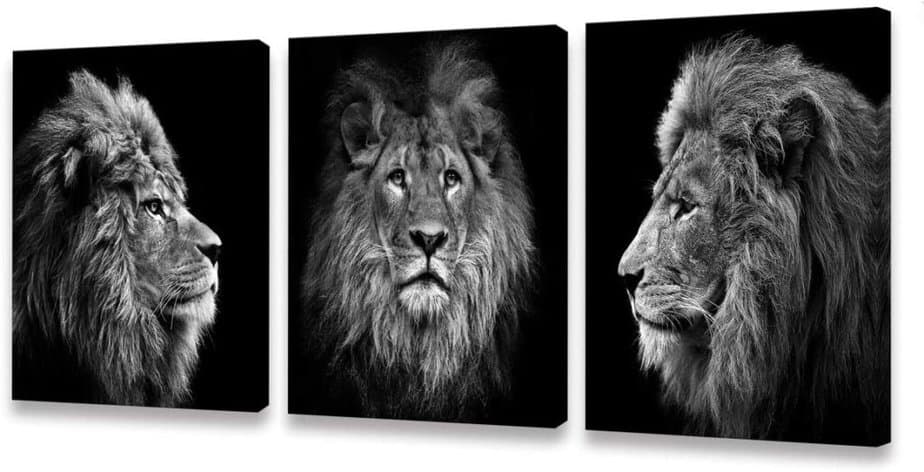 Here's another gift to serve as decoration for your brother's new home. Ask indirectly what he would like as wall decor in his dorm room. Some popular options are pictures of a favorite video game, football team, animals, anime show, etc.
18. Digital Alarm Clock
One very useful thing that I forgot to buy at the start of my college years was an alarm clock. Pick one with a cool design as a gift for your brother. Alarm clocks are a student's best friend, believe me. This device will surely come in handy many times.
related posts you may also like
This post showed you 18 Perfect Gift Ideas for Brother in College From Sister