Do you want to know how to make the perfect graduation candy buffet? In this post, you'll find 22 candy table ideas that will impress all your guests at your graduation party!
This post contains affiliate links, which means I'll receive a commission if you purchase through them. You will have no extra cost!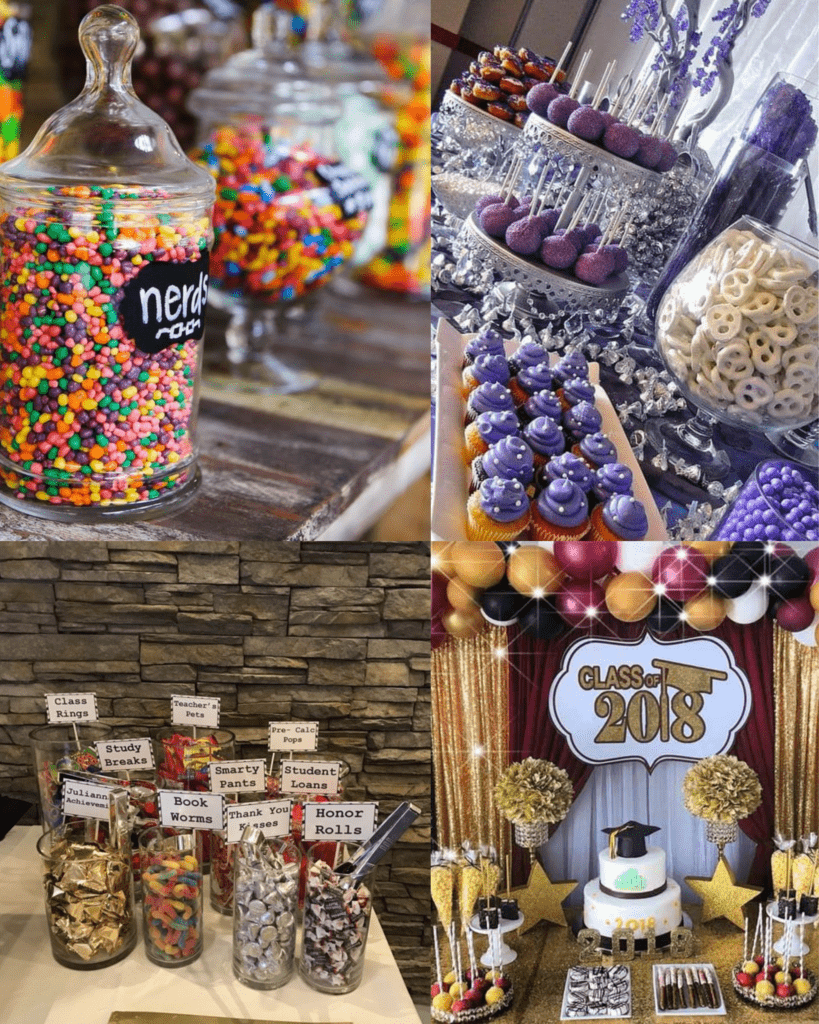 Whether it's high school or college graduation, you must throw a party to celebrate your success and the beginning of a new chapter in your life.
Needless to say, you want to make sure the celebration is well organized and that all your guests have a great time. So now you are thinking about things like appropriate decorations and food for your graduation party. And maybe you also thought of having a candy buffet?
If so, in this post you'll find lots of suggestions on how you can make your graduation candy table look amazing and delight all your guests who have a big sweet tooth just like me lol.
What Is a Graduation Candy Buffet?
The graduation candy buffet is a table on which all sorts of candies are attractively displayed in jars or other glass containers. This table should be further decorated with ornaments that represent the theme of your party, namely your high school or college graduation.
What Do I Need for a Candy Buffet?
You will need a table with a beautiful tablecloth on which to place the glass containers for the candy. These containers can be labeled and decorated with graduation ornaments. There may be any type of candy, but it is advisable to have them all in the same or at least matching colors.
How Much Candy Do I Need for 30, 50, 100 People?
About 7 to 15 pounds for 30 guests, 12 to 25 pounds for 50 guests, and 25 to 50 pounds for 100 guests. If you provide about ¼ to ½ pound of candy for each guest, then there should be enough for everyone and not much left after the party.
22 Graduation Candy Buffet Ideas
1. Candy Bar
Such a candy bar can be placed close to the entrance of the venue where the graduation party will be held. This way, everyone will be able to treat themselves on the way in and out of the celebration.
2. Glass Jars With Labels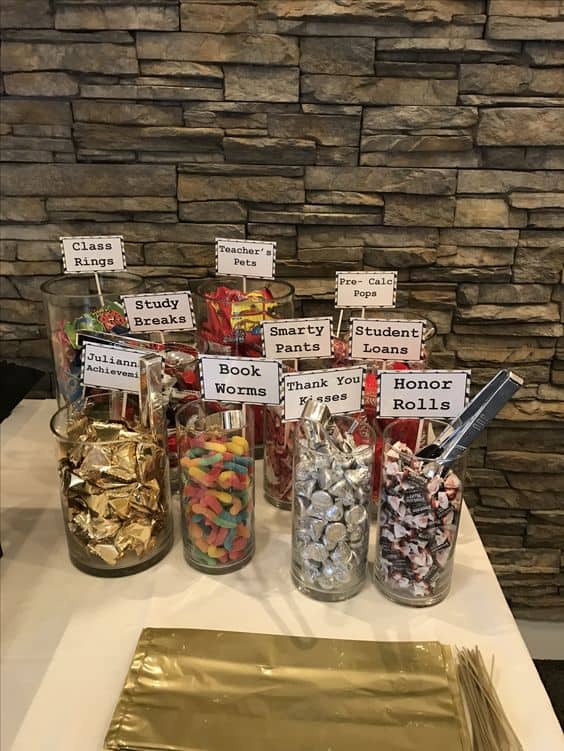 Most often, glass jars are used as containers for the candy buffet. They can be in any shape and size.
My advice is to arrange the smaller ones in the front and the taller ones in the back for better symmetry. You must not forget that the candy table also plays a decorative role as well.
Recreate this idea with graduation candy jars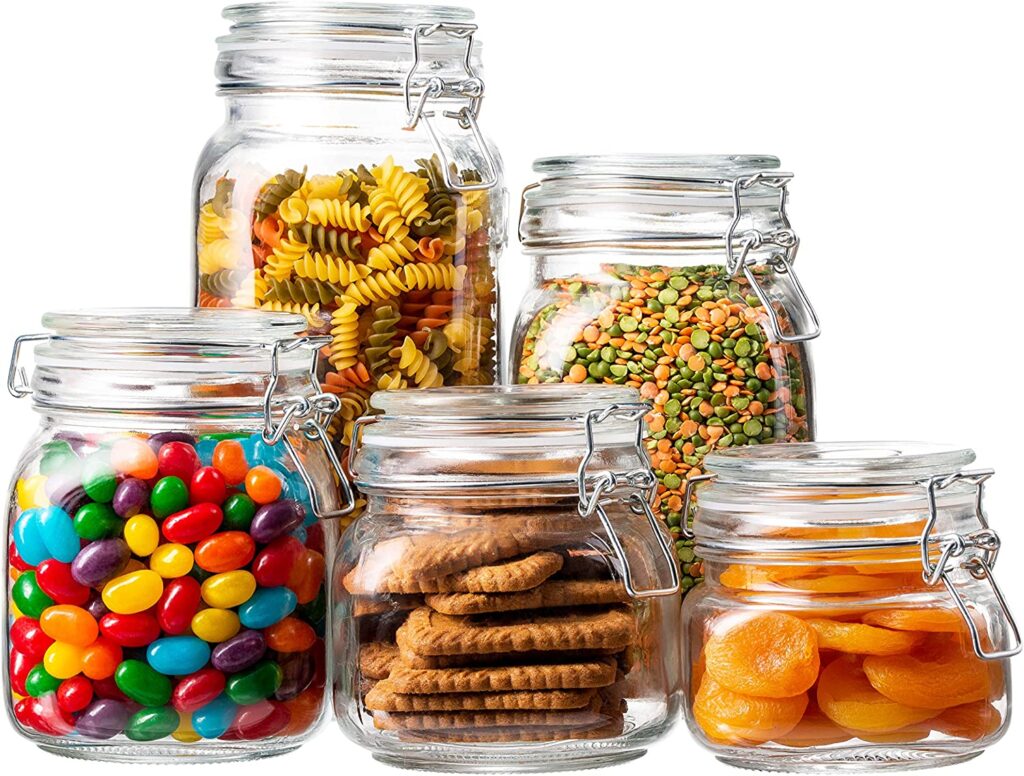 3. Buckets as Candy Containers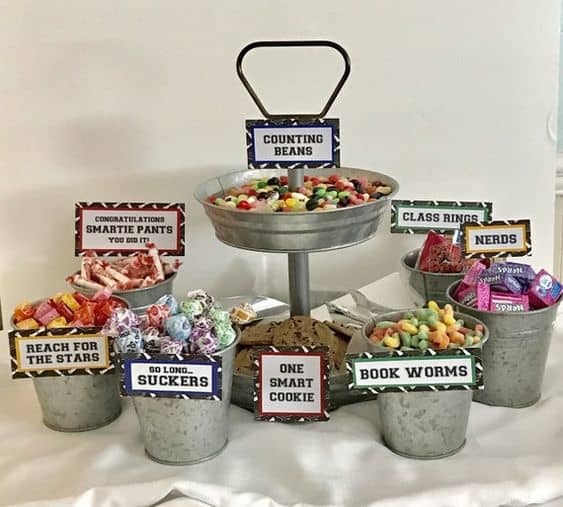 Instead of glass jars, you can also use buckets and fill them with sweets. Each bucket can contain a different type of candy and you can label them with humorous messages.
Recreate this idea with graduation candy labels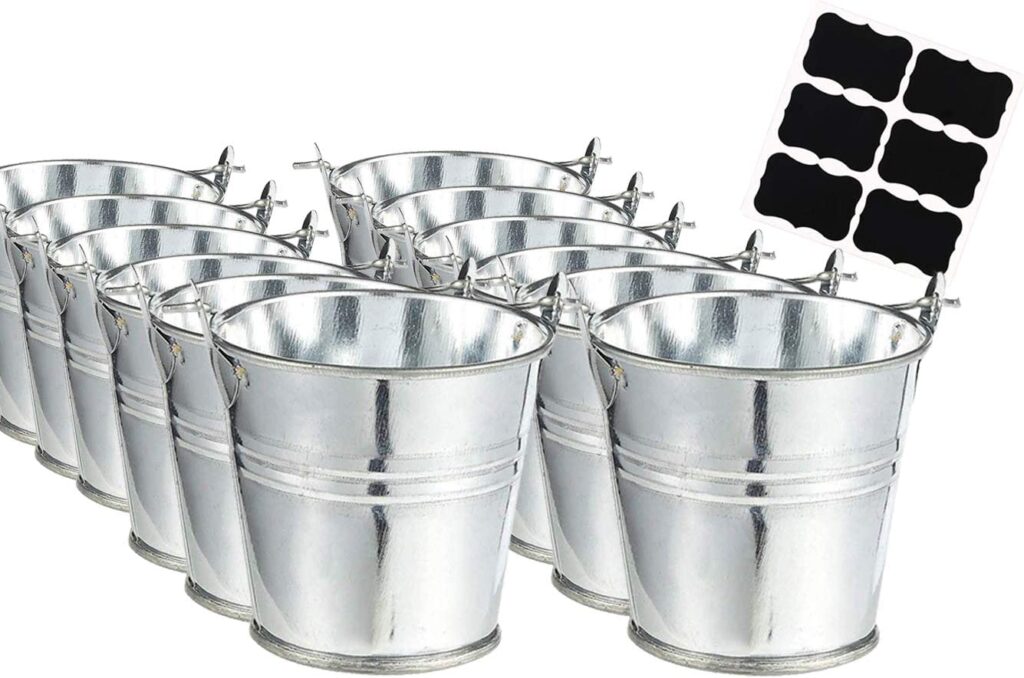 4. Tier Tray Cupcake Stand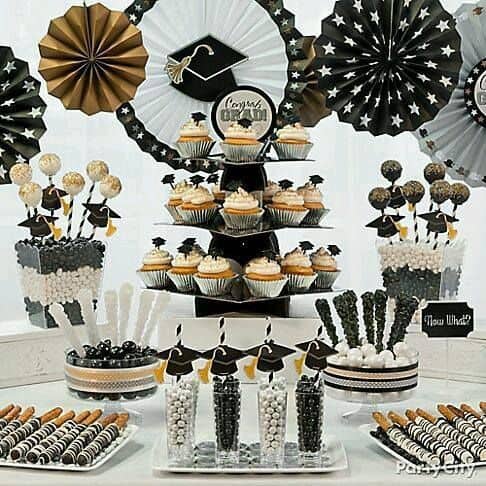 These cupcake stands will always bring a lot of style and a well-organized look to the candy table. Decorate each tier with ornaments that show the theme of the party.
Recreate this idea with mini graduation cap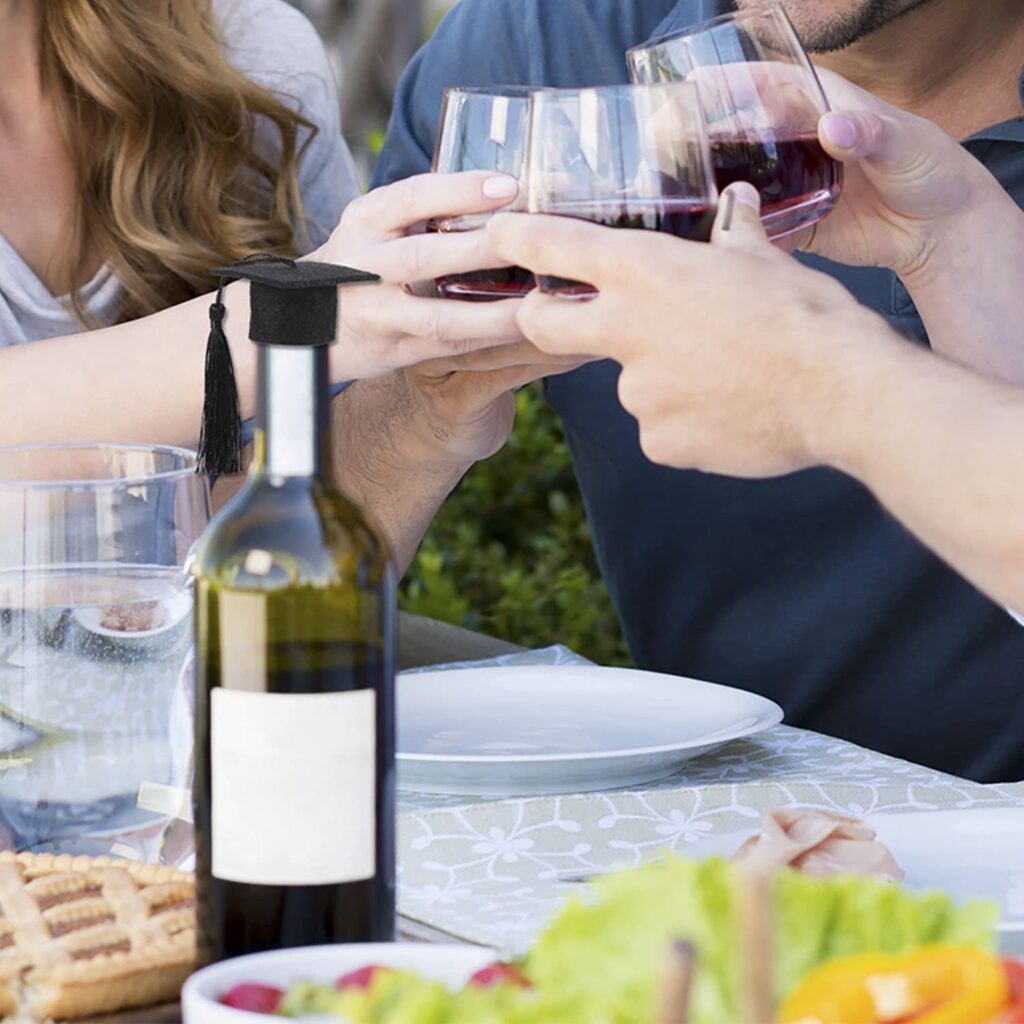 5. Glass Storage Jars
I would say that these storage jars are perfect if the graduation party is going to be held somewhere outdoors. By using the lid, you'll have peace of mind that insects won't get to the sweets and ruin your candy table.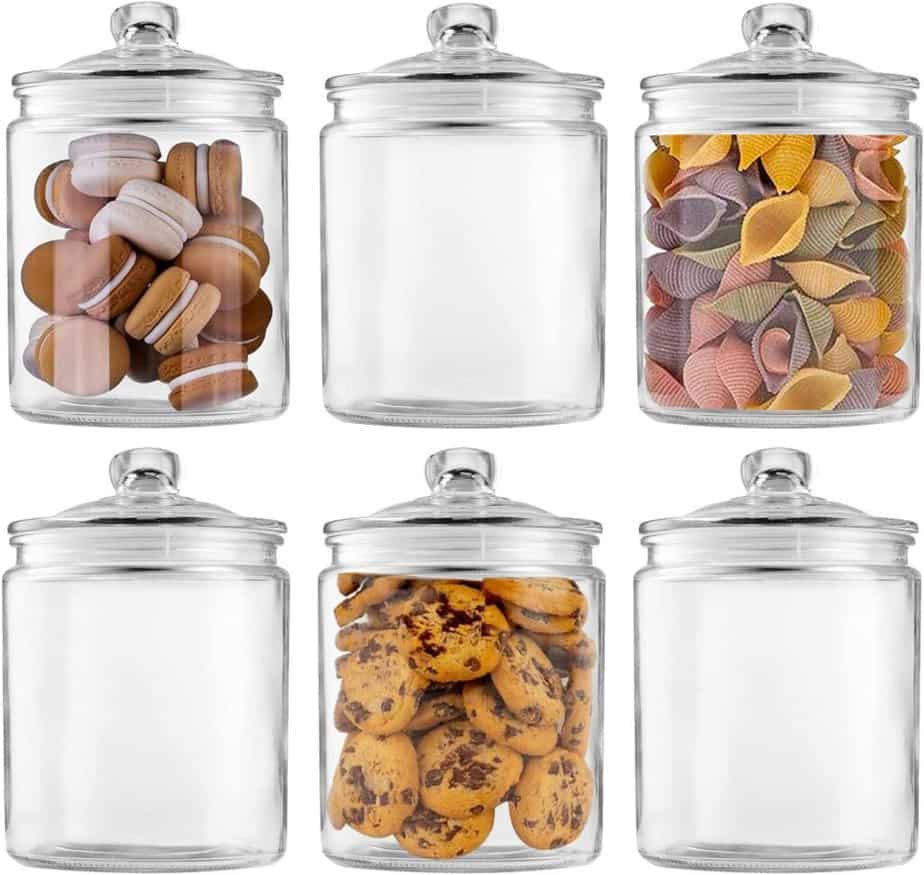 6. Balloons and Garlands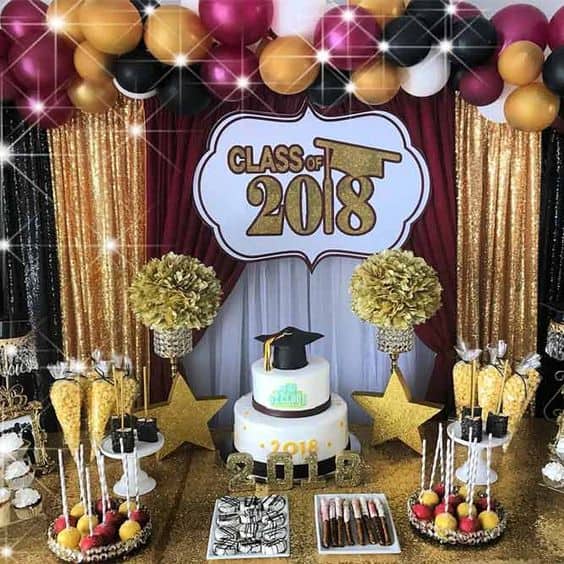 Things you can decorate your candy buffet with are for example colorful balloon bouquets with graduation wishes. Another great suggestion is to put garlands on the candy table to enhance its design.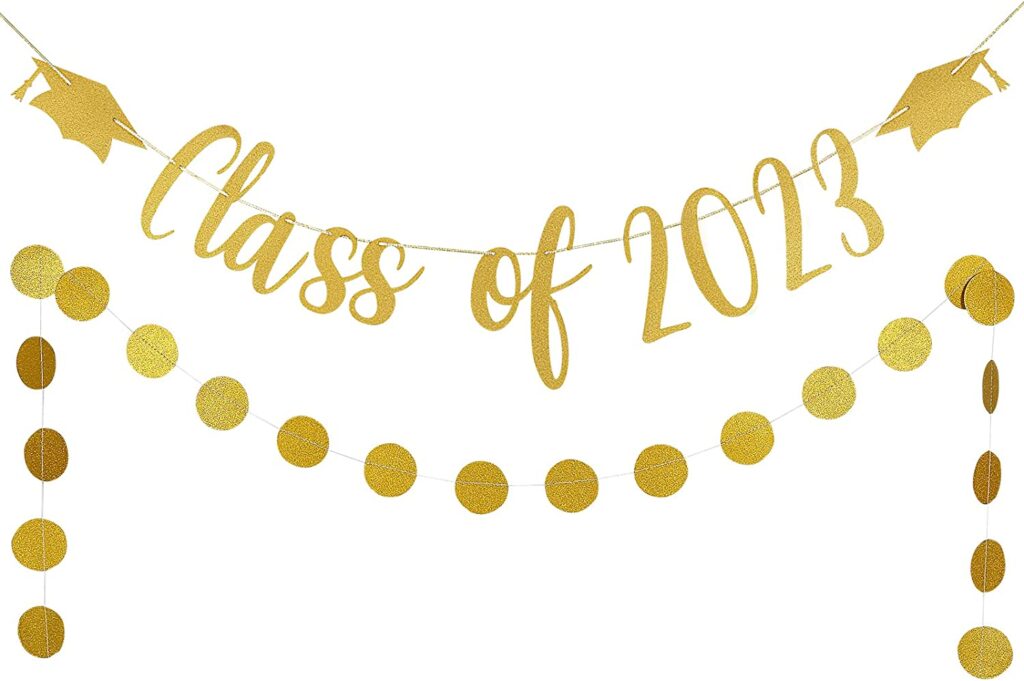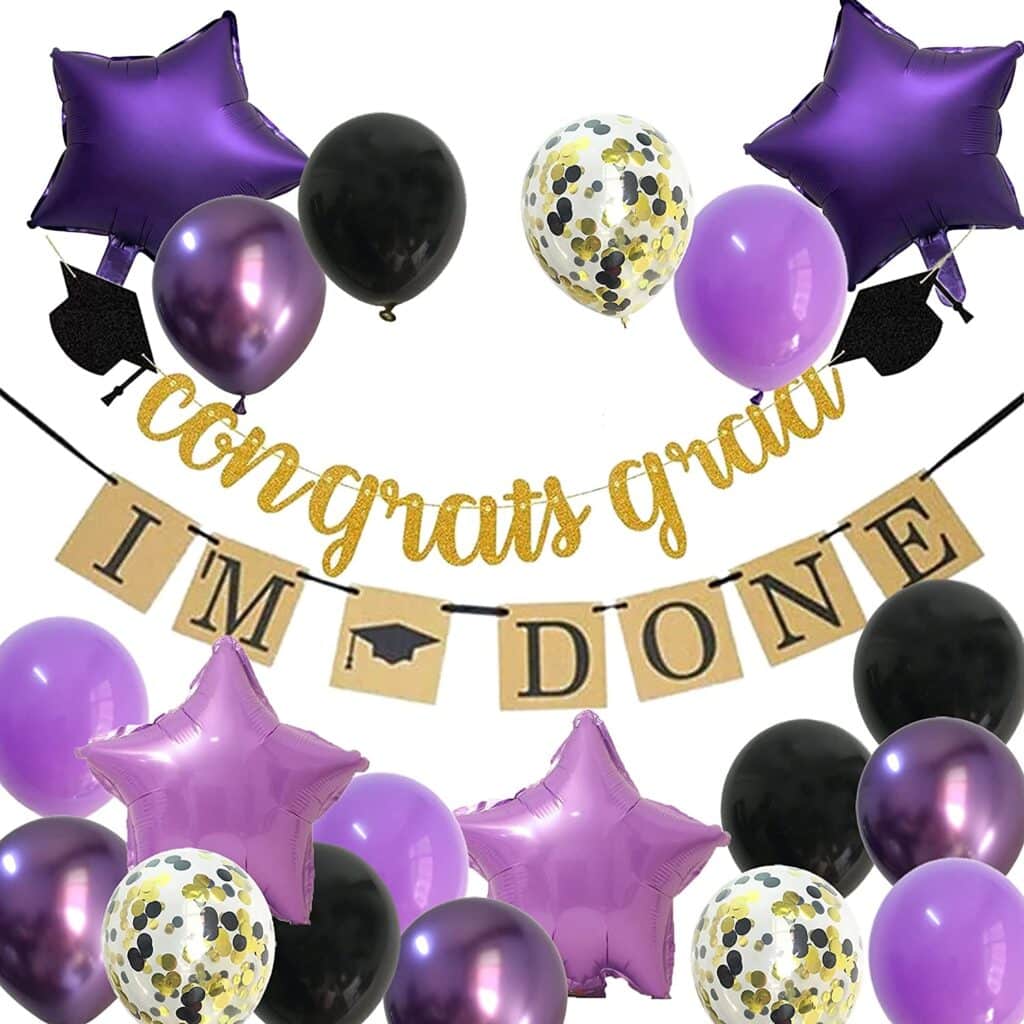 7. Sweet Success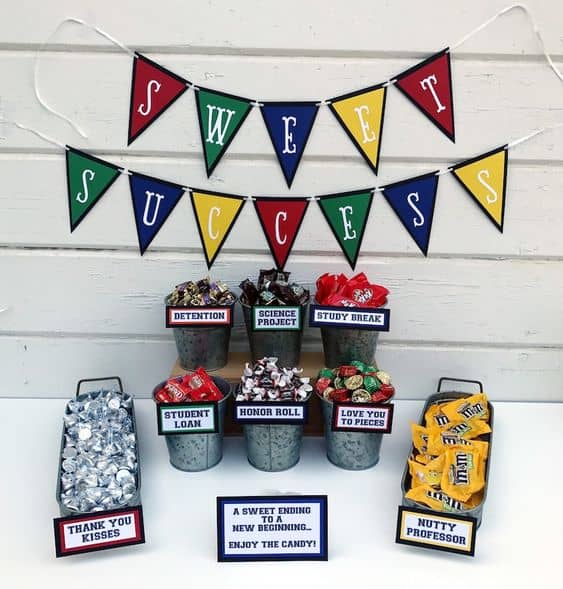 Apart from cool containers for the sweet stuff, you can also put different signs and banners over the table to make it even more festive and beautiful.
These signs are available in many online stores, but of course you can make them yourself. It's not complicated, it will just take you some time.
8. Purple Graduation Candy Table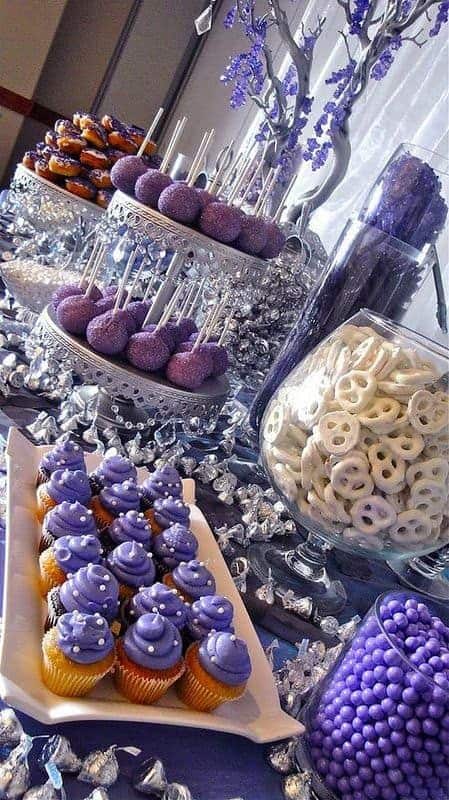 One way to make your candy buffet more attractive to your guests is to choose one color and stick with it. This means that the tablecloth and most of the sweets should be in that color entirely or at least partially.
Use these Cupcake Toppers to make graduation dessert look fantastic!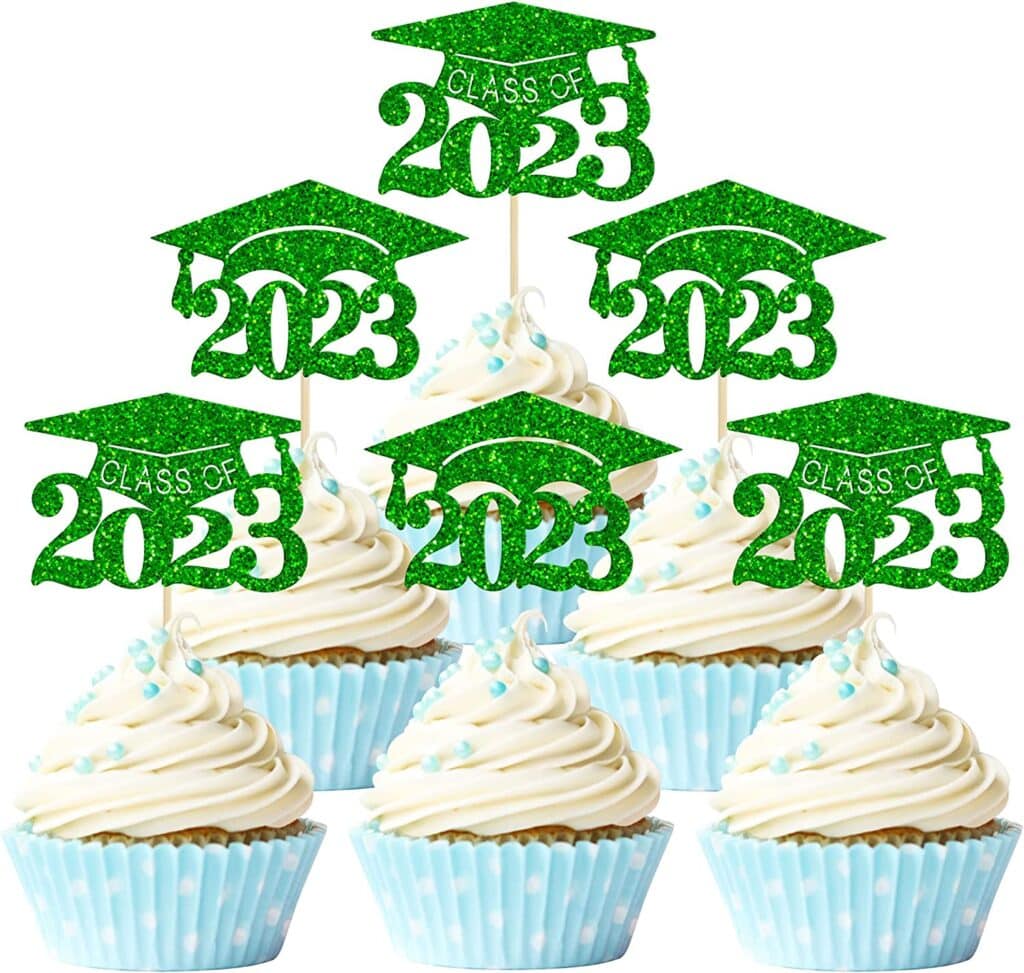 9. Chalkboard as a Table Decoration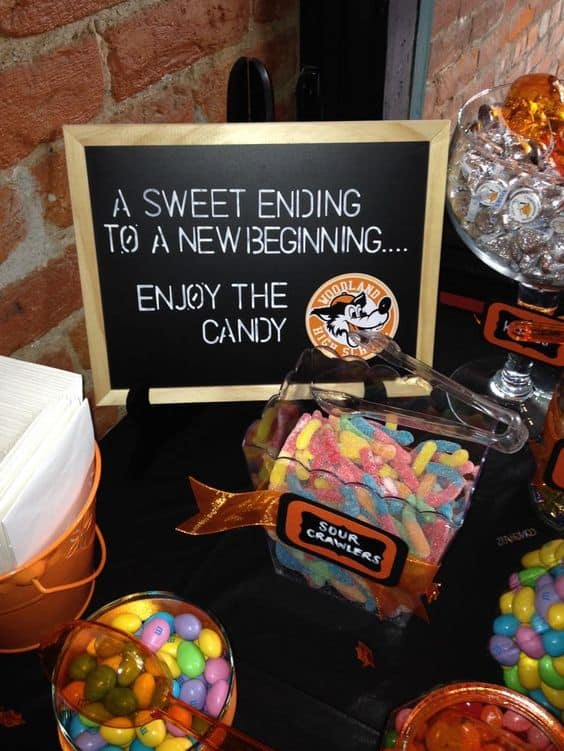 You can put a chalkboard on the table with a cool message written on it. Try to write something funny and catchy to make your guests laugh.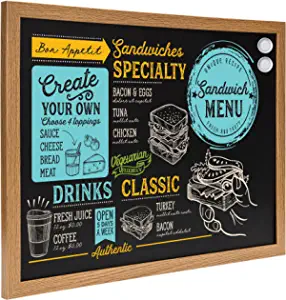 10. Letter Shaped Candy Containers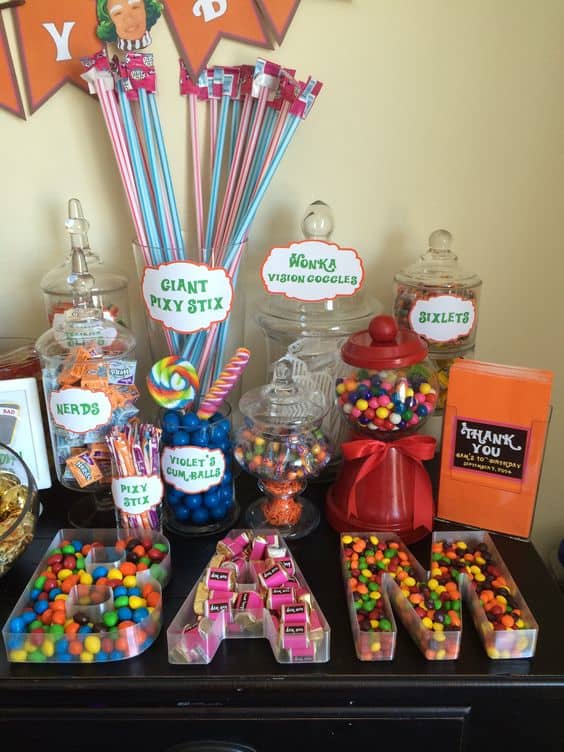 A cool candy buffet decoration idea is to use these letter shaped boxes and write your name using them on the table. Fill each letter with a different color candy for an even more eye-catching effect.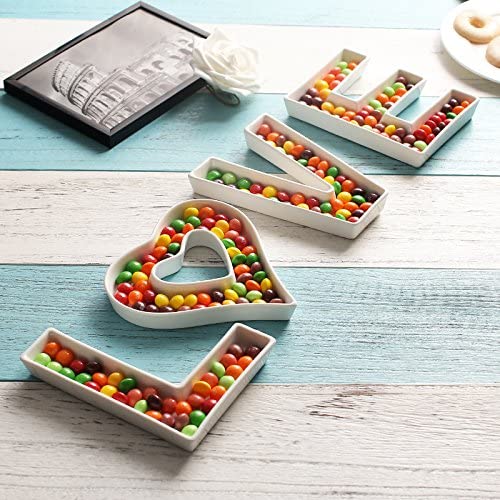 11. Bottles with Labels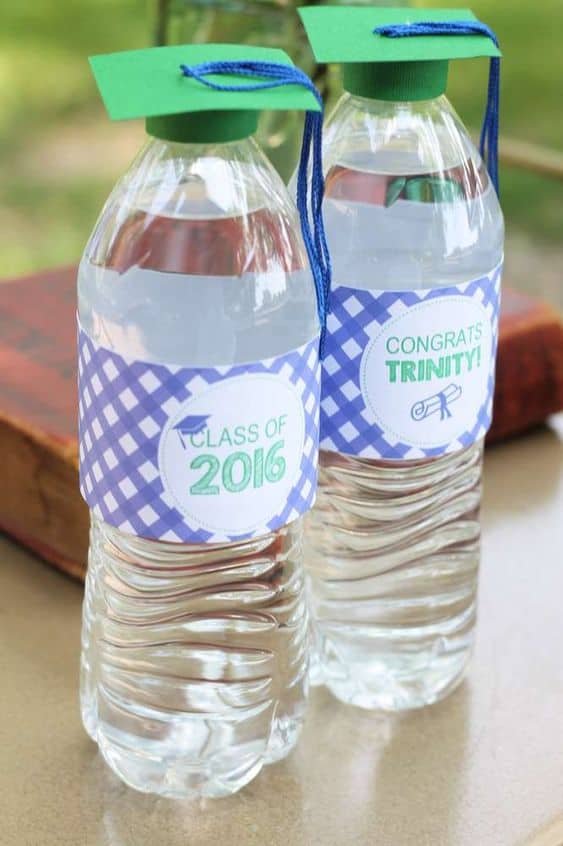 Sweets can make you just as thirsty as salty foods. Therefore, it would be quite appropriate to have water bottles nearby or on the candy table itself.
You can decorate them in an interesting way to your taste or just copy the idea from the picture.
Recreate this idea with green graduation caps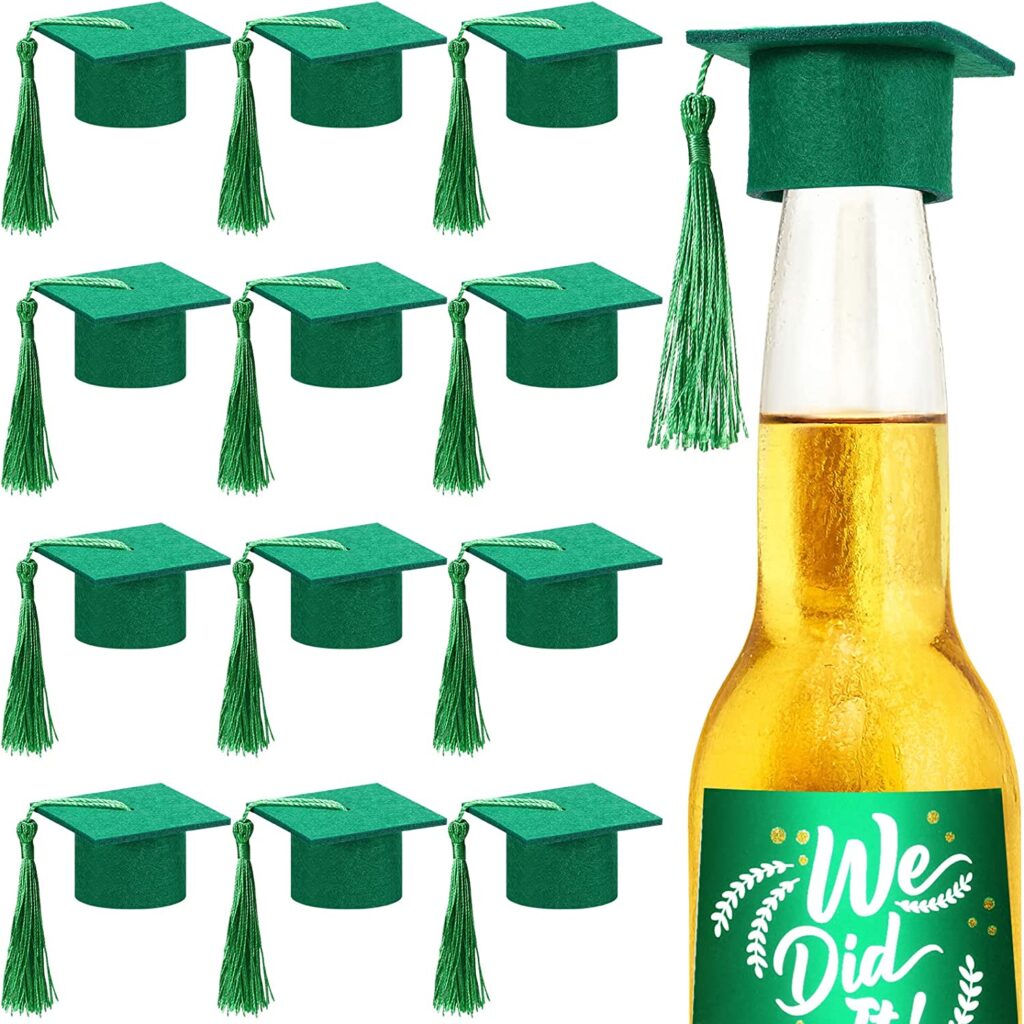 12. Lucky Sweets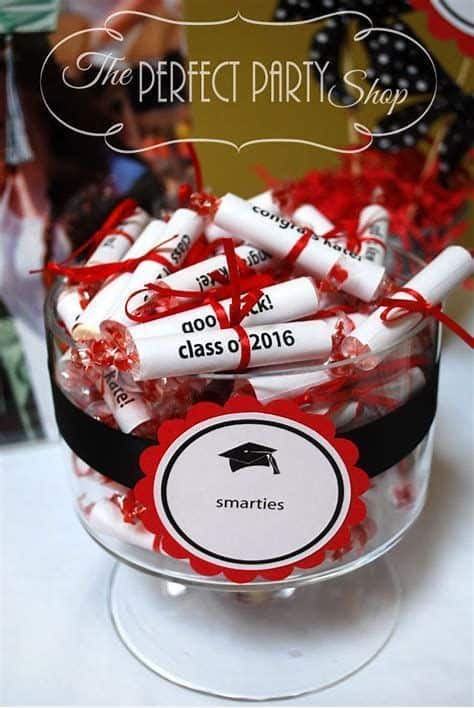 You can make good luck wishes for your guests and wrap them around the candy. You can take oblong candies as they will be the most convenient.
The lucky charms can be written by hand or printed out. If your handwriting is like mine, you better print them out lol.
13. Pink Graduation Candy Buffet
Put a sign on the candy table that has a cool message and creates a festive mood. It's nice to have this sign in complementary colors to the table.
One very beautiful color combination that I recommend for you (if you're a girl) is pink and black.
14. Graduation Candy Stickers
If you can find sweets with such themed packaging, they will be a great addition to your graduation candy table. It will impress your guests and show them that you have a good eye for detail.
Recreate this idea with Graduation Mini Chocolate Candy Stickers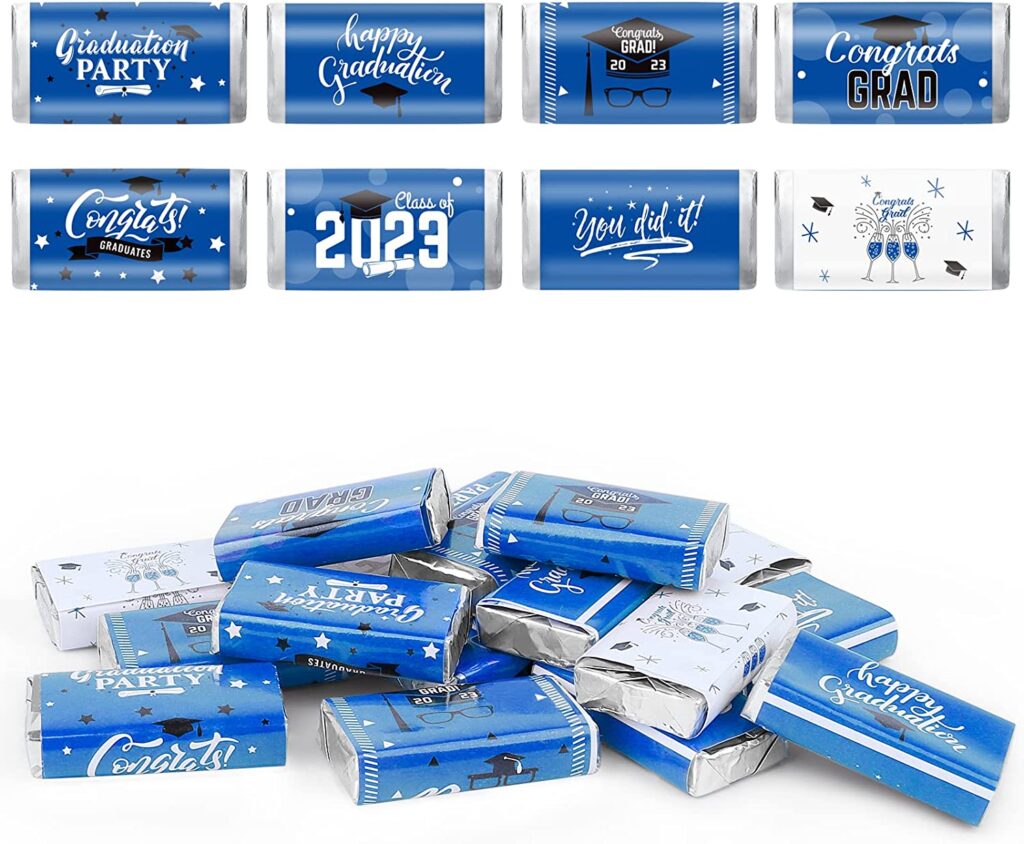 15. Graduation Cookies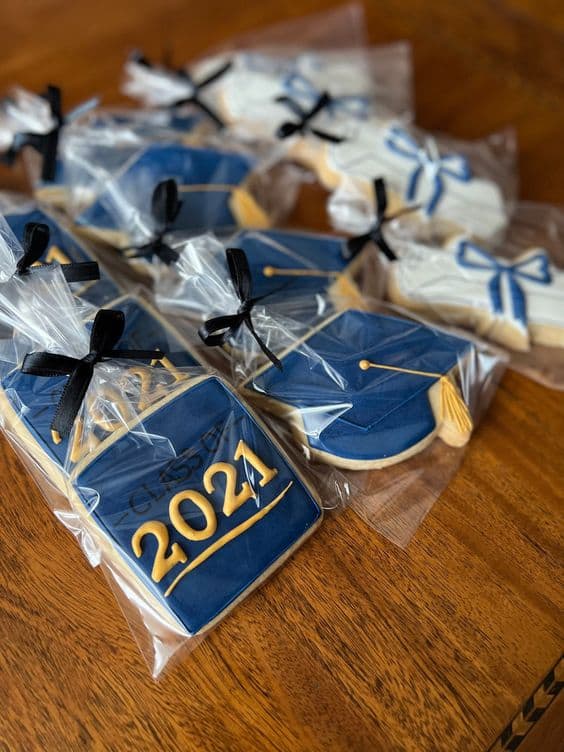 This type of themed cookie will not only satisfy your guest's sweet tooth but will also be a great decoration for your graduation candy buffet.
If you are not good at making homemade sweets, then I advise you to order the cookies from a pastry chef.
Recreate this idea with graduation cookie cutter set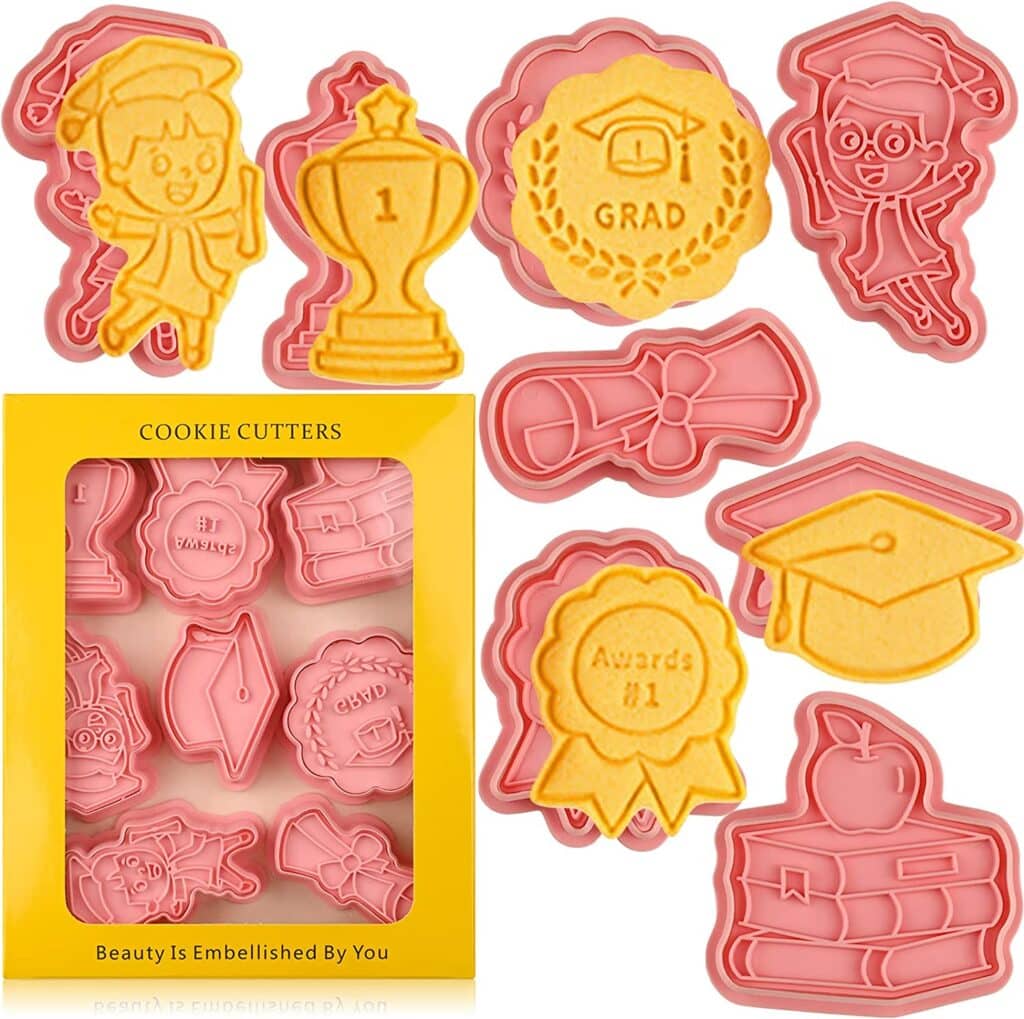 17. Graduation Flags
These graduation flags will be very suitable as table decoration. You can even leave them sticking out of the glass containers full of candy. They'll certainly enhance the existing overall design.
18. Diploma Cookies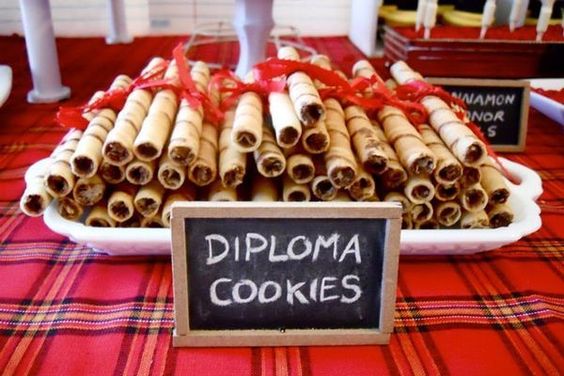 To make diploma cookies all you need are some chocolate-filled rolled wafers and a little ribbon. These cookies will certainly be quickly noticed and appreciated by your guests.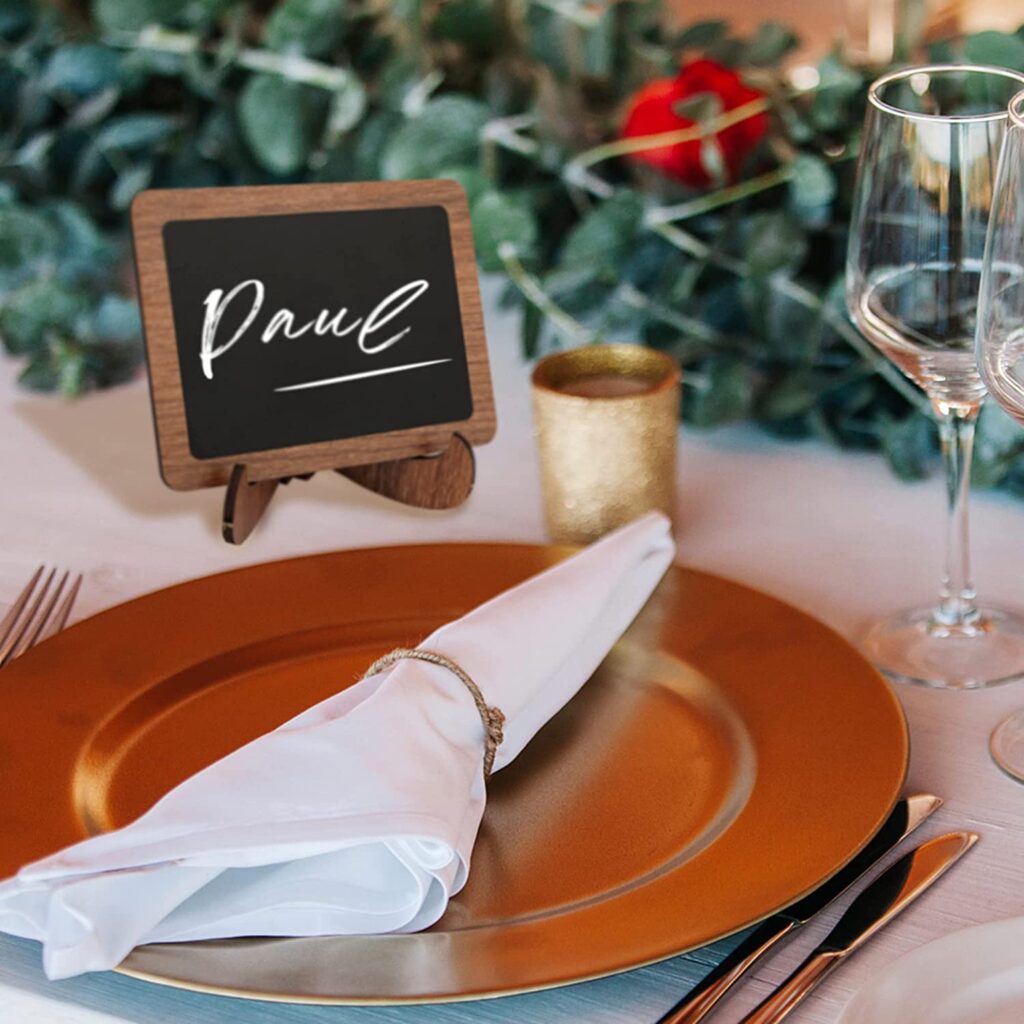 19. Memory Jar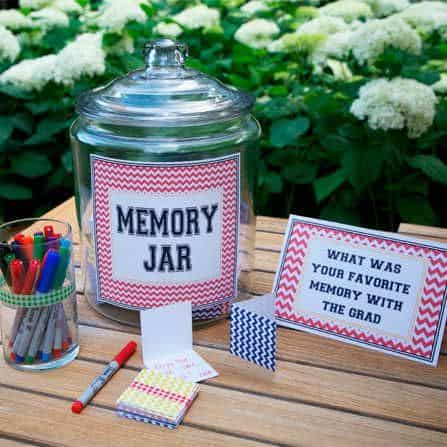 On the candy table, you can place a jar in which your guests can leave a piece of paper describing a "sweet" memory with you. This simple idea can be a sentimental gift from your guests for your grad party.
20. Graduation Cupcake Toppers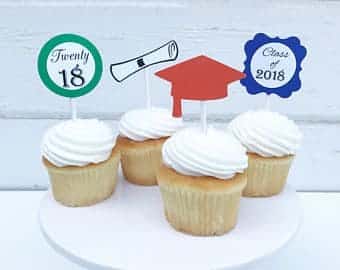 If you are planning to have cupcakes on the candy buffet, then you will love this idea. Buy or DIY graduation cupcake toppers, which will contribute very spectacularly to the table decoration
Recreate this idea with graduation cupcake toppers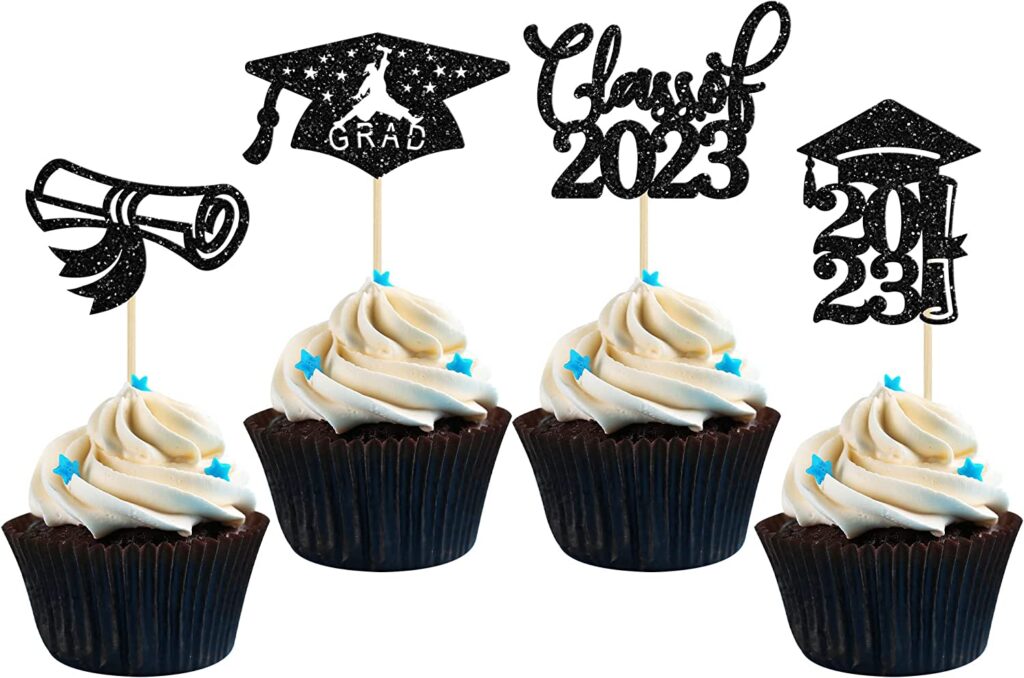 21. Grad Year Made of Cupcakes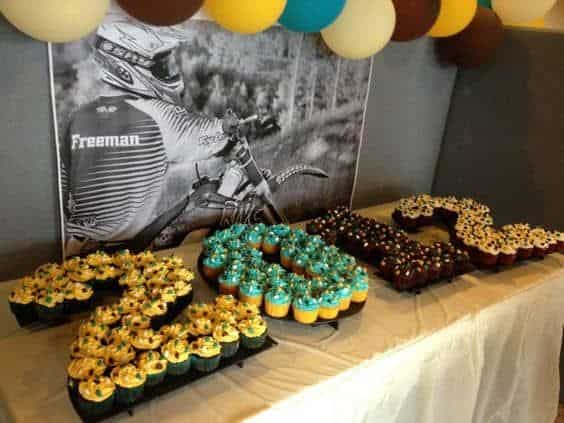 Another original suggestion involving cupcakes is to arrange them in the shape of the year of your graduation. This will make a great candy table decor.
22. Chocolate Graduation Cap
You can make chocolate lollipops very easily as you only need chocolate, molds for making lollipops, and sticks. It turns out very spectacular and is just right for the occasion. For the tassel, you can use jelly candy.
related posts you may like
This post showed you 22 ideas for graduation candy buffet