Wondering what goodies to put in a care package for a student who is about to graduate high school or is in college? In this post, you'll see 19 ideas for thoughtful care packages that won't break the bank.
This post contains affiliate links, which means I'll receive a commission if you purchase through them. You will have no extra cost!
The graduation care package is a great gift for a grad. You can put all sorts of things inside, from sweet treats and favorite snacks to useful items that will come in handy in the upcoming college life of the high-school graduate.
The coolest thing about a care package is that you can get creative with it. Add humor and a theme to it, so that you make the gift even more exciting for the graduate.
I am sure that after seeing the following 19 ideas below, you will be able to make a great graduation or college care package for your friend or family member to comfort and motivate them.
Answers to Frequently Asked Questions
What Is a Care Package?
It is a package sent as a gift that is filled with sweets and snacks to comfort a college student and make him/her feel less homesick. In addition to food, the care package may also contain other useful items such as college supplies for example.
An interesting and not well-known fact about the origins of the term 'care packages' is that it dates back to the time after World War II.
These were very important packages containing food and supplies that were shipped from the US to Europe to families in dire need who had suffered badly from the war.
This aid was shipped by the humanitarian organization CARE. This is where the modern idea of care packages comes from. Read here for more information.
What Do You Put in a Care Package for a High School Graduate?
If you know the graduate well, you can put his favorite sweets and snacks or items related to his hobbies in the graduation care package.
Other things like college supplies, self-care products, and small decorations for the dorm room or apartment are also perfectly fine.
My advice for you is to pick things that will be practical for the graduate no matter his plans for the future. Don't forget to add some humor to the whole thing as well.
When to Send a College Care Package?
The time of delivery mainly depends upon where your package starts and where it's going. If you wish your college care package to arrive in time for a holiday, you need to take into consideration potential supply chain problems and send it earlier.
Is It Expensive to Send Care Packages?
Depends on the destination, package weight/size, and whether it is an express delivery or not. It is best to compare prices between some of the couriers you have in your area.
What's more, you don't even need to go on-site, most major courier companies have detailed information and calculators on their websites that will show exactly how much the service will cost you.
19 Thoughtful Graduation/College Care Packages
1. Spring College Care Packages
There are lots of different cool ideas for care packages, but this is one of my favorites.
Choose a monochrome box and try to put products in it that are the same or similar in color. This makes it very thematic and beautiful.
Moreover, don't forget to put some catchy message.
2. Hang in There College Care Package
The period before finals is always quite stressful. Sending a care package full of tasty goodies and a motivational message from a loved one is a great way to lift a student's spirits.
3. Sleepyhead
It's always a good idea to make the care package as personal in design and content as possible.
Here, a very creative and humorous approach has been taken that emphasizes the fact that the student likes to take naps. That's also why the box is filled with sweets, so the sugar can keep them awake longer haha.
4. Care Package with Letter
You can make a super cool-looking box with an attached letter on the lid. With its help, you'll be able to describe in more detail to your friend or child how much you care about them.
Such small gestures mean a lot and can warm the heart of anyone who is away from home.
5. Minion
Is there a person on this earth that doesn't like the 'Minions'? You can put banana-flavored sweets and many other themed goodies. You can also add a minion plush toy or a mug.
6. Mystery Box
Another great care package idea is to make it like a mystery box. You know well the exciting feeling when you unwrap Christmas presents, don't you?
Therefore, pack all the products in wrapping paper to have an even greater element of surprise when the student or high school grad unpacks them one by one.
7. Relax Care Package
A care package filled with self-care products is a wonderful suggestion. In it, you can put a scented candle set, a coffee mug, tea bags, moisturizers, face masks, eye patches, etc.
These items will certainly help a student deescalate tension and remind them to take more care of themselves and their well-being.
8. Care Package Full of Gifts
Forget about sweets and snacks, this package includes only gifts such as a scarf, a candle, a thermos, a piece of jewelry, perfume, and many other things.
The basic idea is that you can make a care package to be full of only non-edible and useful everyday items, that still show the college student how much you think of him/her.
9. Balloon Care Packages
This to me is the most creative idea on today's list. Put all the items in balloons and make the whole process of opening the box an exciting game.
Related post: 20 DIY Balloon Weights Ideas That Will Make an Impression
10. Yummy Care Package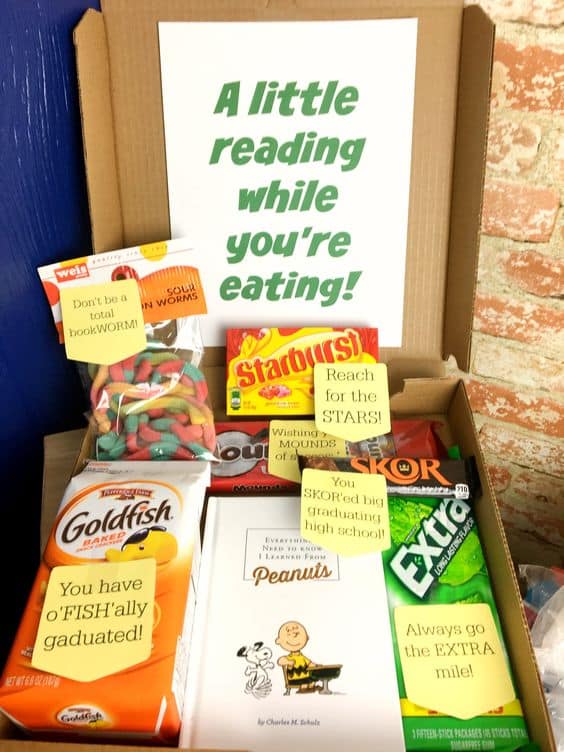 Recently, this type of gift has become quite popular. Play around with the names of the items inside the box so that you get some humorous and cool messages. This will surely make your care package memorable.
11. College Starter Kit
In the box, you can put all sorts of things like a first aid kit, towels, a coupler, a screwdriver, skin care items, hangers, etc.
This is a very useful care package that the recipient will appreciate because it includes all the essentials for a college starter kit.
12. Bff Care Package
Surprise your best friend with a package that contains your favorite sweets and snacks. Include photos of you together as well to show how much you cherish your friendship.
13. Midnight College Care Package
The period before exams is tough and students often stay up late studying. In these times, their best friend is often some snacks to satisfy their late appetite and reduce stress.
For this reason, this care package will be of great help to any student, from which he/she can always get something to snack on during late study hours.
14. College Care Packages Halloween Edition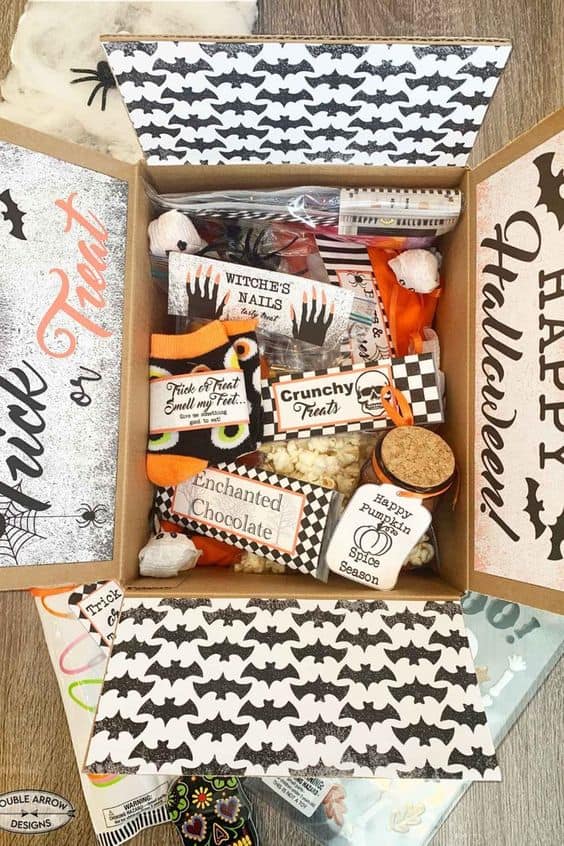 College care packages are often sent to students who are unable to return home for a holiday like Halloween for example.
For them not to feel homesick, parents look to surprise them with homemade sweets and other goodies send in a holiday-themed box.
Related post: 20 College Dorm Halloween Party Decorations You Must See
15. Care Package for Birthday
If the college student does not have the opportunity to go home for his/her birthday, you can send a very beautiful care package to make him/her feel special.
Put candles, a cupcake, various favorite things, a gift, and lots of nice wishes to top off this amazing gesture.
16. Pizza Package
If your child or friend is studying abroad, then send them a care package full of their favorite food typical of your country. This will without a doubt make him/her very happy and thankful.
17. Gift Bag
No one has said that the care package must necessarily be in the form of a box. For example, you could use a large gift bag or a basket.
Of course, no matter whether a box or a bag, the important thing is that the contents delight and surprise the recipient.
18. Friendsgiving Care Package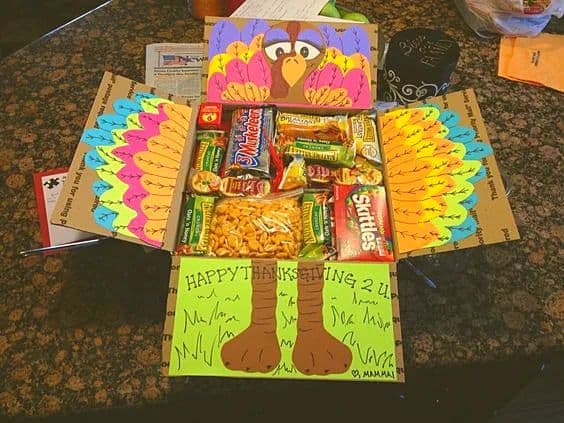 If your friend can't come home for the holiday why not send the holiday to him? You can make different festive decorations for the box and put in some favorite goodies.
Your friend will certainly feel appreciated and loved by this gesture of yours.
Related post: 18 Festive Friendsgiving Decor Ideas Under $25
19. Just Add Water Care Package
It's a well-known fact that most college students can't cook and prefer something quick to eat.
Therefore, you can fill your care package with food items that only require water to prepare. This will make it the life of your child or friend a lot easier.
related posts you may like:
This post showed you 19 Thoughtful Graduation Care Packages