Hey girls! Are you searching for the best Halloween costumes for 2023? Check out my 30+ Halloween costume ideas you can't go wrong with.
This post contains affiliate links, which means I'll receive a commission if you purchase through them. You will have no extra cost!
Finding the right costume for Halloween can sometimes be a difficult task. The good news is that there are plenty of options out there, but this also makes it overwhelming to choose the perfect one.
That's the reason I have made for you a list of the best 30+ Halloween costumes for girls you can't go wrong with.
Remember, it is most important that you like the costume and that you are comfortable wearing it because when you wear it with confidence, others will like it too.
Best Halloween Costumes for Girls in 2023
#1 Referee Girl
If you want to be sexy and provocative, a hot referee costume will fulfill your expectations. Choose the right clothes enjoy the looks on you.
#2 Lilo & Stitch
Lilo and Stitch – If you want to get super cute and exotic, this is your costume. Be sure to pay attention to the details like the head and arm flower garland.
#3 Policewoman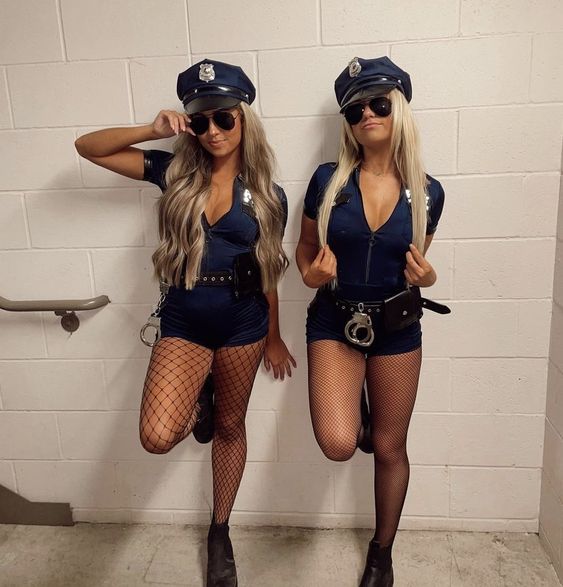 Policewomen will always be fashionable. This is a comfortable and very attractive costume, so if you want to see yourself as a policewoman, this is your chance.
#4 Minnie Mouse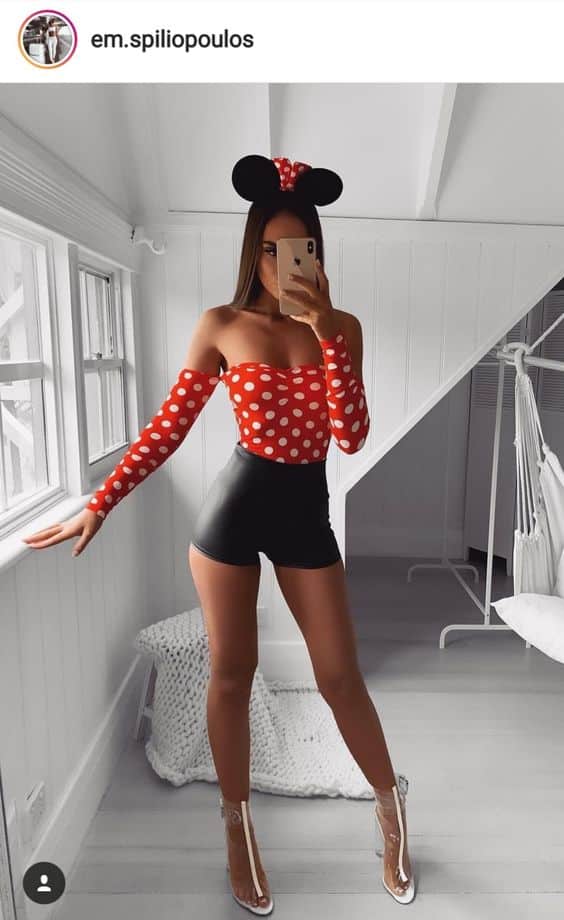 Be the cute Minnie Mouse and draw all the attention to yourself. You can be a cute temptress too, why not?
#5 Belle (Beauty and the Beast)
If you want to disguise yourself as Belle from Beauty and the Beast, then this dress will do the job. Don't forget the books, they are an important final touch.
#6 Led Masks
Led masks are becoming more and more spectacular. You can combine them as you see fit with other costumes. They are also great for forming a gang where all of you wear such masks.
#7 Tomb Raider
If you're an adventurous lady who hasn't got a Halloween costume yet, why not be the next Lara Croft? This costume is very stylish and eye-grabbing. Don't forget to get some fake guns to finish the image.
#8 Wonder Woman
Wonder Women – I love this idea! I've never tried it on Halloween, but I want to. I like the gold detailing and the color combination.
#9 Cupid
Why not be the image of love this Halloween? Go to the party in this costume and shoot the arrow of love at the guy you fancy haha
#10 Mortal Combat
This costume is perfect for the ladies who like to be mysterious and combative. The fans of Mortal Combat will appreciate your looks.
#11 Kim Possible
My favorite childhood heroine – Kim Possible. Good makeup with the costume below will do the trick.
#12 Angel and Devil
A dangerous combination! Girl, grab your best friend and have fun! Let one be an angel and the other a devil. Split the roles and amaze the others with your costumes.
#13 Scooby Doo Velma
Does anyone remember Scooby-Doo? I loved watching this show as a kid! Velma was my favorite character and I think it's a great idea for Halloween. There are many colorful clothes and this makes the costume easily noticeable and cute.
#14 Maleficent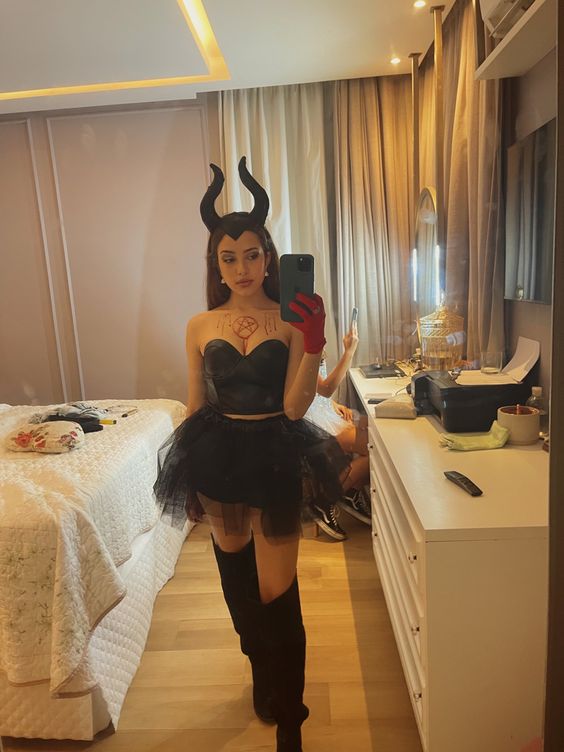 I will say a few words about this costume. First, it is super spectacular, second these horns are light and comfortable, and third – you will look amazing disguised as Maleficent.
#15 Aladdin and Jasmine
Another amazing idea from a Disney animation. Great for couples as you can choose more closed or revealing versions of the costumes.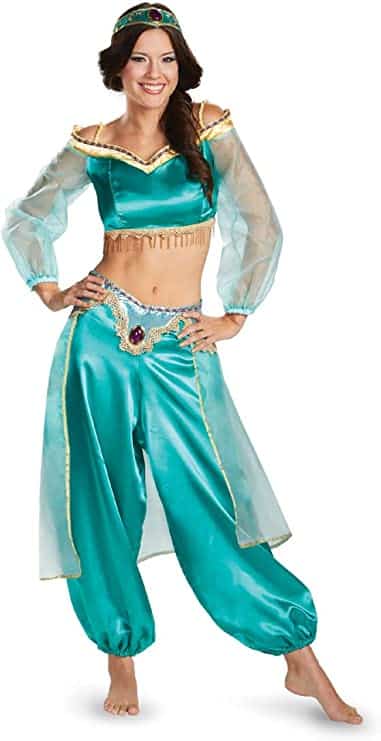 #16 Sexy Angel
Sweet, sexy angel. I get the impression that I often see angels at Halloween, this is one of the costumes that will never go out of style.
#17 Shego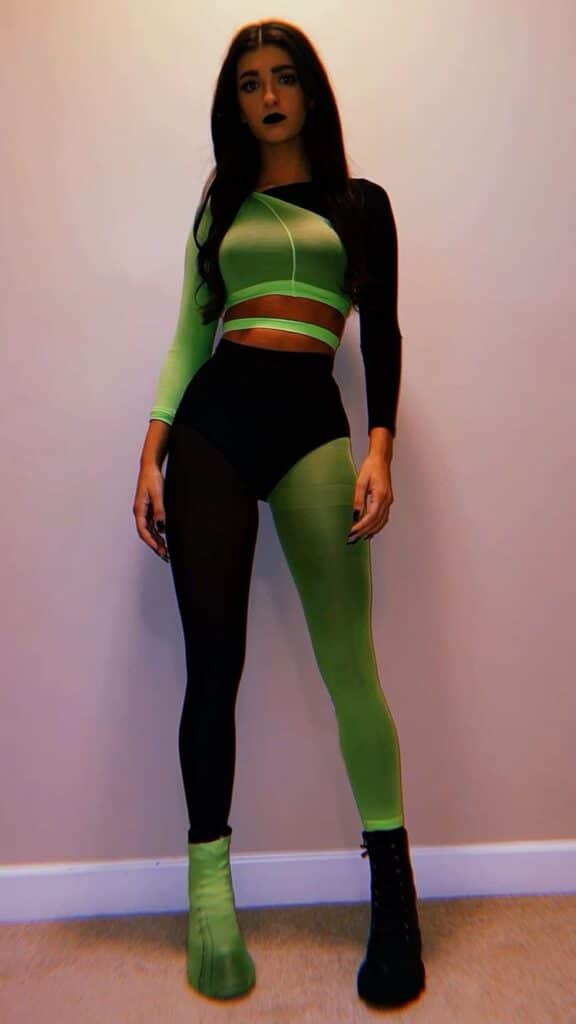 With this costume, you will be a magnet for stares. That popping green just can't go unnoticed. This is another popular heroine from the show Kim Possible.
#18 Sexy Bunny
Bunny squad – Make your gang of sexy bunnies and take over the party. Imagine how spectacular it will be when you enter the room.
#19 Harley Quinn
Have you seen Suicide Squad? If you're brave, crazy, and ready for action, this is the suit for you. Take up the challenge and be a better Harley Quinn than Margot Robbie haha
#20 Catwoman
There's hardly a girl that hasn't been Catwoman on Halloween. I have been and I would be again. Even if it's a little overused costume, it is still a great option.
#21 Witch
Here it is! One of the old classics! There are so many variations of witch costumes, so you'll be able to experiment and range from scary to sexy.
#22 Julia Roberts costume from "Pretty Woman"
One of the most popular costumes for a girl is the one from Pretty Woman. Fortunately, you can get the same one at very affordable prices. You can wear a wig or not, but long boots are a must.
#23 Red Riding Hood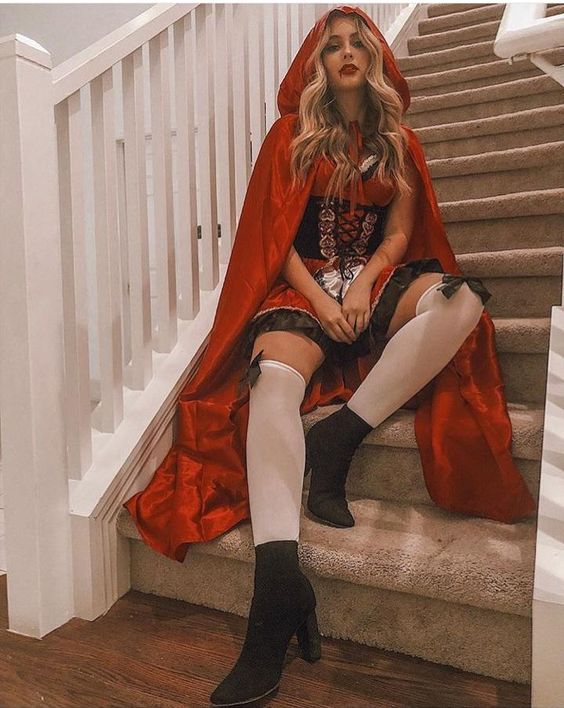 Little Red Riding Hood is both a cute and innocent costume and can be very sexy. The most important elements in this costume are the black cloak and basket. With the rest of the elements you can experiment, so wear the costume in your own way.
#24 Cruella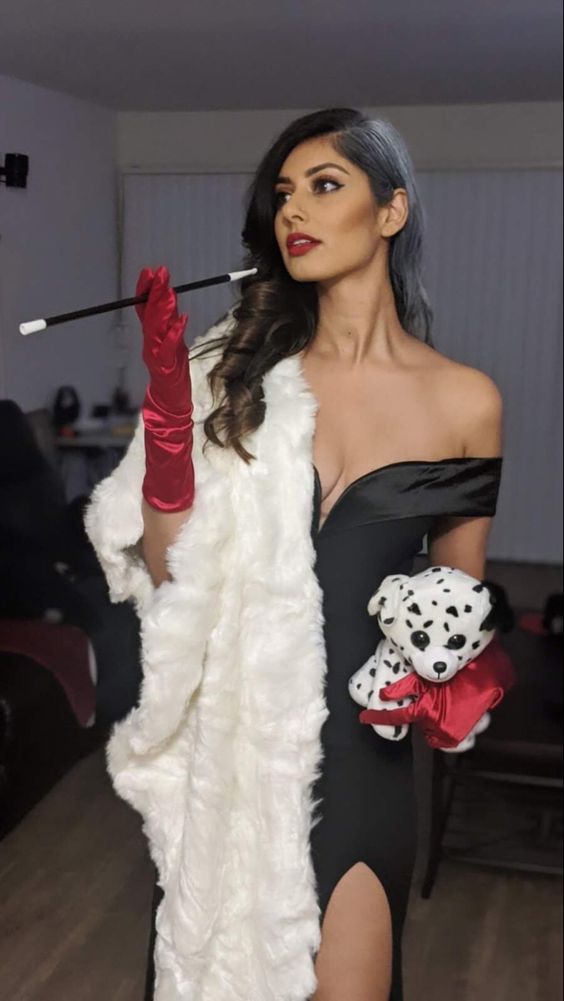 A very, very cool costume! Cruella is a perfect idea for Halloween. The combination of black, red, and white is unique and the hair is the most important part. To do the costume well, you need to find a wig like this.
#25 The Mask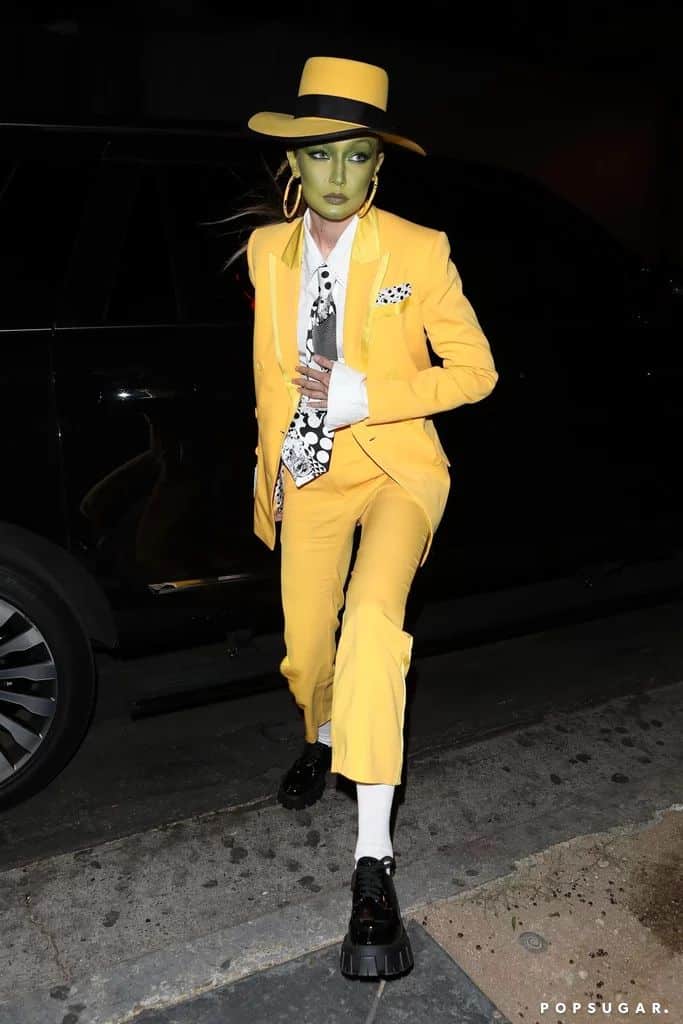 I like the female version of "The Mask". This is the first time I've seen a costume like this and I think it will attract attention because of its uniqueness. If you don't have a yellow costume go for something bright and light, otherwise the effect of the character will be lost.
#26 Tinker Bell
The fairy costume will always be a favorite of both young and old. It is important to get beautiful wings and combine them with a nice dress. Also, apply some light makeup and you are ready for the Halloween party!
#27 Cheerleader
Ready to support your favorite team? This is the most comfortable costume possible. Now is the chance to show some signature dance moves, you can't go wrong with this one
#28 Marilyn Monroe
I love this costume of the gorgeous Marilyn Monroe. She was the icon of female beauty back in the days, now you too can immerse yourself in the past.
#29 Medusa
Medusa is one of the most frightening females from Greek mythology and for this very reason, it is perfect for Halloween. The snakes in the hair are the main element without which the costume won't be whole.
#30 Darth Vader
Female Darth Vader, now that's a pleasant surprise. The idea is awesome especially if you're a Star Wars fan. You can modify the famous line with "I am your mother!" haha
#31 Mime Artist
Being a mime artist for Halloween will be a fun experience. After doing the costume and makeup right, try to get yourself into the role as much as possible. Don't speak, communicate only with body movements, others will be impressed with your dedication haha
#32 Ursula
Ursula from The Little Mermaid is a great idea for a Halloween costume. She is one of the scariest characters from Disney and has a very mesmerizing look.
This post showed you the best 30+ Halloween Costumes for Girls You Can't Go Wrong With