This post is all about Halloween decor ideas for small apartment
This post contains affiliate links, which means I'll receive a commission if you purchase through them. You will have no extra cost!
Decorating your home for Halloween is a must if you want to immerse yourself fully in the holiday. Some people worry that because of their smaller apartment, they can't decorate properly and that it will look bad. Therefore, this post is about Halloween decor ideas for small apartments.
When it comes to decor, it's all about taste and your imagination. You can achieve amazing things even with limited space. So, leave all worries behind and focus on the things you can change and make better.
In the following lines, I have selected for you plenty of elements that are suitable for Halloween decor in smaller rooms.
Halloween Decor Ideas for Small Apartment
1. Spiderweb for Halloween decor
Spider webs as a Halloween decor are suitable for any room size. You can put it in the kitchen, living room, bathroom, hallway, front door, etc. The web doesn't take up much space, you can put it anywhere and it will still be an effective decoration.
Furthermore, you can also add tiny toy spiders to complete the picture. I promise you that your guests will be terrified from this idea 😉
2. Lighting for Small Room Halloween Decor
Lights are a great Halloween decoration that is suitable for small apartments. You can put them on the window, above the TV, between pictures, and so on without them being an obstacle at all.
Red and orange lights are especially fitting for Halloween. Additionally, you can hang spiders, bats, skeletons, or other figures on the lights' cable.
3. Bats Always Fit in Small Room Halloween Decor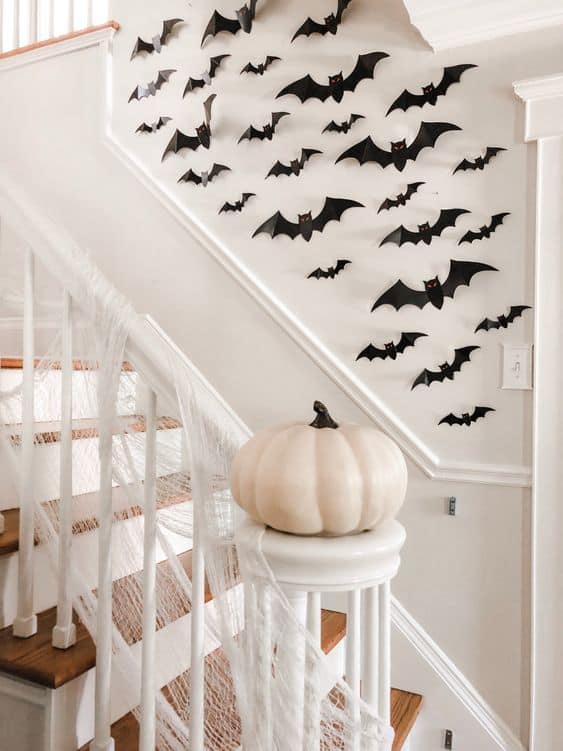 Bats are great decor for this scary holiday and again don't require large spaces at all. You can just stick them on the wall, behind the TV, or let them hang from the ceiling. They are suitable for small apartments because they can be used even in the most confined space.

To make it more budget-friendly you can DIY. All you will need is black thick paper, a white pencil, and scissors.

With the white pencil, you outline the shape of a bat and then cut it out with the scissors. Use this first one as a template for the next ones.
4. Pumpkin Lantern Are Perfect For Small Apartments Decor
Pumpkin lanterns are one of the iconic symbols of Halloween and therefore they are a must as a decoration. When it comes to decorating small spaces, you can opt for small pumpkin lanterns by positioning them in convenient places.
Put them on the TV cabinet, on the kitchen table, on the hallway shelf, and in many other places. You can buy or DIY your jack-o-lanterns. To make your own, you will need a small pumpkin and a knife as you carve the face of the pumpkin very carefully.
If you are making the lanterns with your children, make sure they don't hurt themselves with the knife. For a finished look put a lit candle in the pumpkin and decorate.
5. Door Figures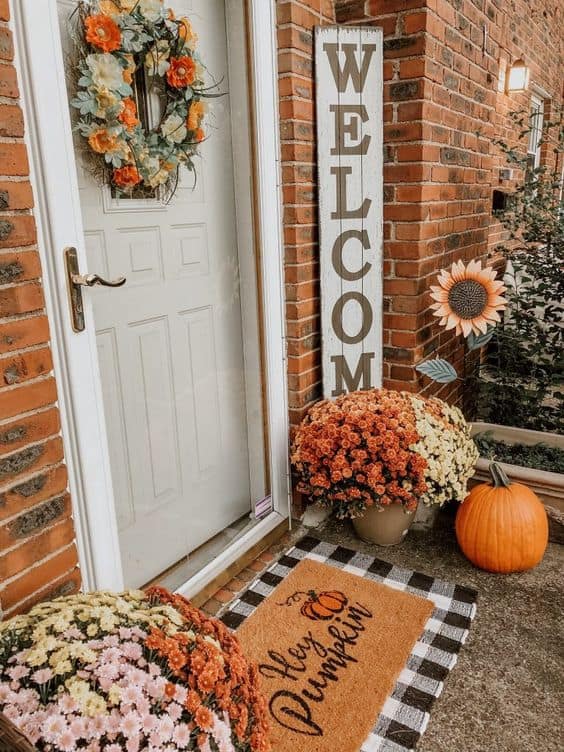 There is a huge variety of figures that you can put outside the front door. All sorts of skulls, pumpkins, bats, witches, black cats, etc. The nice thing about this type of decoration is that it takes up absolutely no space. You can put it on the front door as well as on the inside doors.
6. Ghost Pillows Decoration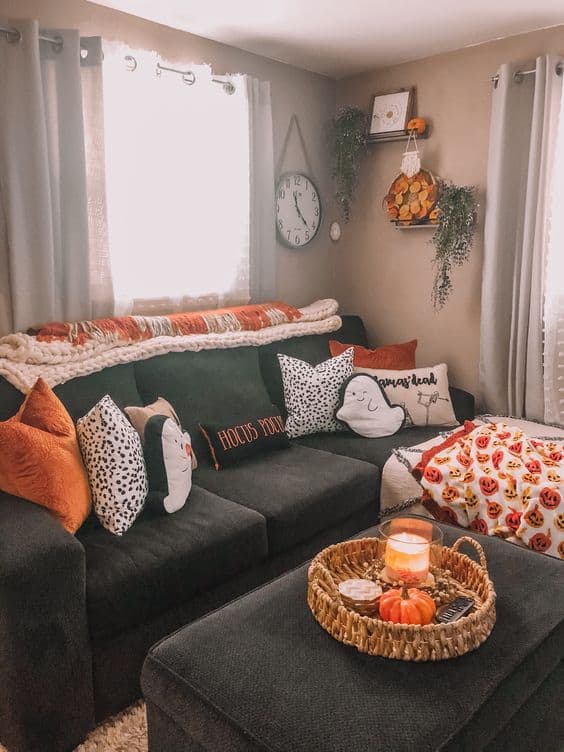 Cushions with a Halloween motif are also a nice decor. They will be placed only on sofas and beds, which makes them also fit for smaller apartments. Chairs and armchairs can also benefit from being decorated with them.
7. Skull Vase Halloween Decor
Every home has a dining table and no matter the size there can be always a vase on it. In this case, the vase could be in the shape of a skull, a pumpkin, or anything else connected with Halloween.
Such vases can be also positioned on a shelf, desk, TV cabinet, or a small coffee table. Regardless, it will never take too much room and be an obstacle in a smaller living space.
8. Halloween Shower Curtain
So far we've talked about decorations that are more acceptable for the kitchen, living room, and bedroom. Now, it's time to talk about Halloween decor for the bathroom too.
The most spectacular element is without a doubt the themed shower curtain. When combined well with other decorations like soap dishes and towels, it will be a great Halloween decor.
related posts:
You can find out more about themed bathroom curtains by reading my article where I give you different suggestions.
9. Black Candles
Can you imagine Halloween without candles? Me personally – no! Candles are a very cool detail for this holiday. They can find a place in any room and bring an amazing atmosphere.
Black tall candles, in particular, are most suitable for Halloween decor, providing a finished look.
You can add the candles to a set of decorations and thus combine them. Candles have always been an amazing addition to various decorative installations.
10. Halloween Ghost Print Wall Stickers
If you're wondering how to diversify the boring furniture, then trust stickers. An extremely compact and very effective decoration that will instantly change the setting and create an amazing Halloween mood. You can also put them on windows or doors.
The important part here is to choose stickers that won't ruin the surface of the furniture when removed. You can also create your own by printing different pictures and sticking them wherever you want.
11. Halloween Door Mat
Door mats are a great decor element for the holiday that does not take up any space. You can go for a standard doormat or something out of the box. Only consider its size so it doesn't end up causing you discomfort when opening and closing the door.
You can also buy a regular one and turn it into an amazing Halloween doormat by painting it yourself.
12. Glass cups
One of the main things that Halloween is all about is the treats! To store them properly, we can stock up on interesting containers, bowls, and boxes with scary motifs. They will tie in great with the decor in small rooms because they don't take up much space.
Related posts to Halloween you may like
14 Shower Curtains For Halloween To Perfectly Match Your Halloween Decor
30 Best Friend Halloween Costume Ideas
29 Cute Halloween Costumes Ideas for Couples To Impress Everyone
This post was all about Halloween Decor Ideas for Small Apartment