As Halloween approaches, I can't help but get excited about all the festive nail art possibilities! The spooky season is the perfect time to experiment with bold, eerie, and creative designs that'll surely impress everyone at those Halloween parties. With so many inspiration sources out there, narrowing down 18 Halloween nail ideas is no easy feat, but fear not – I've got you covered.
Creepy, cute, and everything in between, these nail art ideas offer something for everyone. Whether you're a fan of the classic motifs like pumpkins, ghosts, and spider webs, or prefer something more mysterious and dark, you're going to love these Halloween-themed designs.
Halloween Nail Ideas to Inspire Your Spooky Side
1. Ghost-Inspired Nails
I absolutely love ghost-inspired nails because they are a classic Halloween theme, yet still cute and fun. To create this look, paint your nails in white and draw small black eyes and mouth on each nail.
Alternatively, you can use nail stickers or decals to achieve a ghostly look as well. This design will undoubtedly give you a chillingly adorable vibe.
2. Witch-Themed Nails
If you're fond of all things magical and witchy, then witch-themed nails should definitely be on your must-try list. To create this bewitching look: Paint your nails in dark, mystical shades like deep purple, midnight black or forest green.
Add a touch of magic with moon, stars or pointy hat decals, or hand-draw these details with a fine nail brush. For an extra enchanting effect, consider finishing off with a layer of sparkling glitter or iridescent topcoat.
3. Pumpkin Design Nails
Pumpkin design nails are a timeless part of Halloween! To get this festive look, you can:
Paint your nails with a base coat of orange.
Add black or dark green details to create the pumpkin's outline, eyes, nose, and mouth.
For added cuteness, use a small brush to paint a green stem on the nail tip.
Related posts you may like: 13 Festive Snowman Nails Ideas to Lift Your Christmas Spirit
4. Blood Dripping Nails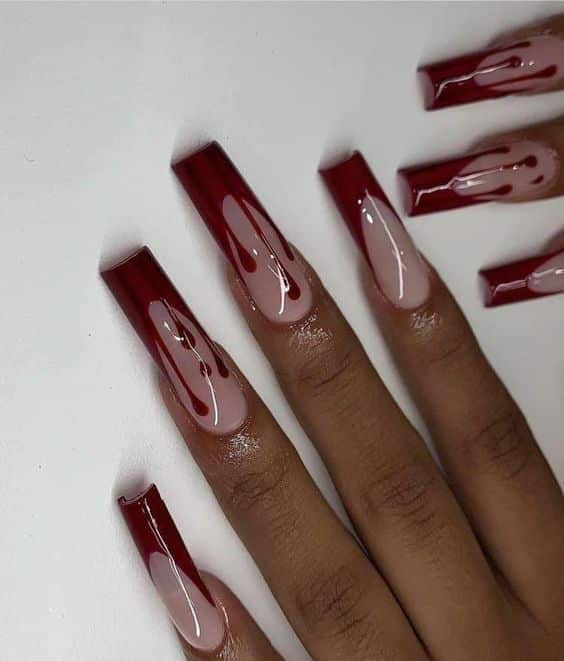 If you want a more edgy and nerve-racking look, try blood dripping nails. Here's how to accomplish this design:
Start by painting your nails with your preferred base shade (black or a nude shade works very well).
Using a small brush, carefully paint red polish along the tip of your nails to create a dripping blood effect.
You can also add drops and drips in various sizes for a more realistic and eerie vibe.
5. Spider Web Nails
Spider web nails are perfect for the spookiest time of the year! To create this webbed wonder:
Paint your nails with a black base coat.
With a fine nail brush and white polish, draw curved lines across your nails, connecting them with smaller intersecting lines to achieve the web pattern.
For added creepiness, you can also include small spiders crawling along the webs.
These Halloween nail ideas are easy and fun to recreate. You'll surely impress everyone with your spooky, eye-catching manicure this season. Happy haunting!
6. Skull Nails
I absolutely love the edgy look of skull nails! These macabre designs can be simple or complex, depending on your preference.
You can paint an entire skull on one nail or do a more subtle design with just the skull's outline.
7. Frankenstein Nails
Frankenstein nails are another Halloween classic that I can't get enough of! The iconic green hue paired with the stitches and bolts makes for such a cool, spooky design.
For an even more creative touch, you can paint Frankenstein's face on one nail and stitch the rest for a cohesive look.
Related posts you may like: 26 Christmas Short Nails to Copy This Year
8. Vampire Fang Nails
I have to mention the alluring vampire fang nails. These bloodthirsty designs are perfect for channeling your inner vampire.
You can paint sharp fangs dripping with blood on a black or red base, or create a more abstract design with lines that resemble fangs.
The options are endless! If you're feeling extra daring, you could even shape your nails into sharp points to mimic actual fangs.
9. Candy Corn Tips
I am always excited about Halloween, and minimalist nail designs are one of my favorite things to try! For a simple yet festive look, I love the idea of painting candy corn tips on my nails.
This design only requires three colors: white, orange, and yellow.
10. Minimal Bats
I like to create minimal bats on my nails. To do this, I first paint my nails with a dark color, such as black or deep purple.
Next, I use a thin brush or toothpick and black polish to create tiny bat silhouettes on each nail.
I draw a small oval for the bat's body, and then add lines on either side to represent the wings.
11. Spooky Eyes
One of my favorite minimalist Halloween nail designs is to create spooky eyes.
All you need for this look is black nail polish and small dotting tool or toothpick. After painting your nails with a dark base color, use the dotting tool to create pairs of small black dots that represent the eyes.
For an extra spooky touch, vary the placement and spacing of the eyes, so it looks like they're watching from different angles.
12. Bloody Glitter
I absolutely love the idea of combining glam with gore for Halloween! One of my favorite designs is the bloody disco nail art.
To create this look, I start with silver glitter nail polish on stiletto-shaped nails. Then, I splash on some red nail lacquer to create a bloody effect.
13. Pumpkin Glitter
Another fantastic Halloween glitter nail idea is incorporating pumpkin-themed designs. You can achieve a gourd-geous yellow ombre look by combining yellow and orange glitter nail polish.
Also you can sometimes finish off the design by painting a cute little pumpkin or Jack-O-Lantern face on one or two accent nails.
14. Ghostly Glitter
If you prefer to scare people away, you'll want to try the ghostly glitter nail design.
I start by applying a light sheer base coat, perhaps a gentle white or gray to replicate a ghostly environment.
Then, I create little ghosts using a white glitter nail polish to give them an ethereal appearance.
To finish off the design, I give each ghost a pair of tiny black eyes
15. 3D Pumpkin Nails
Oh my gourd, these 3D pumpkin nails are perfect for Halloween! To create this fantastic effect, start by painting your nails orange.
Once they're dry, use a dotting tool or toothpick to draw the pumpkin's vertical lines with a darker shade of orange or brown. Now comes the fun part – sculpting the 3D pumpkins!
16. 3D Spider Nails
Create the spider's body using black or dark-colored acrylic powder mixed with a monomer.
You can either sculpt the legs with the acrylic mixture or use thin wires for a more realistic look – I prefer wires because they give that extra creepy touch.
Two fantastic 3D Halloween nail art ideas that I can't wait to try.
17. Cartoon Ghosts
I find that cartoon ghosts are a perfect sub-theme for Halloween nail designs as they add a cute and playful touch to the spooky season. To recreate this idea you can use these tricks:
Paint your nails with a white base coat and let them dry completely.
Use a black nail polish and a thin nail art brush to draw little ghost faces on each nail (you can play around with the expressions, making some ghosts happy, sad, or surprised)
Seal the design with a top coat, ensuring that the ghost faces are well protected.
18. Friendly Monsters
Another fantastic idea for Halloween nail art is to create friendly monsters. I love this design because it allows for endless creativity and customization. You can make these monsters as simple or as detailed as you like.
Summary of Halloween Nail Ideas
I'm super excited to share with you some of the trendiest and spookiest Halloween nail ideas for 2023! There are so many creative designs to choose from, whether you're going for a subtle look or a more extravagant statement to match your costume.
One of my favorite ideas is the Blood Drip Nails. Combining a solid white base with red drips of blood, this design is both classic and gruesome at the same time. If you want to go for a spooky yet cute look, consider the French Ghosts design.
I hope these Halloween nail ideas have inspired you to try a new look this spooky season! Remember, the most important thing is to have fun and let your creativity run wild! Have a spooktacular time experimenting with these awesome nail designs!