Lately, hanging chairs are quite in demand on the market because of the beauty and comfort they can bring to your space. Here are 15 hanging chairs for bedroom & living room that you will want to buy immediately!
This post contains affiliate links, which means I'll receive a commission if you purchase through them. You will have no extra cost!
15 Hanging Chairs For Bedroom & Living Room to Make Your Place Special
We all want our bedroom design to be magical and decorated with lots of interesting ornaments. One piece of furniture that can quickly become the accent of the room is the hanging chair. This type of chair is becoming more and more fashionable and popular.
There are many different models on the market from which you can choose the most suitable for your bedroom or living room. Furthermore, it is important to provide enough free space in your room for a swing chair because they are quite oversized.
Once you get this piece of furniture, you will see how much more lovely and welcoming your space will become. To show you what designs are available, I have prepared a list of 15 hanging chairs for the bedroom & living room that will make your place special.
Hanging Chairs For Bedroom & Living Room
1. Hanging Macrame Swing Chair
This model has a lot of positives, starting from being very comfortable and adding that it is very attractive to the eye. Decorate it with cushions, lights, blankets, or even artificial plants. On this swing chair, you can work on a laptop, read a book or just relax and watch a movie.
2. Boho-style Hanging Chair
For the fans of boho decor, this suggestion is for you. It will fit very nicely with the other decorative elements of your bedroom. Add to it faux leaves and comfy cushions to finish your cozy nook. If you have a cat, it will certainly appreciate this place in your home haha.
3. Cozy Hanging Chair
I warn you that this swing chair is massive and takes up a lot of space. Therefore, it is not a good idea to put one in a smaller bedroom. However, I assure you that it will enhance the appearance of any living room.
4. Hanging Rope Swing Chair
Here's another option on the list appropriate for boho-style decor. Its hammock design makes it even more charming and unusual. Because of the many details of this chair, there is no need for extra decorations. You can just put a cushion that unifies the style of your room.
5. Wicker Swing Chair
Not all chairs of this type need to be secured to the ceiling, some come with a stand. This way you don't have to drill any walls or wonder how to install it. Usually, these swing chairs with a stand come with a special sitting cushion, but you can add more for decoration. See how to install a hanging chair without a stand in the video below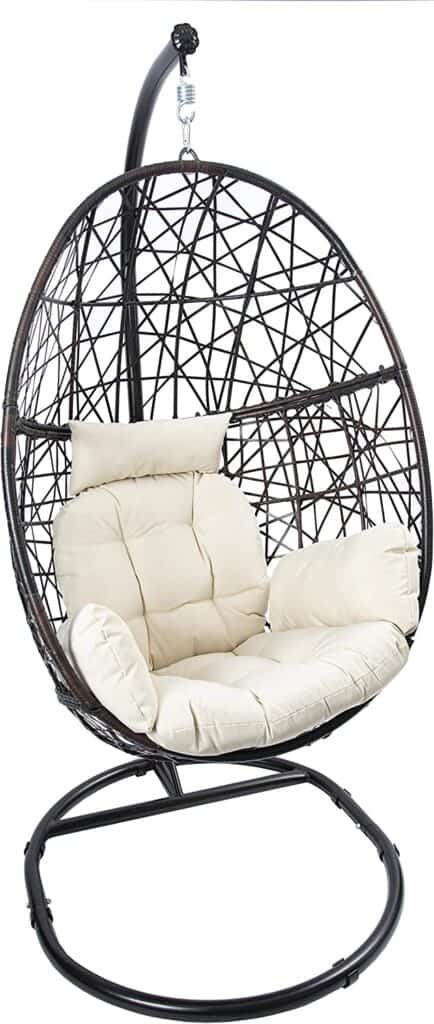 6. Bubble Chair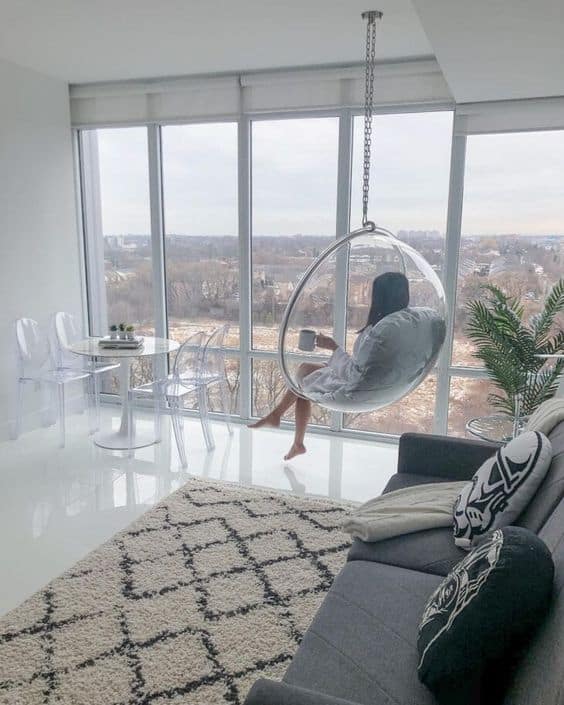 These chairs are very instagrammable and I see them in many profiles of top influencers where they present the interior of some fancy hotel. You can decorate them with lots of cushions and soft blankets. Transparent chairs are suitable for more polished interiors.
Related post: How to Make an Instagrammable Closet
7. Cute Hanging Chair
This is a very sweet model of a hanging chair. It is very suitable for ladies' bedrooms or children's rooms because they are mounted at a lower level and are safer.
The cage shape is impressive and unusual enough to be an accent in any room. Nonetheless, if you want to further enhance its appearance you can decorate it with cushions, plush toys, and lights. Moreover, you can even add different figurines like butterflies, birds, and hearts.
8. Wooden Material Swing Chair
If you are a fan of furniture made from natural materials this model is for you. Made from solid wood, this swing chair looks amazing you can decorate it with different cushions, and blankets. Furthermore, you can wrap lights around its frame which will add more charm to this nook.
9. Boho Hanging Chair
Another boho hit that will complement your bedroom design wonderfully. It is not ideal for comfortable sitting but rather has a greater decorative function. It doesn't take up much space and looks great when complemented with matching cushions. Put this hanging chair in an empty corner of your living room to improve the decor.
10. Double Seat Hanging Chair
The perfect swing chair for small siblings. Put it in the children's room and see how the little ones fall in love with it. Moreover, it will motivate them to spend time together there while reading a book or watching a movie. Just make sure that the chair is secure and safe.
11. Colorful Hanging Chair
Here's a unique and exceptionally attractive suggestion for a hanging chair. Place this swing chair in your colorful bedroom as an accent. It is also very appropriate for the children's room.
There are many possibilities for decorations here and in all kinds of colors. It's cool to put a table with an unusual design next to the chair itself for convenience and to finish the nook's appearance.
This is a massive chair and you will need a lot of free space for it. Therefore, it's better suited for a stylish Scandinavian living room. Position the hanging chair in a place where it will stand out and be easy to spot. As seen in the picture, it can also be used as a comfy reading spot.
Related post: Why to choose Scandinavian bedroom design
13. Swing
This chair takes up the least space but makes a big impression. If you want to redesign the interior of your bedroom with something unique, install such a swing. Decorate with lights on both ropes of the hanging chair for a magical effect.
14. Babies Hanging Swing
This is an amazing baby swing cradle that you can put in your bedroom. It is very suitable for a boho-style interior and looks extremely well. Needless to say, you have to be 100% sure that the cradle is perfectly stable.
15. Vintage Hanging Chair
This hanging chair is very suitable for more luxurious furnishing. Rest with your mate on this chair or read a book. The chair is quite bigger than the others mentioned so far, so you need to find a suitable place to position it. Decorate it with beautiful cushions and blankets to match the rest of the room's decor.
How to Install a Hanging Chair
All hanging chairs should come with everything you need for installation and an easy-to-understand manual. If you prefer to visually see how it works, watch the video below.
First, you need to determine where are you going to position the hammock chair in your room and drill some holes in the wall. Next, screw the screws into the drilling holes that you have created to secure the mounting plate for the chair. Now, attach the hooks of the chair to the suspension chain. Once the chain has been adjusted to the proper seating height, you can secure the suspension chain to the mounting plate.
That was the whole installation process! Sit, relax and read your favorite book in your comfy new hanging chair.
Other posts you may like
20 Tips On How To Make Your Home Look Expensive
9 Genius Ways To Organize Your Pantry
10 Ideas For Children's Room You Will Want to Copy
This post showed you 15 Hanging Chairs For Bedroom & Living room to Make Your Place Special