This post will guide you on how to arrange and decorate a tiny apartment from my personal experience.
This post contains affiliate links, which means I'll receive a commission if you purchase through them. You will have no extra cost!
If you have read the posts about my new home, you will know that my apartment is small and not spacious at all. Because of that, I encountered a lot of difficulties in choosing the right furniture and the right layout for the rooms.
My dear reader, if you too have a small apartment or you're thinking of buying one, you should know that it is very important to know the dimensions of each room and each piece of furniture. It is important to measure even smaller decorations like extra lamps next to the sofa, flower stands, and everything else that needs some extra space.
I tell you this because if you want to avoid cluttering things up in your new home, this is a key stage. On that account, I decided to help you through the process with this post which is about how to arrange and decorate a tiny apartment from personal experience.
How To Arrange Аnd Decorate А Tiny Apartment?
◼ Living room layout – The living room usually has the most massive pieces of furniture in a home. Their layout and size are always depending on the square footage of the room. You don't want to buy the wrong size of furniture and then go back to the store and return it. Of course, this happens sometimes even when you have measured things carefully, but the whole process is not pleasant and you should try your best to avoid it.
◼ Bedroom layout – You don't need a spacious bedroom because it is probably the least used room in everyday life. Honestly, all we need is one comfy bed to sleep on. In this article, you will read more about bedroom furniture and how I decorated mine.

◼ Studio apartment layout – The studio is one large single room, which should be divided into a living room, a bedroom, and a kitchen. That is to have an area where you sleep, a sofa, and a place to cook and eat. If it's a bit bigger it's also possible to add a place to work.

◼ Decorations – Every home has some kind of decor and design no matter the size. There are many suitable decorations for a small apartment which you will see further down in this post.
Tips On How To Decorate А Small Apartment
1. Get to know the place and make a plan
Before you start any furnishing you should take measurements of the room so that no blunders happen later. Do this at least 2 times to be sure. This will help you with finding the right size of furniture for your apartment.
Once you know the dimensions of your rooms make a design plan and stick to it. Create a layout of how the furniture will be arranged in the space and try out several alternatives. When I did this plan for my apartment I made 3 layout options. Then I carefully weighed the pros and cons of each one and so chose the best design solution.
2. Choosing the right size of furniture
My apartment is 540sqft. The living room is 270sqft and gathers kitchen with a countertop, sofa, and dining table. Because my apartment is small, I merged the living room, dining room, and kitchen into one big room.
Because I wanted to combine 3 separate rooms into 1, I was worried if all the different furniture will fit in. Honestly, when I was measuring the distances everything was a close call, but once we started lining up the pieces everything went great.
I strongly believe that even a small apartment when furnished the right way can become a luxurious home. In my opinion, my apartment is a good example for this thesis.
Related post: Renovating My First Apartment
3. Living room layout
Before you start the decoration process you should choose which interior design style you like the most and furnish according to it. If your apartment is around the same size as mine, I strongly advise you to combine the living room and kitchen into one to make your apartment look more spacious.
Kitchen / Countertop – Choose the right place for the kitchen. In my apartment, the kitchen was originally not at all designed for where it is currently. But since I wanted it to be relatively large with a countertop I had to run new pipes through the floor. I've always dreamed of a countertop like this and in my case, it's very functional because the washer and dryer are built-in underneath.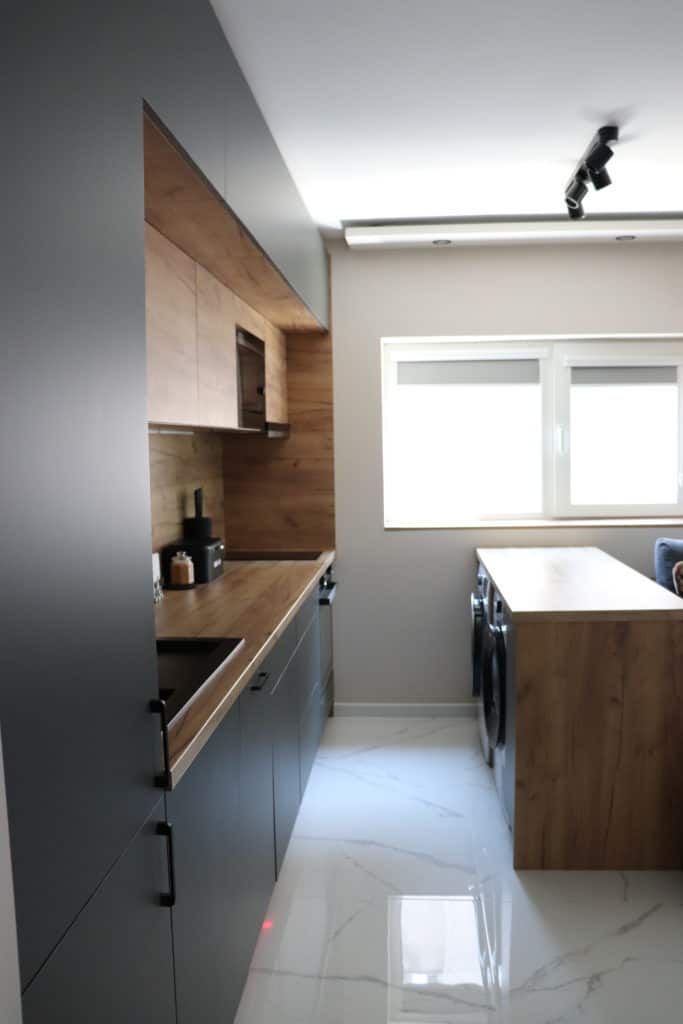 Sofa – We all want a big comfy sofa in the living room, admit it haha. I wanted one too and I didn't know if this piece of furniture would fit between the kitchen's countertop and the dining table. Fortunately, it fit perfectly as I had planned it.
Dinning table – This is a special place because it's where you will gather family and friends for a nice meal. Choose the appropriate table size and seating capacity for your needs. It's best if you get an extendable dining table. Mine for instance is 55×35 inches and 6 people fit perfectly when it is not expanded.
Related post: How I Designed My New Kitchen
4. Bedroom layout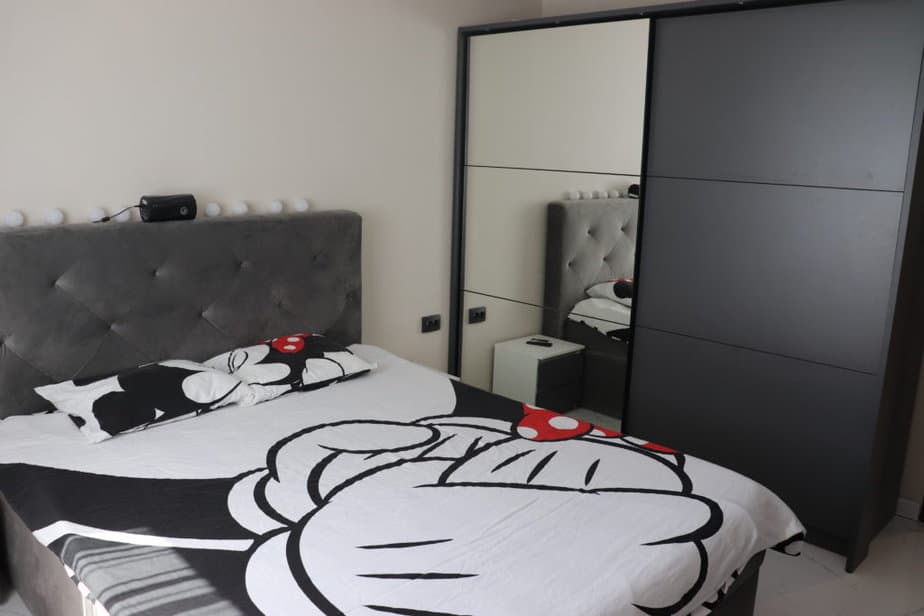 The most important thing here is the bed. However, you could also place a wardrobe for your clothes, a cabinet, and a dressing table for the ladies. As I already said, the dimensions are the first thing to pay close attention to. Fortunately, there is a lot of furniture that would fit into a small bedroom. To save some space, I opted for a wardrobe with sliding doors.
My advice for you here is to try to maximize the given space without compromising on the style of your bedroom. Take advantage of multifunctional furniture for example a bed with storage underneath to replace the need for an additional cabinet.
Related post: How I Transformed My Kitchen Into a Bedroom
5. Room swapping
Sometimes we want to swap rooms and their purpose. If you are renting, your landlord probably won't let you knock down walls and make such big changes, but if you own your home, it's entirely possible.
In my case, I knock down one wall that was separating 2 different rooms. That way I was able to get a large living room with a kitchen and a dining area. Sometimes you just have to change the layout of the rooms to achieve the result you want with a small apartment.
6. Studio apartment
Studio apartments or also known as bachelor apartments are well known for their small square footage. It's a single room that is divided into a kitchen, a living room, and a place to sleep.
Furnishing a studio is a challenge because you have to choose multi-functional pieces of furniture to maximize the available space. But it is not impossible. Here are some ideas for studio interior designs.
Source: natymichele
Design by: delikatissen
Photos: stayhome_interiors
7. Decorations
Especially in small living spaces, you have to be careful not to over-decorate because you will get a cluttered room. This will make the space look smaller and even ugly.
Take into consideration the height of the rooms and the lighting you choose. It is not appropriate to put a hanging light fixture in a room with a low ceiling for example. It's a good idea for small apartments to aim for minimalist, stylish and practical decor. This way our home will look more organized and stylish.
Decoration examples perfect for small apartments
related posts you may like
Halloween Decor Ideas for Small Apartment
This post showed you How To Arrange Аnd Decorate А Tiny Apartment