Do you like reading books and want to have a perfectly designed home library? Then continue reading this post about how to create a modern home library in 10 easy ways.
I'm guessing there are a lot of book lovers reading my blog, it is a pleasure to have you here! I adore books and get excited every time I buy a new one. They are a great treasure. It only takes me a few sentences to read until I find myself in an entirely different world. It's truly a magical experience that no movie or game can give you.
To preserve our books well, we should build a modern-looking library in our homes. When you gather them all in one place you will be amazed at how good it looks to have everything neatly in order.
Furthermore, a modern home library will look amazing and can only improve the overall design of the room. To create it, you just need to follow the 10 easy steps that I have described below. Happy reading!
How to Create a Modern Home Library in 10 Easy Steps
#1 Select the right shelves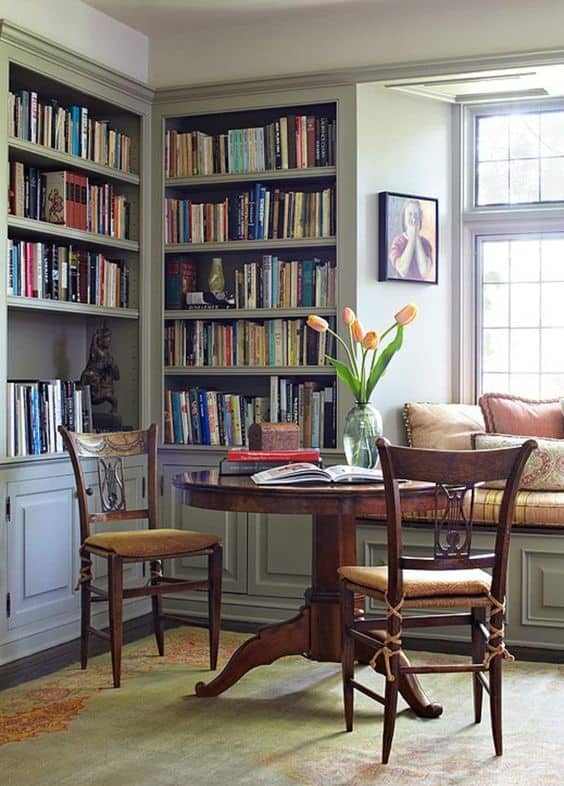 An important part of every home library is the shelves on which the books will be stored. Depending on the number of books you have, you have to decide the size of the shelves. You also have to take into consideration the shelves' color. It has to complement nicely the rest of your room design.
If you do your job right, your home library can quickly become the highlight of the room.
#2 Put a suitable armchair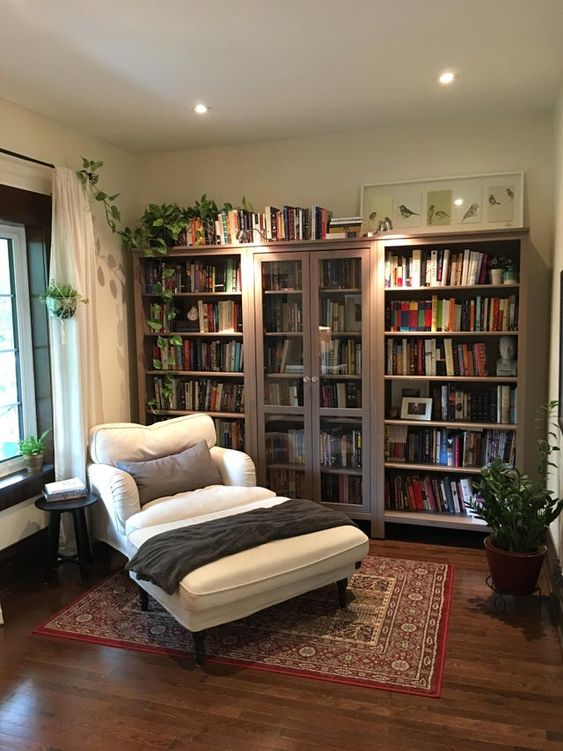 If you have the free space, you should certainly put a comfortable armchair next to your library. This way, you'll have a beautiful and cozy nook where you can enjoy a good book in comfort. Additionally, the armchair will only improve the look of your home library and make it stand out even more.
#3 Good lighting is necessary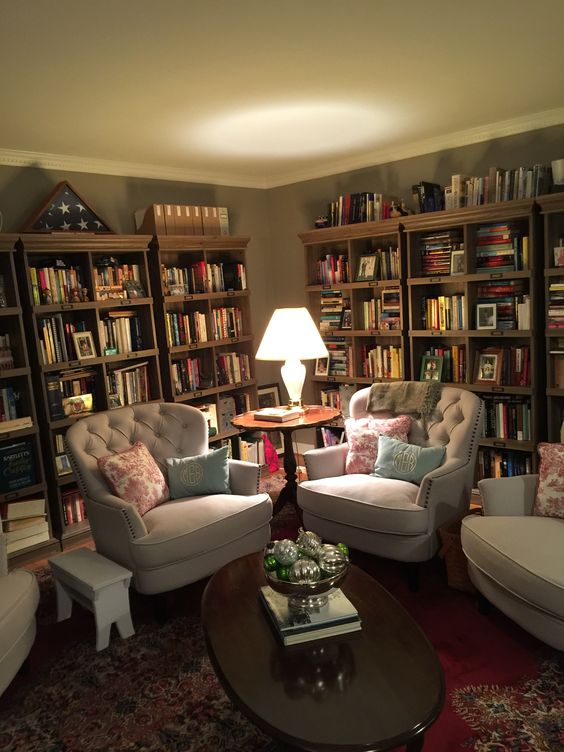 While reading or writing it is extremely important to have a good source of light to help you. Otherwise, the process could damage your eyes permanently. Therefore, put a lamp next to your reading space to prevent this from happening.
Remember, health comes first and if you want to enjoy a great book to the fullest, you need good lighting.
#4 Home library with ladder
A great and convenient addition to a home library can be a ladder. With it, you and the younger members of the family will be able to reach the highest bookshelves without a problem. Personally, this reminds me of my favorite Disney princess Belle from "Beauty and the Beast" and the castle's library.
Besides being a highlight of the room, such a ladder is also very useful while cleaning the home library. Books tend to get dusty and this is the reason why they need to be cleaned frequently.
#5 Additional decorative lighting
To make your reading corner even more magical you can add decorative lights. Thanks to them, your home library will be turned into a place out of a fairy tale. You could also use recessed lights on the bookshelves to further illuminate the books. The effect will be great, I assure you.
#6 Sort the books by colors
You can organize the books by color, so the whole look of the library will be even more interesting. But if you are not a fan of this idea, just arrange them by genre. For example, poetry, fantasy, science fiction, etc.
#7 Put beautiful paintings nearby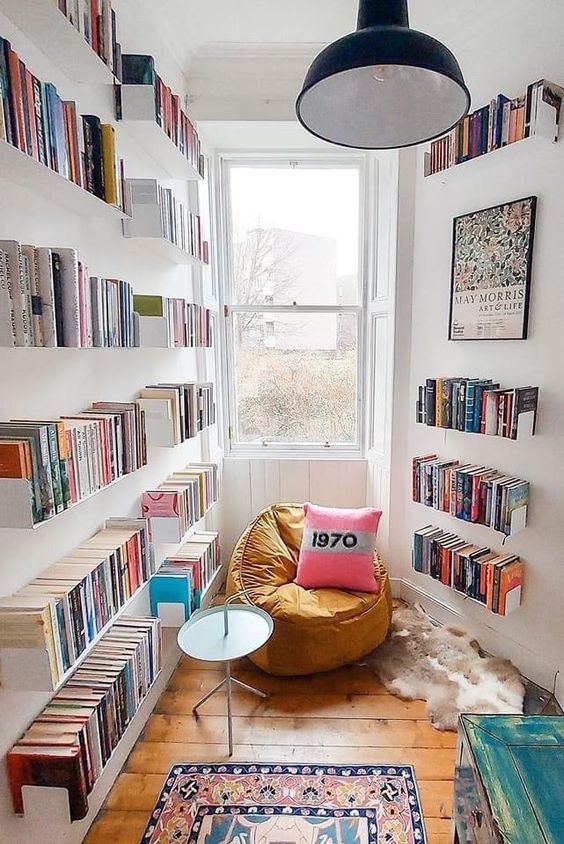 Why not create more than just a home library, but a whole art area in your room? Put paintings on the wall next to your library. This will only make your design even more unique and show your love and passion for all forms of art.
Another great option for an art corner in your room is to put ceramic figures close to your home library. They will also look very impressive.
#8 Home library in the living room
Needless to say, you can put your home library in whichever room you want. However, the most suitable place, in my opinion, is the living room. Normally, this is the biggest room in the house/apartment and will have enough space for a home library. There we also invite our guests and we want this room to look good. The library will only make the space more classy and cozy.
If you live in a big house, you can also dedicate a whole room to a library. Nevertheless, very few people have this opportunity or have so many books to store in it haha.
#9 Have it near a window
I assure you that your home library will look amazing next to a big window. When the books are illuminated by the daylight it looks very beautiful. Put an armchair next to the window too and if you have a nice view, it will be magical.
You can also use a bench decorated with cushions instead of an armchair. If your home doesn't have such a window, you can install lamps to illuminate the books. This puts a great accent on the library and looks very nice.
#10 Experiment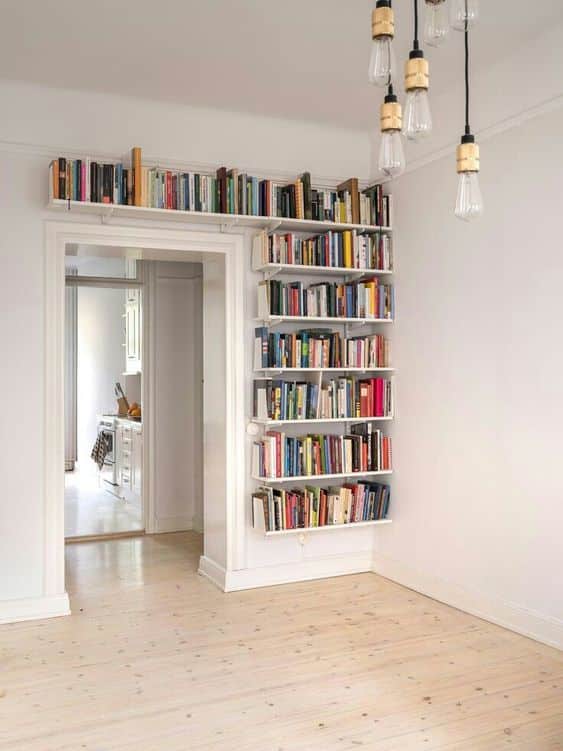 It's your home library, add your taste to its design! For instance, you can shape the bookshelves in many interesting and unconventional ways. Mount them directly to the wall if you wish. The shelves can also be in different colors or made from different materials. If you combine them correctly, it could look amazing.
Let your imagination run wild and create the home library of your dreams. Don't set limits for yourself and don't be influenced by other people's opinions. It's your home, you make the decisions!
Related posts you may like
How To Set Up a Home Office in 5 Easy Steps
How to Decorate Your Study Table: Inspiration and Ideas
How to Decorate an Office That Has No Windows: Tips and Tricks for Brightening Up Your Workspace
This post is all about how to create a modern home library in 10 easy Steps ♥