This post is all about how to decorate your dorm room for Valentine's day
This post contains affiliate links, which means I'll receive a commission if you purchase through them. You will have no extra cost!
Are you wondering how to decorate your dorm room for Valentine's Day?
On Valentine's Day, we celebrate our love and affection. The holiday has especially great significance for younger couples. If you are still in college why not decorate the dorm room appropriately and surprise your other half pleasantly?
Therefore, I have made a list of decorations that are small and compact, yet very spectacular. They will be ideal to create an amazing ambiance for this much-loved holiday.
So, if you are still wondering how to decorate your dorm room for Valentine's Day, this post is for you!
Valentine's Day Dorm Room Decor Ideas
1. Valentine's Day Gnome Plush Doll
These cute plush gnomes can serve as a great decoration for Valentine's Day in your dorm room. They are very compact and don't take up much space at all. At the same time, they are adorable and create a great mood for the celebration. Put them for example on the nightstand.
2. Valentine's Day Heart Garland
Hang this garland on the ceiling right above your bed and it will be an amazing decoration. Hearts are one of the main elements of the holiday and should be on display in your dorm room. It will serve as a great room accent and your partner will be impressed.
Recreate This Valentine's day dorm room decor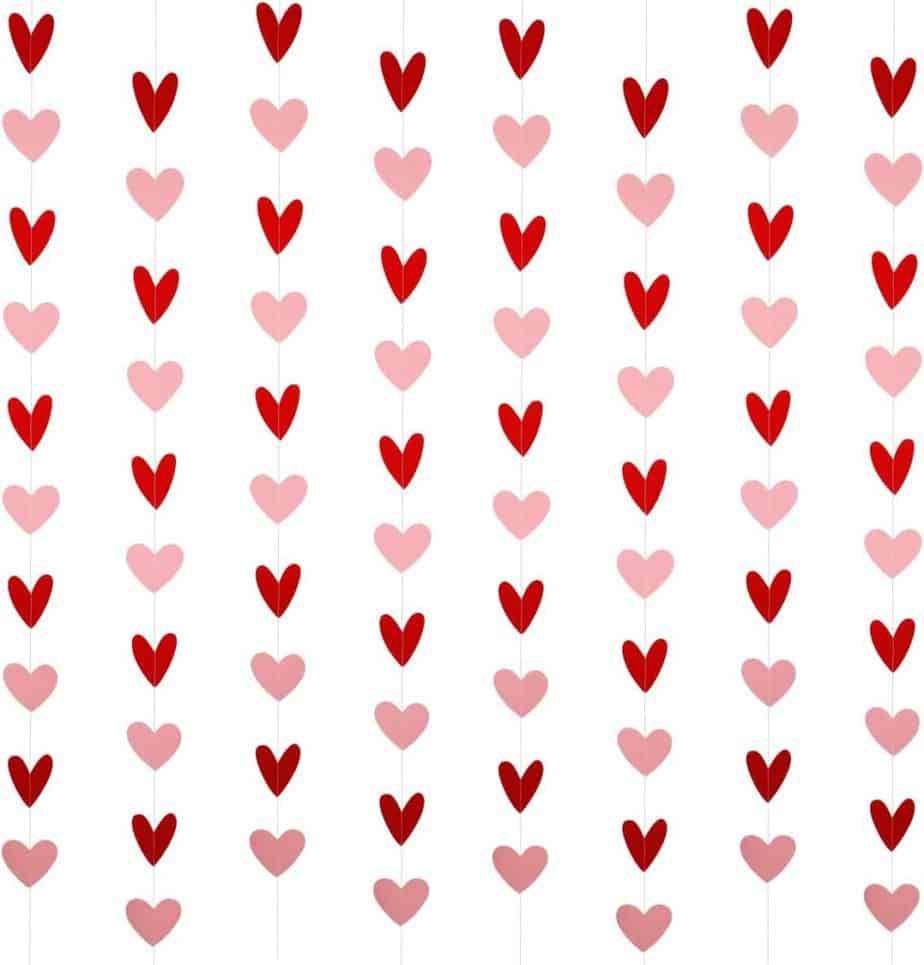 3. Valentine's Day Balloon Decor
You can find so many varieties of balloons suitable for the holiday. Balloons have always created a festive mood and are always a great decoration.
Put them on the wall or the bed. You can find balloons with captions, shaped like hearts, pictures, etc. Be creative and specially arrange them to surprise your loved one.
4. Valentine's Day Dorm Room Lights
Use themed lights to celebrate. The best colors for the holiday are red, pink and yellow. There are also different shapes from which you can choose. I will suggest you stick to these colors because there are the most suitable for the occasion.
5. Wine Glass With Caption
Drinking wine on Valentine's Day is a must no matter if you are in a relationship or not lol. Either way, you need a glass to pour it in, I don't recommend drinking directly from the bottle haha.
These glasses can make the wine taste even better. You can also order them with your names engraved or with the date you started dating. Order whatever inscription you find best. If you are single you can order a glass that says "Best Wine Ever". I think this is a great idea haha.
6. Metal Candle Holder
What more do you need for your dorm room to create a romantic atmosphere than candles? Pick the right ones and you will get a very spectacular decoration for the holiday. These candle holders will help you not to burn down your dorm room accidentally lol.
7. Valentine's Day Kitchen Towels
In the dormitory, each of us has a separate corner for a kitchen. We can also decorate it with beautifully themed towels or we can put them in the bathroom.
Such decorations seemingly small and insignificant can make a huge improvement in your room design. Making it more cozy and festive.
8. Valentine's Day Heart Ultra Plush Throw Blanket
The beds in the dorm room are the first things that get noticed. You can decorate them with a beautifully themed blanket that will add to the mood of Valentine's Day. You can also put a blanket on an armchair or sofa to complement the one on the bed.
9. Decorative Fake Books
Such types of decorative books are gaining wider popularity. You can put them on your pile of textbooks or your bedside table. You decide where it will look best, and why not combine it with some other ornaments?
10. Love Light Up Sign
You can put this lovely luminous sign wherever you see fit. It will look amazing in any place and when the lights come on you will have an amazing night lamp as well. I think that with this decorative element, your dorm room will look stunning on Valentine's Day.
Related Posts You May Like
22 Unexpected Gifts for Your Boyfriend That He Won't Forget
28 Christmas Gifts For Roommate From Amazon under $25
11. Valentine's Day Pillows
Earlier we talked about decorating with a themed blanket, but if we include pillows the picture will be complete. With the cushions, you can decorate the bed as well as the sofa, chair, or other.
Match the colors of the cushions with those of the overall decor so that the whole dorm room feels harmonious. Not being careful when combining colors could ruin the whole decor.
12. Valentine's Day Window Clings Decorations
Window clings don't take up any space and are so cute and fancy. You can find all kinds of stickers and arrange them as you see fit. Feel free to put them on the bathroom mirror as well. Valentine's Day-themed stickers are a great way to bring love into the air haha.
13. Rose Quartz Coasters for Drinks
Here is a great product with which you can create a very pleasant feeling for yourself and your guests. When your friends come over for coffee in your dorm room put on these coasters on the table and I assure you that they will not go unnoticed.
14. Valentine's Day Wooden Signs and Cute Gnomes Plush
You can put up a tray of decorations by picking your favorite ornaments. There are thousands of options here for arranging. Put together items typical for the holiday, small plush toys from loved ones, and photos.
Here you can turn on your imagination and organize things as you see fit. Another thing I can suggest is to put your makeup and other themed items in between.
15. Happy Valentine's Day Hanging Sign
This is a great decoration for your dorm room's door. I think this sign will get the attention of all your guests and especially your beloved one. Other places where this decoration will fit nicely are on a cabinet or a shelf.
16. Valentine's Day Banner Decor
Another pretty idea suitable for a dorm room is this banner. You can put such garlands on the walls and complement them with decorative lights. Furthermore, you can put pictures with your loved one also on a garland. Now that will be a very spectacular and personal decoration that will make you smile every time you see it.
Other Posts You May Like
20 College Dorm Halloween Party Decorations You Must See
22 Genius Dorm Room Christmas Decor Ideas To Copy
College Dorm Room Curtains | Make Your Dorm Room Cozier With Curtains
This post is all about how to decorate your dorm room for Valentine's Day