Are you looking for the best senior jeans ideas? In this post, you will see 17 outstanding senior jeans you'd want to copy.
This post contains affiliate links, which means I'll receive a commission if you purchase through them. You will have no extra cost!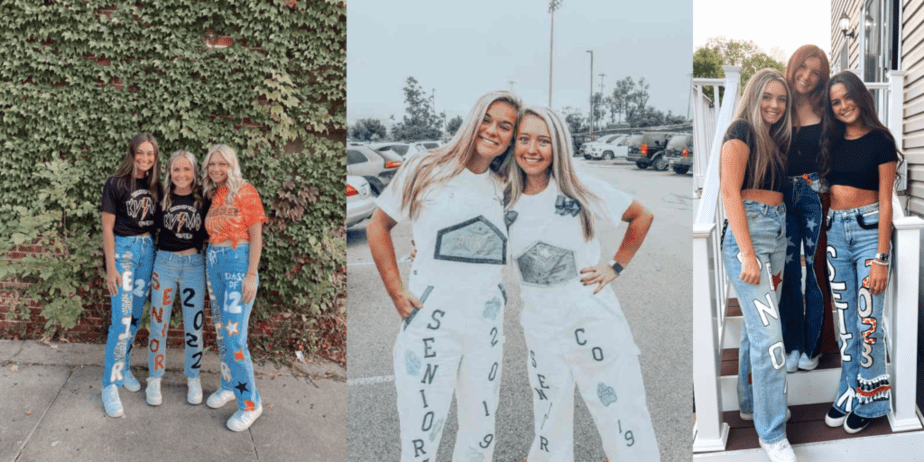 Senior Jeans You'd Want to Copy This Year
One of life's most memorable and exciting times is during senior year at high school. Students experience a large palette of emotions such as immense joy combined with a dose of apprehension about what is to come after they graduate.
One of the traditions or rather trends that students follow in many U.S. high schools during their last year is to wear senior jeans. But what exactly are senior jeans? What do they represent? How to make your own unique and cool pair? Continue reading to find answers to all of these questions.
What Are Senior Jeans?
Simply put, senior jeans are just a regular pair of jeans that are custom painted and decorated in the spirit of the school the student attends.
In most cases, seniors add uplifting slogans, cute iron-on patches, initials of the school, and the year of their graduation to the jeans to make them more unique and eye-catching. All of this is done by the students to display school pride and unity. Of course, it is also a fun and creative way to celebrate their last year at school.
In each school, students can decide differently when to wear their senior jeans. In most cases, this happens during homecoming week or senior week. Also, this trend is more popular and followed by girls than boys, but of course, anyone can participate as long as they want to.
How to DIY Your Own Outstanding Senior Jeans?
Creating senior jeans is not a hard job at all. You only need inspiration and a pair of regular jeans to start. My advice is to use old ones from your closet and give them a new life and purpose. This will save some money and bring more satisfaction when you successfully made your old jeans look stylish again.
Some of the basic arts and crafts supplies you will need are fabric paint and paint brushes. It is recommended that you stick to your school colors to show affiliation.
Here are some additional materials that would make your senior jeans look even more interesting:
First, I encourage you to sketch out the design you've come up with to reduce the chance of making a mistake. Next, paint the jeans and give them time to dry. Finally, add other decorations such as patches, pom poms, etc. Get together with girlfriends one day and do them together, it will be more fun and memorable this way.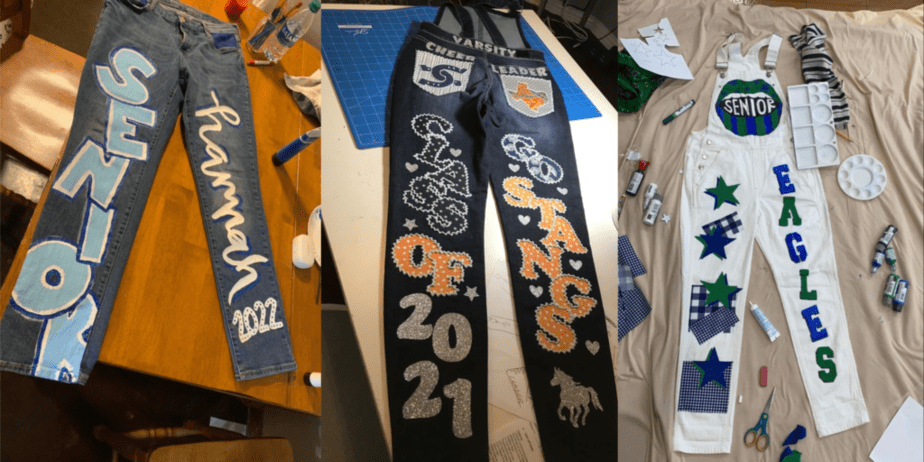 17 Outstanding Senior Jeans You'd Want to Copy This Year
1. Senior Jeans With Fringes
In high school, everyone wants to stand out from the crowd. Make this happen by creating your own unique and stylish senior jeans. One way to achieve that is by putting fringes on the leg openings. As you can see in the picture above, it looks very effective.
2. Senior Jeans With Pom Poms
Pom poms are a great detail to bet on when transforming your jeans. Place them on the legs or the pockets. There are many different types of pom-poms in all kinds of colors. Therefore, you can create something very original and beautiful.
3. Leopard Print Jeans
If you and your gang define yourselves as "bad" girls, then you should certainly add leopard prints to your senior jeans. Leopard prints in female clothing symbolize confidence and independence.
4. Stick To Your School Colors
To show off school pride and spirit via your senior jeans, make sure to paint them in the colors of your school. For example, if your school uses green, then let that be the main color in your jeans design.
Related post: 16 Best Budget-Friendly College Bags For Girls
5. White And Blue Senior Jeans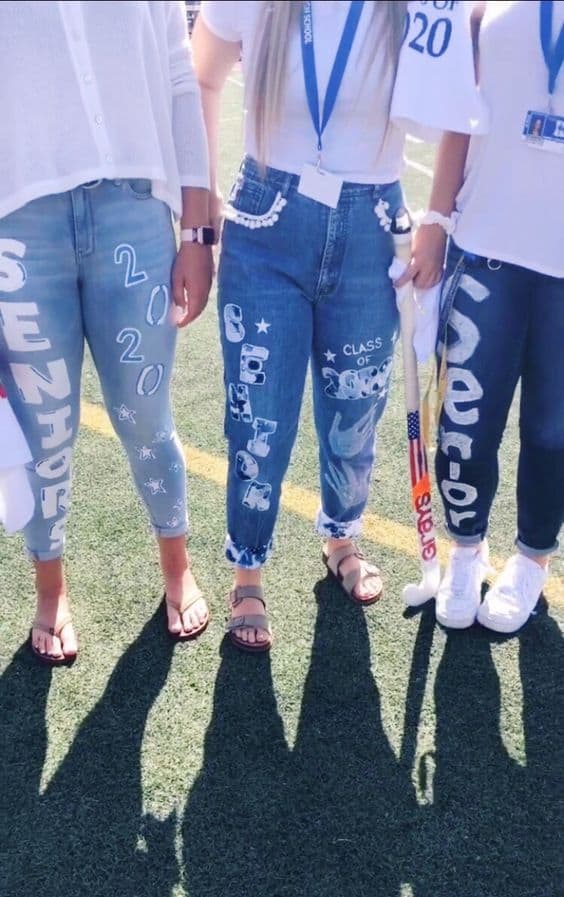 Many think blue paint won't be as noticeable on blue jeans. However, if you can combine white paint with blue paint as an accent, you can still get great results. Most often, blue denim is used as a base for senior jeans, but you can experiment also with other denim colors such as black, red, or white.
6. Barbie Edition
If you see yourself as a Barbie girl, why not express it via your senior jeans? Decorate them with gemstones, sequins, and fluff. You can combine several colors like white, purple, and pink – lots of pink. Be you and enjoy your beauty and youth!
7. Senior Jeans With Names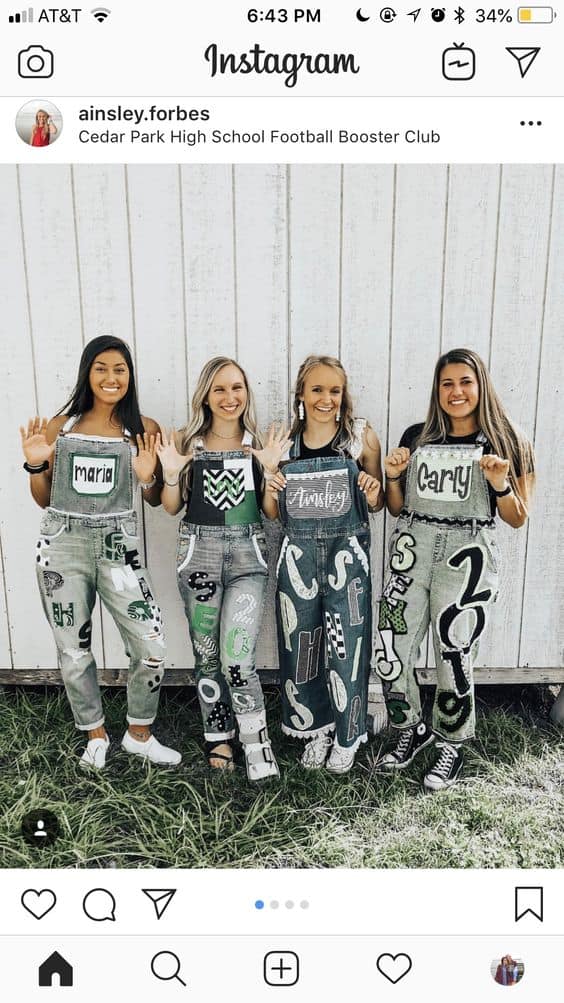 Why not put your name on the senior jeans? Use a different color for each letter or even decorate it with shiny gemstones. If your girlfriends like this idea, do it together. You will surely get people's attention and smiles.
8. Star Denim Patch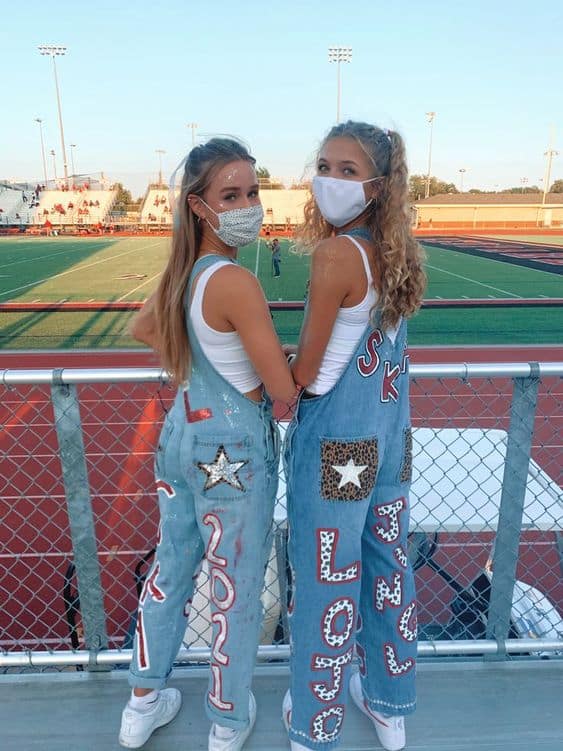 The pockets of the jeans are a great spot to add decorations. Paint something to make them more colorful and eye-grabbing or add iron-on patches. Both suggestions will bring you great results.
9. Puffy Jeans
Puffy or wide-leg denims are a great base for creating some unique senior jeans. The reason is that they look perfect on all body types. Decorate the legs with pom poms or fringes for an impressive effect.
10. Bubble Letters
Bubble letters will look phenomenal on all spirit jeans. Choose the right colors and font so that the characters will be easy to read. It's up to you to decide whether you want to use letter prints or fabric paint.
11. Pink Painted Jeans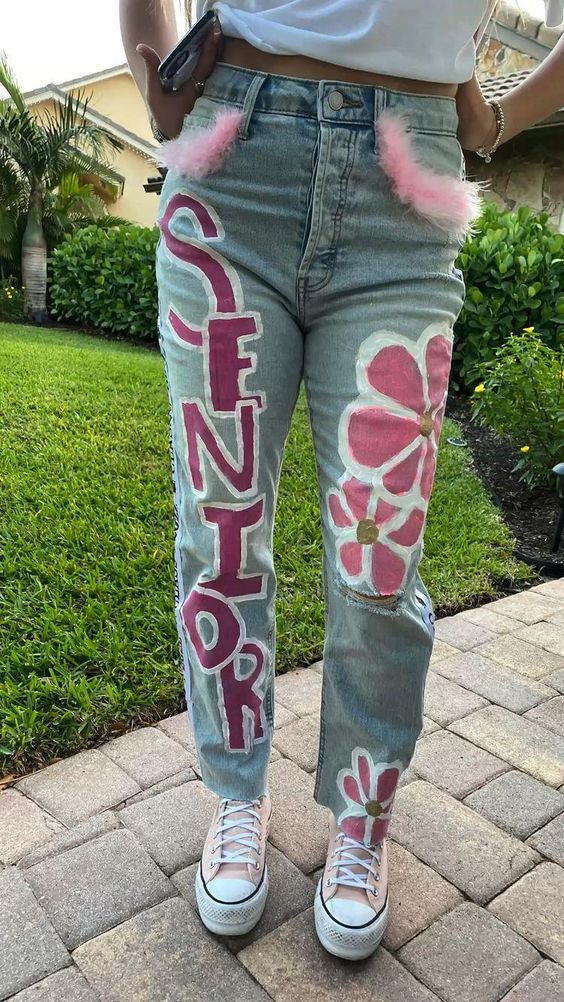 Almost all girls love pink color, so why not use it when designing your spirit jeans? Add pink letters, fluff, stones, sequins, and everything else that is also in pink. Pair it with white elements because that way the white will highlight the pink even more and make it stand out.
12. Seniors And Graduation Year
As mentioned earlier, you can also go with white denim for creating your senior jeans. Most students write their graduation year, school name, or the word 'seniors' as decoration for the spirit jeans. In this way, the seniors represent their high school and their identity.
13. Hand Printed Denims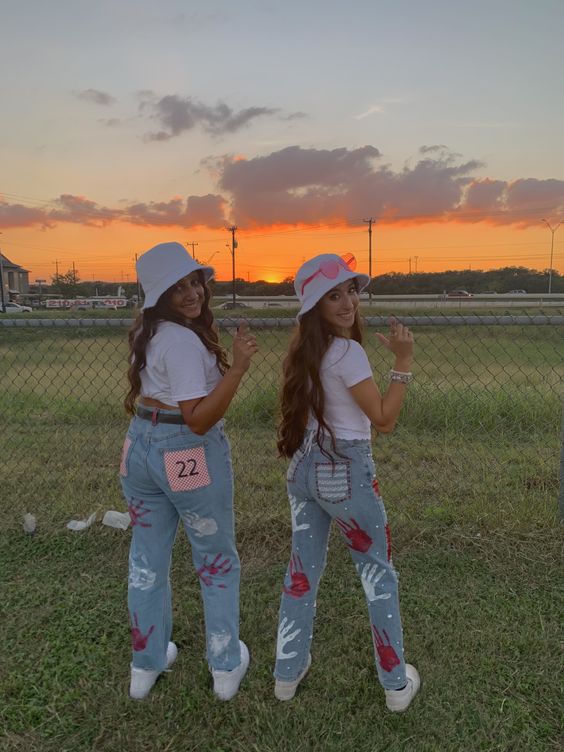 There are many different ideas when it comes to painting your senior jeans. One interesting suggestion is to make hand prints on them. If you have a dog or a cat, you can use them to make paw prints. I am sure your pet will be happy to help haha.
14. School Mascot Senior Jeans
Do you like the school's basketball or football team? Why not show them your support by decorating your jeans with the team's mascot logo? This is another common decoration seniors use to show their affiliation with the school and their pride.
Related post: 8 Air Purifying Plants For Your Dorm Room
15. Denims With Painted Paws
Most girls put them on their senior jeans to represent the school team, but I would use them as a decoration for no particular reason as well. Paws are very cute and stand out great anywhere.
16. Senior Overalls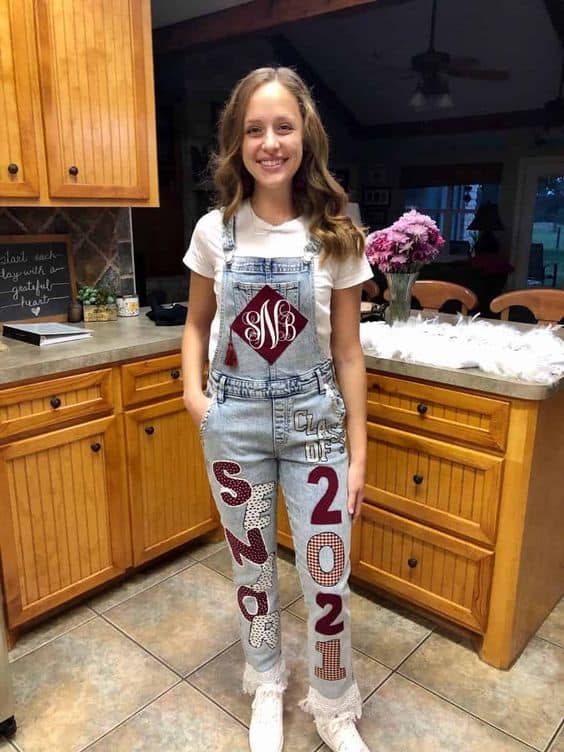 Another variant of senior jeans is senior overalls. They are used for the same purpose as the senior jeans to represent school unity. This time you just use denim overall instead of jeans.
17. Senior Jeans Shorts
In addition to tall jeans, you can also bet on shorts, which will look fantastic as well. However, your space for decorations will be more limited, so you will have to be more creative to create an impressive design.
Related posts you may like
This post showed you 17 Outstanding Senior Jeans You'd Want to Copy This Year