This post is all about 20 photo wall collage ideas for every bedroom
This post contains affiliate links, which means I'll receive a commission if you purchase through them. You will have no extra cost!
The most important space is the one in which we feel calm and safe. While we're in college, this is usually the bedroom. It becomes our sanctuary where the professors can't get us haha.
Of course, we want to make this room the most beautiful and cozy place for us. To achieve this, we can use many different decorations.

In the following lines, I present to you 20 different ideas for decorating your bedroom's walls with DIY photo collages. You can unleash all your creativity and add your style to whichever idea you like.
20 Photo Wall Collage Ideas For Every Bedroom
1. Golden Frame Wall Collage Ideas
You can decorate your wall with large photos in a similar style as in the picture above. Golden frames are always very effective and eye-grabbing. Make sure that all pictures are using the same type of frame.
recreate this wall collage idea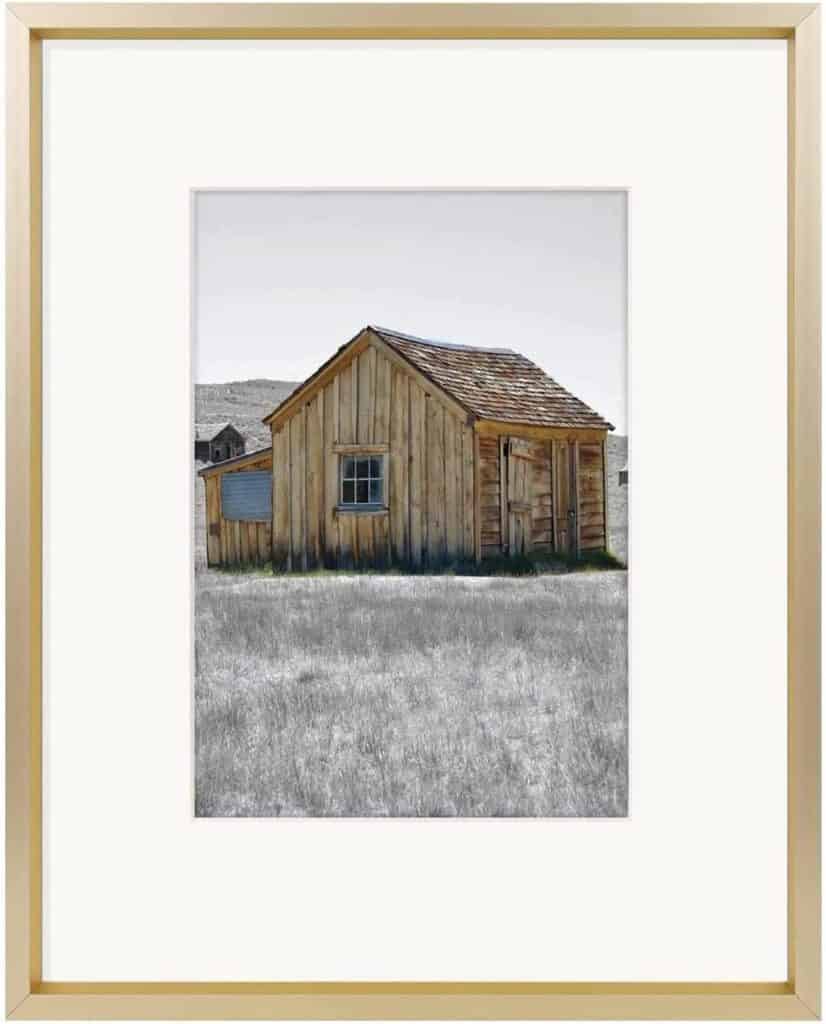 Related posts you may like: How to Create а Modern Home Library in 10 Easy Ways
2. Colorful Wall Collage Idea For Your Bedroom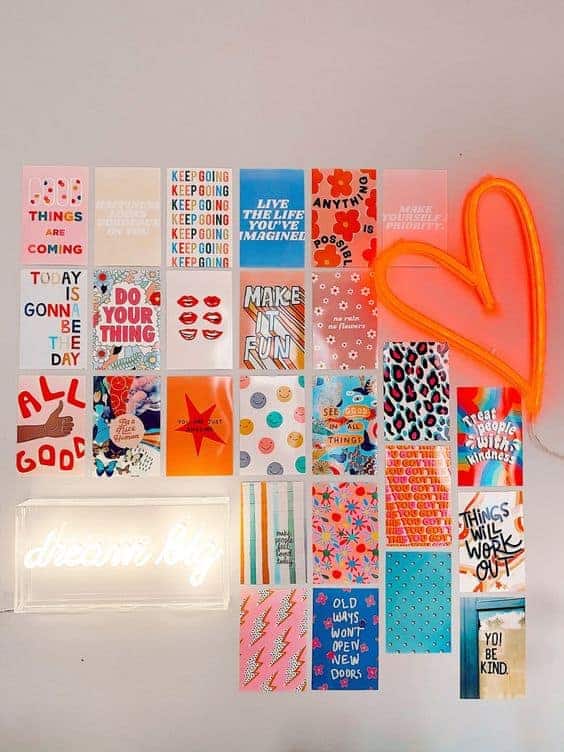 A super cute photo collage idea for your bedroom to turn a boring wall into colorful art. For this, choose different pictures that you like and you can complement them with a beautiful glowing figure.
Recreate this photo collage for your bedroom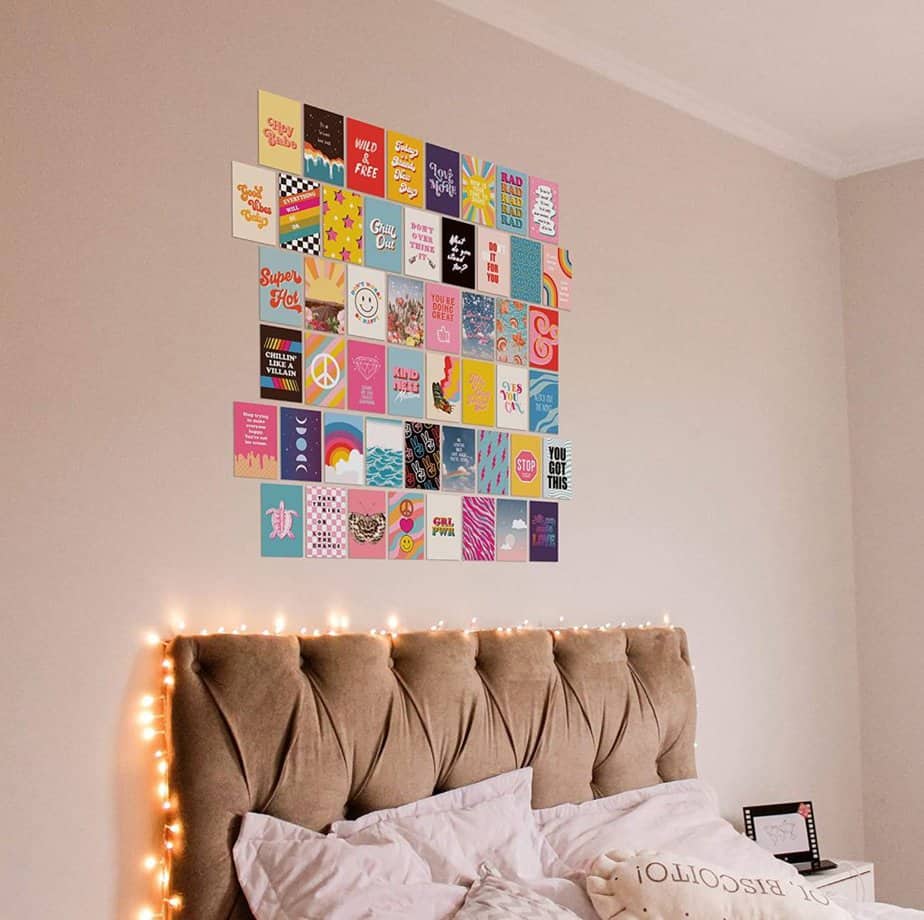 3. Wall Art Photo Collage
Why not design a photo collage that inspires you? A cool idea is to put pictures of everything you dream of on the wall and thus turn it into a wall of goals.
recreate this art collage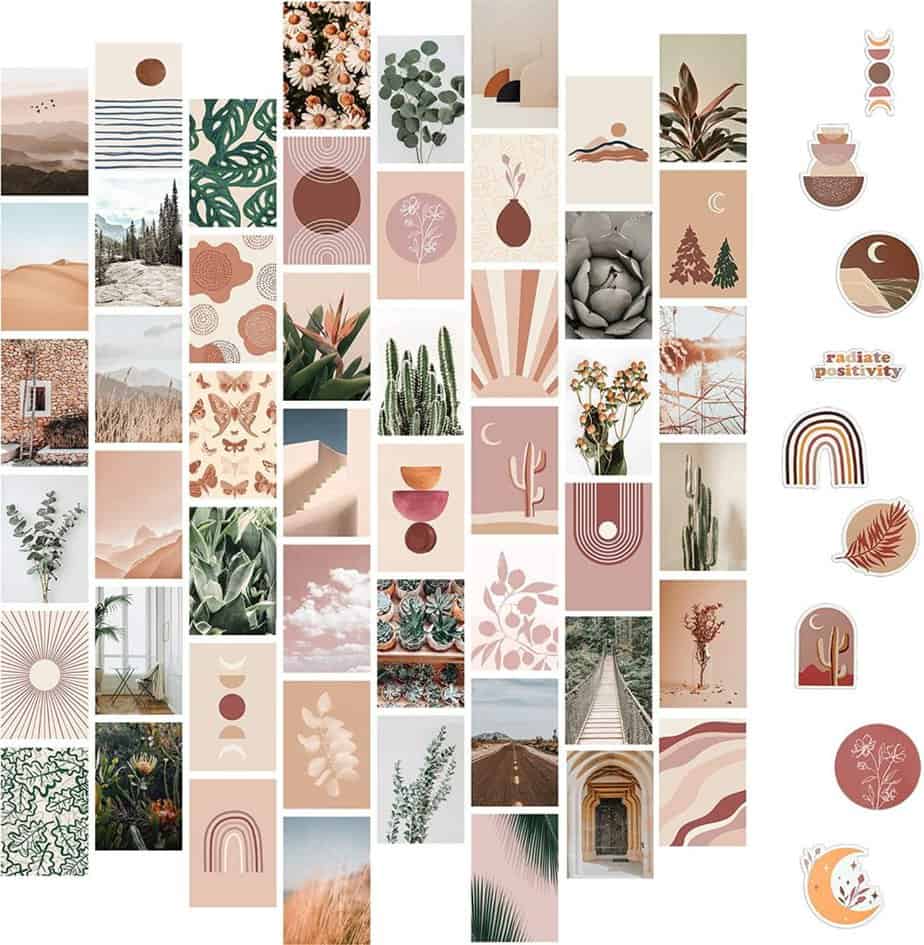 4. DIY Bedroom Photo Collage
The most meaningful and beautiful thing in this world is love. Fill your room with it by creating a wall collage full of pictures and letters from your loved ones. For example, you can use letters and photos from your friends, mother, father, brother, sister, etc.
recreate this heart collage
Related posts you may like: How Long Do You Have to Wait to Put Furniture On a New Carpet?
5. Wall Collage On a Budget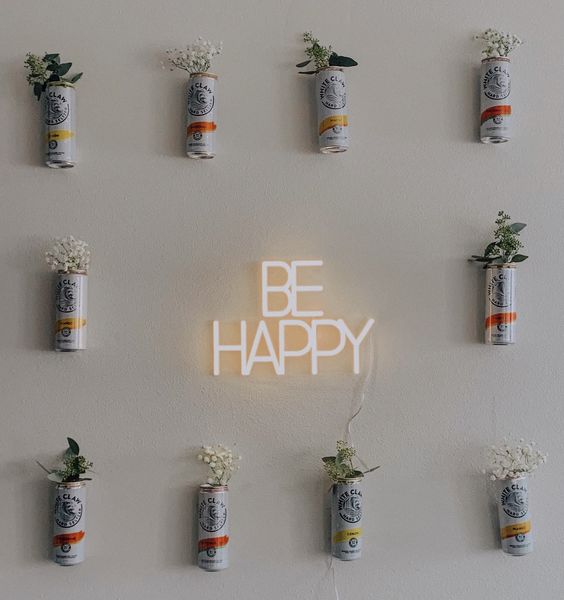 This is an inexpensive and creative idea for decorating your wall. You can arrange the empty cans in a variety of shapes to your liking, and you can put a beautiful accent in the middle.
recreate this idea
6. Boho Gallery Wall Set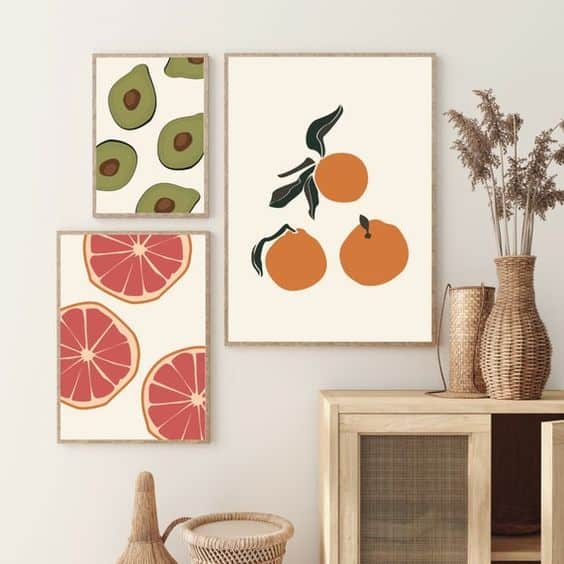 If you are a fan of floral motifs, this photo collage idea for the bedroom is just for you. Combine the colors with the rest of your room's furniture and you'll achieve a very stylish decoration. It is a cool idea to put seasonal fruits according to the given season.
recreate this boho wall set for bedroom
7. Photo Wall Collage For Bedroom With Lights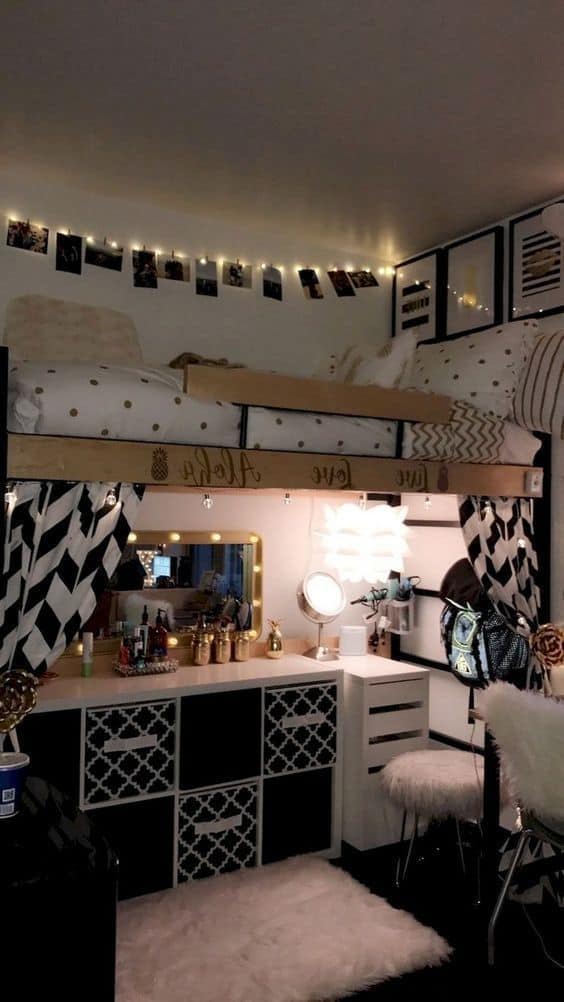 Very cute combination of pictures and lights. You can try it out for your bedroom, I guarantee you that the final result will be amazing.
recreate this photo collage with lights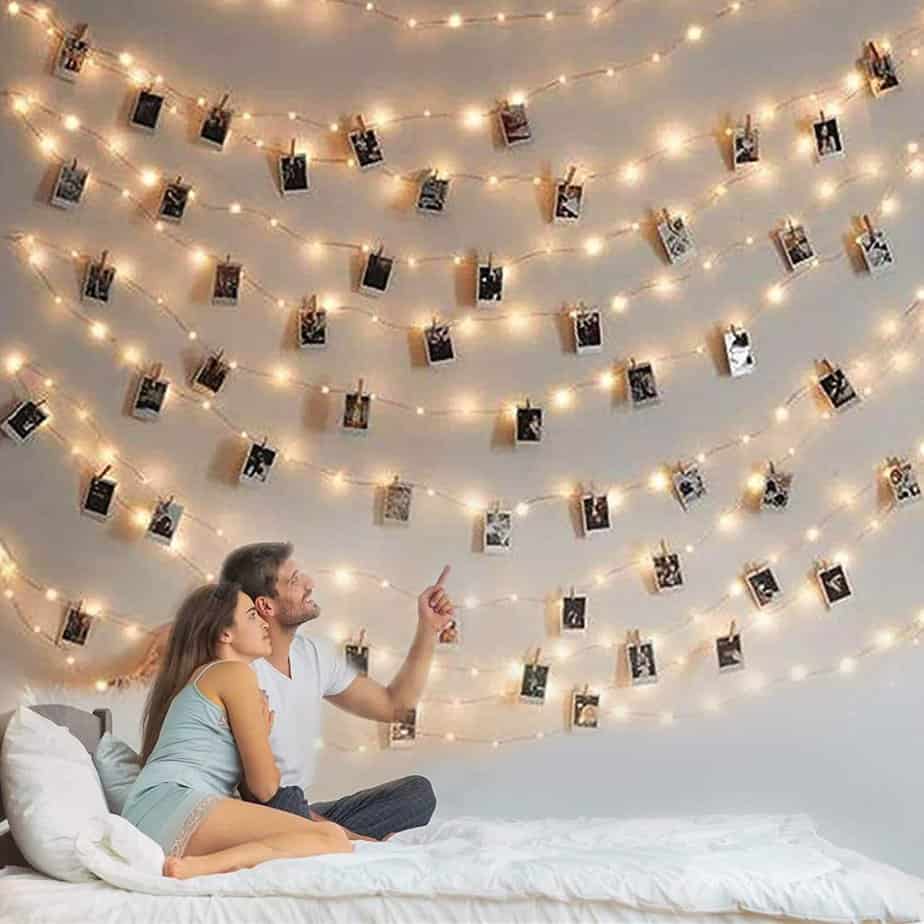 8. BFF Wall Collage
A wall collage full of fun memories with your best friend is always a great idea. Select the coolest photos you have together and decorate your wall. What you can do is print the pictures in different sizes. This way, the photo collage will be more animated.
9. Bedroom Wall Collage for Music Lovers
Do you like music? Of course, you do! Who doesn't love music?! Using records and album covers of your favorite bands is an amazing idea for a wall collage. Now, everyone that enters your bedroom will know that you have a good taste in music haha.
recreate this bedroom wall decor
Related posts you may like: Why Do People Hang The Big Fork And Spoon In Their Kitchens?
10. Artificial Plants + Photo Collage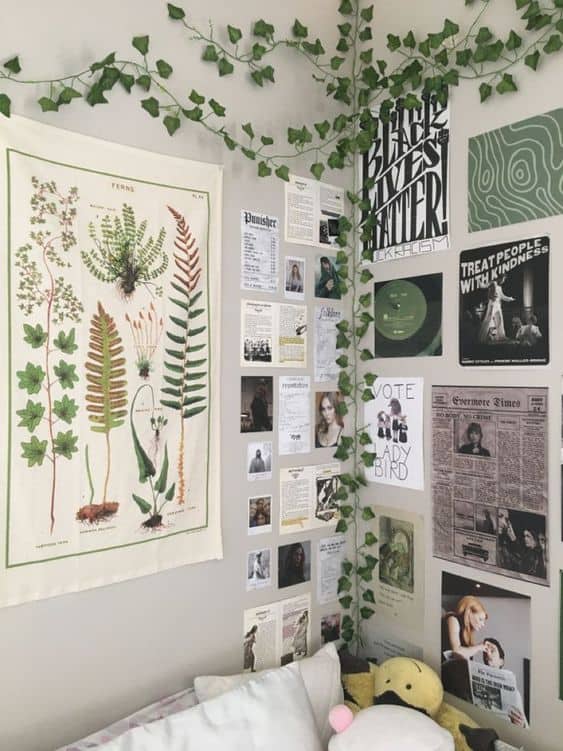 Paintings and photos aren't everything that you can use for a wall collage. You can add beautiful artificial plants for example. The green color will bring peace and harmony into the room.
Recreate this bedroom wall decor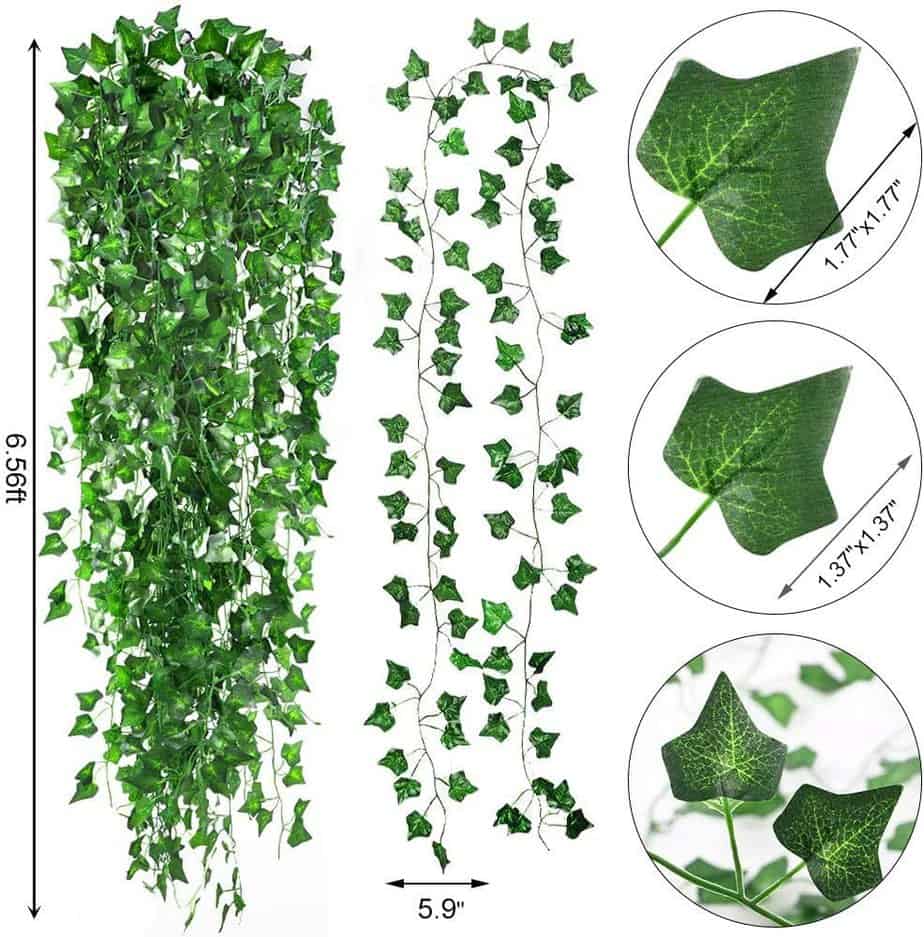 11. Full Wall Photo Collage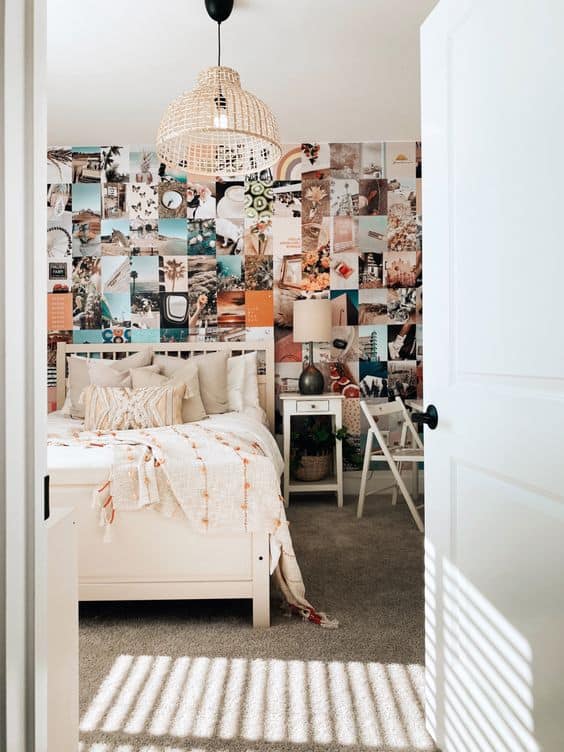 Imagine making an entire wall full of photos of your dreamed destinations, dear people, and inspiring quotes. It will be nice, right? Well, get to work then and make a full wall collage.

In the process of creating the collage, you will probably need double-sided tape to stick the photos on the wall.
12. Your Favorite Pink Photo Collage for Bedroom
This reminds us that pink will always be perfect for a female bedroom. Choose photos with pink shades and add a luminous sign or figure to complete the wall collage. If you want, you can also combine the whole thing with an artificial plant as done in the picture.
recreate this bedroom wall collage
Related posts you may like: 18 Festive Friendsgiving Decor Ideas Under $25
13. Photo Collage Behind The Mirror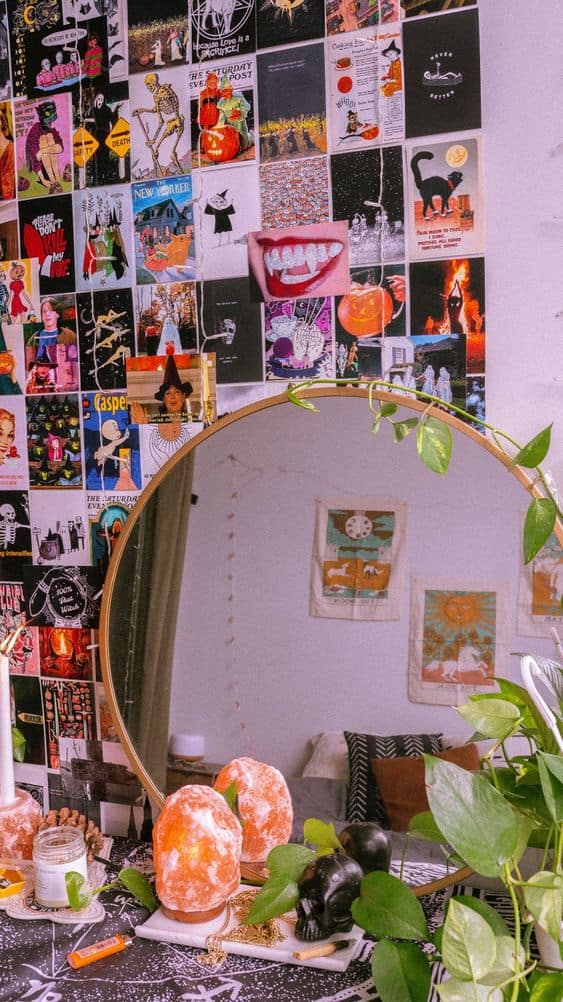 Decorating the wall behind your dressing table is a good design solution. This will make your beauty nook even more attractive and pleasant.
Again, a plant is used here to complement the decor. It adds a nice finishing touch to the whole atmosphere.
You can read an article in which I talk about plants that are very useful in purifying the air
recreate this photo collage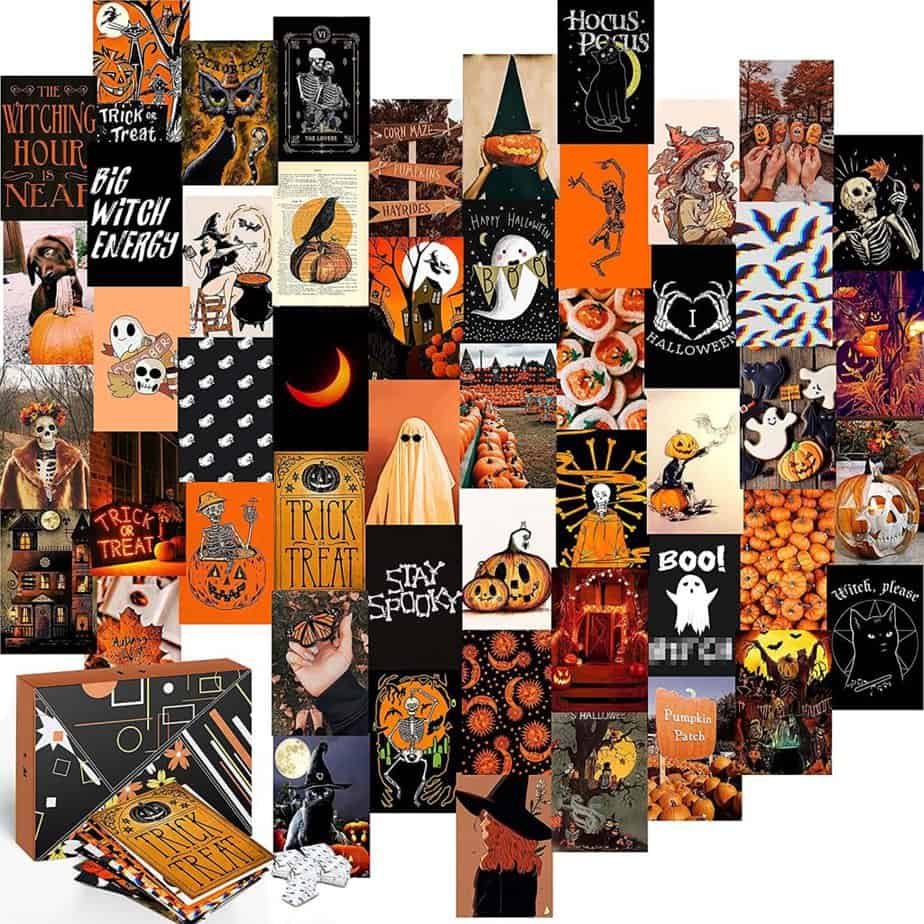 14. Corner Photo Collage in Your Bedroom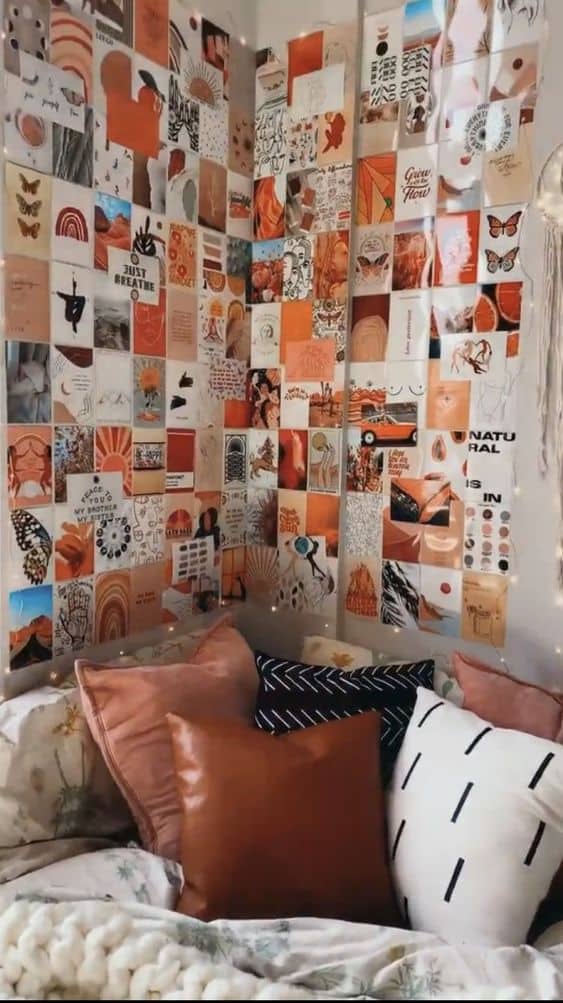 You can position your photo collage in the corner between two walls, so you will turn a boring corner into an amazing one. Try to create a collage that will complement the colors of your bedroom as much as possible.
15. Another Easy DIY Idea for Photo Collage
Probably you don't want the whole wall to be in glue or duct tape because of your collage, right? Then, you can put all your favorite images on a corkboard. This way you'll have a great nook without damaging the wall.

Use lights around the corkboard to turn it into the accent of the room.
16. DIY Wall Photo Collage For Your Bedroom
Another proposal for preserving the wall. I like the fact that you can change the photos frequently and thus have the ability to change the collage without peeling anything off. You can also complement it with lights and faux plants here. Use this idea and make it your own!
recreate this photo collage idea
17. Photo Wall Collage + Favorite Quote
I love lamps because you can make so many beautiful interior decisions with them. They also create a warm and comfy atmosphere in the room. Put under their light a collage with pictures of your loved ones or a quote that inspires you.
Choose Your Favorite Caption (example)
Related posts you may like: How To Decorate Your Hallway To Look More Spacious
18. Pink Photo Collage for Bedroom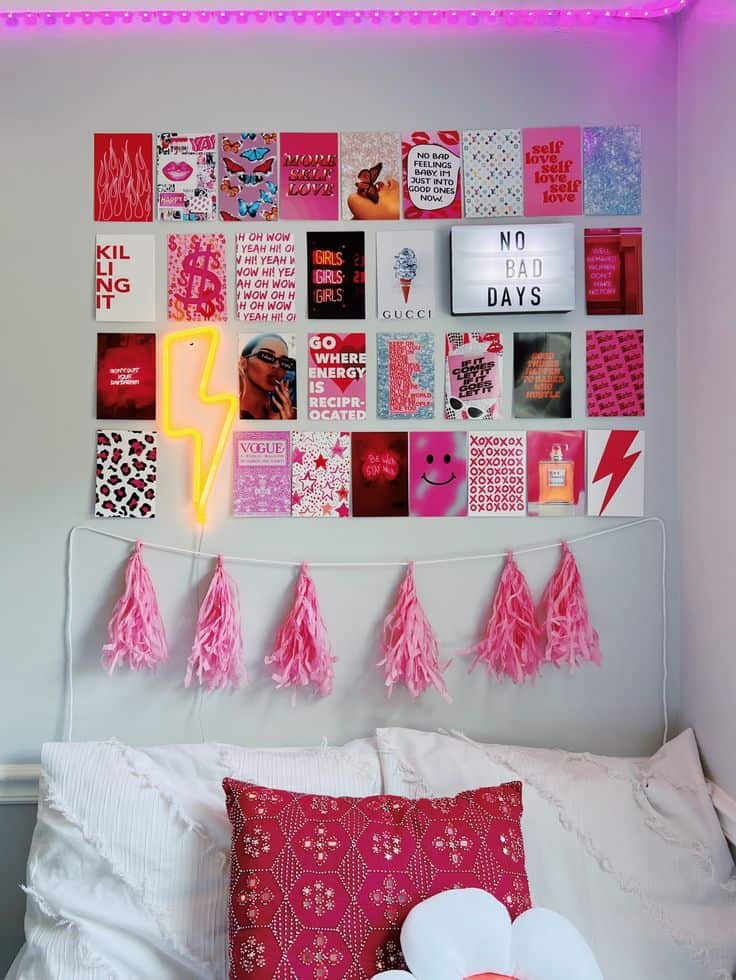 Pink accents will always be preferred by girls. Choose your favorite motifs and combine them using complementary elements to finish the decoration.
19. Black & White Photo Collage
Black and white elements are very popular and many people are betting on them. Very stylish and classy, especially when combined with amazing details.
Photo Wall Collage Ideas For Every Bedroom
20. Hanging Photo Collage
This for me is the perfect wall collage for a college dorm bedroom. It looks so nice and clean, it just energizes you to study hard and pass those exams haha
recreate this photo collage
This post is all about 20 Photo Wall Collage Ideas For Every Bedroom