Don't know what a senior crown is or you're just looking for ideas and inspiration to make one? In this post, you will get answers related to the topic and see 21 senior crown ideas that will impress all your classmates.
This post contains affiliate links, which means I'll receive a commission if you purchase through them. You will have no extra cost!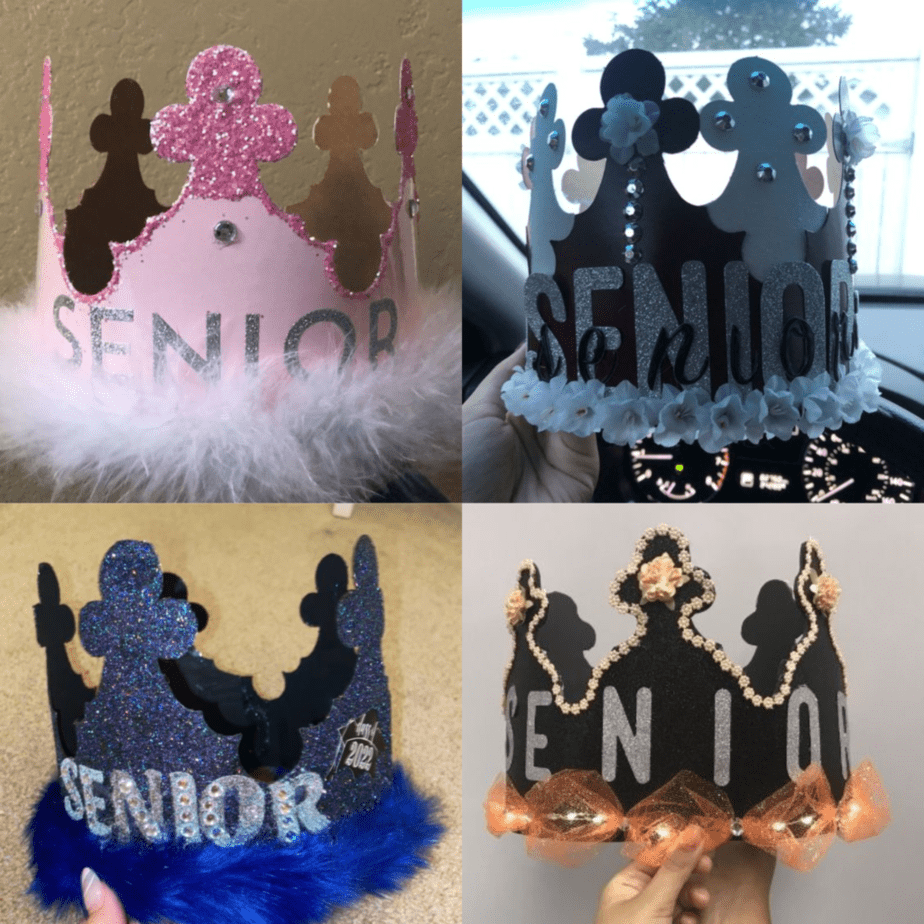 The last year of high school is always filled with a lot of excitement because it represents the final line between adulthood and the carefree life of a student.
That is why twelfth graders celebrate and commemorate their last year of school with many interesting events and traditions.
One of these traditions, especially popular among girls, is the making and wearing of a senior crown.
What Is a Senior Crown?
Senior crowns are worn by twelfth graders to celebrate and mark their last year of school life in a fun and creative way. Many schools in the US have this tradition and through the crowns, students can show school spirit and their unique personality.
When to Wear Senior Crowns?
Senior crowns are worn in most cases on the first day of the new school year or throughout the entire first week. It is also common to wear them during homecoming week and at school athletic events.
How to Make a Senior Crown and Things You'll Need?
You can make a senior crown out of paper or cardboard. Often students also take a Burger King crown as a base and then decorate it as they wish.
Here's a list of things you'll need to decorate your crown:
scissors
craft glue
different colors of paints
paint brushes
scotch tape
artificial flowers, gems, glitter, etc.
How Should I Decorate My Senior Crown?
The process of creating a senior crown gives you a great opportunity to show your creativity and uniqueness. Decorate it in a way that shows your style, personality, and passions as an individual. If you can't think of anything good, then just use the school colors and write your year of graduation.
21 Senior Crown Ideas to Be the Center of Attention
1. Black & White Senior Crown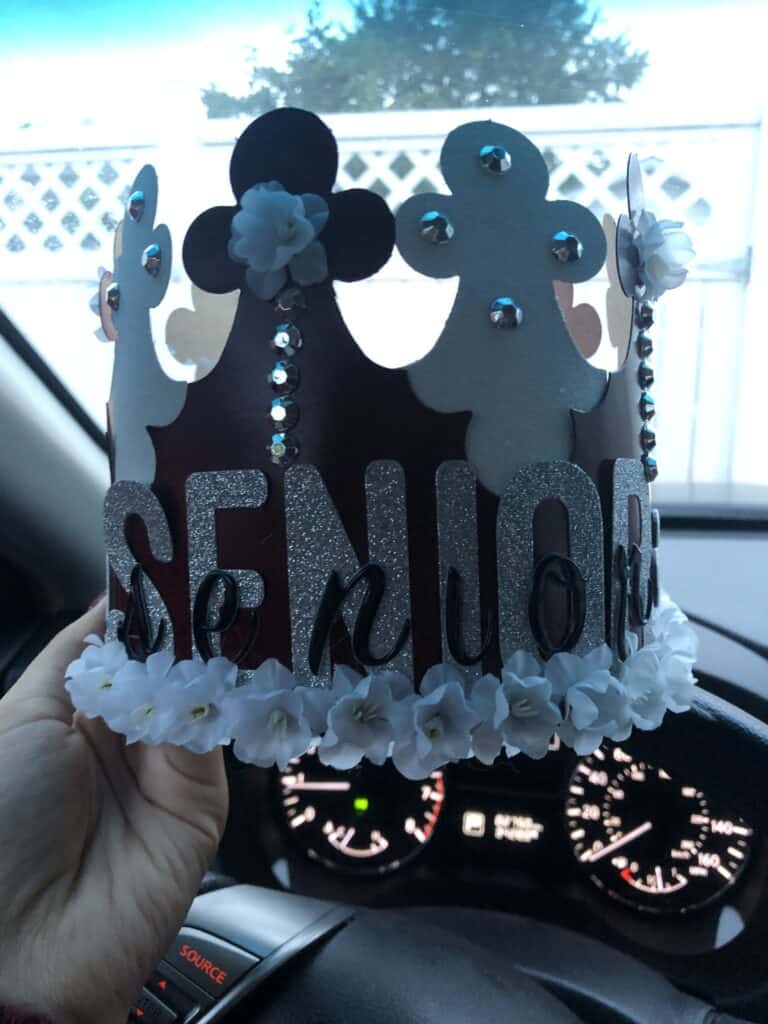 If you're a fan of the black and white combination like me you can bet right now on this idea.
Тhese are one of the most versatile colors and everything will suit them. Decorate with artificial flowers, gems, and letters, and just let your imagination run wild.
2. Senior Crown With Pearls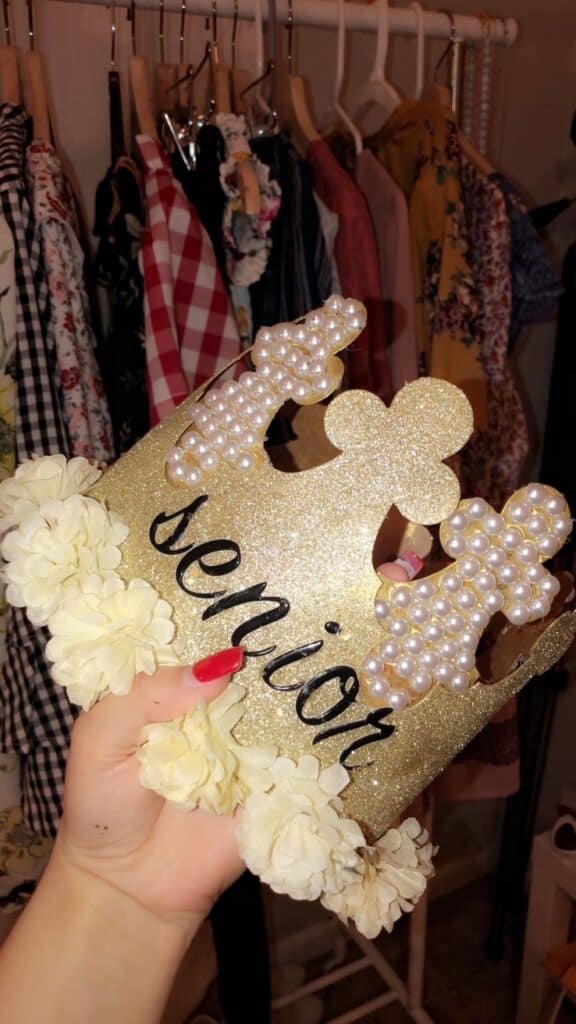 I love pearls! I think they are very delicate and eye-pleasing as decoration. Luckily, you can find them in all kinds of colors and create an amazing crown that will look stunning.
If you wish, ornament further with flowers, pom poms, and rhinestones. Also, don't forget about the inscription.
3. Fluffy Crown 1
This crown looks AMAZING! I love how pink is being used as a base color and complemented nicely with white elements on top. However, the main focus here is on the fluff as it is placed at the bottom all around the crown.
You can also place the puffs on the spikes of the senior crown. First, cut and form them into balls. Then just place them on each spike. I think it would look lovely.
4. Colorful Crown
If you love colorful things, this suggestion is for you. It's important to get that dream crown that will make you feel like a princess.
You can use colored paper, beads, and many other decorative ornaments to create a true work of art.
5. Pink Glitter Crown
When we talk about princesses and crowns we can't help but include the pink glitter. Pink is the color that is associated with all things feminine and will certainly make your senior crown stand out.
6. Butterfly Crown
Another very original and cute idea that you can copy for your senior crown. Create your butterfly element by choosing and combining colors, shapes, sizes, and everything else.
All you need to DIY is paper or cardboard, scissors, glue, and some dexterity.
7. Crown with Flowers
This crown reminds me of spring. Decorated with artificial flowers and complemented by a perfect combination of colors, lettering, and shapes.
With a senior crown like this, you will certainly be the center of attention because it looks massive and very eye-catching.
8. Dark Blue Crown
Most girls gravitate towards pink and other brighter colors for their senior crowns. Be different and go for darker shades like royal blue for example.
As you can see in the picture above, it turns out spectacular. You will surely stand out among your classmates.
9. Black Senior Crown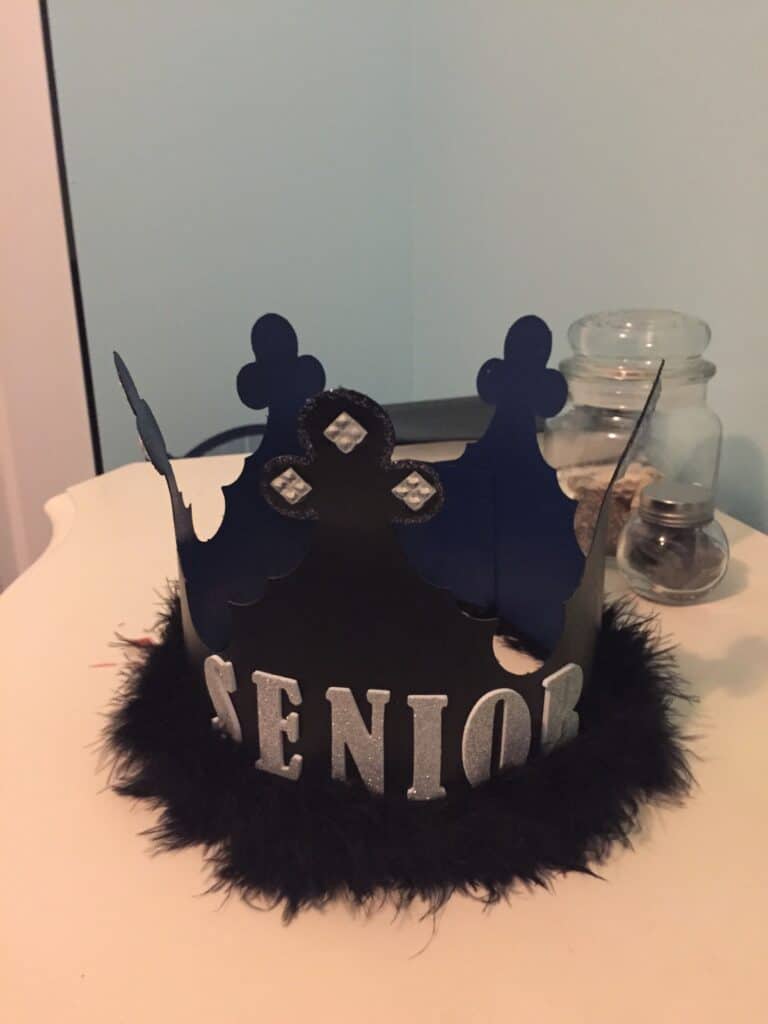 Oh, yeah! I know most of you want this crown but family or friends discourage you because the black color is associated with negative emotions and events.
But if you are a fan of the color, then don't listen to stereotypes and make your senior crown all black. The advantage is that any colorful details will stand out much better because of the contrast.
Related post: The Best 7 Homecoming Tips to Stand Out
10. Crown with Lighting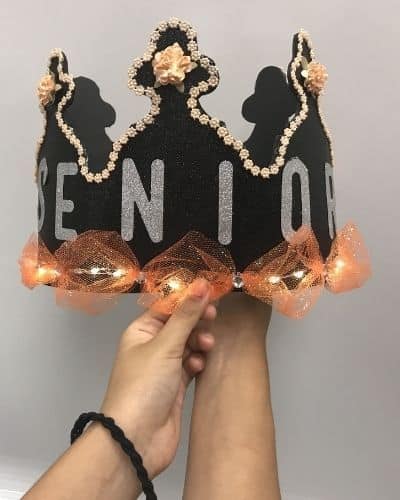 I never thought of this. Putting lights on your senior crown is a brilliant idea that without a doubt will set you apart from the others.
You should look up on the internet for such battery lights. Hopefully, you can find what you need.
11. Silver Crown
Another super stylish suggestion is to go for a crown that is covered entirely in silver glitter. Along the bottom edge, you can add some high-quality artificial flowers to enhance its design.
Here it is important to know that the flowers will determine the colors, so choose carefully.
12. Sunflower Senior Crown
Sunflowers and a sky full of clouds. This is one of the senior crowns with the best and sweetest design I have seen. You too can bet on such natural and delicate colors and patterns.
13. Golden Crown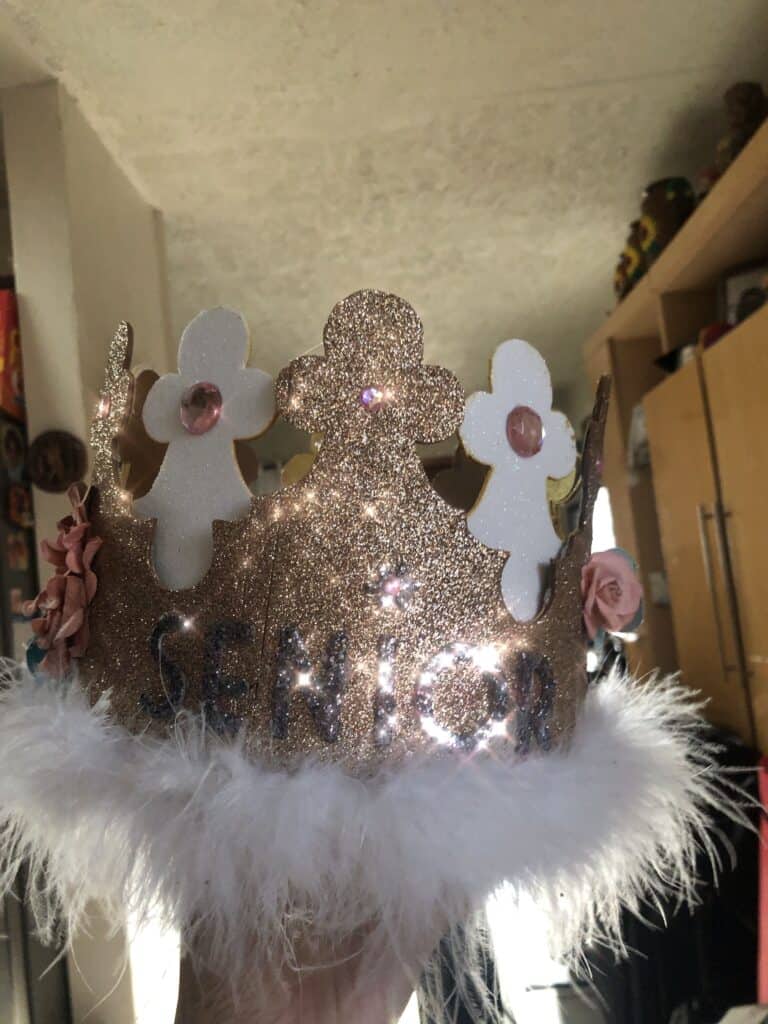 What could be more suitable than a golden crown? I personally really like gold as a color and implement it in everything I can.
If you also like it, create an amazing royal crown with some amazing details that will make it stand out.
14. Fluffy Crown 2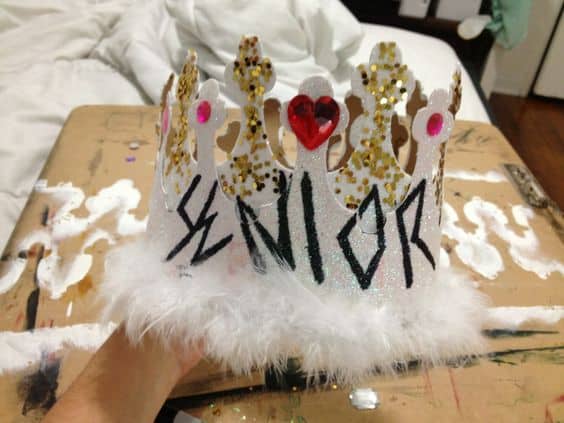 Just like the black crown, the white one is very versatile as you can combine it with many different colors.
Again, I remind you to choose details that reflect your personality or your hobbies. This is the best way to get a senior crown with a unique and impressive design.
15. Sponge Bob Crown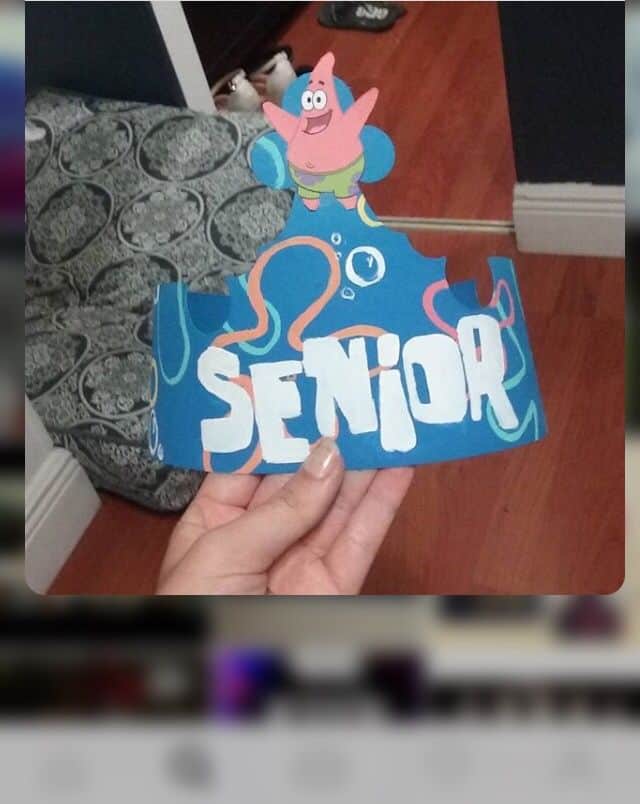 As I mentioned, the senior crowns should represent the personality and interests of the students. If you have a favorite cartoon character, you can use it as the theme of your crown.
16. Pink and Black Senior Crown
The combination of black and pink has always been incredibly beautiful to me. If you agree with me, go for these colors as you can add white details as well.
When you have the base, put the letters and a large bow as an addition.
17. Pinky Crown
If you want to become the center of attention, add lace to your crown. Think about how to position it in the best way possible.
You could also add pearls to it because I think they would complement the lace beautifully.
18. All Glitter Crown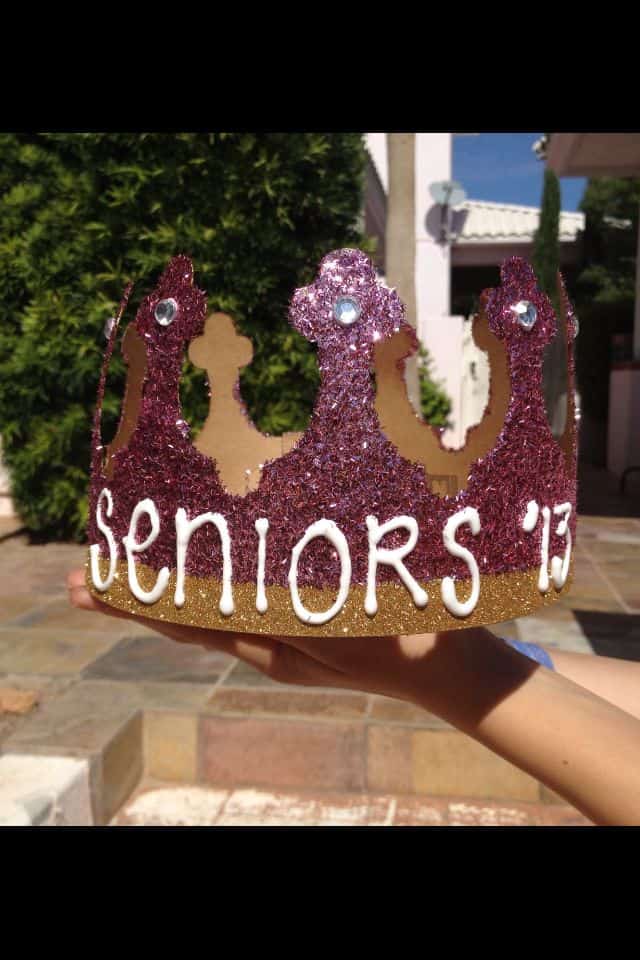 Make your senior crown entirely covered in glitter as you can use different colors, gems, and fluff to further improve its design.
Don't forget about the inscription as well. Choose the right color for the letters so everything is in perfect harmony.
Related post: 15 Stylish Senior Overalls You Can DIY Quick & Easy
19. Crown with Photos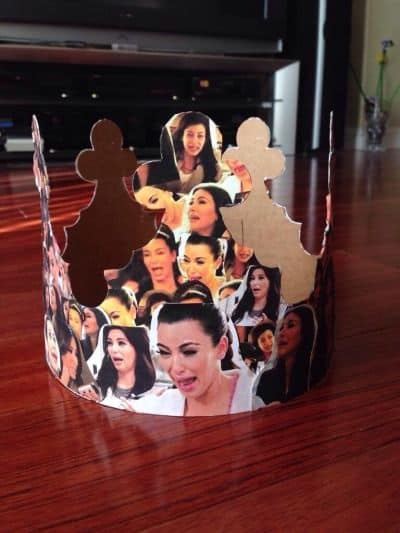 A bit more unconventional design is a crown made as a photo collage. Use photos of you, your friends, your favorite actors, or musicians that you like and reflect your interests.
20. Disney/Pixar's Up
I like senior crowns with details that have some sort of а clever reference to something. For example, this crown recreates a scene from the animation "UP", which we all love so much.
The balloons are made very originally using pom poms. You too can create such a beautiful crown by choosing a scene from a cartoon and recreating it.
21. Name Crown
Another cool suggestion is to write your name on the crown. As someone who likes personalized things, I would love a crown like this with my name or initials on it. Choose the colors and style you want and act on it.
related posts you may like
This post showed you 21 Senior Crown Ideas to Be the Center of Attention