The holidays are approaching and you are still wondering what small gift to put in your roommate's Christmas stocking? Well, in this post you'll see 35+ stocking stuffers that any college girl would want for Christmas.
This post contains affiliate links, which means I'll receive a commission if you purchase through them. You will have no extra cost!
Dorms always become magical before the Christmas holidays. That's because all the college students try to lift their spirits for the festive period with themed decorations. One of the most decorations which can be found in almost every dorm room is the Christmas stocking.
If you have a roommate, then you might want to pleasantly surprise her by putting a small present in her Christmas stocking. However, this can be a difficult task if you don't know her well enough yet and don't know what she likes.
But don't worry, with this post compiled of 35+ gifts that any college girl would appreciate and want, I'm sure you'll find an appropriate stocking filler for your roomie.
What Is a Stocking Stuffer?
The little presents placed inside a Christmas stocking are called stocking stuffers or also stocking fillers. In general, these small Christmas gifts do not need to be particularly expensive and can even be just some candy.
Are You Supposed to Wrap Stocking Stuffers?
It depends on your personal preferences. In general, the Christmas stocking itself plays the role of the wrapper and the stocking stuffers shouldn't be wrapped.
Which Way Should the Toe on a Christmas Stocking Face?
There is no right or wrong direction. The toes can point to the left or the right, both options are perfectly fine. You can even hang your Christmas stockings in both directions, it doesn't matter.
Do You Open the Christmas Stockings Before or After the Main Gifts?
There is no set order of opening. In some families, they have their tradition to open the Christmas stockings before the main gifts, and in other households, this is done after. So do it as you like.
35+ Stocking Stuffers That College Girls Want
1. Manicure & Pedicure Sets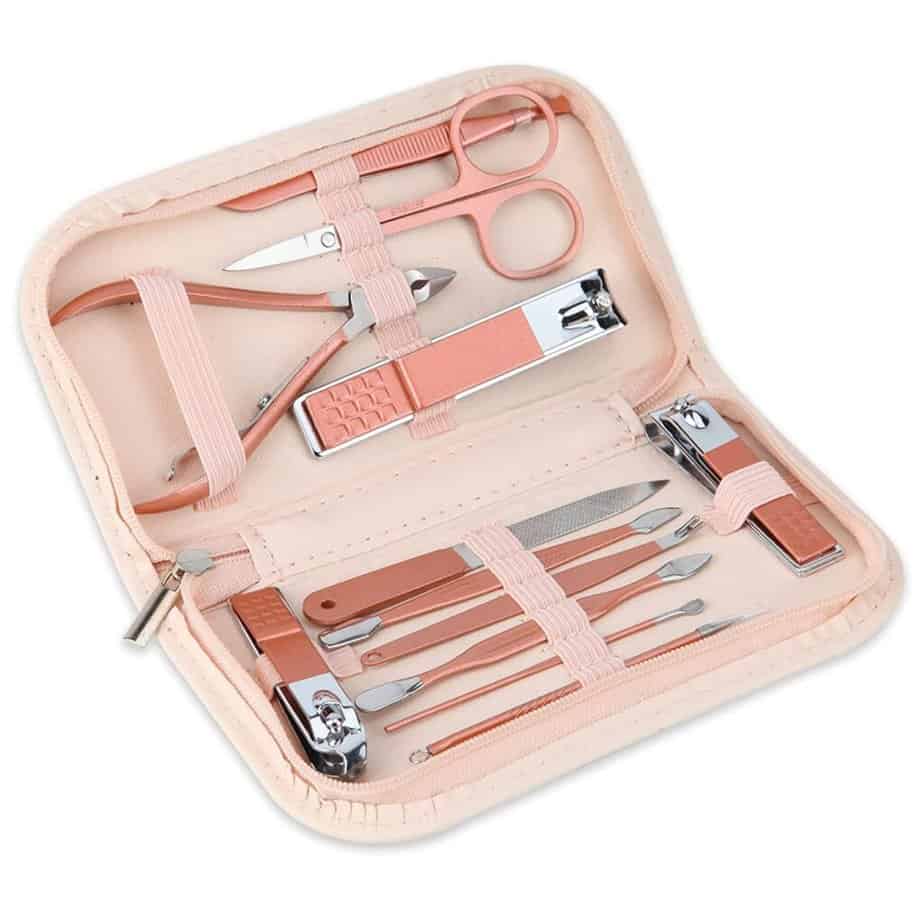 Every woman needs to maintain her nails, surprise your roomie with a nice and handy manicure set. She will certainly appreciate it and be very thankful to you.
Related post: Christmas Nails
2. 16-Piece Eyebrow Makeup Palette
Another beauty product every college girl will love. It's normal for girls this age to care a lot about their appearance and such products will never be unneeded.
3. Portable Power Bank
College girls spend a lot of time on their phones, maybe even too much lol. That's why this portable power bank will definitely do the trick while your roommate is out and her battery is dying.
4. Lip Balm Stocking Stuffer
During the cold months, our lips get chapped and dry quite often. This lip balm will be a very suitable and practical gift to avoid this problem.
5. Credit Card Wallet
I love card holders and I'm sure I'm not the only one. Choose a wallet with an eye-catching design and it will make a great stocking filler.
6. Detangling Hairbrush
Quality products are always a good idea for the Christmas stocking. This hairbrush has been recommended by many ladies who have used it. Therefore, this is a great gift for any college girl who takes care of her hair.
7. Glowing Case
I get very excited when I have a new case, it feels like I have a new phone haha. This idea could be a very good stocking stuffer. However, it is important to know the exact model of your roommate's smartphone.
8. Hair Scrunchies
Small, but handy. Apart from adding a beautiful accent to any look, they are also very useful for tying your hair when it gets in the way.
9. Amazon Gift Card
Don't know your roommate well enough yet, or just can't think of anything as an appropriate gift? In this case, the Amazon gift card is the perfect solution for a stocking filler.
10. Wireless Earbuds
One item that you can put in a Christmas stocking that will be much needed in college is headphones. Thanks to them you will get the privacy you need and have the freedom to listen and watch whatever you like.
11. Boho Stacking Rings
These rings would make great stocking stuffers. The most important thing to know here is the size of the rings to gift to your roomie.
12. 30 Pieces of Collagen Crystal Lip Masks
For days of relaxation and beauty treatments, you can put on a lip mask. These masks are very beneficial because they hydrate your lips intensely. It is a great solution to the dry lips problem of many girls.
13. Sunflower String Bracelet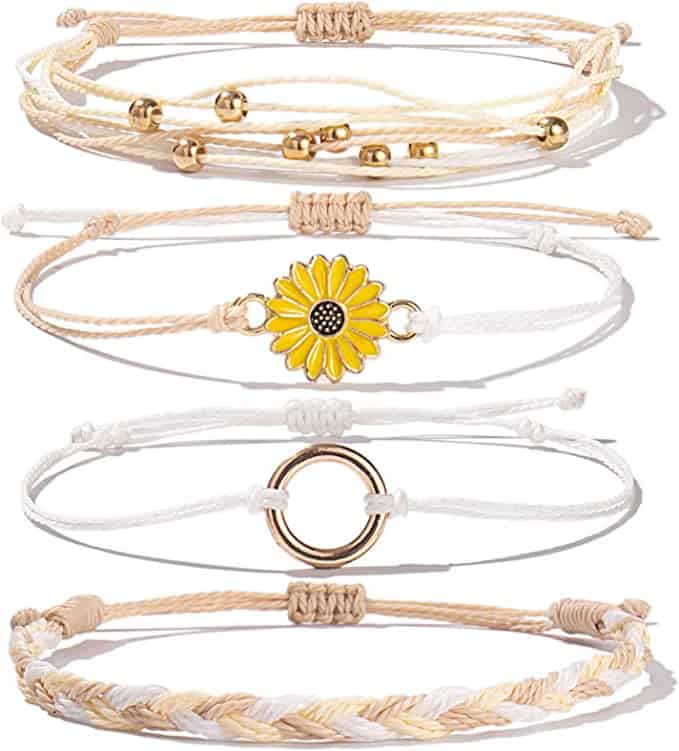 Another great gift to put in a Christmas stocking is a string bracelet. They are very delicate and leave a lovely memory for the recipient.
14. Volumizing Mascara
This is the coolest mascara I've ever used. It is a very affordable option that achieves amazing results.
One tip from me: when you put mascara on after using the wet brush, use a dry brush as well so you don't layer too much of the beauty product.
15. Heatless Curler
Curling your hair without heat is so much more beneficial for your hair's health. The curls that are obtained thanks to this curler are even more beautiful and natural-looking.
16. Face Mask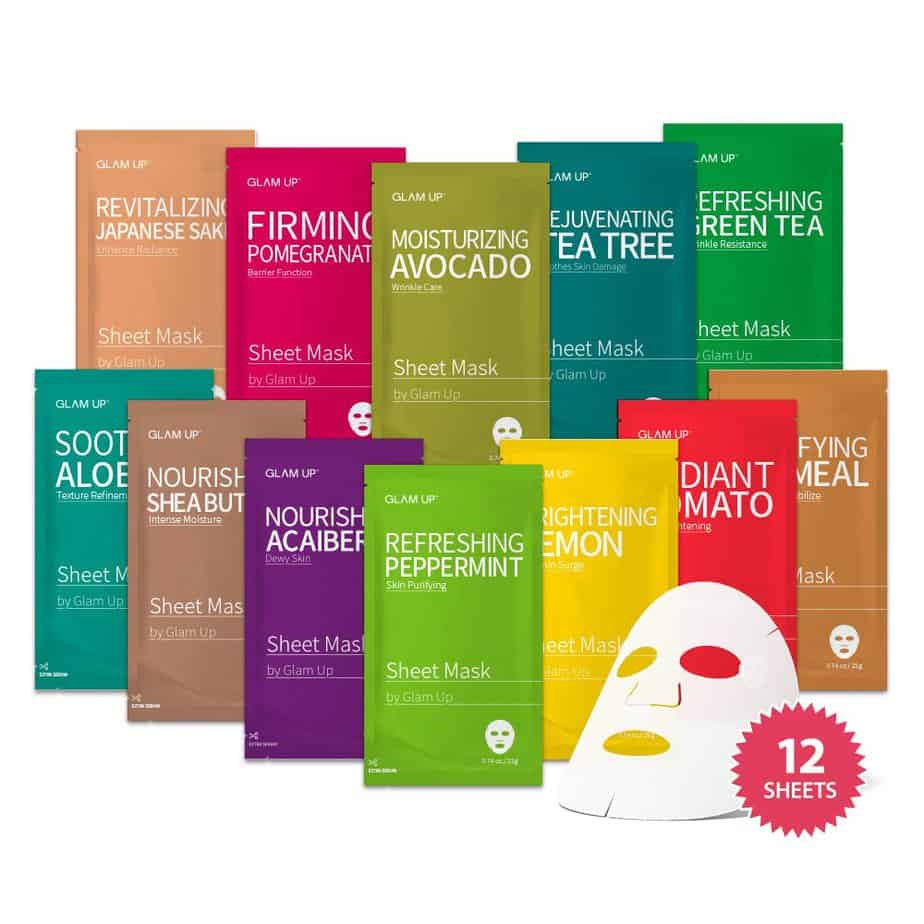 College life can be filled with worries and concerns, so you need to take care of yourself. For this purpose, make sure to use face masks to give yourself moments of relaxation.
17. Lava Rock Bracelet
These bracelets look amazing as you will have a very beautiful accessory for your college days. Apart from its attractive look, this bracelet supposedly lowers your stress and anxiety as well.
18. Women's Winter Socks Gift
You'll need warm socks for chilly days. These colorful winter socks will make you feel great and keep you warm during the Christmas holidays.
19. Sticky Notes Set
College requires good organizational skills. With these sticky notes, you can jot down important things when you study and make reminders.
20. Photo Clip String Lights
To transform a boring room into a cozy place where you will live during your years in college, use these photo clip string lights and hang on it your favorite pictures.
21. Scented Candles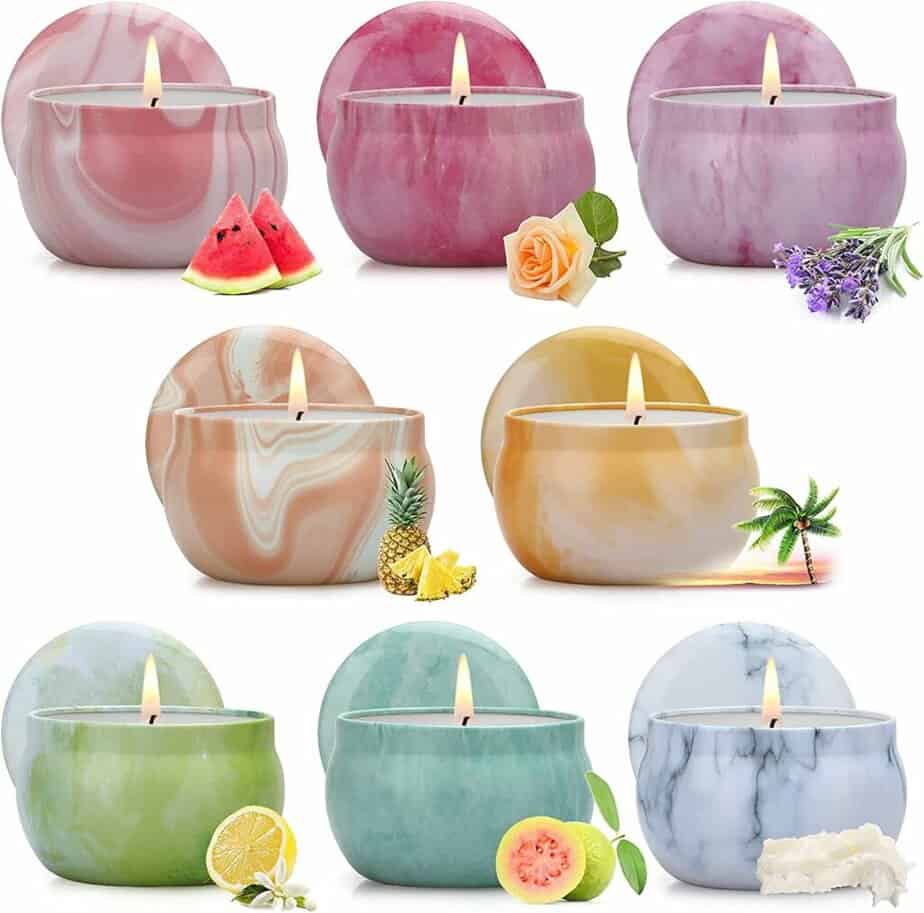 I am sure that your roommate will love this idea. These scented candles will help you relax and feel good on days when you are very tired and stressed. It's the perfect stocking filler.
Related post: Christmas Scented Candles
22. Silver Heart Necklace
Every woman should have a beautiful necklace for formal events. This heart-shaped silver necklace will pair beautifully with many outfits making your appearance even more charming.
23. Night Lights Bluetooth Speaker
This is a very cool suggestion for a stocking stuffer. This Bluetooth speaker can be used as an alarm clock or bedside lamp. It glows in different colors, which makes it even more spectacular while listening to music on it.
24. Pastel Highlighters
These highlighters will come in handy for you to note the most important things while studying. I always highlight when I read a textbook because it makes me understand the information better.
25. Makeup Spa Headbands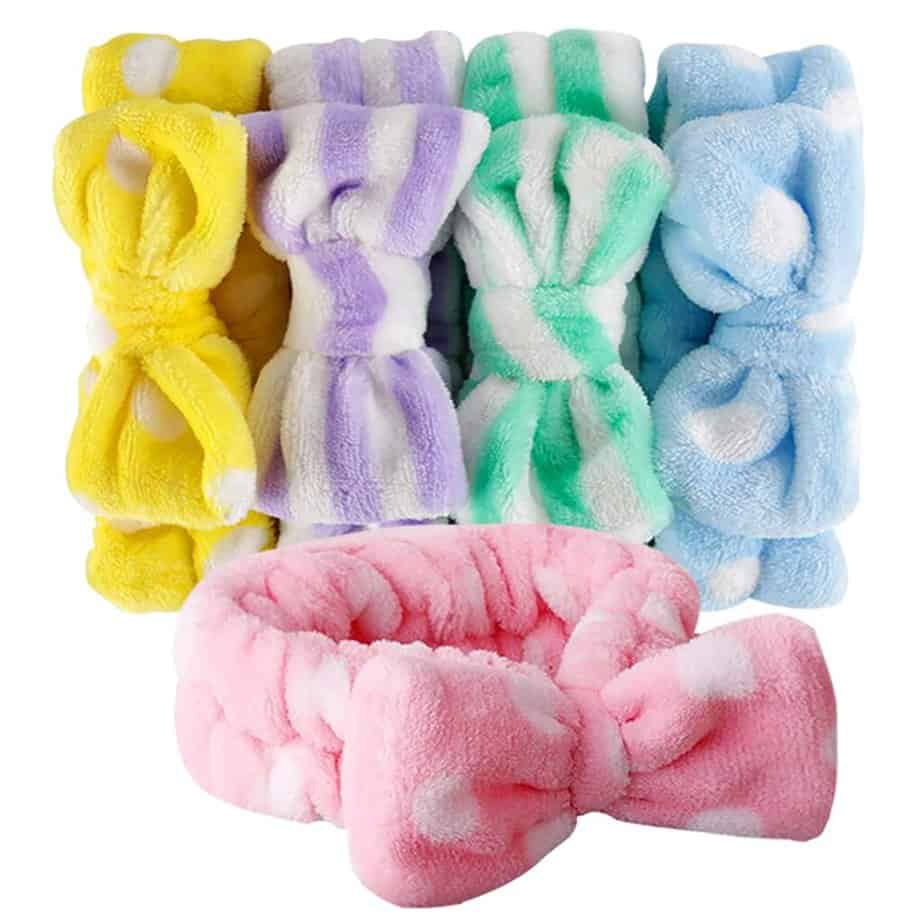 Another very useful item for a college girl is the makeup hairband. I use mine every day when I'm putting on different face masks or even when I just want to keep my hair tucked. It also looks very cute.
26. Moon Choker Necklace
This necklace will complement any outfit perfectly. It is suitable for casual wear as well as for sporty elegant looks. These necklaces are very spectacular and look amazing.
27. Zipper Pouch
Cosmetics are one of the most important things for every girl, so you need to have the right cosmetics bag as well. To store your makeup, you can get this cool zipper pouch.
28. Slide Slippers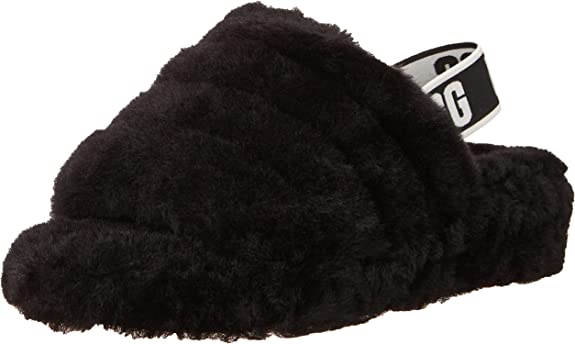 If your roommate doesn't have comfy slippers for your dorm room, then this is a great idea for you on what to put in her Christmas stocking.
29. Butterfly Neon Sign Light
If you would like to add something interesting to the decoration of your dorm room, but at the same time pleasantly surprise your roommate, then this item is the perfect stocking stuffer.
There is a chance, however, that it might be a little difficult to fit into a Christmas stocking.
30. Satin Pillowcase
If you use satin pillowcases it will positively affect your hair and skin, which I think is important for every college girl haha. Therefore, you can safely bet on this idea as a stocking filler.
31. Pencil Case
The more college supplies you have, the better. See if your roomie has a pencil case, if not then that's your stocking stuffer solution.
32. Pink Fluffy Pillow Covers
To decorate your room beautifully, put these cool fluffy covers on your pillows. Whether you place them on a sofa or a bed, these cushions will enhance the design of your room.
33. Study Definition Ceramic Coffee Mug
This mug with a humorous message will appeal to any college girl. By the time college rolls around, huge amounts of coffee are being drunk, so this stocking filler will certainly come into use.
34. Hand Cream for Dry Cracked Hands
Hands often get dry and chapped in the winter months so you need to think about how to prevent this. Therefore, I think that this hand cream set will be a perfect stocking stuffer for any college girl.
35. Gold Gel Eye Pads Against Dark Circles
There comes a time when the fatigue caused by constant studying starts to show itself in our appearance. You can take care of the skin around your eyes with these eye pads to give it the hydration it needs.
36. Snacks & Sweets
You can always put cookies and snacks in your friend's Christmas stocking. I don't know a single college girl that won't appreciate chocolate or any other type of candy haha.
Related post: College Care Packages
Related posts you may like
This article showed you 35+ Stocking Stuffers That College Girls Want