Does your high school do senior overalls? Wondering how to decorate your plain pair of overalls? This post is all about 15 stylish senior overalls you can DIY quick and easy.
Some seniors in U.S. high schools spent the whole summer decorating their senior jeans to show off their school pride and celebrate their last year of school. However, did you know that besides senior jeans you can also wear senior overalls? In this post, we'll discuss what exactly senior overalls are and how you can stylishly decorate your own pair.
What Are Senior Overalls?
Senior overalls are just custom-decorated overalls that are worn by seniors mainly during homecoming week or spirit week. It's a tradition in many high schools across the U.S. to show school unity and belonging. In general, the decorations consist of fabric paint in the colors of the school, patches, gemstones, fringe, etc.
How to DIY Your Own Stylish Senior Overalls?
Trust me, it's not hard at all! First and foremost, you need a pair of overalls no matter the color of the denim. Next, some of the basic arts and crafts supplies you will need are fabric paint and paint brushes.
Here are some additional materials that would make your senior overalls look even more stylish:
Scissors
Ribbons, fabric trim, fringe, etc.
Fabric glue
If you don't feel like dealing with the whole process, I think some companies perform such services for making senior overalls and jeans. But, you are going to miss a lot of fun this way, so don't give up and continue reading to get inspired.
15 Stylish Senior Overalls You Can DIY Quick & Easy
1. Senior Overalls Back Pockets
If you want to have stylish overalls, you should certainly decorate the pockets. Use cute patches, catchy quotes, and gemstones to get a great design and stand out from the crowd.
2. Short Overalls
A very cool and less common idea is wearing short homecoming overalls. Their only shortcoming is that they have less room for decorations. However, there are still ways to make a stylish design with a little bit more creativity and planning.
3. Senior Overalls With Blue & White
The combination of white and blue looks very effective and noticeable. Select the right shades and elements to DIY a very beautiful senior spirit overalls. The blue color is amazing and placed on white denim it stands out great.
4. Colorful Letters
Finish off the look of your overalls with the help of colorful fabric letters and patches. Use them to spell out your school's name, the word 'senior', or your graduation year. If you can't find fabric letters, you can achieve the same result by painting them with fabric paint.
Moreover, don't forget about details such as sequins, puffs, and gemstones which you can also use to spell out whatever you wish.
5. Senior Overalls Braces
All overalls have suspenders. Therefore, don't forget to turn them into a work of art by coloring them or putting different decorations on them. You can write something or add gemstones for instance.
6. Puffs on the Legs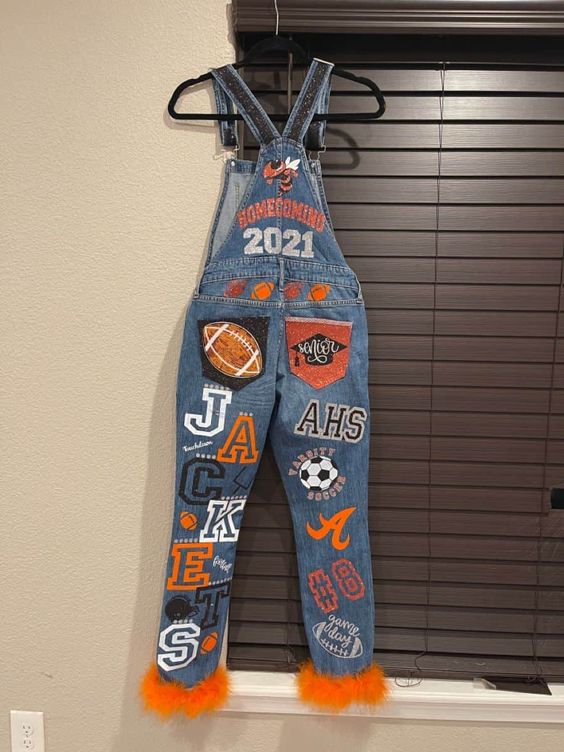 I just love this idea! The leg fluffs are super pretty and I think they enhance the design of the senior overalls quite well. Other places that you can add this element are on the pockets and the suspenders as I think that would look super stylish. It's important to secure the puffs very well so they don't fall off.
Related post: 20 Dorm Room Headboards You Will Love in 2022
7. Senior Overalls With Paw
Paws are also a very popular decoration that students love to put on their homecoming overalls. The reason is that most school sports teams have a big cat as a logo. By having the paw as a decoration, the students show school unity and their support for the team.
8. Cute Overalls Design
Apart from paint and various decorations like sequins and gemstones, you can also put colorful iron-on patches. For example, you can place them on the whole pocket. Another suggestion is to sew parts of your old clothes onto your overalls to make them more eye-catching.
9. DIY Senior Overalls – Be Creative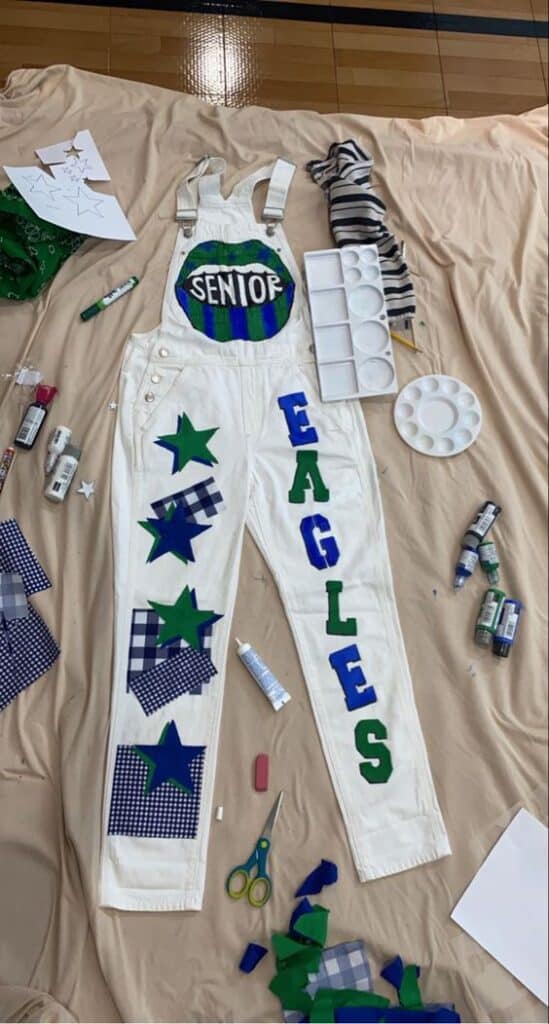 The most important thing when making your senior overalls is to express who you are through colors, shapes, and lettering. If you feel like Barbie, then use pink paint. If you are a fan of the school basketball team, put their logo on your spirit overalls. It's important to have some elements that represent your school, but the design is entirely up to you.
10. Denim Overall Dress
I love this design with sunflowers, it's very sweet and feminine. I also like how clean the design is
Overall dresses don't have a lot of room for decorations, but this also encourages you to be minimalistic in your decorations and try to show more with less. Stick to one main color and add a theme to your overalls.
11. Senior Overalls With Names
Write your name on your pair of senior overalls. You can do this via fabric letters or paint. One more interesting suggestion is to write your nickname instead of your name, so the design will become more spectacular and personal.
12. Homecoming Overalls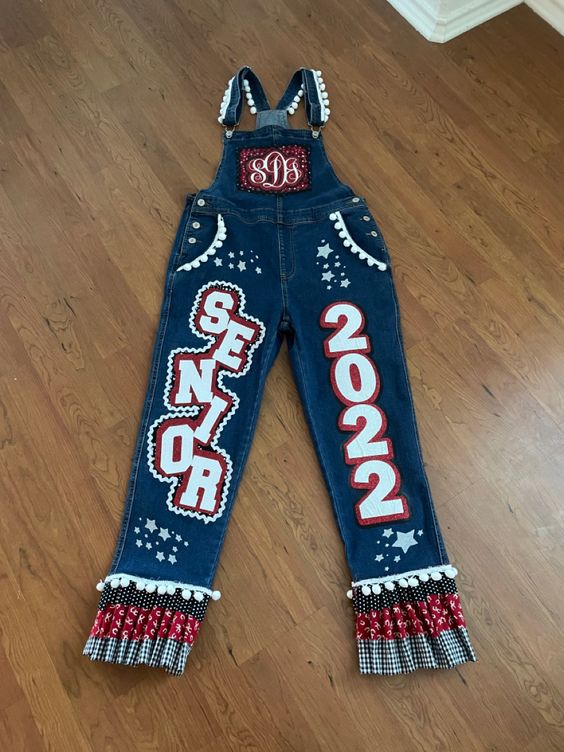 Long pants overalls give you a lot of opportunities for DIY decorations. However, one part of them often gets overlooked and that is the bottom of the legs. On them, you can put different things like puffs, pom poms, fringe, fabric patterns, and others. This will surely finish off the look of your blinged out senior overalls.
13. Black & Yellow Homecoming Senior Overalls
Does anyone remember that song from Wiz Khalifa called "Black and Yellow"? It was such a hit song, I still play it in my car sometimes. Whatever, back to the subject!😂
When it comes to clothes, one of the coolest things for me is the color combination of black and yellow. These two colors complement themselves very nicely and are a great choice for decorating your senior overalls.
14. Bff Overalls
One of the best things in life is having a best friend. Why not share some sweet moments during your last year of school by talking yourselves into wearing matching overalls? Let this show your classmates how inseparable you are. Get together and decide what design you would like the overalls to have, so you can both wear them with pleasure.
Related post: Best Friend Halloween Party Outfits
15. Overalls With Pocket Pom Poms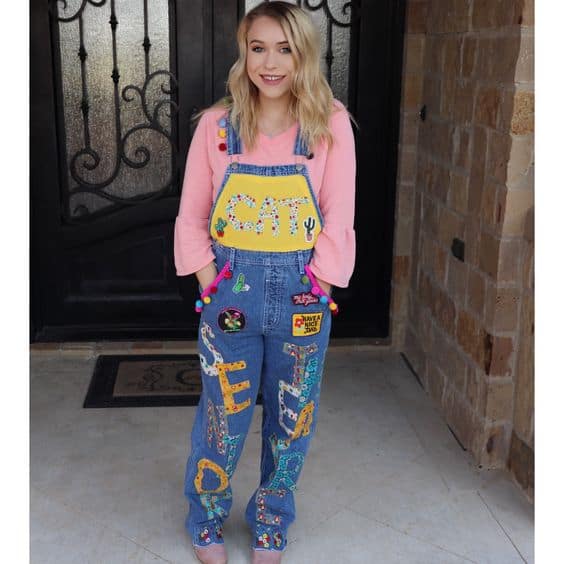 Take the look of your senior spirit overalls to the next level with pom poms. Put them on the pockets, the bottom of the legs, or on the suspenders. They will certainly add to your stylish appearance.
related posts you may like
This post showed you 15 Stylish Senior Overalls You Can DIY Quick & Easy