This post is all about what you need for a makeup corner on a budget.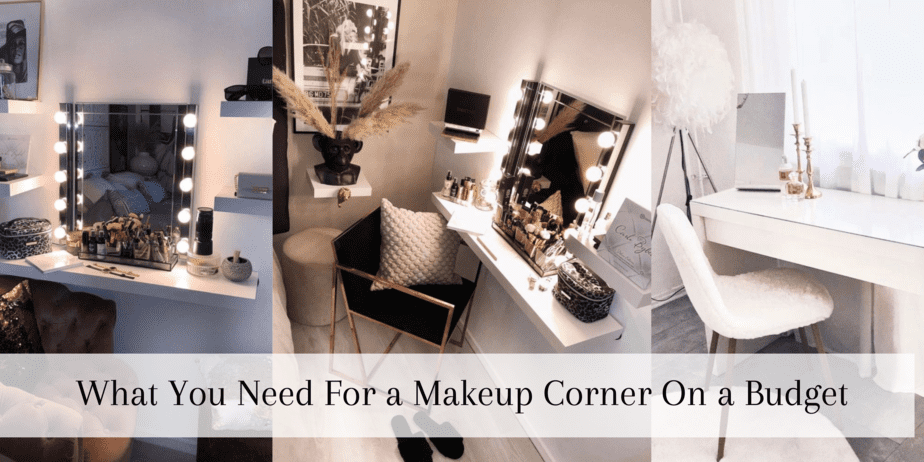 The makeup corner is probably every woman's favorite place in the home. It's great to have a nook where you can keep all your makeup, perfume, and jewelry all in one place. However, many women do not have such a corner because they think it will be very expensive. Nonetheless, this is simply not true. In this post, I'll show you that there are many options to make your own vanity table on a budget.
To make this happen, you just need a few basic pieces of furniture, which individually are not expensive at all. For example, instead of getting a fully assembled dressing table, you can just buy a simple desk with a drawer and a few extra shelves. This way you can DIY a cozy and functional makeup corner.
So, what do you need for a makeup corner on a budget? To answer this question, I've created a list of 5 items that are fundamental for any good dressing corner. Read to the end, I've left a bonus tip on how to make the place even more unique and beautiful.
5 Things You Need For a Makeup Corner On a Budget
Table or a large shelf
Walk into your favorite furniture store and pick a table and some shelves that will do the perfect job for a DIY dressing table. What you need to do before that is to measure the dimensions of the place where you will position it. Depending on these measures, choose the most suitable items from the store. Make sure the colors of the new furniture match and complement the existing décor of your room.
Focus on making sure that your shelves or table can accommodate everything you have as cosmetics. It's a good idea to place a few pretty storage boxes on top of the shelves to keep things nice and tidy. That way everything will be well-organized.
Related posts you may like: 10 Best Fluorescent Lights For The Kitchen
Mirror
Dressing corner without a mirror? Impossible! You can find many affordable mirror models. It can be round, square, oblong, etc. There is plenty of options, you just have to decide what exactly you want and what best fits your makeup corner. The decision of whether the mirror is to be mounted on the wall or not is again up to you.
Make sure the mirror is of good quality. You don't want the glass to have any inconsistencies and to distort reflections.
Lighting
Without proper lighting, there's no way to judge how your makeup actually looks. That's why good lighting is key to any dressing table.
It is important to find lighting that is neutral and does not add color to your face. It can be built into the mirror or it can be separate, you decide which would be better and more comfortable for you.
It's good to have light positioned on each side of your face. Otherwise, you risk not noticing an area that isn't complete and needs more or less makeup.
Related posts you may like: 10 Best Places to Buy Interior Doors 
Chair
Select a chair with the ideal height. There are a lot of delicate and touchy moments during the makeup process that requires steady hands. If you're an amateur makeup artist like me, you'll need to position yourself steadily next to the dressing table.
So, the chair should give you both freedom of movement and great stability. Furthermore, it should be comfortable because full makeup sometimes takes an hour or even more and you don't want the chair to cause you any discomfort.
Related post: 25 Dorm Room Chairs Without Wheels For College Students
Organizers for makeup and brushes
Organizers are some of the most useful things. They make your makeup corner look better and keep everything in perfect order. Moreover, you know exactly which cosmetic is where.
It's important not to over-clutter the dressing table with makeup. Not only will this slow down the makeup process in an unnecessary search for what's where, but it will also make your room look messy.
Related post: How Much Do California Closets Cost? (& Are They Worth It)
#BONUS
Be creative – Make your makeup corner beautiful by decorating it with a vase of flowers, or a favorite picture of your loved one. What's more, you can also put a cushion on the chair, some extra lighting, and decorative items such as scented candles. It's up to you to make your dressing corner as cozy as possible.
Related posts
How To Set Up a Home Office in 5 Easy Steps
This post was all about what you need for a makeup corner on a budget