This post is all about Valentine's Day nail ideas that you can easily add to your beauty routine, whether you're staying in for a cozy night or heading out for a fancy evening.
As Valentine's Day approaches, we often think about romantic dinners, heartfelt gifts, and, of course, eye-catching nail art!
I am excited to share 25 unique and stunning nail ideas that will bring out your inner lovebird and impress that special someone in your life. With these inspirations, you'll undoubtedly paint the town red—literally!
To set the stage for this lovely holiday, let's delve into nail designs that cater to a variety of tastes.
From whimsical heart patterns to chic French tips with a love-infused twist, these Valentine's Day nail ideas offer something for everyone.
No matter your style or enthusiasm for the occasion, you'll find a design that speaks to your heart's desires.
Why Valentine's Day Nail Art?
I absolutely love Valentine's Day, and what better way to celebrate this special day than with some festive nail art?
It's the perfect time to get creative and show our love for the season.
Plus, our nails can become a conversation starter and spread the love wherever we go.
There is so much we can do with Valentine's Day nail ideas. It's not just about hearts and pink colors – there are endless possibilities to express our personalities and emotions during this lovely season.
From classic designs like roses and hearts, to more modern patterns like geometric shapes and bold colors, the options are endless.
I also find that Valentine's Day nail art can truly make us feel extra special and boost our self-confidence.
It's like wearing a new outfit or adding the perfect accessory to our look.
And it doesn't matter if we're spending the day with a significant other, friends, or even just showing ourselves some love, there's something about a well-crafted Valentine's Day nail design that can make the day feel brighter and more enjoyable.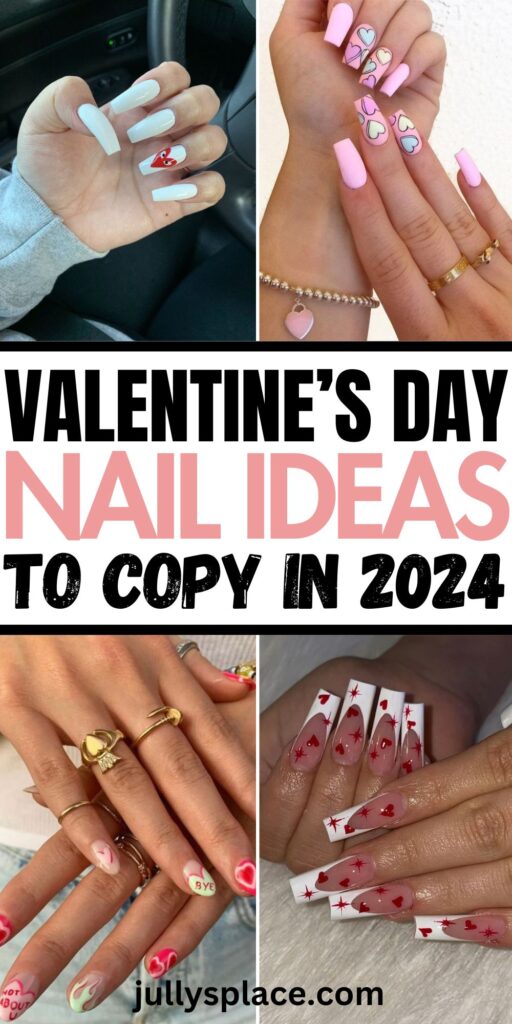 25 Valentine's Day Nail Ideas
Classic Red Heart Nails
I can't contain my excitement when it comes to classic red heart nails for Valentine's Day!
They're an absolute must-try for the festive season.
Red is the official color of love and hearts, making it the perfect choice for this special day.
Sparkling Glitter Ombre
I can't get enough of sparkling glitter ombre nails for Valentine's Day!
They're the perfect blend of elegance, romance, and just a touch of glam that makes any outfit stand out.
One of my favorite designs is the gold-dipped ombre look. It's so easy to recreate!
Simply start with a clear base coat, and then apply the gold glitter polish of your choice, painting only halfway up your nail.
It creates a sunny and warm vibe that's perfect for a romantic date night or a cozy night in with your significant other.
Vibrant Pink-and-Red Combo
I can't wait to share these exciting pink-and-red nails perfect for Valentine's Day nail ideas!
The combination of sweet pink and passionate red creates an eye-catching and flirty look that you'll absolutely love.
This simple yet chic design is perfect for showing off your romantic side and can be easily achieved with the help of nail art stickers or freehand painting.
You can also opt for a red and pink French tip design
Soft and Romantic Pastels
I am absolutely excited about soft and romantic pastel nail designs for this Valentine's Day!
No doubt, pastel shades create a delicate and sophisticated look that perfectly suits the celebration of love.
One of my favorite ideas is to create a gradient effect using shades of pink or lilac.
Begin with a light shade at the base of the nail, gradually blending into a darker shade towards the tip.
These nails will look especially stunning on short, naturally shaped nails.
Related posts you may like: Last Minute Genius DIY Valentine's Day Gifts
Bold and Beautiful: Full Red Manicure
Oh, I just love a classic full red manicure for Valentine's Day! It's always been one of my go-to nail ideas for this special occasion.
A red manicure can make any outfit pop and never goes out of style, especially on Valentine's Day.
Elegant French Tip with a Heart
I absolutely love the idea of adding a little romantic twist to the classic French manicure for Valentine's Day!
The sweetheart French mani is a modern and romantic take on fashion-forward French tips.
It's the perfect way to show off your love-inspired mood without going overboard.
Cupid's Arrow Themed Nails
Another Valentine's Day nail ideas are Cupid's Arrow themed nails for Valentine's Day!
They are the perfect addition to express your passion and love during this romantic season.
There are so many variations you can try with this theme!
One idea I absolutely love is a red and pink ombre nail design. Another fabulous idea I stumbled upon on Glamour is a cute heart-shaped nail design.
Lastly, if you're looking for something a bit more subtle but still bursting with excitement, consider a black hearts manicure showcased on Allure.
Minimalist Heart Tips
I absolutely love minimalist nail art, especially for Valentine's Day! It's the perfect way to celebrate the occasion with elegance and simplicity.
Firstly, there's the Cut Out Love Heart Nails design. This trendy, minimalist style is achieved by painting a heart shape without filling it in, giving it a delicate and modern appearance. It's perfect for any nail length and color.
Another adorable option is the Pink French Tips with heart accents. To create this romantic look, simply paint your French tips with a pastel pink polish, and add a tiny white heart at the base of the nail.
Sweet Candy Heart Inspiration
I absolutely adore Valentine's Day, and one of my favorite sources of inspiration for nail designs is the classic candy heart.
These sweet treats feature cute little messages and come in an array of pastel colors, making them a perfect muse for my Valentine's Day nails.
Playful Polka-Dotted Hearts
I am so excited to share with you a fun and playful nail idea for Valentine's Day: Polka-Dotted Hearts!
This design is perfect for those who want to add a touch of whimsy and color to their nails, while still keeping the spirit of love alive.
To get started, choose a base color that speaks to your Valentine's Day vibe.
I personally love a soft pink or even a classic red! Apply two coats of your chosen base color to each nail and let it dry completely.
Love Letter Nail Art
I can't help but feel excited about this adorable Love Letter Nail Art idea for Valentine's Day!
It's such a unique and charming way to celebrate the day of love, and it's sure to catch everyone's eye.
To make it even more adorable, I sometimes add a little "xoxo" or "love" to enhance the romantic feel of the design.
Charismatic Charm Bracelet Nails
I can't contain my excitement when I think about Charm Bracelet Nails for Valentine's Day!
This Valentine's Day nail design is absolutely adorable and the perfect way to showcase your love for all things sweet and romantic.
First off, I love how versatile this nail art idea is. You can choose charms that represent your favorite Valentine's Day symbols, like hearts, roses, or even cute love notes.
The options are endless, and this allows you to get really creative with designs.
Kiss Print Statement Nails
I just love the idea of kiss print statement nails for Valentine's Day!
It's a unique and flirty way to make your nails stand out and embrace the romantic spirit of the occasion.
There's just something exciting about tiny kisses adorning your nails that makes me smile every time I look at them.
To achieve this look, you'll need a light base color and a vibrant red or pink nail polish for the kiss prints.
Give it a try and let your nails be a lovely reflection of this loving season.
Jazzy Jewel Heart Nails
One of the best Valentine's Day nails that I want to share with you a fabulous and trendy nail idea is Jazzy Jewel Heart Nails!
This dazzling design adds a touch of glam to your nails, making them the perfect statement piece for your romantic celebrations.
In this design, we'll use a combination of deep red or pink polish, along with some gorgeous heart-shaped jewels to create a truly captivating look.
Flowery Love: Roses Nail Art
I can't contain my excitement when talking about roses nail art! This Valentine's Day, let's embrace the romantic charm of roses and include them in our nail designs.
It's the perfect way to celebrate love and affection, and it'll definitely add a touch of elegance to our look.
To start, we can opt for a classic red rose nail design. Using a nude or pastel base color, we can create delicate red roses with a thin brush or even a dotting tool.
To enhance the look, we can add green leaves and some glitter as accents.
No matter which roses nail art design we choose, it's guaranteed to make us feel extra special on Valentine's Day! So, let's get creative and make our nails bloom with love and beauty.
Sweetheart Swirl Design
I absolutely adore Valentine's Day, and this year, I'm excited to share with you one of my favorite nail designs: the Sweetheart Swirl!
This design is both romantic and playful, featuring elegant white swirls mixed with adorable mini red hearts. It adds a touch of love to any look, without being overly cutesy.
I love how this Sweetheart Swirl nail design captures the essence of Valentine's Day, while still maintaining a chic, sophisticated vibe. I can't wait to surprise my sweetie with this beautiful, loving manicure!
Passionate Love: Flame Nails
These fiery designs are the perfect way to express passionate love. What's even more exciting is that there are so many variations of this hot trend. Let's dive into my favorite flame nail ideas for this special day.
First up, dramatic red flames. Nothing screams passion quite like red flames engulfing the tips of your nails.
I usually use a deep red base coat and then carefully draw on the flames using a fine brush dipped in a vibrant red polish.
The contrast of these two shades makes the design pop, showing off just how fiery my love can be!
Next, why not try ombre flame nails? This technique adds a mesmerizing twist to the traditional flame design.
When I'm feeling extra creative, I love experimenting with metallic flames.
Related posts you may like: How to Decorate Your Dorm Room For Valentine's Day
Valentine's Galaxy Nails
These nail designs are just so mesmerizing and vibrant, perfect for expressing a spacey kind of love this Valentine's Day.
First, start with a deep black or dark blue base to represent the vastness of the universe. This will be your canvas for creating a stunning galaxy scene on your nails.
Next, choose a variety of colors like purple, pink, and blue to create nebula-like patterns. You can do this by using a small sponge to dab on the colors, making sure they blend seamlessly onto the base color
Now, what's a galaxy without some shimmer? Add a touch of glitter polish or holographic topcoat to bring your nails to life and mimic the appearance of twinkling stars.
This is especially eye-catching under different lighting conditions, giving your nails a magical look. Pro tip: use a small dotting tool or toothpick to create more defined stars and clusters.
Chic and Bold: Black Heart Nails
Why not ditch the traditional reds and pinks and opt for something more chic and bold? Black heart nails are the perfect way to show your daring side while still embracing the romance of the season.
Let me tell you how to achieve this fabulous look.
First, start with a clean, properly shaped nail. Apply a base coat to protect your nails and allow it to dry.
Next, choose a high-quality black nail polish – you'll want something with good opacity and staying power. Paint your nails with two coats of black polish, allowing enough time between coats for them to dry.
Now, here's the fun part: creating the hearts!
You have several options to choose from, depending on your skill and comfort level.
For those who prefer a more minimalist look, use a tiny detailing brush dipped in a contrasting color, like white or metallic gold, to hand-paint small heart shapes on each nail.
You can also place hearts randomly, cluster them together, or create a single heart on your accent nail.
Mismatched Valentine's Nail Art
Oh, how I adore Mismatched Valentine's Nail Art! This fun and creative trend allows for endless possibilities while showcasing your personal style.
The best part is, you can mix and match colors, shapes, and designs to create a truly unique look.
One idea I get really excited about is combining heart designs with other patterns. For instance, painting hearts on a couple of nails, and then having polka dots or stripes on the others.
Another ideas I have experimented is using different shades of the same color, or even contrasting colors, like blush pink and bold red. The result is always eye-catching and perfect for the Valentine's mood.
Delicate Lace Heart Nails
I am absolutely in love with delicate lace heart nails for Valentine's Day!
The intricate patterns and elegantly designed heart shapes make these nails perfect for a romantic date or a fancy night out.
The best part is that they're something unique and eye-catching while still being very appropriate for celebrating love.
To make your lace heart nails pop, you can add tiny dots, glitter, or even tiny gems as accents.
The options are endless, and I can't wait to see what unique twist you come up with for your delicate lace heart nails this Valentine's Day!
Abstract Heart Nails
This design is not only stylish, but it also breaks away from the traditional heart shapes and colors, adding a modern twist to your manicure.
While pink and red are always popular, don't forget to consider other shades like lavender, teal, or even a vibrant orange!
Vintage Love Letter Nails
I can't contain my excitement when thinking about this absolutely charming vintage love letter nail design for Valentine's Day!
Picture this: delicate script, a touch of romance, and a hint of nostalgia coming together in a beautifully unique way on your nails.
How can you not fall in love with this idea?
This post was all about Valentine's Day Nail Ideas