This post is all about 30 living room decor ideas to make your home cozier!
This post contains affiliate links, which means I'll receive a commission if you purchase through them. You will have no extra cost!
The key to creating an inviting living room is finding the right balance between style and functionality.
From statement-making wall art to cozy textiles and eye-catching furniture, there are many ways to give your space a personal touch while still keeping it practical.
With so many functions, it's essential to keep our living rooms looking fresh and stylish.
In this post I've gathered 30 living room home decor ideas to inspire you and transform your space into a stylish haven.
30 EASY Living Room Decor Ideas
Choosing the Right Sofa or Sectional
When it comes to decorating your living room, start with the largest furniture piece: the sofa or sectional.
Just consider the shape and size of the room, as well as the room's focal point, whether it's a TV, fireplace, or a beautiful window view.
To make the room feel more spacious and inviting, I opt for L-shaped or U-shaped sofas for larger rooms, and a classic 3-seater sofa for smaller spaces.
Optimizing with Ottomans
I love incorporating ottomans into my living room seating arrangement for their versatility and style. They serve as extra seating when I have guests, while also functioning as footrests and makeshift coffee tables.
Here's how I choose the perfect ottoman:
Size: I make sure the ottoman is proportionate to my sofa or accent chairs to maintain a balanced look.
Shape: I pick between round, square, or rectangular ottomans based on the shape of my other furniture pieces and the room's layout.
Style: I look for an ottoman that either matches or complements my existing furniture, whether it's a solid color, patterned, or featuring tufted details.
Accent Chairs
Next, I introduce accent chairs into the mix.
These stylish yet functional chairs not only provide additional seating but can also transform the look and feel of the room.
Choose accent chairs that complement the sofa, either by picking a similar style or opting for a bold contrast.
Experimenting with Wallpaper
I love experimenting with wallpaper in my living room, as it brings personality and charm to the space.
From geometric patterns to floral designs, there are endless possibilities to express your taste.
I find that using a bold wallpaper on a single feature wall adds character without being overwhelming. Check out Wall Decor Ideas for a Gray Living Room you can copy!
Applying the Right Paint Colors
Selecting the perfect paint color for a living room is always an exciting task.
I've discovered that considering the natural light in the space is key.
For instance, a light and airy living room might benefit from soft, neutral colors like beige or light gray, while a cozier space could feel more inviting with deeper, richer tones such as navy or forest green.
Creating an Accent Wall
An accent wall is a fantastic way to add visual interest to a living room.
I've found that choosing a contrasting color for one wall can make the entire space feel more dynamic and vibrant.
When planning my accent wall, I keep in mind the existing decor, as the new color should enhance and complement the room's current style.
Some popular accent wall options include bold paint colors, wallpapers, or even textured surfaces like wooden panels or exposed brick.
Related posts you may like: How to Decorate a Wall That Has Wallpaper: Ideas and Inspiration for Adding Personality to Your Space
Adding Visual Interest with Beams
Incorporating beams can add architectural interest and charm to any living room ceiling.
There are various materials to choose from, such as wood, metal, or even faux beams made from lightweight, easy-to-install materials.
I prefer wood beams, as they add a cozy, rustic touch to my space.
They can be left natural, stained, or painted to match the room's color scheme.
Adding beams to the ceiling not only enhances the room aesthetically, but also helps draw the eye upwards and creates the illusion of height and spaciousness.
Brightening with Lamps
Lamps play a significant role in adding warmth, depth, and dimension to a living room.
Table lamps and floor lamps both work well to brighten up different areas of the room.
When choosing lamps, I like to pick complementary designs that reflect the room's color scheme and overall style.
Table lamps: Perfect for adding accent lighting or cozy reading nooks, table lamps can be placed on side tables or console tables. My favorite choice is a mix of decorative and functional lamps that enhance the room's personality.
Floor lamps: These are ideal for illuminating larger areas or providing ambient lighting. I often select floor lamps that are stylish and have an adjustable arm so that I can direct the light where it's most needed.
Choosing Wall Sconces
Wall sconces can serve as a fashionable alternative or addition to overhead lighting.
They are practical for accentuating artwork, architectural features, and adding dimension to a room.
When selecting wall sconces, I keep in mind the room's theme and scale.
Ambient sconces: Perfect for creating a soft and inviting atmosphere, ambient wall sconces offer widespread light and can be combined with other lighting solutions to create a relaxing ambiance.
Task sconces: These sconces direct light to specific spots, making them great for tasks like reading. I typically place task sconces near seating areas or along a hallway.
Making a Statement with Lighting
Statement lighting has the power to transform a room into a stunning focal point.
Options like chandeliers, pendants, and artistic fixtures not only provide sufficient illumination but also become a conversation piece.
Here are some tips for using statement lighting in your living room:
Scale and proportion: Ensure your statement light harmonizes with the room's size and layout. Consider the height of the ceilings, the size of the room, and the furnishings while selecting the right statement piece.
Style and design: Choose a statement light that complements the living room's aesthetic. Whether you love modern designs or lean towards traditional styles, consider the overall decor to keep the space cohesive.
Placement: Finding the right spot for your statement light is crucial. Focal points like above the coffee table or over the seating area work well.
Choosing the Right Coffee Table
First, I consider the shape and size of the coffee table. Round coffee tables are great for creating a sense of unity, while rectangular or square ones offer a sense of order.
Next, I focus on the material and color of the table. Glass coffee tables provide a modern and spacious look, while wood offers a warm, classic touch.
Metal coffee tables, on the other hand, work well for industrial or contemporary styles.
Lastly, I explore coffee table decor ideas. Some options include:
Adding a stylish table runner for a warm aesthetic
Displaying a tray with decorative objects, like candles, plants, or books
Incorporating storage solutions, like organizers or woven baskets
Upgrading with Side Tables
In addition to my central coffee table, I also consider incorporating side tables into the living room.
Side tables can serve various purposes, such as providing extra surface space for lamps, decorative items, or holding drinks and snacks.
They also contribute to the overall style of the room and can complement the main coffee table or provide an interesting contrast.
Filling Bookcases with Personal Collection
I've found that one of the best ways to personalize your living room is to fill a bookcase with book collection.
As a friendly suggestion, you can arrange your books by size, color, or genre to create an eye-catching and space-efficient display.
If you have a mix of books, you can also incorporate some decorative items like picture frames, vases, or small trinkets that reflect your personal style. Check out How to Create а Modern Home Library in 10 Easy Ways
Creating Elegant Displays on Shelves
Now, let's talk about creating an elegant display on your shelves.
I've often noticed that a well-curated shelf not only serves as storage but also adds character and charm to a living room.
A simple way to achieve this is by following the "rule of three", which encourages us to group items in odd numbers (like three, five, or seven) for a more visually appealing arrangement.
Adding Textures with Rugs
A great starting point for introducing textures to a living room is by selecting a beautiful rug.
By choosing a rug with a rich texture, you can instantly transform the space and create a cozy ambiance.
I find that rugs come in various materials, including soft wool, plush velvet, and even natural fibers like jute or sisal.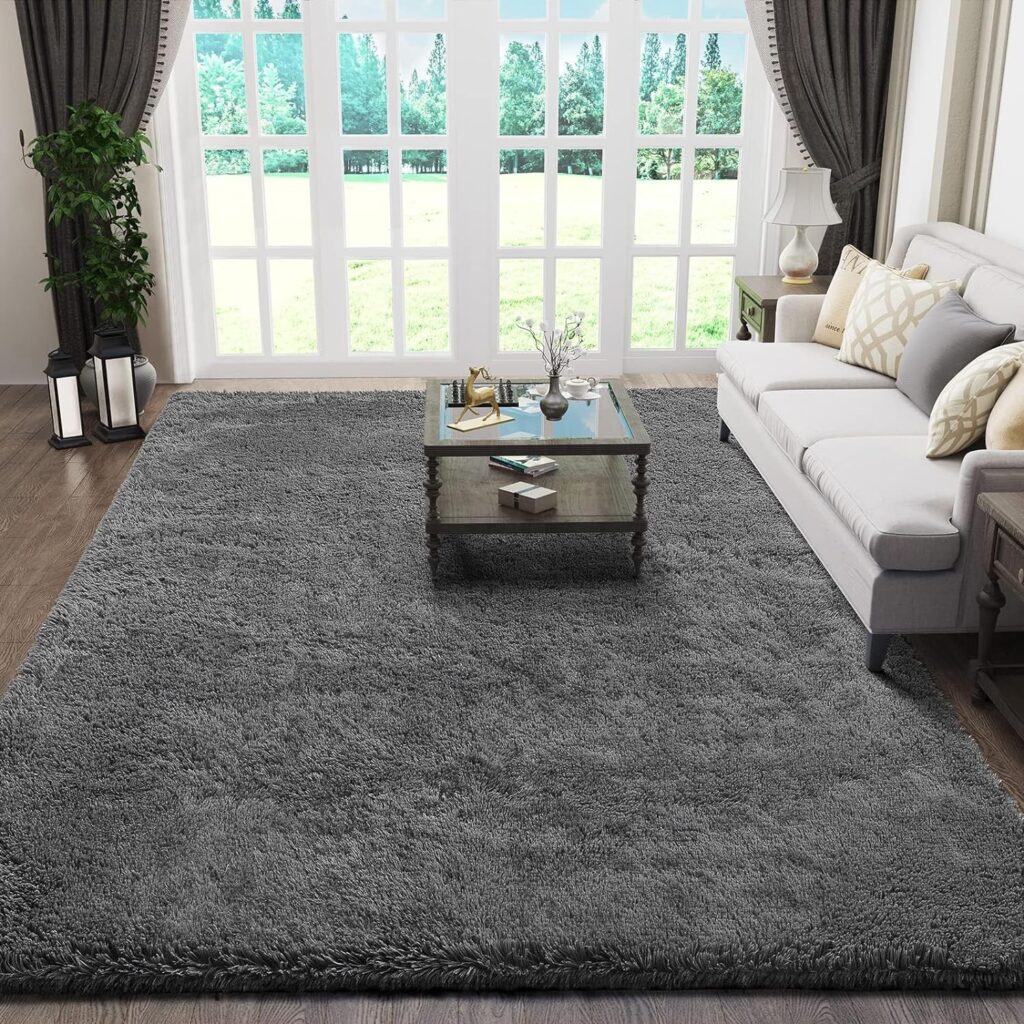 Boosting Interest with Colorful Upholstery
Besides rugs, I believe that incorporating patterned upholstery is a fantastic way to add interest and personality to a living room decor.
By selecting furniture pieces with bold patterns or vibrant colors, I can create a dynamic focal point and engage the senses.
Curating a Gallery Wall
I absolutely love transforming my living room by curating a gallery wall.
It's a great way to express my personal taste and add pops of color to the space.
I usually begin by selecting a theme or color palette for the wall art.
Then, I collect a mix of framed prints, paintings, and photographs that complement each other. Read more about 20 Photo Wall Collage Ideas For Every Bedroom + DIY Photo Collages
Using More Mirrors
A large mirror can be both functional and decorative, creating a beautiful focal point in the living room.
When strategically placed, mirrors also help create an illusion of a bigger and brighter space by reflecting light and expanding the room visually.
I often experiment with different shapes and vintage mirrors to add a touch of personality and uniqueness to my living room decor.
Consider grouping smaller mirrors together or using a single, large mirror as the centerpiece of a wall.
Related posts you may like: Can Mirrors Be Too Much Furniture? Finding the Right Balance for Your Home Decor
Adding the Finishing Touches with Accessories
Finally, it's time to complete your living room's decor with some carefully chosen accessories.
I like to incorporate a mix of textures and materials, combining new and vintage pieces for a well-rounded and eclectic touch.
Some of my favorite accessories include:
Cushions and throws: Bringing in various patterns, colors, and textures can make the space feel more inviting and cozy.
Plants: Introducing greenery can breathe life into the room while also providing a natural pop of color.
Decorative objects: From sculptures to vases, these smaller additions help tie the room together and showcase my personal style.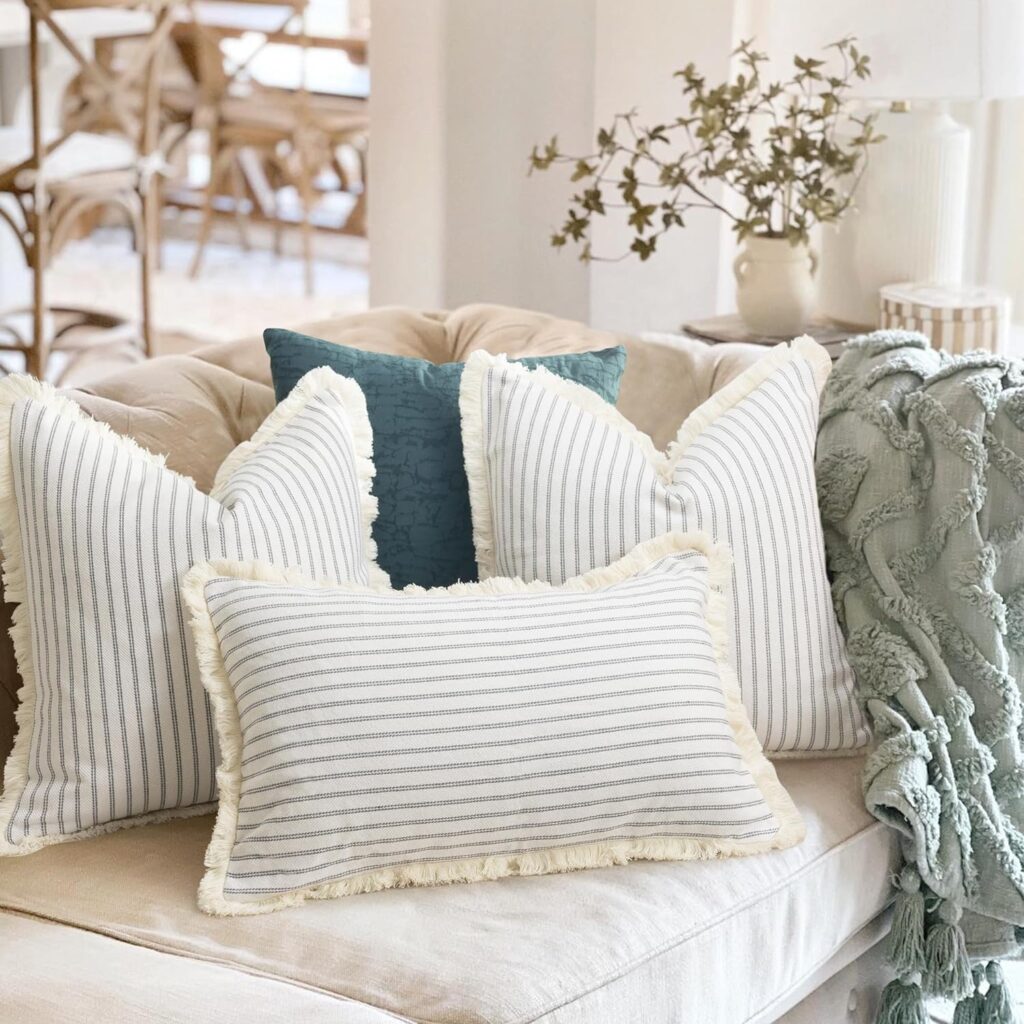 Adding Throw Pillows
Using throw pillows is one of my favorite ways to elevate the look of living room.
I find that mixing different designs, shapes, and textures adds depth and personality to the space.
When choosing throw pillows, I focus on coordinating colors and patterns that complement the overall style of the room.
In my living room, I experiment with:
Solid colors: A mix of bold and neutral hues that add depth and harmony.
Simple prints: Geometric patterns or subtle motifs that don't overpower the space.
Eye-catching shapes: Square, rectangular, and even round throw pillows for an eclectic touch.
Adding Life with Plants
I love to incorporate greenery into my living room space.
Not only does it bring a breath of fresh air to the room, but it also adds an element of nature and tranquility.
A simple way I do this is by placing a few large potted plants by my main door.
This creates a warm and inviting atmosphere, making me feel at home every time I step inside. Check out 11 Awesome Indoor Plants To Improve The Air Quality In Your Room
Creating Calm with Green Elements
Aside from using live plants, I find that incorporating green elements into a living room decor helps create a serene and calm atmosphere.
One of the ways you can do this is by using green accents, such as throw pillows, blankets, and artwork. These items provide a pop of color while staying true to the theme of nature.
Another option is to paint an accent wall or even the entire room in a soothing shade of green.
Sprucing Up the Space with a Fireplace
I've discovered that a fireplace can really elevate the atmosphere of a living room, becoming both a functional and decorative element.
The warmth it brings is perfect for those cold days, while it also creates a lovely ambiance when gathering with friends and family.
If you have a non-working fireplace in your home, don't worry! I recommend taking advantage of that space and turning it into a decorative feature.
Maximizing the Use of a TV and TV Stand
When it comes to home decor, I find that maximizing the use of a TV and TV stand can make a significant difference in the overall look and functionality of my living room.
One way I love to elevate the appearance of the TV area is by choosing a freestanding TV stand.
This type of stand can often complement various design styles, such as modern farmhouse, transitional, coastal, traditional, and mid-century modern. You can read more about How to Arrange Living Room Furniture with a TV
Creating Camouflage and Room Dividers
As I'm exploring home decor ideas for living room, I've discovered some great ways to create camouflage and functional room dividers.
These can effectively separate spaces while adding visual interest to the room. Let me share some ideas with you:
One idea that caught my attention is using decorative screens. These traditional dividers come in various materials and designs, and they add a touch of sophistication to my living room. (Plus, they provide an element of camouflage by hiding specific areas from plain sight.)
Another way to divide the room is by adding a versatile and practical shelving unit. This could be a tall bookshelf or a sleek storage piece that also functions as a room divider.
For those who like to think outside the box, there are unconventional room divider options as well, such as hanging curtains or utilizing chic metal frames with glass panels. The curtains instantly soften the room's ambiance and can be drawn closed for added privacy. Meanwhile, the metal frames offer a sleek, modern, and flexible partitioning solution.
While looking into multifunctional furniture, I also stumbled upon some creative options that work well as room dividers. For example, a console table or a credenza can be placed strategically in the room to provide additional storage while dividing spaces.
Adding Warmth with Rattan
When I think of cozy and comfortable living spaces, rattan furniture comes to my mind.
It has a natural, earthy feel that instantly brings warmth to any room. In my experience, I find that incorporating a rattan coffee table or a set of rattan side tables can make a big difference.
Another idea is to add a rattan armchair with colorful cushions or a cozy throw blanket, turning it into the perfect spot for curling up with a book or chatting with family and friends.
Keeping It Crisp with Modern Furniture
For a sleek and sophisticated look, I turn to modern furniture styles. These pieces often have clean lines, smooth surfaces, and minimal adornments that give a fresh, uncluttered feel to the space. A stylish modern sofa or a set of chic lounge chairs can serve as a focal point in the living room.
This post showed you 30 Living Room Decor Ideas
I can't even express how inspiring it has been to come across all these amazing living room decor ideas. Each and every one of them has left me feeling so refreshed and eager to upgrade my living space.
In this journey through various living room decor ideas, I have discovered some truly unique and appealing living room decor ideas!
I loved the idea of keeping the living room organized. Vertical space utilization with shelves or bookcases can not only provide additional storage but also create an eye-catching visual effect.
As I finish up this article, I'm feeling more motivated than ever to refresh and upgrade my living room. I hope you have found these ideas helpful and inspiring too.
Remember, it's all about putting our personal touch and surrounding ourselves with the things that make us happy.